A storm can be quite terrifying but they can also be stunning.
Here are some of the finest quotes to help you weather the storm and come out stronger.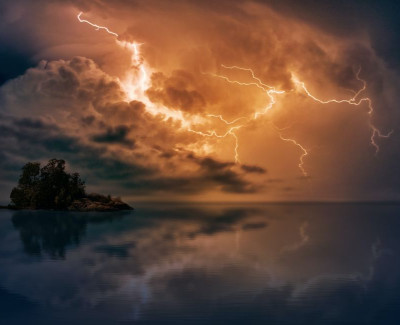 ---
Top 10 Storm Quotes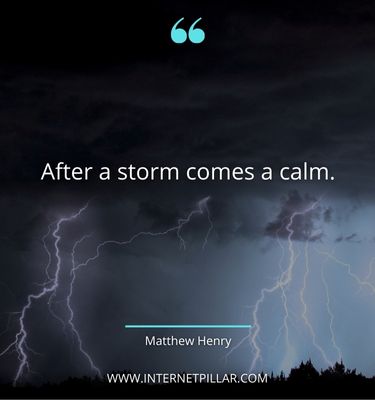 After a storm comes a calm. ~ Matthew Henry.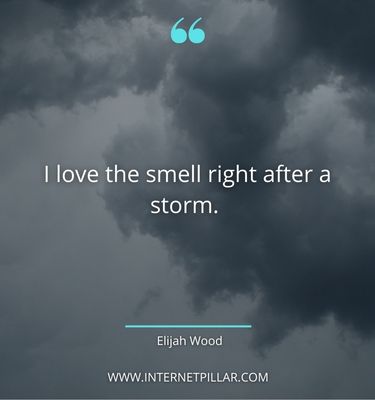 I love the smell right after a storm. ~ Elijah Wood.
No way out but through the storm now. ~Lisa Wingate.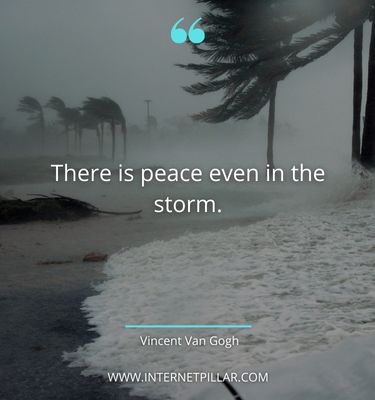 There is peace even in the storm. ~ Vincent Van Gogh.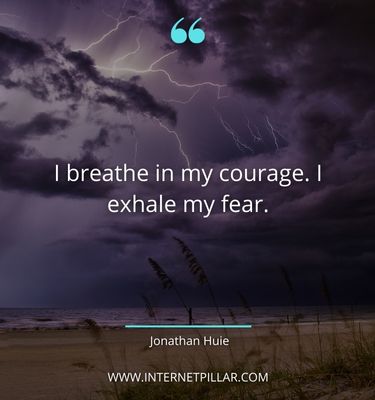 I breathe in my courage. I exhale my fear. ~ Jonathan Huie.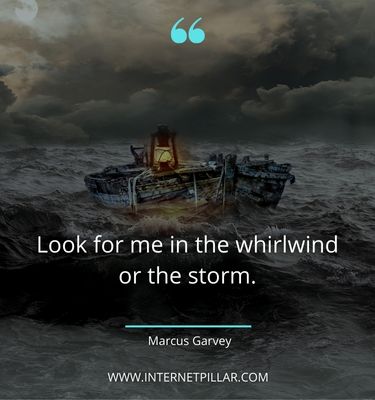 Look for me in the whirlwind or the storm. ~ Marcus Garvey.
The only safe ship in a storm is leadership. ~ Faye Wattleton.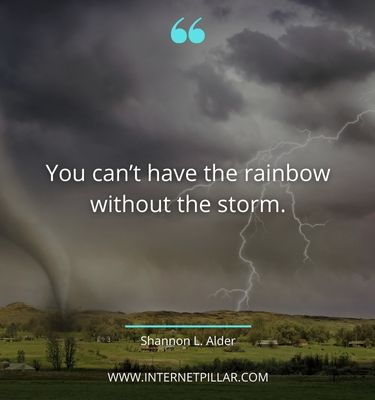 You can't have the rainbow without the storm. ~ Shannon L. Alder.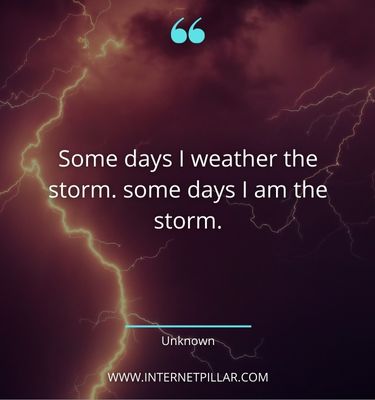 Some days I weather the storm. some days I am the storm. ~ Unknown.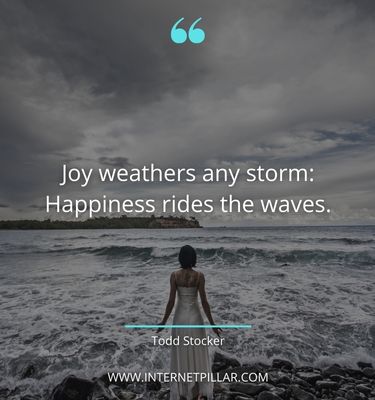 Joy weathers any storm: Happiness rides the waves. ~ Todd Stocker.
Storm Quotes
Storms draw something out of us that calm seas don't. ~ Bill Hybel.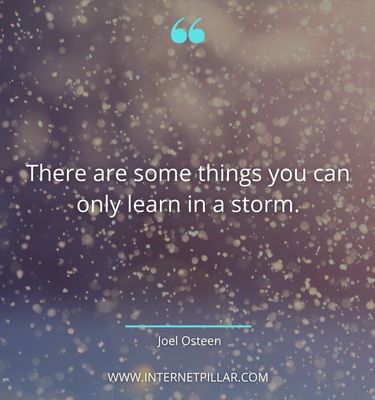 There are some things you can only learn in a storm. ~ Joel Osteen.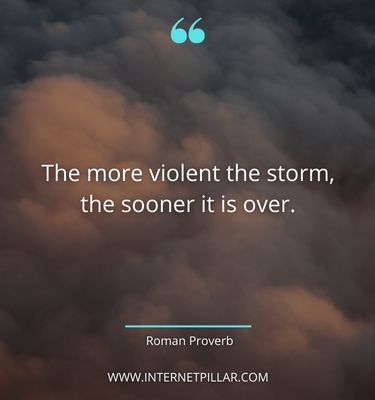 The more violent the storm, the sooner it is over. ~ Roman Proverb.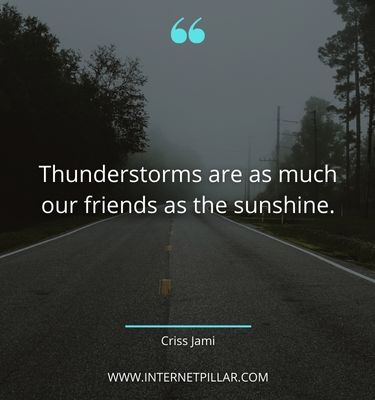 Thunderstorms are as much our friends as the sunshine. ~ Criss Jami.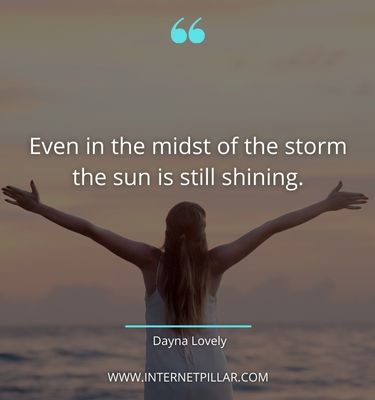 Even in the midst of the storm the sun is still shining. ~ Dayna Lovely.
A positive attitude can turn a storm into a sprinkle. ~ Robert M. Hensel.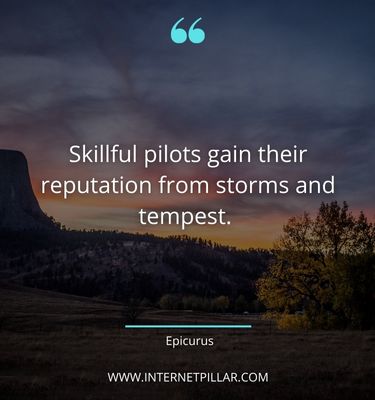 Skillful pilots gain their reputation from storms and tempest. ~ Epicurus.
Storm Quotes To Weather the Storm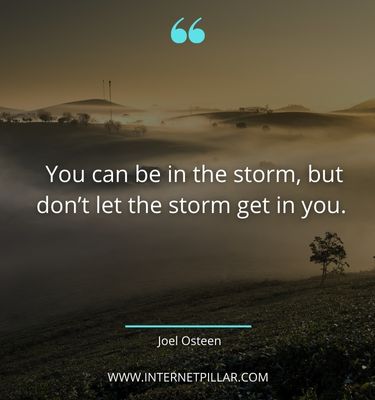 You can be in the storm, but don't let the storm get in you. ~ Joel Osteen.
The storm is an artist; the rainbow is its masterpiece. ~ Matshona Dhliwayo.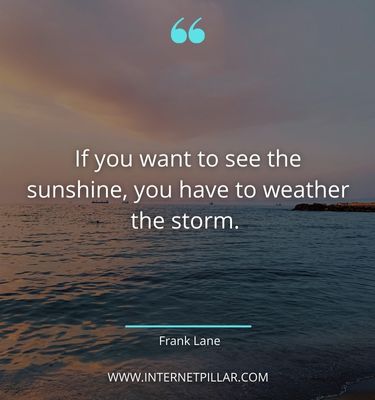 If you want to see the sunshine, you have to weather the storm. ~ Frank Lane.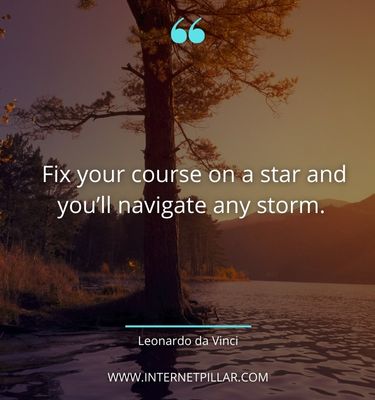 Fix your course on a star and you'll navigate any storm. ~ Leonardo da Vinci.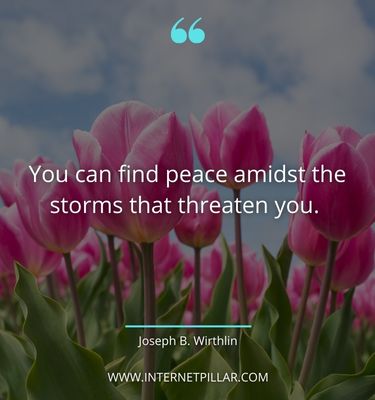 You can find peace amidst the storms that threaten you. ~ Joseph B. Wirthlin.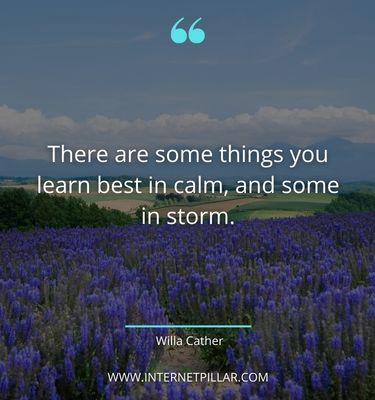 There are some things you learn best in calm, and some in storm. ~ Willa Cather.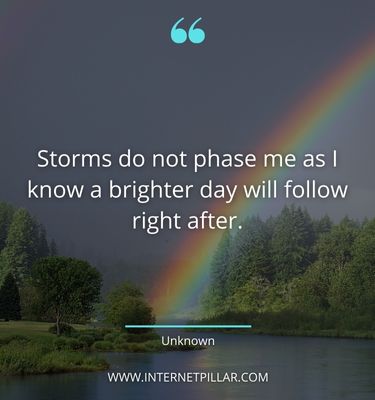 Storms do not phase me as I know a brighter day will follow right after. ~ Unknown.
Quotes about Storms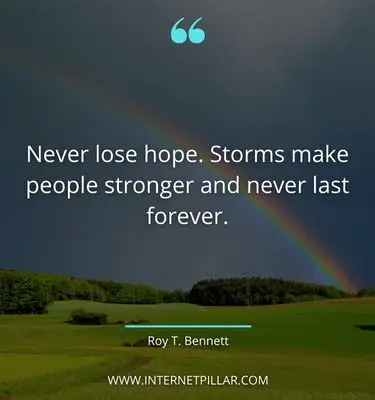 Never lose hope. Storms make people stronger and never last forever. ~ Roy T. Bennett.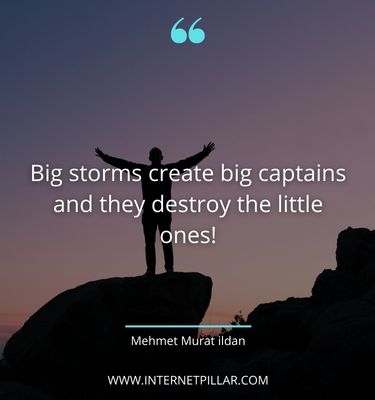 Big storms create big captains and they destroy the little ones! ~ Mehmet Murat ildan.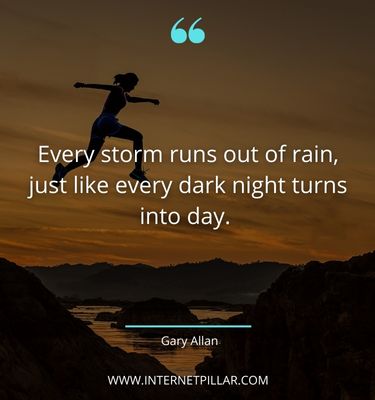 Every storm runs out of rain, just like every dark night turns into day. ~ Gary Allan.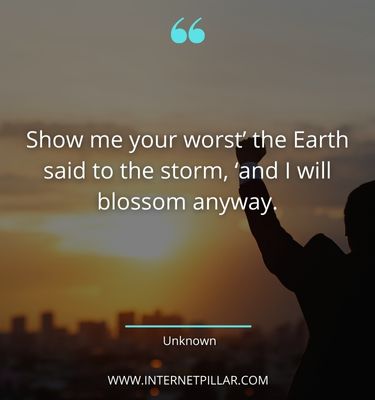 Show me your worst' the Earth said to the storm, 'and I will blossom anyway. ~ Unknown.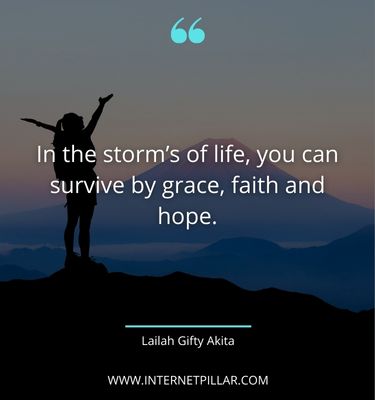 In the storm's of life, you can survive by grace, faith and hope. ~ Lailah Gifty Akita.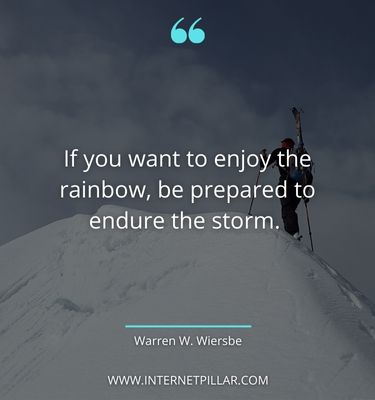 If you want to enjoy the rainbow, be prepared to endure the storm. ~ Warren W. Wiersbe.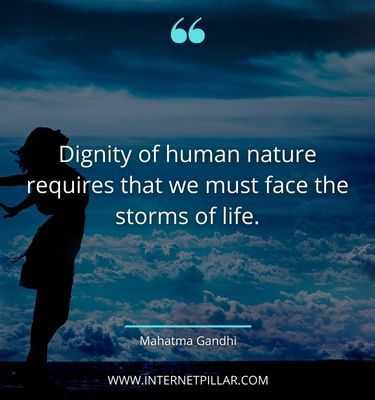 Dignity of human nature requires that we must face the storms of life. ~ Mahatma Gandhi.
Storm Sayings and Quotes
The darkness of the storm determines the brightness of the rainbow. ~ Matshona Dhliwayo.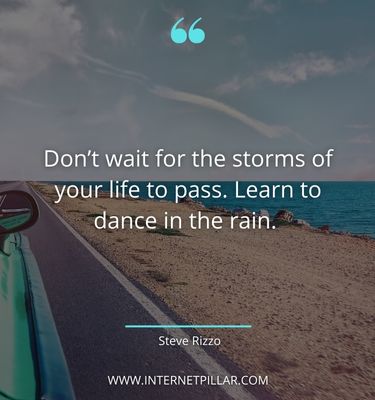 Don't wait for the storms of your life to pass. Learn to dance in the rain. ~ Steve Rizzo.
Ride the storm. Cheer wildly. Gather strength from life's storms. ~ Jonathan Lockwood Huie.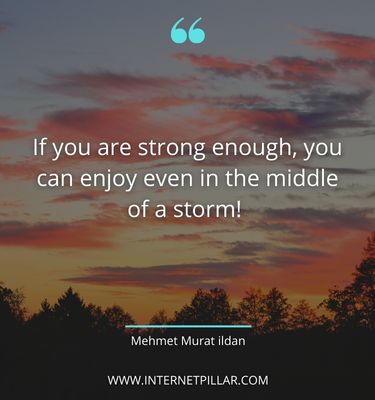 If you are strong enough, you can enjoy even in the middle of a storm! ~ Mehmet Murat ildan.
Even paradise sees its share of storms, but in the end, it's still paradise. ~ Trevor Driggers.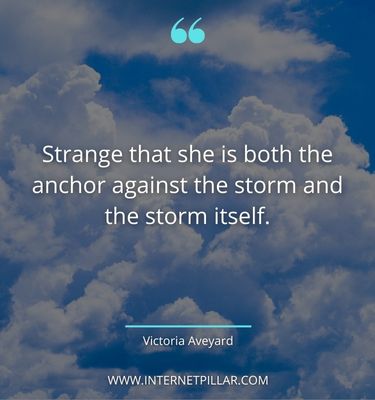 Strange that she is both the anchor against the storm and the storm itself. ~ Victoria Aveyard.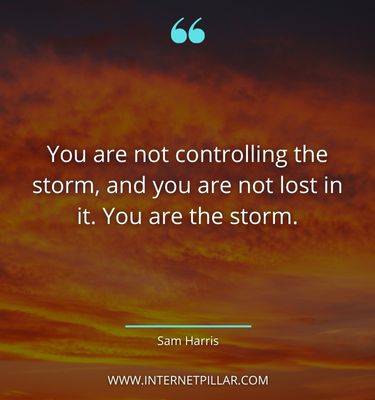 You are not controlling the storm, and you are not lost in it. You are the storm. ~ Sam Harris.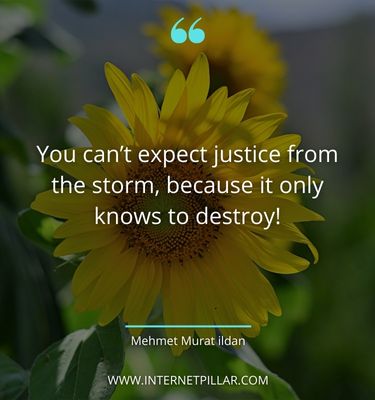 You can't expect justice from the storm, because it only knows to destroy! ~ Mehmet Murat ildan.
Never make your most important decisions when you are in your worst moods. ~ Robert H. Schuller.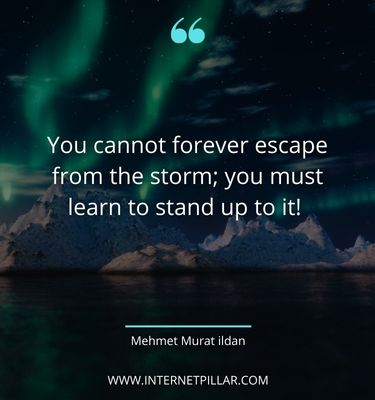 You cannot forever escape from the storm; you must learn to stand up to it! ~ Mehmet Murat ildan.
Best Quotes about Storms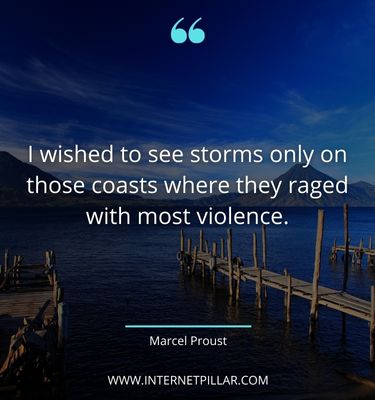 I wished to see storms only on those coasts where they raged with most violence. ~ Marcel Proust.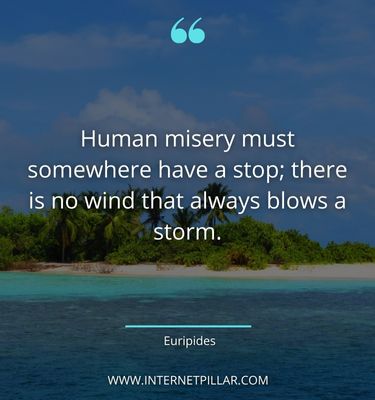 Human misery must somewhere have a stop; there is no wind that always blows a storm. ~ Euripides.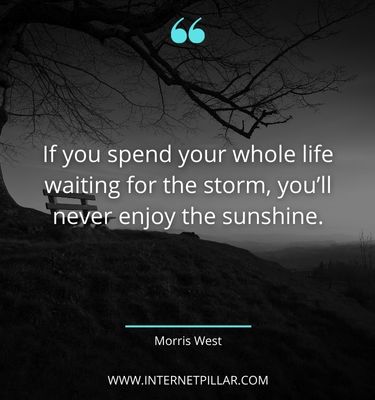 If you spend your whole life waiting for the storm, you'll never enjoy the sunshine. ~ Morris West.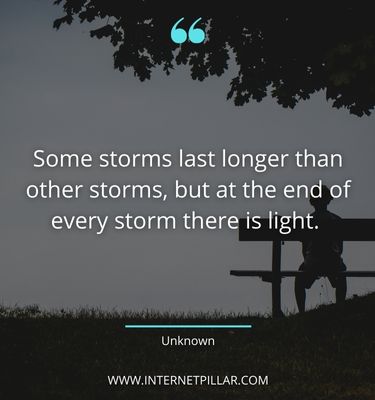 Some storms last longer than other storms, but at the end of every storm there is light. ~ Unknown.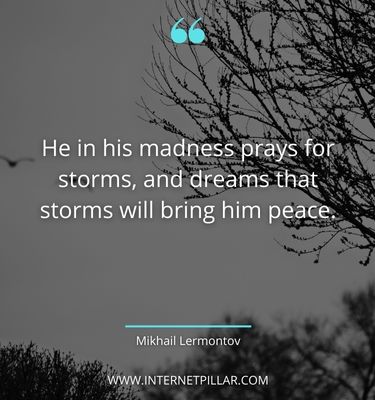 He in his madness prays for storms, and dreams that storms will bring him peace. ~ Mikhail Lermontov.
Life isn't finding shelter in the storm. It's about learning to dance in the rain. ~ Sherrilyn Kenyon.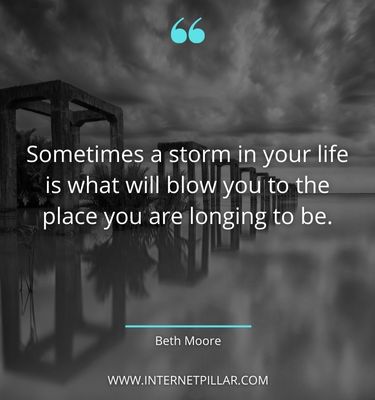 Sometimes a storm in your life is what will blow you to the place you are longing to be. ~ Beth Moore.
In order to realize the worth of the anchor we need to feel the stress of the storm. ~ Corrie Ten Boom.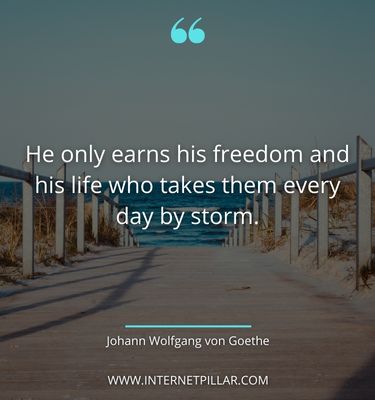 He only earns his freedom and his life who takes them every day by storm. ~ Johann Wolfgang von Goethe.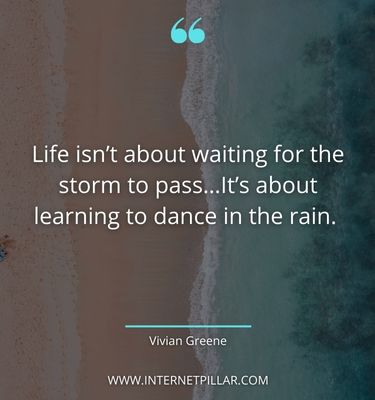 Life isn't about waiting for the storm to pass…It's about learning to dance in the rain. ~ Vivian Greene.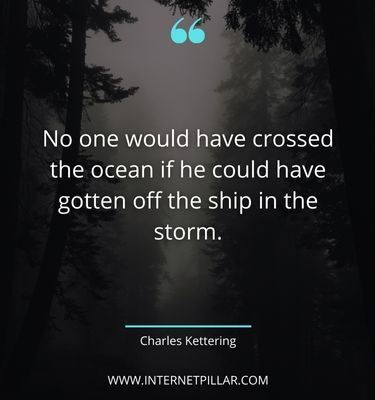 No one would have crossed the ocean if he could have gotten off the ship in the storm. ~ Charles Kettering.
Beautiful Storm Quotes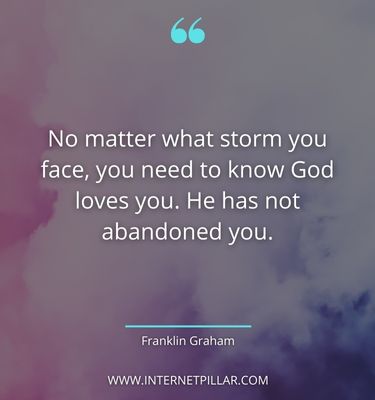 No matter what storm you face, you need to know God loves you. He has not abandoned you. ~ Franklin Graham.
Storms don't come to teach us painful lessons, rather they were meant to wash us clean. ~ Shannon L. Alder.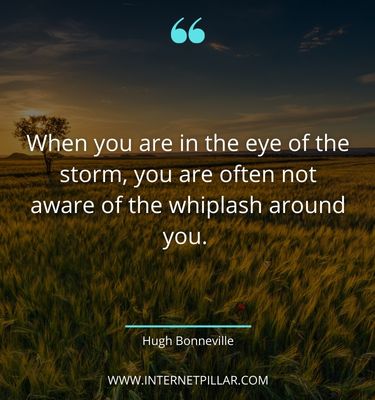 When you are in the eye of the storm, you are often not aware of the whiplash around you. ~ Hugh Bonneville.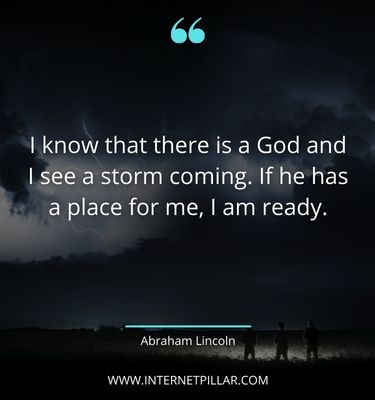 I know that there is a God and I see a storm coming. If he has a place for me, I am ready. ~ Abraham Lincoln.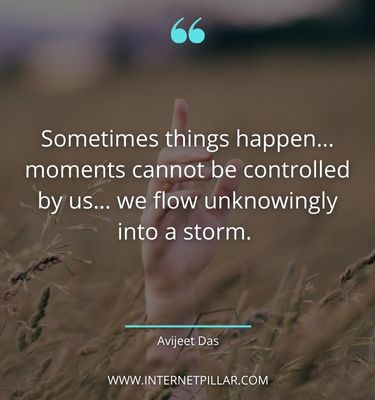 Sometimes things happen… moments cannot be controlled by us… we flow unknowingly into a storm. ~ Avijeet Das.
When the storm rips you to pieces, you get to decide how to put yourself back together again. ~ Bryant H. McGill.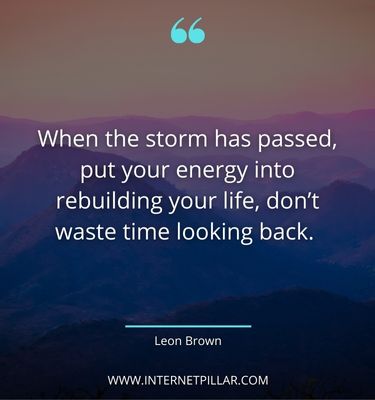 When the storm has passed, put your energy into rebuilding your life, don't waste time looking back. ~ Leon Brown.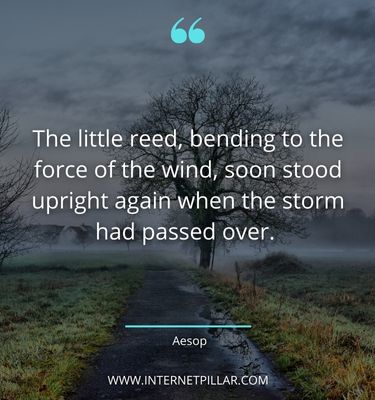 The little reed, bending to the force of the wind, soon stood upright again when the storm had passed over. ~ Aesop.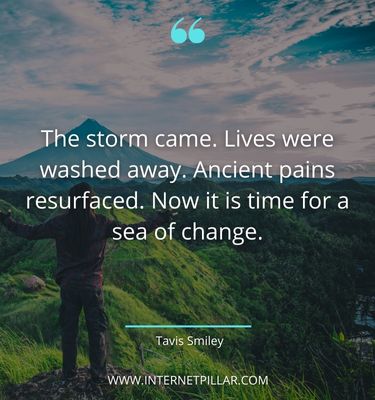 The storm came. Lives were washed away. Ancient pains resurfaced. Now it is time for a sea of change. ~ Tavis Smiley.
Storm Quotes to Emerge Stronger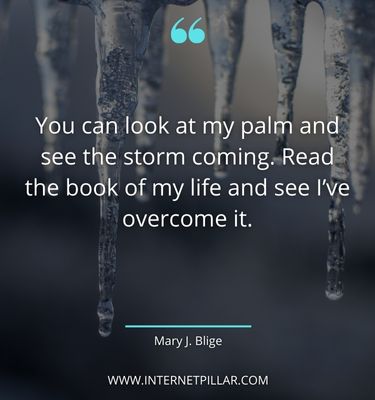 You can look at my palm and see the storm coming. Read the book of my life and see I've overcome it. ~ Mary J. Blige.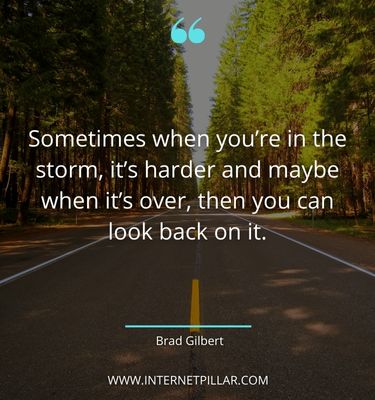 Sometimes when you're in the storm, it's harder and maybe when it's over, then you can look back on it. ~ Brad Gilbert.
All day long, one storm then another and I take your hands like gentle flowers that blossom into awareness. ~ John Geddes.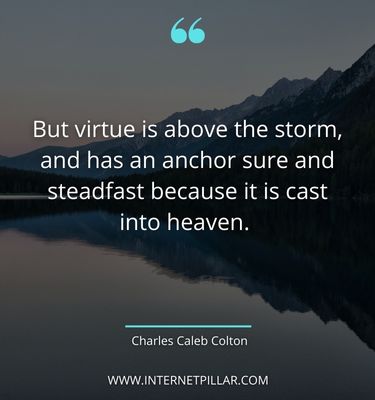 But virtue is above the storm, and has an anchor sure and steadfast because it is cast into heaven. ~ Charles Caleb Colton.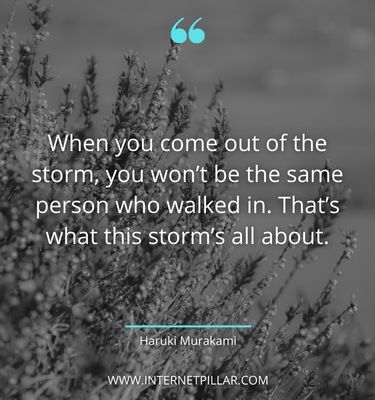 When you come out of the storm, you won't be the same person who walked in. That's what this storm's all about. ~ Haruki Murakami.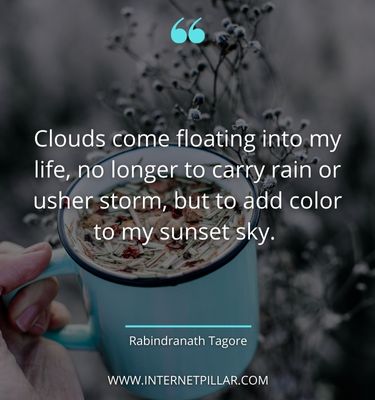 Clouds come floating into my life, no longer to carry rain or usher storm, but to add color to my sunset sky. ~ Rabindranath Tagore.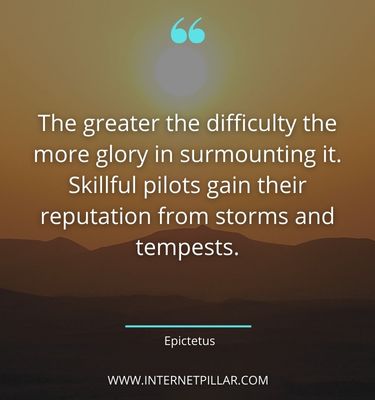 The greater the difficulty the more glory in surmounting it. Skillful pilots gain their reputation from storms and tempests. ~ Epictetus.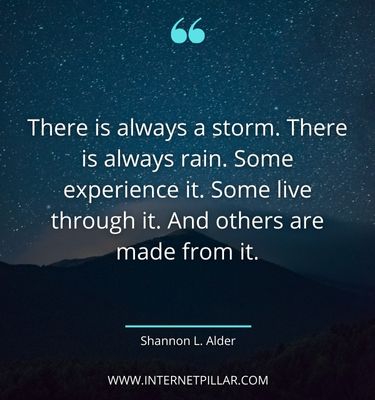 There is always a storm. There is always rain. Some experience it. Some live through it. And others are made from it. ~ Shannon L. Alder.
The heart of man is very much like the sea, it has its storms, it has its tides and in its depths it has its pearls too. ~ Vincent Van Gogh.
---
So these were the 70 quotes about Storm.
If you like these quotes, then you can also read our other posts on Pet Quotes and Short Friendship Quotes and New Week Quotes and Empathy Quotes and Snow Quotes.