Roy L. Smith, born on February 8, 1887 in Hico, Texas, was an esteemed American minister and writer renowned for his inspirational speeches and works.
Smith was recognized for his profound preaching that interwove biblical teachings and insights into the human condition and contemporary life.
Besides his ministerial role, he was a prolific writer, with his works encompassing themes of faith, hope and personal growth.
His most famous work, "The Meditations of an Anchorite," remains a treasured piece of inspirational literature.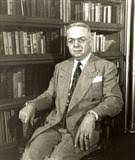 Roy Smith was often referred to as "Mr. Methodist."
Although details of Smith's personal life are sparse, his faith and role as a spiritual leader were central to his life.
Smith passed away on August 23, 1946 leaving behind a significant legacy as a pioneer in the field of inspirational writing and speaking.
His writings continue to inspire countless readers worldwide.
In this post, I have selected the most famous quotes by Roy Smith.
---
Best Roy Smith Quotes
If you are a man of dependability, you are worth more than if you were clever. ~ Roy Smith.
The greatest difficulty with the world is not its ability to produce, but the unwillingness to share. ~ Roy L. Smith.
Hate ain't any good. It just tears us apart. Only the haters lose. ~ Roy Smith.
More people are troubled by what is plain in Scripture than by what is obscure. ~ Roy L. Smith.
The successful man is the one who finds out what is the matter with his business before his competitors do. ~ Roy L. Smith.
Discipline is the refining fire by which talent becomes ability. ~ Roy L. Smith.
Dependability is sincerity plus will power. Dependability is merely an outcropping of character. ~ Roy L. Smith.
If a man is not faithful in minor matters, he is not to be trusted in major matters. ~ Roy L. Smith.
It is a healthy symptom when a man is dissatisfied without being discouraged. ~ Roy L. Smith.
The ability to accept responsibility is the measure of the man. ~ Roy L. Smith.
We are apt to forget that children watch examples better than they listen to preaching. ~ Roy L. Smith.
Famous Roy Smith Quotes
My guess is it may be harder to bring about a conviction after this ruling. ~ Roy L. Smith.
He who has not Christmas in his heart will never find it under a tree. ~ Roy L. Smith.
We are sure to get opportunities as we show ourselves capable of being trusted. ~ Roy L. Smith.
The man of dependability is never a drug on the market. ~ Roy Smith.
The man who cannot believe in himself cannot believe in anything else. The basis of all integrity and character is whatever faith we have in our own integrity. ~ Roy L. Smith.
Top Roy Smith Quotes
He was good company, good to talk with, when he wasn't drinking. ~ Roy L. Smith.
Cultivate dependability and you will always have responsibilities. ~ Roy L. Smith.
You have to remember these people were stretching the rubber band about as far it would go for five years. ~ Roy L. Smith.
One does not need to be brilliant to be dependable. ~ Roy L. Smith.
There is nothing dependable that is not backed by character. ~ Roy L. Smith.
---
So these were the 21 top Roy Smith quotes and sayings.
If you like these quotes and sayings, then you can also read my other posts on Tim Burton quotes and Bayard Rustin quotes.