Sam Rayburn, born in 1882, was an influential American political leader who served as the speaker of the U.S. House of Representatives for about 17 years.
Elected to the House in 1912, he served for 48 years and 8 months, a record at his death. He was elected 25 times consecutively.
Rayburn's family relocated to Texas in 1887, where he grew up, educated himself and became a lawyer.
Before joining U.S. Congress, he served in the Texas House of Representatives.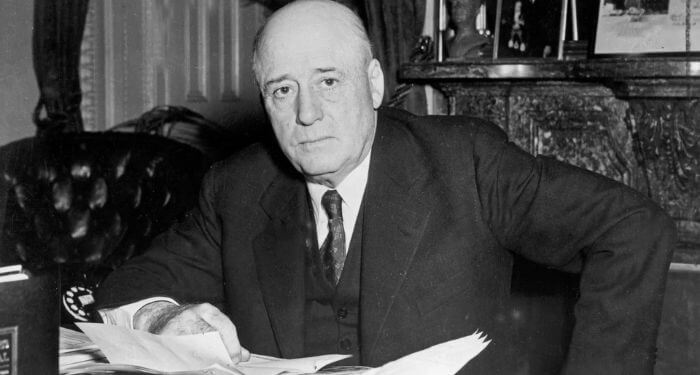 An influential figure in government and party politics, Rayburn was a key contributor to the New Deal and coauthored significant legislations.
He was an adviser to multiple U.S. Presidents and a stalwart Democrat, earning the nickname "Mr. Democrat".
Rayburn adeptly navigated the challenges of his role, maintaining harmony within the diverse Democratic Party and establishing constructive relationships with the Republicans.
I have picked the best quotes by Sam Rayburn in this blog post.
---
Best Sam Rayburn Quotes
A fellow can spend too much time on the golf course when he's needed to mind the store. ~ Sam Rayburn.
Don't ever talk until you know what you are talking about. ~ Sam Rayburn.
When you get too big a majority, you're immediately in trouble. ~ Sam Rayburn.
I do not write speeches – I just speak. ~ Sam Rayburn.
A damn independent boy; independent as a hog on ice. ~ Sam Rayburn.
I am not afraid as long as I do what seems right. The people are my tribunal. ~ Sam Rayburn.
You cannot be a leader, and ask other people to follow you, unless you know how to follow, too. ~ Sam Rayburn.
My birthdays don't mean anything to me. There's nothing you can do about avoiding 'em. ~ Sam Rayburn.
I like power and I like to use it. ~ Sam Rayburn.
Drudgery, darkness, and muddy roads are not conducive to anything that is good. ~ Sam Rayburn.
No one has a finer command of language than the person who keeps his mouth shut. ~ Sam Rayburn.
There is no such thing as standing still. You either go forward or backward. ~ Sam Rayburn.
Great Sam Rayburn Quotes
You'll never get mixed up if you simply tell the truth. Then you don't have to remember what you have said, and you never forget what you have said. ~ Sam Rayburn.
Son, if you can't take their money, drink their whiskey, screw their women, and then vote against 'em, you don't deserve to be here. ~ Sam Rayburn.
Every good man in Washington who has been talked about for the presidency has been ruined by it. Except me. ~ Sam Rayburn.
The real actor has a direct line to the collective heart. ~ Sam Rayburn.
I'm not worried about our young people. It makes me tired to hear all this talk about the young generation going to hell in a sack. ~ Sam Rayburn.
Top Sam Rayburn Quotes
Do not wait for extraordinary circumstances to do good action; try to use ordinary situations. ~ Sam Rayburn.
Any man who will deceive the voters during a political campaign will deceive them after he is elected. ~ Sam Rayburn.
People don't do things for you because you've done things for them; it's what they've done willingly for you that cements friendship. ~ Sam Rayburn.
There's no education in the second kick of a mule. ~ Sam Rayburn.
If a man has common sense, he has all the sense there is. ~ Sam Rayburn.
If you want to get along, go along. ~ Sam Rayburn.
Too many critics mistake the deliberations of the Congress for its decisions. ~ Sam Rayburn.
Famous Sam Rayburn Quotes
I will not deny that there are men in the district better qualified than I to go to Congress, but gentlemen, these men are not in the race. ~ Sam Rayburn.
Any man who will cheat for you will cheat against you. ~ Sam Rayburn.
Let the other fellow get the headlines. I'll take the laws. ~ Sam Rayburn.
If you say you're tired, you will be tired. ~ Sam Rayburn.
It will be a sad day for the country when only men of great means can afford to represent their districts of the states in the Congress of the United States. ~ Sam Rayburn.
Readiness for opportunity makes for success. Opportunity often comes by accident; readiness never does. ~ Sam Rayburn.
Popular Sam Rayburn Quotes
When you see a man get stuffy or arrogant because he holds a big job, it means he was not big enough for the job when he got it. ~ Sam Rayburn.
It's better to be silent and pretend to be dumb than to speak and remove all doubt. ~ Sam Rayburn.
They may be just as intelligent as you say. But I'd feel a helluva lot better if just one of them had ever run for sheriff. ~ Sam Rayburn.
Poverty only tries men's souls. It is loneliness that breaks the heart. ~ Sam Rayburn.
There are no degrees in honorableness. You either are or you aren't. ~ Sam Rayburn.
---
So these were the 37 top Sam Rayburn quotes and sayings.
If you like these quotes and sayings, then you can also read my other posts on Werner Herzog quotes and NLE Choppa quotes.