If you're feeling stuck in your social media strategy then don't worry it happens to all of us.
Navigating through various platforms can be daunting and it's not just about regular content posting; it requires much more effort.
The key lies in mastering the art of quality content, as demonstrated by successful social media influencers and businesses.
This approach makes them stand out among others. Regardless of your role in online marketing – be it a social media influencer, a marketing agency, an entrepreneur, or even a freelancer, you can benefit from a little inspiration.
The best social media quotes can change your perception about this digital platform and drive you towards achieving your goals.
So, for those needing a boost, check out these top inspirational social media quotes.
---
Table of Contents
Top 10 Social Media Quotes
You are what you tweet. ~ Alex Tew.
You are what you share. ~ Charles W. Leadbeater.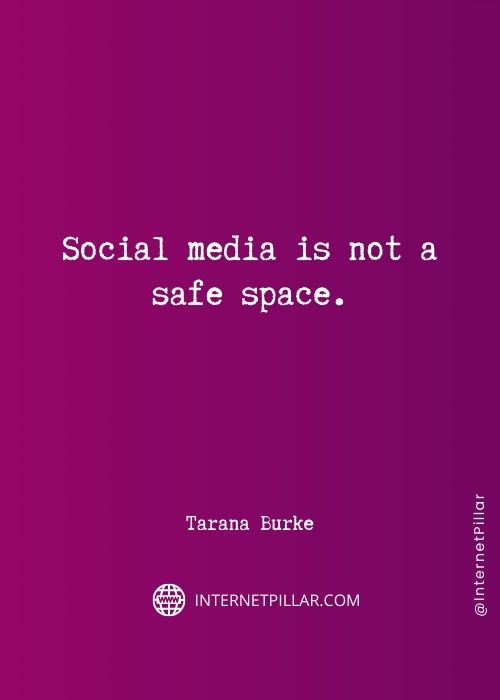 Social media is not a safe space. ~ Tarana Burke.
Content is fire. Social media is gasoline. ~ Jay Baer.
Our head of social media is the customer. ~ McDonald's.
Distracted from distraction by distraction. ~ T.S. Eliot.
Social media creates communities, not markets. ~ Don Schultz.
Social media allows big companies to act small again ~ Jay Baer.
By not tweeting you're tweeting. You're sending a message. ~ Unknown.
Conversations are happening whether you are there or not. ~ Kim Garst.
Also read: Social Media Marketing Quotes.
Social Media Quotes
The power of social media is it forces necessary change. ~ Erik Qualman.
Social media is just a buzzword until you come up with a plan. ~ Unknown.
Privacy is dead, and social media holds the smoking gun. ~ Pete Cashmore.
Social media policies will never be able to cure stupid. ~ Nichole Kelly.
It takes discipline not to let social media steal your time. ~ Alexis Ohanian.
Social media is an advertisement for the superficial extroverted self. ~ Hozier.
Don't use social media to impress people; use it to impact people. ~ Dave Willis.
I'm very hands-on about social media. That's my voice. ~ Alexandria Ocasio-Cortez.
Social Media puts the public into PR and the market into marketing. ~ Chris Brogan.
Social Media Quotes for Business
Technology and social media have brought power back to the people. ~ Mark McKinnon.
Social media is about sociology and psychology more than technology. ~ Brian Solis.
Social networks aren't about Web sites. They're about experiences. ~ Mike DiLorenzo.
There's so much negativity on social media, I don't want to add to that. ~ Shawn Mendes.
Mellow doesn't always make for a good story, but it makes for a good life. ~ Anne Hathaway.
The great thing about social media was how it gave a voice to voiceless people. ~ Jon Ronson.
There are positive things that come of social media as well as negative. ~ Millie Bobby Brown.
You can never go wrong by investing in communities and the human beings within them. ~ Pam Moore.
The thought that so many people get their news from social media really is scary. ~ Rush Limbaugh.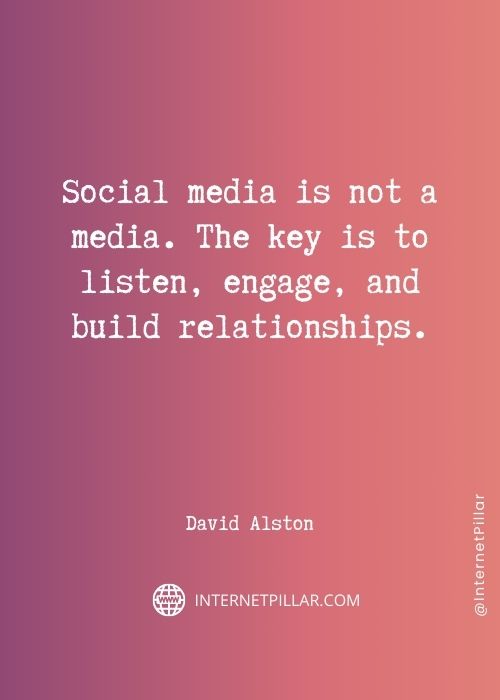 Social media is not a media. The key is to listen, engage, and build relationships. ~ David Alston.
Short Social Media Quotes
The good life is a process, not a state of being. It is a direction not a destination. ~ Carl Rogers,
Social media is not about the exploitation of technology but service to community. ~ Simon Mainwaring.
We all make mistakes. But social media can frame those mistakes and display them infinitely. ~ Unknown.
Pushing a company agenda on social media is like throwing water balloons at a porcupine. ~ Erik Qualman.
The information you get from social media is not a substitute for academic discipline at all. ~ Bill Nye.
Related: Social Media Marketing Quotes to Grow Your Business and 63 Social Justice Quotes for Activists and Leaders
Quotes about Social Media
When you're trying to bust through the noise on social media, you do have to be overt and loud. ~ Shaun King.
You learn the hard way. That's the thing with social media. Nobody knows what they're doing. ~ Cameron Dallas.
Social media is awesome because I can somewhat paint myself the way I want people to see me. ~ Kevin Abstract.
How different would people act if they couldn't show off on social media? Would they still do it? ~ Donna Lynn Hope.
Social media is the ultimate equalizer. It gives a voice and a platform to anyone willing to engage. ~ Amy Jo Martin.
I'm not sure whether it's going to be the downfall of Rome – social media. There are too many secrets. ~ Judy Sheindlin.
Inspiring Social Media Quotes
Social media is here. It's not going away; not a passing fad. Be where your customers are: in social media. ~ Lori Ruff.
Social media is called social media for a reason. It lends itself to sharing rather than horn-tooting. ~ Margaret Atwood.
The more social media we have, the more we think we're connecting, yet we are really disconnecting from each other. ~ JR.
Social media is not just a spoke on the wheel of marketing. It's becoming the way entire bicycles are built. ~ Ryan Lilly.
Best Social Media Quotes
Social media is an amazing tool, but it's really the face-to-face interaction that makes a long-term impact. ~ Felicia Day.
When you give everyone a voice and give people power, the system usually ends up in a really good place. ~ Mark Zuckerberg.
It's amazing how much information we share in social media, then we wonder why people steal our identity. ~ Frank Abagnale.
I'm trying to embrace social media because it gives artists a little more power than we've had in the past. ~ Billy Porter.
Thought-Provoking Social Media Quotes
Social media is reducing social barriers. It connects people on the strength of human values, not identities. ~ Narendra Modi.
Our attention spans have been reduced by the immediate gratification provided by smartphones and social media. ~ Katherine Ryan.
A large social-media presence is important because it's one of the last ways to conduct cost-effective marketing. ~ Guy Kawasaki.
People are scared to have a strong opinion because, with social media, almost everyone lives the life of a celebrity. ~ Yungblud.
A good life depends on the strength of our relationships with family, friends, neighbors, colleagues and strangers. ~ David Lammy.
I'm very active on social media and see the huge impact it has on engaging with fans and being able to have a voice. ~ Stephen Curry.
Priceless Social Media Quotes
Social Media is about the people! Not about your business. Provide for the people and the people will provide for you. ~ Matt Goulart.
Engage, Enlighten, Encourage and especially…just be yourself! Social media is a community effort, everyone is an asset. ~ Susan Cooper.
The future is in photos for social media. More and more people are not reading, so I try to attach a photo to most Tweets. ~ Tyra Banks.
People are always telling you you're done. Someone's always telling you that, especially now in the day of social media. ~ Billy Crystal.
I give big ups to people who are very big on social media, whether they're doing vlogs or whatever. It takes a lot of effort. ~ Shawn Mendes.
The first rule of social media is that everything changes all the time. What won't change is the community's desire to network. ~ Kami Huyse.
Thought-Provoking Quotes About Social Media
Smartphones and social media expand our universe. We can connect with others or collect information easier and faster than ever. ~ Daniel Goleman.
It's a dialogue, not a monologue, and some people don't understand that. Social media is more like a telephone than a television. ~ Amy Jo Martin.
Build it, and they will come only works in the movies. Social Media is a build it, nurture it, engage them, and they may come and stay. ~ Seth Godin.
A lot of people use social media to share mundane things or for self-glorification. I try to use it to share interesting things with people. ~ Ashton Kutcher.
Successful companies in social media function more like entertainment companies, publishers, or party planners than as traditional advertisers. ~ Erik Qualman.
Social media has given us this idea that we should all have a posse of friends when in reality, if we have one or two really good friends, we are lucky. ~ Brene Brown.
You don't need to go far to see the hatred and abuse that happens online. Even using social media is anti-social because people are always on their phones. ~ Ronny Chieng.
Social media has taken over in America to such an extreme that to get my own kids to look back a week in their history is a miracle, let alone 100 years. ~ Steven Spielberg.
---
---
So these were the 68 Quotes about Social Media.
If you like these quotes, then you can also read our other posts on Marketing Quotes and Social Media Marketing Quotes.