Work friends or individuals you form friendships with in the workplace, contribute significantly to your professional experience.
This collection of 55 work friends quotes offers a wide array of sayings, from witty one-liners to heartfelt sentiments and motivational messages, meant to inspire and encourage both you and your coworkers.
These quotes underscore the value of forging strong relationships with colleagues, nurturing a sense of community and establishing a supportive work environment.
Whether you're seeking to express appreciation for a close coworker, celebrate the bonds formed at work, or simply brighten a work friend's day, these quotes provide the perfect words.
So go ahead, pick a quote and make your coworker's day a little brighter.
---
Top 10 Work Friends Quotes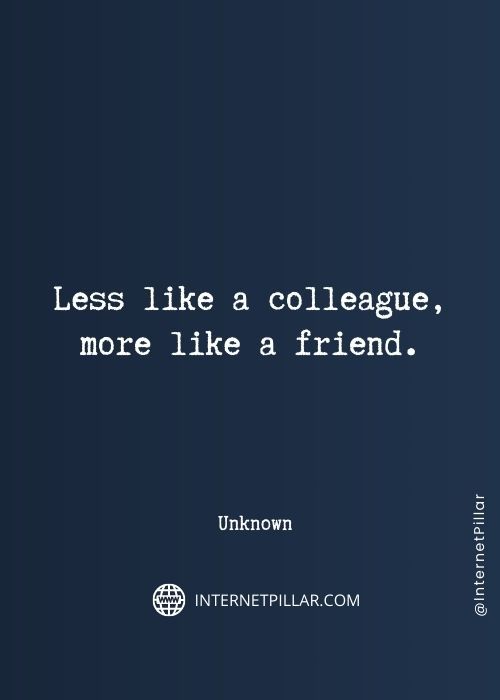 Less like a colleague, more like a friend. ~ Unknown.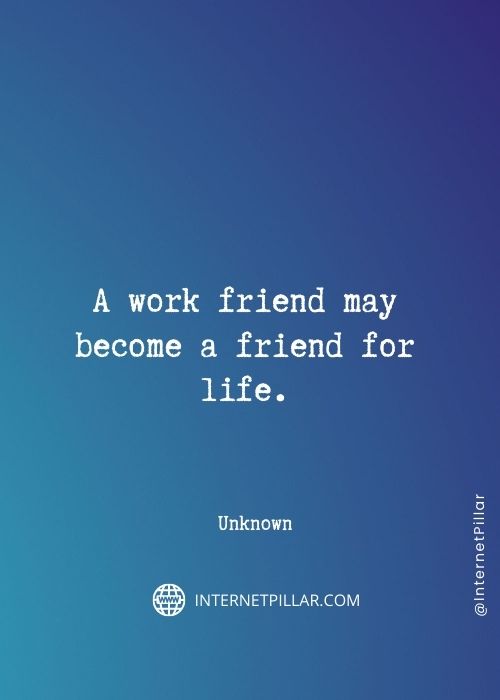 A work friend may become a friend for life. ~ Unknown.
It's like a dream job to work with your friends. ~ Unknown.
Happiness is having a co-worker who becomes a friend. ~ Unknown.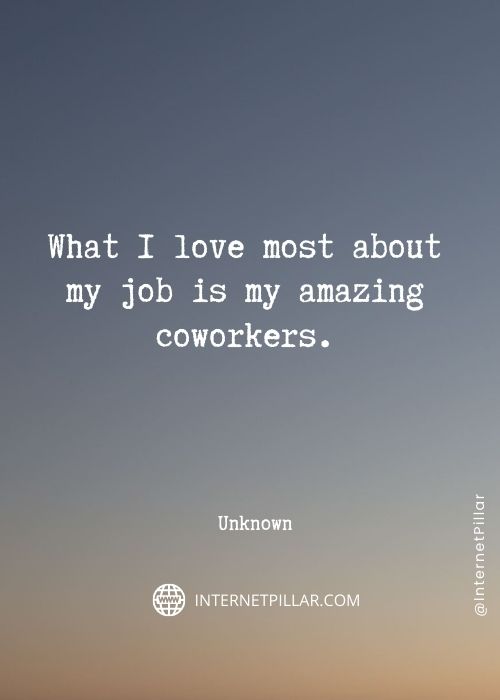 What I love most about my job is my amazing coworkers. ~ Unknown.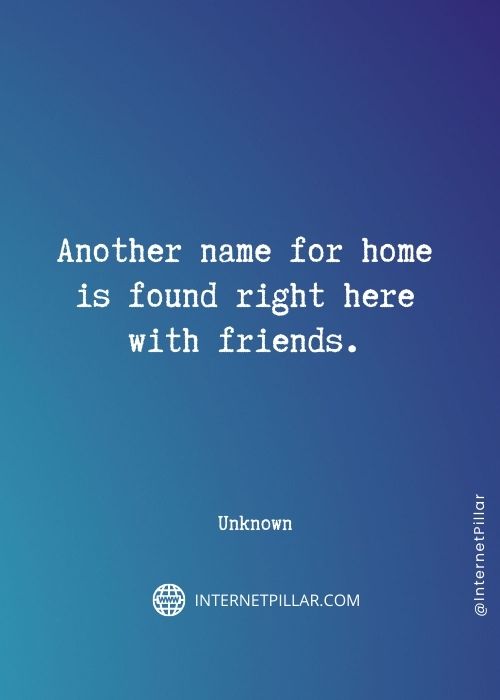 Another name for home is found right here with friends. ~ Unknown.
Chance made us colleagues. Our craziness made us friends. ~ Unknown.
Having a friend at work will make you hate your job less. ~ Unknown.
You don't have to be crazy to work here; we'll train you. ~ Unknown.
My best friend is the one who brings out the best in me. ~ Henry Ford.
Also read: Coworker Quotes and Friends Quotes.
Images for Work Friends Quotes
Having a friend in the workplace will make your day brighter. ~ Unknown.
I wish we worked together so we could hate the same coworkers. ~ Unknown.
You are my favorite person at work to be socially awkward with. ~ Unknown.
Finding peace can be equated to good friendships in the office. ~ Unknown.
Thanks for being not just a great colleague but a better friend. ~ Unknown.
A co-worker friend is one who will make your work their work too. ~ Unknown.
Work Friends Quotes
I have no desire to go to work and not work with my friends. ~ Xavier Woods.
You're the coworker I miss emailing from a few feet away the most. ~ Unknown.
Chance made us colleagues. But the fun and laughter made us friends. ~ Unknown.
Working under pressure becomes fun when you're working with friends. ~ Unknown.
I never face Monday morning blues because of fun colleagues like you! ~ Unknown.
Quotes about Work Friends
When you have friends at work, you always have someone supporting you. ~ Unknown.
You're the only coworker I don't complain about to my other coworkers. ~ Unknown.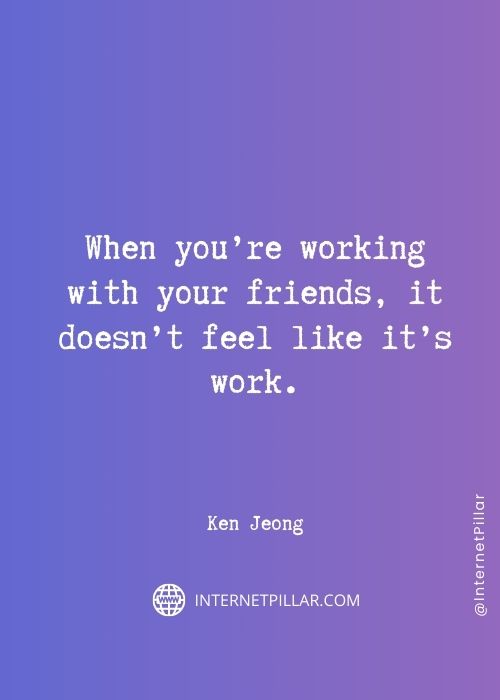 When you're working with your friends, it doesn't feel like it's work. ~ Ken Jeong.
Talent wins games, but teamwork and intelligence win championships. ~ Michael Jordan.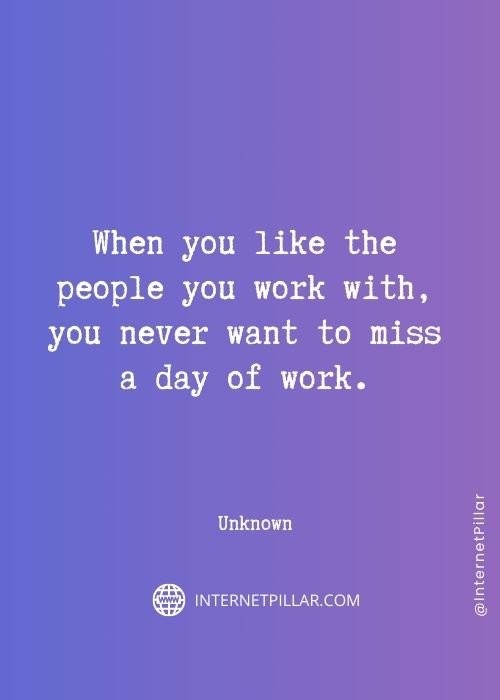 When you like the people you work with, you never want to miss a day of work. ~ Unknown.
Career along with the best of friends is the best combination anyone can have. ~ Unknown.
Best Work Friends Quotes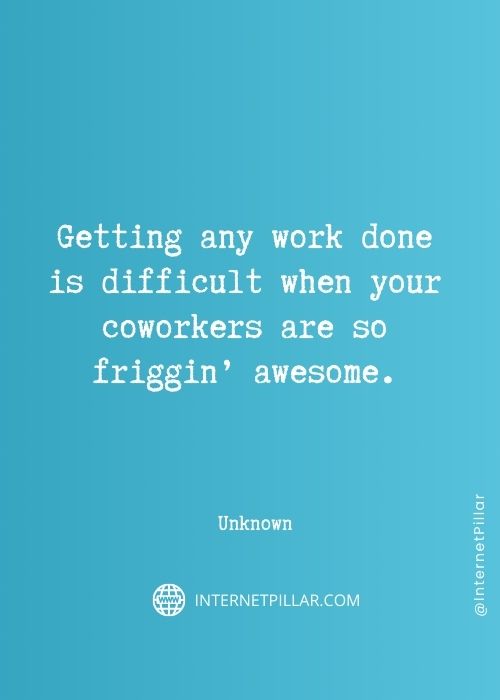 Getting any work done is difficult when your coworkers are so friggin' awesome. ~ Unknown.
I never face Monday morning blues because of fun colleagues like you. Thank you! ~ Unknown.
I always say I'm not going to work; I'm going to play with my friends. ~ Brian Tyree Henry.
I'm so glad you work here, so I have someone to talk to every day about quitting. ~ Unknown.
When work is a pleasure, life is a joy! When work is a duty, life is slavery. ~ Maxim Gorky.
A trusty comrade is always of use; and a chronicler still more so. ~ Arthur Conan Doyle.
Coworker Friendship Quotes
There is nothing better than a friend at work unless it's a friend with chocolate. ~ Unknown.
We are far more liable to catch the vices than the virtues of our associates. ~ Denis Diderot.
Good offices do not necessarily provide good friendships, but mine are exceptional. ~ Unknown.
Awesome coworkers – they are the only reason you regret having to call in sick to work. ~ Unknown.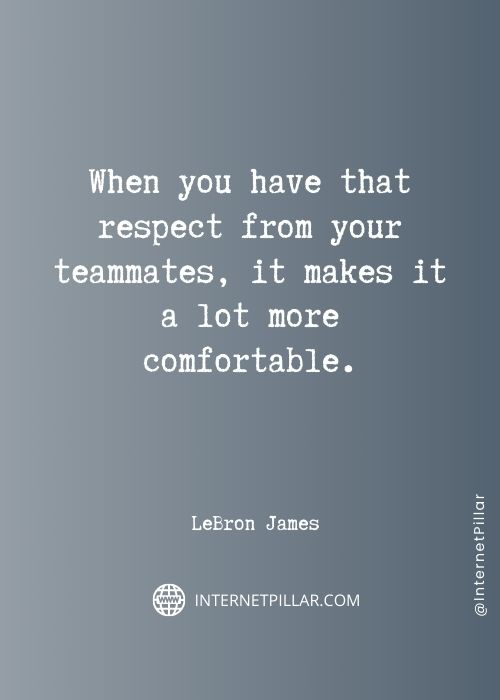 When you have that respect from your teammates, it makes it a lot more comfortable. ~ LeBron James.
It's a very special thing when you go and get to work with your best friend every day. ~ Nick Frost.
A truly great coworker is hard to find, difficult to part with, and impossible to forget! ~ Unknown.
Heartwarming Quotes About Coworkers Becoming Friends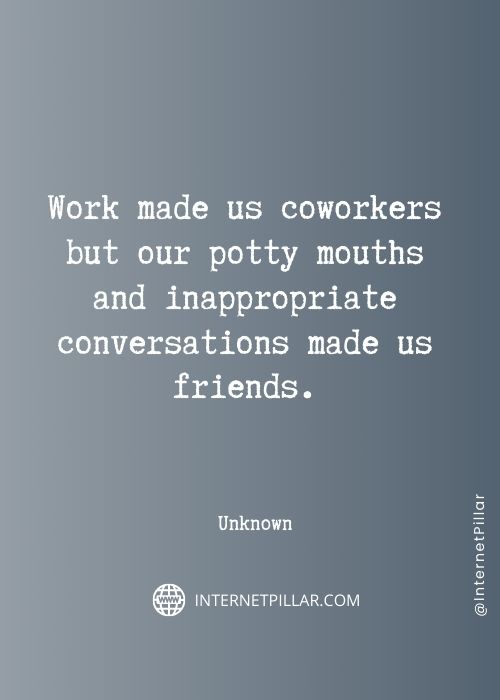 Work made us coworkers but our potty mouths and inappropriate conversations made us friends. ~ Unknown.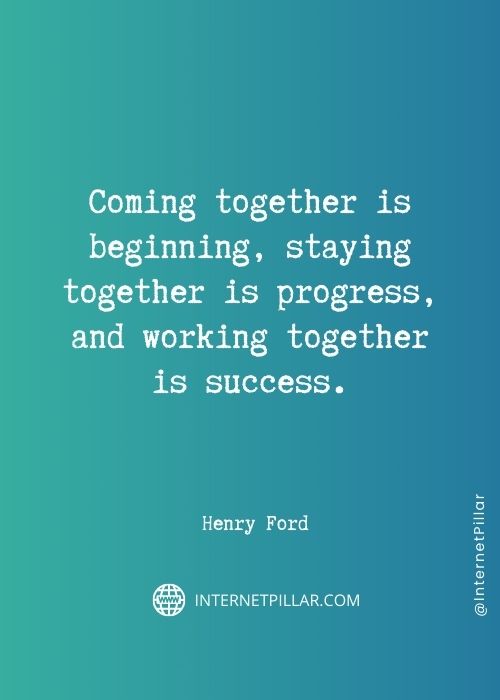 Coming together is beginning, staying together is progress, and working together is success. ~ Henry Ford.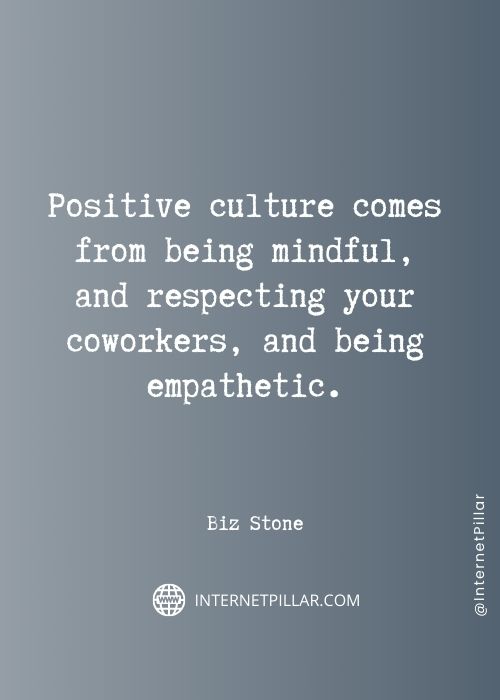 Positive culture comes from being mindful, and respecting your coworkers, and being empathetic. ~ Biz Stone.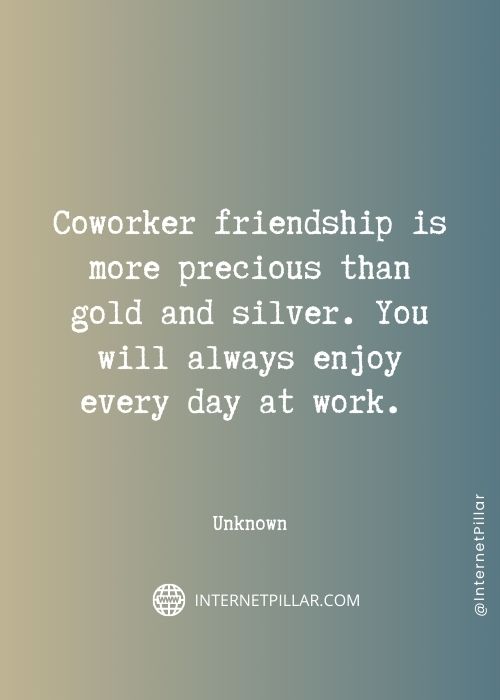 Coworker friendship is more precious than gold and silver. You will always enjoy every day at work. ~ Unknown.
Office best friends are very hard to find, but if you find them, then cling to them and never leave them. ~ Unknown.
Nothing is better than having a great friend to work with so you can vent to each other to make the day go faster. ~ Unknown.
Motivation comes from working on things we care about. It also comes from working with people we care about. ~ Sheryl Sandberg.
Best Quotes About Coworker Friendship
To find a true friend is not easy at all. A coworker that is truthful as a friend to you is a double honor from above. ~ Unknown.
Strangers turning to colleagues to eventually turn into a nest of friends is the best thing that could have happened to us. ~ Unknown.
People are more likely to remember the great social interaction they had with a colleague than the great meeting they both attended. ~ Ron Garan.
We need to remember what's important in life: friends, waffles, work. Or waffles, friends, work, it doesn't matter. But work is third. ~ Leslie Knope.
When I speak with people who love their jobs and have vital friendships at work, they always talk about how their workgroup is like a family. ~ Tom Rath.
The pleasure we found in working together made us exceptionally patient; it is much easier to strive for perfection when you are never bored. ~ Daniel Kahneman.
Time for reflection with colleagues is for me a lifesaver; it's not just a nice thing to do if you have the time. It's the only way you can survive. ~ Margaret J. Wheatly.
---
---
So these were the 55 Quotes about Work Friends.
If you like these quotes, then you can also read our other posts on Connection Quotes and Friends are Family Quotes and Relationship Building Quotes.