Christopher Tucker is an actor and comedian from the United States.
Born to Mary Louise (Bryant) and Norris Tucker in Atlanta, Georgia, Chris Tucker embarked on a journey from Georgia to Hollywood after high school to pursue a career in show business.
He made frequent appearances on Def Comedy Jam (1992), establishing a reputation for his "clean", non-vulgar stand-up comedy.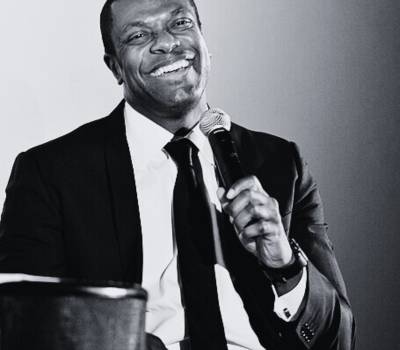 He drew inspiration from comedy legends Eddie Murphy and Richard Pryor.
Tucker's film debut was in House Party 3 (1994), followed by his significant role as Smokey in the 1995 film Friday, alongside Ice Cube.
Related: Bill Murray Quotes from the American Comedy Actor and Lenny Bruce Quotes on Life, Politics and Comedy
His character, a quirky drug addict, contrasted his television comedy with his stand-up style. He also featured in Dead Presidents (1995) the same year.
1997 marked the pinnacle of Tucker's career as he starred in three hit movies: The Fifth Element, Money Talks, and Jackie Brown. His career escalated further in 1998 when he starred alongside Jackie Chan in the globally successful movie, Rush Hour, which resulted in two sequels.
The third sequel, Rush Hour 3 (2007), earned Tucker $25 million, making him Hollywood's highest-paid actor at the time. In 2001, he appeared in Michael Jackson's music video, "You Rock My World."
Let's catch up on some of this best quotes.
---
Table of Contents
Best Chris Tucker Quotes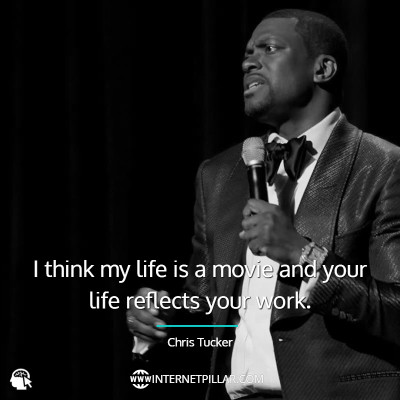 I think my life is a movie and your life reflects your work. ~ Chris Tucker.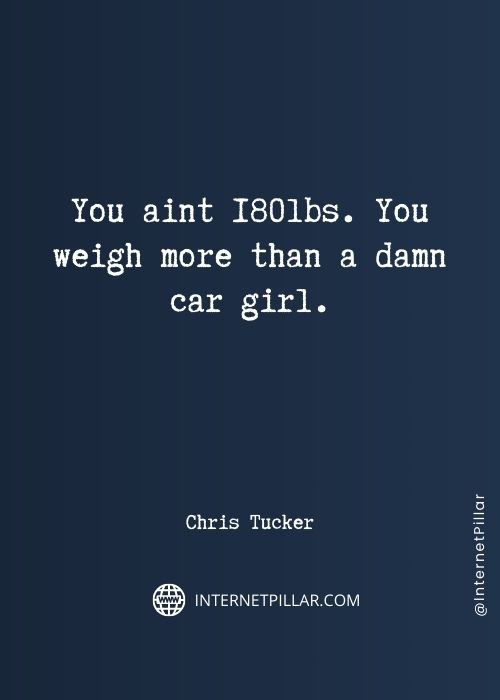 You aint 180lbs. You weigh more than a damn car girl. ~ Chris Tucker.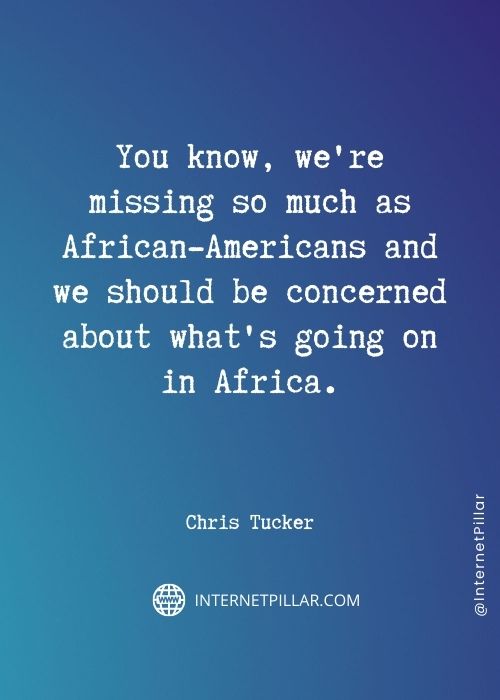 You know, we're missing so much as African-Americans and we should be concerned about what's going on in Africa. ~ Chris Tucker.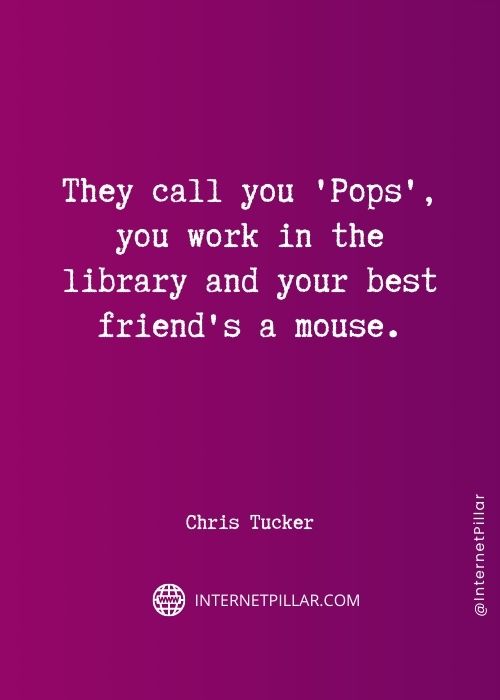 They call you 'Pops', you work in the library and your best friend's a mouse. ~ Chris Tucker.
One thing about me, when I make a decision about something, I realize when you make choices in life, that dictates your life. ~ Chris Tucker.
That's the last time I let Wesley Snipes help me out with my taxes! ~ Chris Tucker.
I am now half Asian. I have learned all the ancient teachings of Buddi. ~ Chris Tucker.
So I kept it to myself. Then some of my classmates started to come down to the comedy club, taking a girl out, and they started finding out I was a stand-up comedian. ~ Chris Tucker.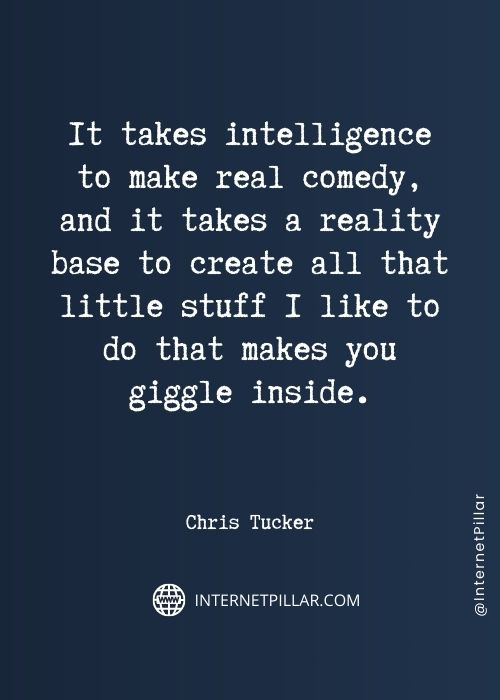 It takes intelligence to make real comedy, and it takes a reality base to create all that little stuff I like to do that makes you giggle inside. ~ Chris Tucker.
A lot of lines in movies were written, but I'm always improvising. Once you get into the scene, it just comes to me. ~ Chris Tucker.
Funny Chris Tucker Quotes
I think you've got to have a depth, a deeper depth to take stand-up into acting, but I think it really helps you as a stand-up to home into different characters and stuff easily. ~ Chris Tucker.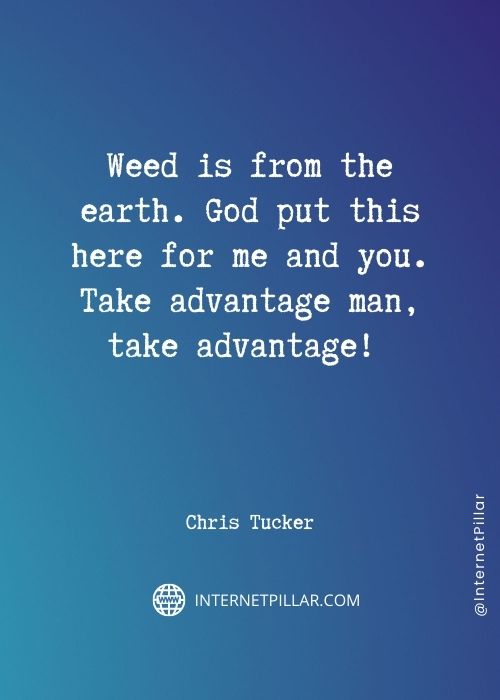 Weed is from the earth. God put this here for me and you. Take advantage man, take advantage! ~ Chris Tucker.
I've actually tried to give Brett Ratner dance lessons, but he thinks he already knows how to. ~ Chris Tucker.
I feel like every time I go out I want to do a good job. I want people to say that he's just as good at stand-up as he is in some of the movies I've seen him in, so I try to do the best every time I go out there. ~ Chris Tucker.
This country is just that great that the opportunities are there for a Hispanic president, a black president or any other race for a president, yes. ~ Chris Tucker.
When you're first starting out, you want to keep making good movies. When you're young and you're black, you do a bad movie and you're through. ~ Chris Tucker.
I love traveling. It not only opens my mind up, but it also allows me to use my fame in another way through humanitarian works and stuff, and being an influence around the world. ~ Chris Tucker.
My mom raised me to never have anything control me. ~ Chris Tucker.
Hilarious Chris Tucker Quotes
I think real life reflects your movies. In your life, you pick stuff that influences what movie roles you wanna pick. I think if you've got an interesting life, you wanna do interesting movies about interesting things. ~ Chris Tucker.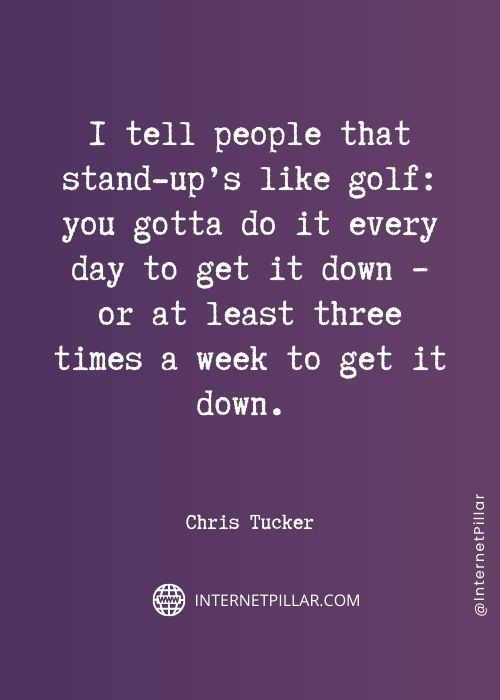 I tell people that stand-up's like golf: you gotta do it every day to get it down – or at least three times a week to get it down. ~ Chris Tucker.
I've got a big closet of scripts, and a big stack of scripts on the side of my desk, because you get a whole bunch. Nothing's going to be perfect, and I realize that; but I am a perfectionist, so you go through a lot of stuff. ~ Chris Tucker.
I travel. I do a lot of traveling around the world. ~ Chris Tucker.
I couldn't imagine not having clean water. ~ Chris Tucker.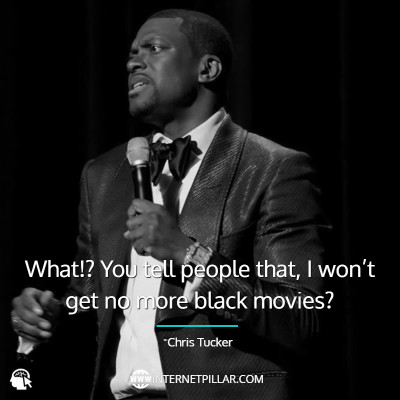 What!? You tell people that, I won't get no more black movies? ~ Chris Tucker.
Day-to-day life is a lot of work. I work a lot on stand-up stuff, and then day-to-day life and, you know, just living. It's always different. Try to work out, try to stay in shape, and try to have some fun. ~ Chris Tucker.
It's crazy because people expect you to be funny all the time and every day is not a funny day. I go to funerals and people are like 'tell a joke' and 'say one of your lines in a movie.' It's a funeral, man! ~ Chris Tucker.
Just believe in yourself and work really hard. And when doors open, take advantage of every opportunity you can. ~ Chris Tucker.
I think all the knowledge and all the travels that I've done, I'm going to do a lot of great work in the future. ~ Chris Tucker.
Funniest Chris Tucker Quotes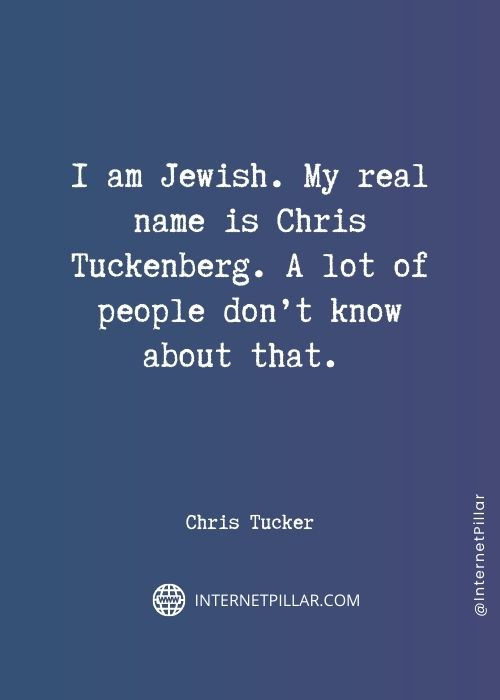 I am Jewish. My real name is Chris Tuckenberg. A lot of people don't know about that. ~ Chris Tucker.
I want to do movies that mean something, that make people laugh and cry great movies, period-piece movies and work with the best people out there, who bring the best out of me. ~ Chris Tucker.
I couldn't tell people what I wanted to do because I was from Atlanta. You don't tell people you're gonna be a comedian in Atlanta. That means you ain't gonna do nothing. ~ Chris Tucker.
Georgia was a great place to live, but I wanted to get out because I knew the opportunities for what I was doing – stand-up comedy and eventually acting – were in Los Angeles. ~ Chris Tucker.
I love to talk about people I've met being an entertainer. All my encounters in life – I roll it all into an hour and 30 minutes. ~ Chris Tucker.
You got to control your own destiny. You got to keep writing different stuff. Keep switching up and never do the same thing too many times. ~ Chris Tucker.
Making people laugh is giving, and it's healing, too, when people can go up to the movies and forget about their problems. It's a good thing. That's why I want to work. ~ Chris Tucker.
I wanted to cut down on the profanity because I think I'm funnier without sayin' a lot of cuss words. ~ Chris Tucker.
It was like a family reunion, watching the movie. It's always a good feeling when I can get a screening for my family. ~ Chris Tucker.
You don't know who you messing with man, I slap people for fun. That's what I do man! You wanna play rough, huh, I kill for fun! ~ Chris Tucker.
Humorous Chris Tucker Quotes
I get on stage and talk about different stuff in my life and what I've been through and what I think about the world. It's picking out highlights of things and how I became who I am and how my daddy raised me. ~ Chris Tucker.
Comedy comes from a place of hurt. Charlie Chaplin was starving and broke in London, and that's where he got his character 'the tramp' from. It's a bad situation that he transformed into comedic one. ~ Chris Tucker.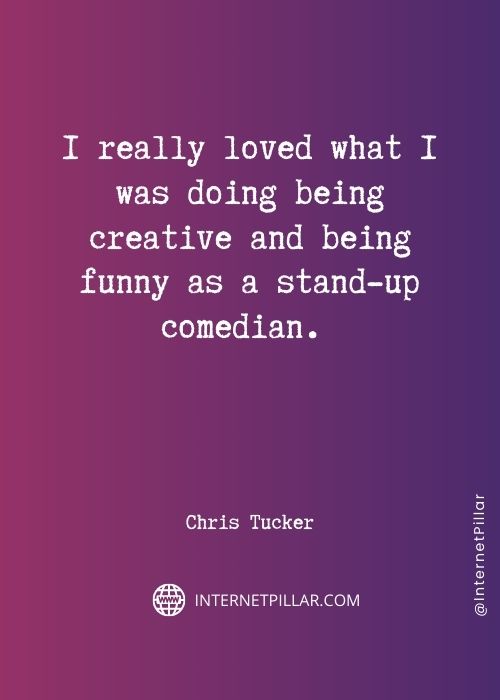 I really loved what I was doing being creative and being funny as a stand-up comedian. ~ Chris Tucker.
I want to keep working, I want to keep doing my humanitarian stuff around the world, shining light on different places that have problems. Keep making movies, make people laugh. ~ Chris Tucker.
Everybody goes through a lot of the same things, and I talk about those, and that's the key. You have to connect with your audience, and I might take them on a trip with me, tell them I went here and I went there and they'll go with me, you know, to hear the stories. ~ Chris Tucker.
Being a big star and being known, making movies and a lot of money – that really doesn't interest me. ~ Chris Tucker.
I told a joke and people laughed and it was the best feeling. I knew I wanted to do this as a career. I never knew I could get such a high from telling a joke. There's something so extraordinary about having people listening to you and hanging onto your words – it's a great feeling. ~ Chris Tucker.
I've lived a little bit and traveled the world and experienced a lot of things that I can play any role, and I think I can get into stuff that people never thought I would ever do because of my experiences and growth as a person. ~ Chris Tucker.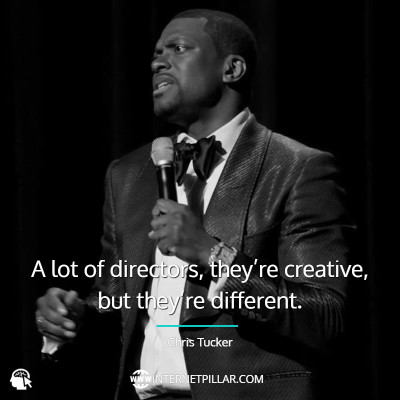 A lot of directors, they're creative, but they're different. ~ Chris Tucker.
I reenact everything. I love to paint a picture for my audience. I'm a lot like Richard Pryor in that aspect. I do a lot of acting on stage, acting out and visualizing stuff. I love to do that. I'm into it so much, it just comes out of me. ~ Chris Tucker.
I will always do stand-up, even if my acting career takes off. Stand-up is my life. ~ Chris Tucker.
---
So these were 49 top Chris Tucker quotes, jokes, One Liners and Sayings.
If you like these quotes and sayings, then you can also read my other posts on Amy Poehler quotes and Dennis Miller quotes.