"Cousins Quotes and Sayings for That Special Bond" emphasizes the importance of cousins in our lives.
Cousins, being the descendants of the same grandparent or great-grandparent, often form our first friendships, sharing memorable times together.
This bond transcends familial relationships, as cousins often become lifelong friends, offering a unique bond compared to sibling relationships.
Celebrating this connection, whether through social media posts or dedicated quotes, highlights the love and appreciation between cousins.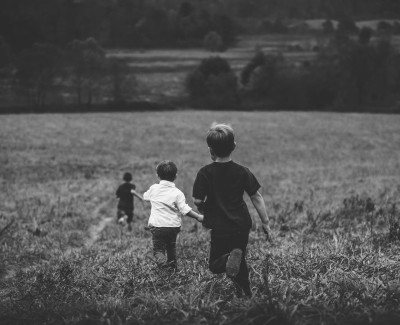 Being surrounded by family, particularly growing up with cousins, is a source of comfort and cohesion.
These 55 quotes are curated to inspire and remind cousins of their invaluable bond.
By sending or sharing these quotes, you can show your cousins how much they mean to you.
Ultimately, cousins are not just relatives; they can be your best friends, which underscores the uniqueness of this bond.
---
Best Cousins Quotes
The love between cousins knows no distance. ~ Unknown.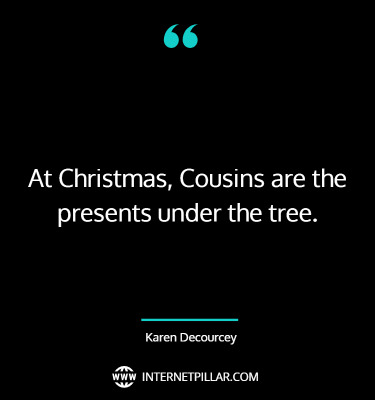 At Christmas, Cousins are the presents under the tree. ~ Karen Decourcey.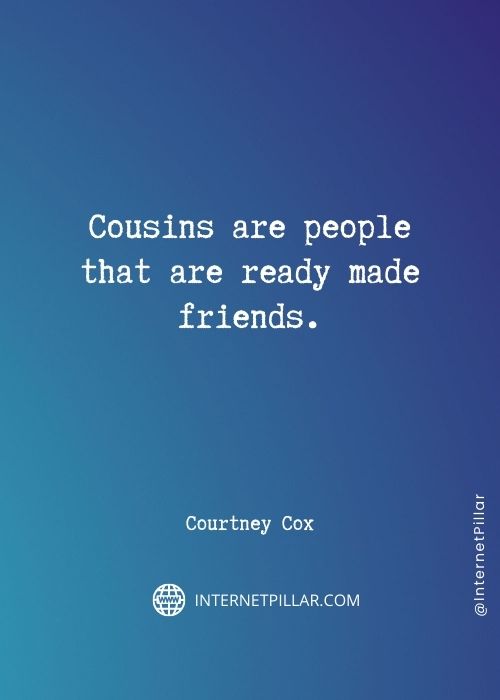 Cousins are people that are ready made friends. ~ Courtney Cox.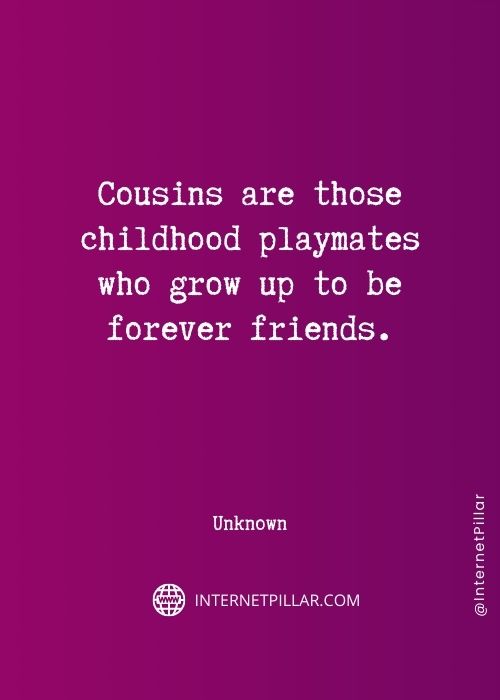 Cousins are those childhood playmates who grow up to be forever friends. ~ Unknown.
Also read: Sibling Love Quotes to Celebrate Sisters and Brothers and Brother Sister Quotes, Sayings, Captions and Messages
A near neighbor is better than a distant cousin. ~ Italian Proverb.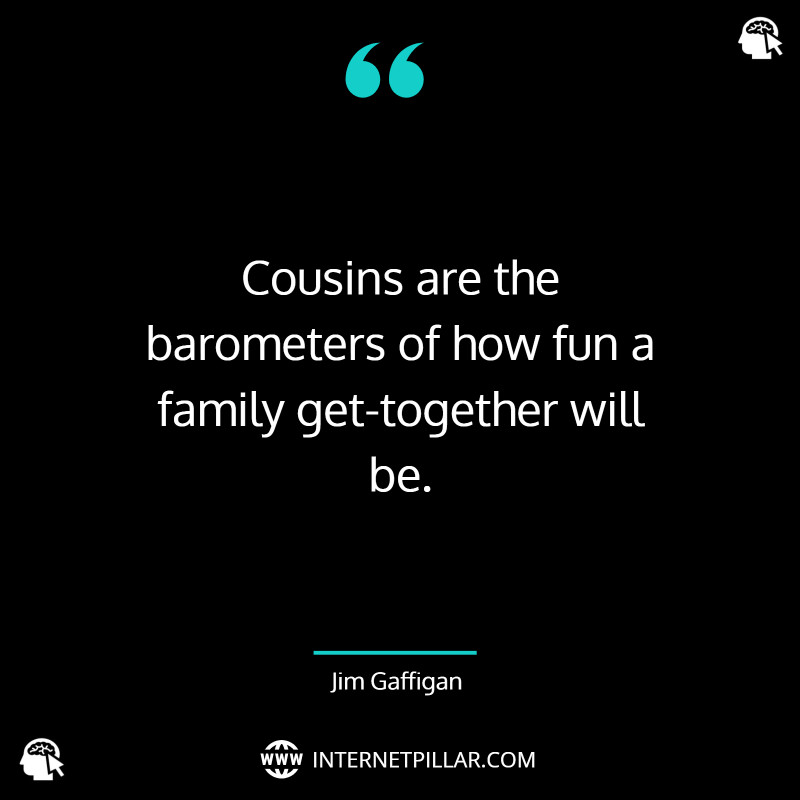 Cousins are the barometers of how fun a family get-together will be. ~ Jim Gaffigan.
Cousins are friends that will love you forever. ~ Constance Richards.
If you're lucky, a cousin is there from the beginning. ~ Susan Bolch.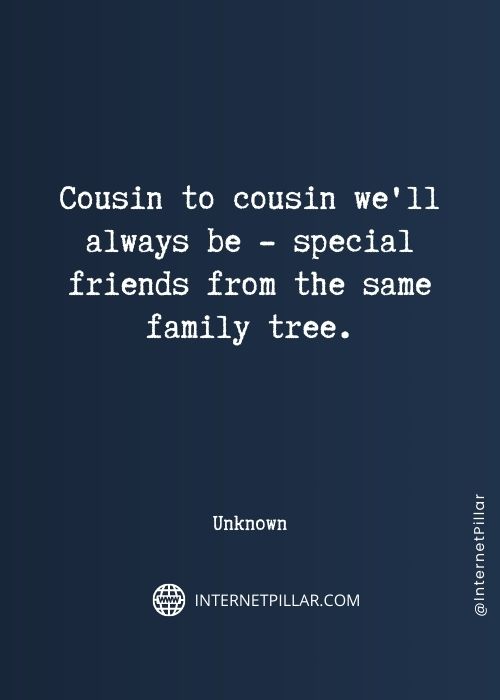 Cousin to cousin we'll always be – special friends from the same family tree. ~ Unknown.
Born as a cousin, made as a friend. ~ Byron Pulsifer.
Cousins by chance, friends by choice. ~ Proverb.
Cousins are cool to see, impossible to forget and true to your heart. ~ Leo Farno.
Other things may change us, but we start and end with family. ~ Anthony Brandt.
I like spending time with cousins. ~ Jacob Tremblay.
Top Cousins Quotes
Within our family there was no such thing as a person who did not matter. Second cousins thrice removed mattered. ~ Shirley Abbott.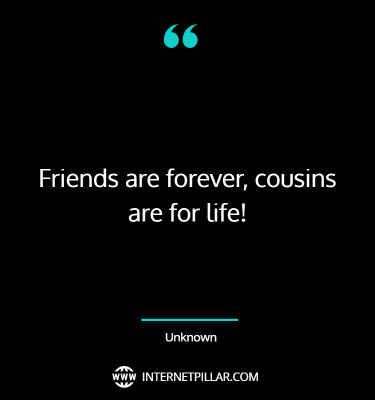 Friends are forever, cousins are for life! ~ Unknown.
The night before the cousins came, I couldn't sleep. ~ Katie Yamasaki.
A lot of people would rather tour sewers than visit their cousins. ~ Jane Howard.
Every man sees in his relatives, and especially in his cousins, a series of grotesque caricatures of himself. ~ H. L. Mencken.
God made us cousins because He knew our mothers could not handle us as siblings. ~ Unknown.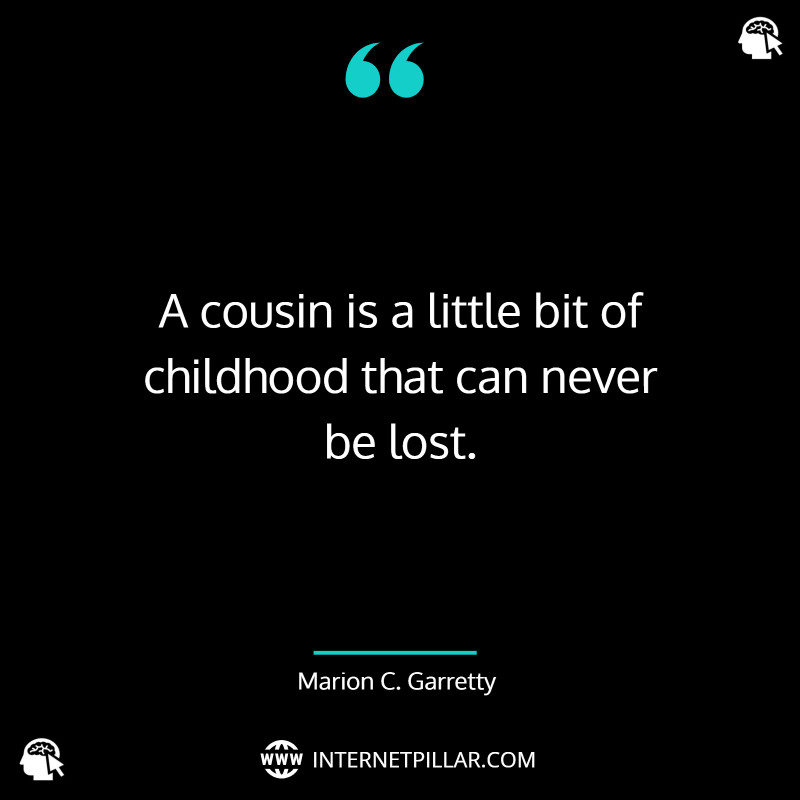 A cousin is a little bit of childhood that can never be lost. ~ Marion C. Garretty.
My cousins are shareholders of my soul. ~ Saswat Padh.
Time passes and we may be apart, but cousins always stay close at heart. ~ Unknown.
Famous Cousins Quotes
I always call my cousin because we're so close. We're almost like sisters, and we're also close because our moms are sisters. ~ Britney Spears.
Cousins are those rare people who ask how we are and then wait to hear the answer. ~ Ed Cunningham.
Cousins are more than cousins; they are best friends that are there for us through it all. ~ Heather Mills.
Friendship is the only cement that will ever hold the cousins together. ~ Woodrow Wilson.
Nobody will understand the craziness of your family better than your cousins. ~ Unknown.
The more distant the cousin relationship, the more distant the grandparents those cousins share, the distance being in the number of generations and years that separate them. ~ Lois Horowitz.
Cousins are not those we do not know but instead part of a family that also provide support and comfort. ~ Byron Pulsifer.
Powerful Cousins Quotes
My cousin and I are more than friends. We're like a tiny gang. ~ Unknown.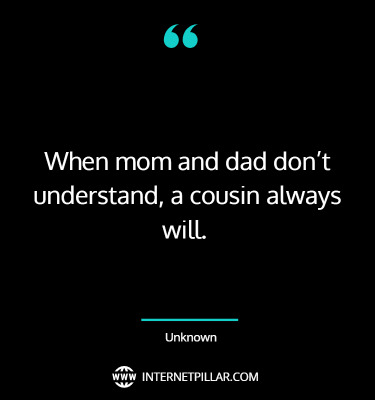 When mom and dad don't understand, a cousin always will. ~ Unknown.
Cousins are the friends that are forced to share their toys with you. ~ Unknown.
You're my cousin, and I'd never twice remove you. ~ Unknown.
My cousin has the best cousin in the world. ~ Unknown.
Cousins or best friends? It's all relative. ~ Unknown.
Cousins are awesome. Well, mine are. I can't speak for yours. ~ Unknown.
Our dads used to do this, and now us cousins always get together for it. ~ Larry Lewis.
Cousins are Sisters you never had. ~ Reah Glowstorl.
Popular Cousins Quotes
Every million I gain an enemy or a cousin. And people's feelings have changed ever since I became something. ~ Drake.
A real cousin (or friend) is someone who walks in when the rest of the world walks out. ~ Proverb.
Win, lose or draw, you're all my cousins and I love you. ~ Chill Wills.
In my cousin, I find a second self. ~ Isabel Norton.
A cousin is a ready-made friend for life. ~ Unknown.
We've had cloning in the south for years. It's called cousins. ~ Robin Williams.
Cousin by blood, friends by choice. ~ Darlene Shaw.
---
So these were the 55 quotes about Cousins.
If these quotes and sayings connect with you, check out our other posts on engagement quotes and holding hands quotes.