Devotion signifies profound admiration and affection, serving as a guide for our daily focus.
It implies being an instrument of the Divine, capable of converting any situation into beauty. Devotion quotes are powerful tools to root our days in faith and purpose.
They're not daunting or time-consuming, but rather, they invigorate us, prompting us to uphold our convictions each day.
These inspiring quotes about devotion are uniquely resonant and can vary in their appeal from week to week.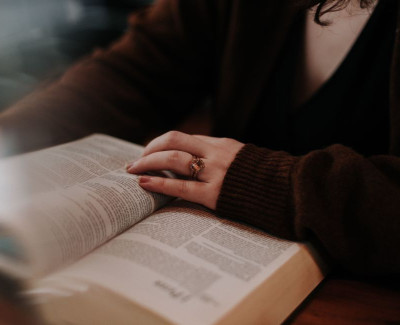 This constant element of surprise makes them a delightful and motivating daily ritual.
So, immerse yourself in devotion quotes and discover how they can inspire you to trust the process.
---
Best Devotion Quotes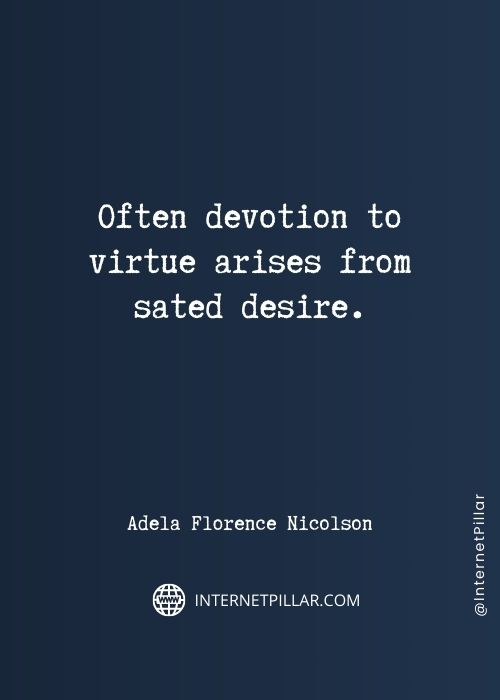 Often devotion to virtue arises from sated desire. ~ Adela Florence Nicolson.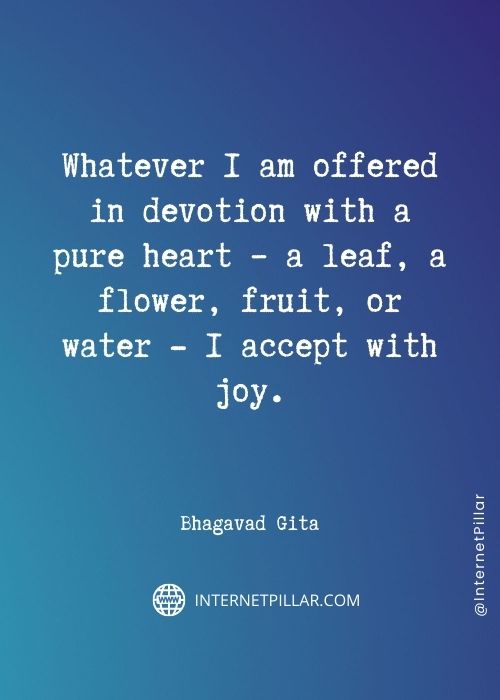 Whatever I am offered in devotion with a pure heart – a leaf, a flower, fruit, or water – I accept with joy. ~ Bhagavad Gita.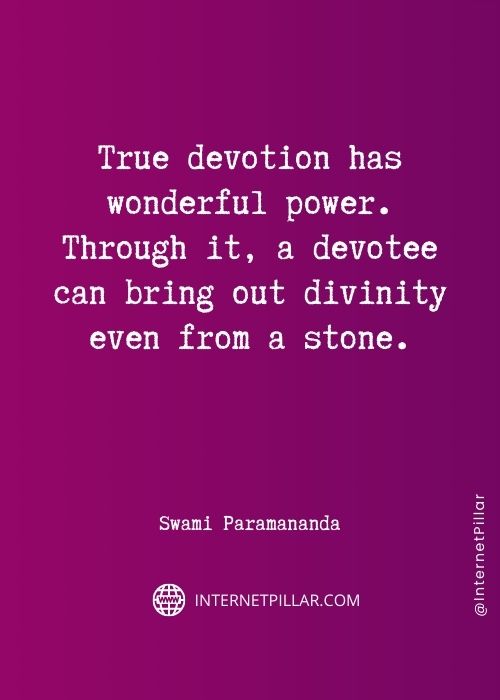 True devotion has wonderful power. Through it, a devotee can bring out divinity even from a stone. ~ Swami Paramananda.
Only he who can see the invisible can do the impossible. ~ Frank Gaines.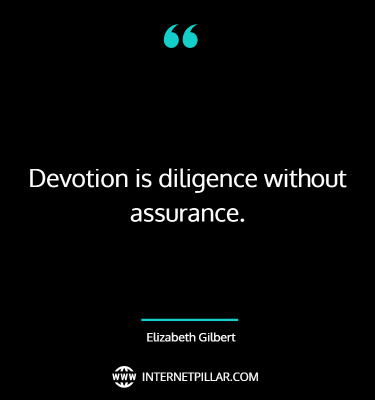 Devotion is diligence without assurance. ~ Elizabeth Gilbert.
Don't pray when you feel like it. Have an appointment with the Lord and keep it. ~ Corrie ten Boom.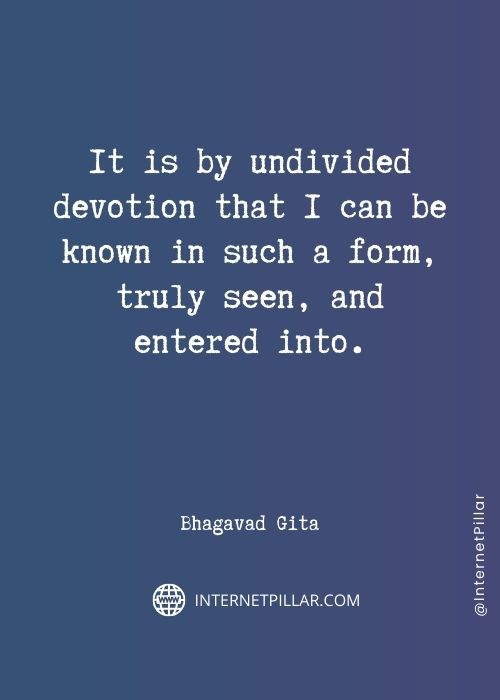 It is by undivided devotion that I can be known in such a form, truly seen, and entered into. ~ Bhagavad Gita.
Our ultimate devotion is to be a reflection of a divine work that is continuously unfolding in our hearts. ~ Andrena Sawyer.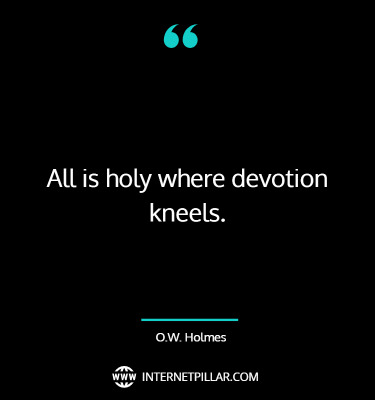 All is holy where devotion kneels. ~ O.W. Holmes.
Your devotion to God is illustrated, demonstrated, and authenticated by your love for others. ~ Andy Stanley.
Famous Devotion Quotes
The goal can be attained very easily through the power of faith and devotion, and never through the power of reasoning. ~ Sri Ramakrishna.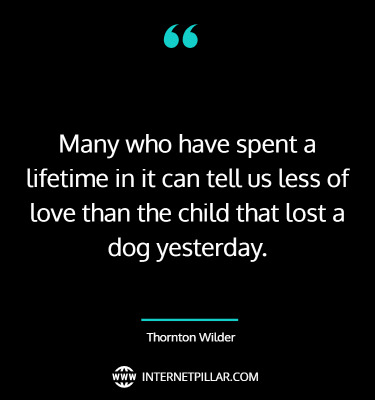 Many who have spent a lifetime in it can tell us less of love than the child that lost a dog yesterday. ~ Thornton Wilder.
Experience shows that success is due less to ability than to zeal. The winner is he who gives himself to his work, body and soul. ~ Charles Buxton.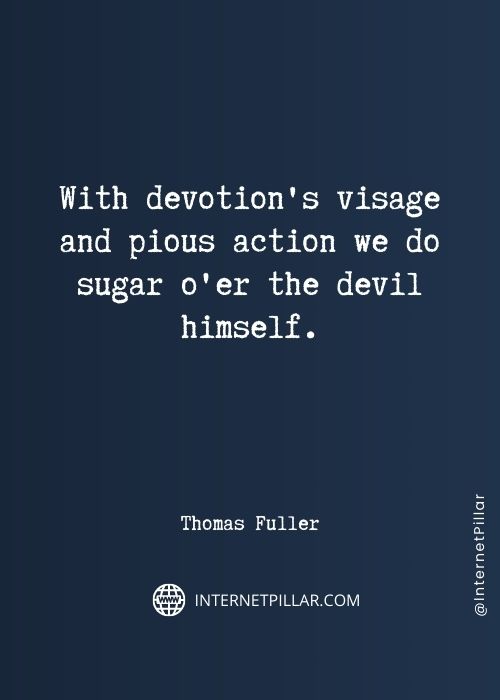 With devotion's visage and pious action we do sugar o'er the devil himself. ~ Thomas Fuller.
True devotion is motivated by love alone and devoid of selfish entanglements. ~ Rick Hocker.
When love and skill work together, expect a masterpiece. ~ John Ruskin.
With devotion at the center of your awareness, you don't have to refer to your past in order to make a choice of how to respond or react in any given situation. ~ Debbie Ford.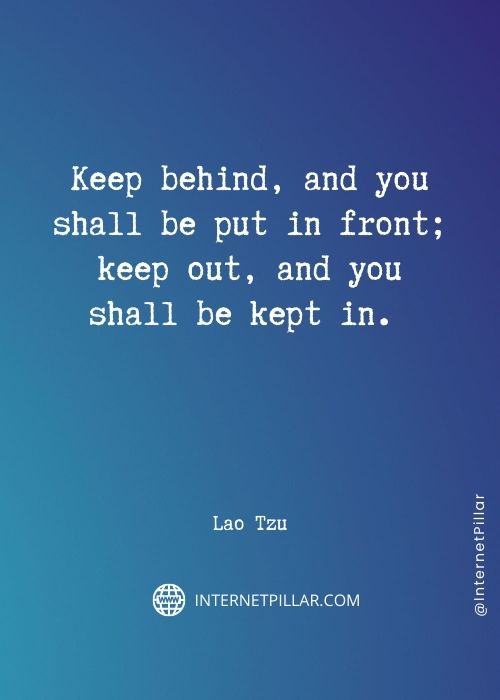 Keep behind, and you shall be put in front; keep out, and you shall be kept in. ~ Lao Tzu.
I raised you so high that every other man on earth is now doomed to live in your shadow. ~ Ranata Suzuki.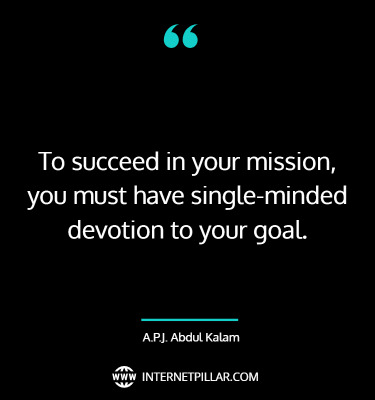 To succeed in your mission, you must have single-minded devotion to your goal. ~ A.P.J. Abdul Kalam.
You, too, can be carved anew by the details of your devotion. ~ Mary Oliver.
Devotion is a place where you do not exist; life just flows through you as a certain sweetness and beauty. ~ Jaggi Vasudev.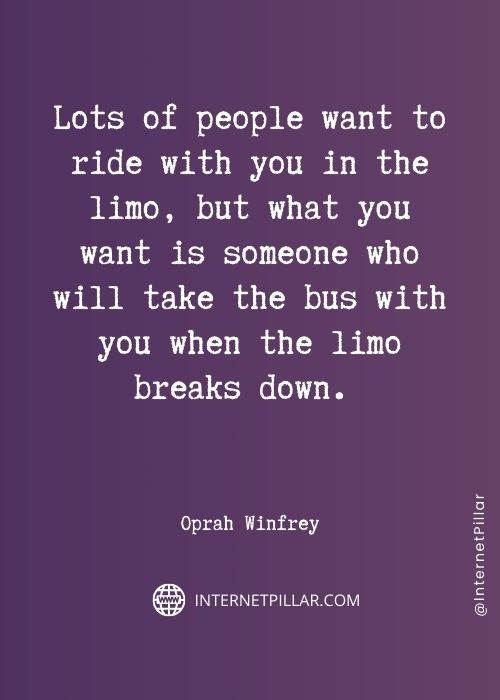 Lots of people want to ride with you in the limo, but what you want is someone who will take the bus with you when the limo breaks down. ~ Oprah Winfrey.
The limitless loving devotion to God, and the gift God makes of Himself to you, are the highest elevation of which the heart is capable; it is the highest degree of prayer. The souls that have reached this point are truly the heart of the Church. ~ Edith Stein.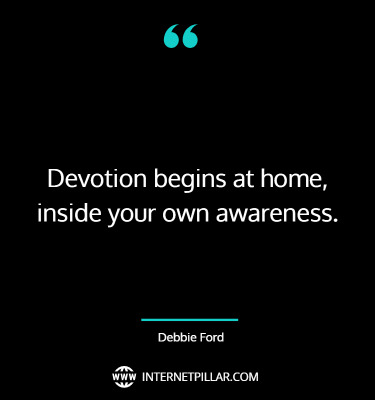 Devotion begins at home, inside your own awareness. ~ Debbie Ford.
Devotion, as it relates to the title of my memoir, means fidelity – as in fidelity to a person or a practice. I think it's certainly possible to feel devotion without having faith, at least in the religious sense of the word. ~ Dani Shapiro.
I'm gonna fight for you until your heart stops beating. ~ Stephenie Meyer.
See also: Best Faith in God Quotes and Sayings to Inspire You and God is Good Quotes to Inspire Your Faith in God
Popular Devotion Quotes
There's nothing in the world like the devotion of a married woman. It's a thing no married man knows anything about. ~ Oscar Wilde.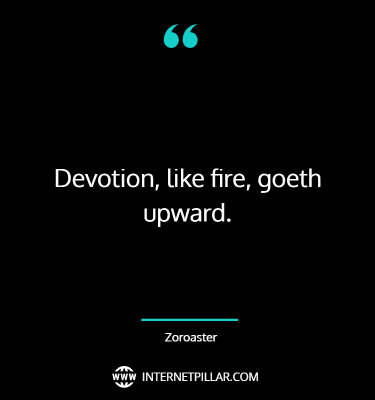 Devotion, like fire, goeth upward. ~ Zoroaster.
People, even more than things, have to be restored, renewed, revived, reclaimed, and redeemed; never throw out anyone. ~ Audrey Hepburn.
Your memory feels like home to me. So whenever my mind wanders, it always finds its way back to you. ~ Ranata Suzuki.
True devotion brings you to a state where you live with your Ideal in every moment of your life. ~ Swami Paramananda.
Hide yourself in God, so when a man wants to find you he will have to go there first. ~ Shannon L. Alder.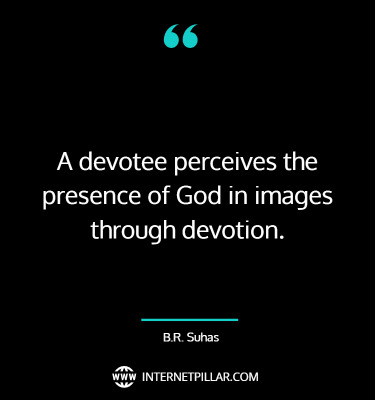 A devotee perceives the presence of God in images through devotion. ~ B.R. Suhas.
Blessed are those who have devotion in their hearts. It is the only reality in this world, other things are false. ~ Swami Paramananda.
I don't need a certain number of friends, just a number of friends I can be certain of. ~ Alice Walker.
God is not present in wood, or stone, or an idol made of clay. God is present in devotion. Therefore, devotion is very important. ~ Suktimala.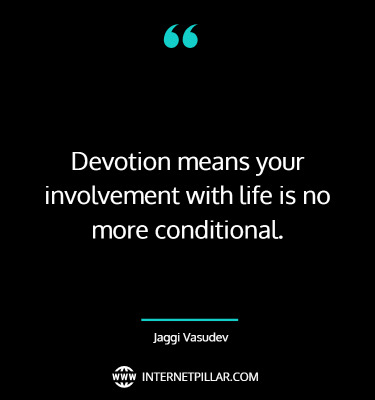 Devotion means your involvement with life is no more conditional. ~ Jaggi Vasudev.
One who has devotion recognizes God to be present everywhere and in everyone, including in images. ~ B.R. Suhas.
True strength lies in submission which permits one to dedicate his life, through devotion, to something beyond himself. ~ Henry Miller.
Work as if everything depends on you. Pray as if everything depends on God. ~ St. Ignatius Loyola.
Real devotion is an unbroken receptivity to the truth. ~ Sogyal Rinpoche.
Don't do anything by half. If you love someone, love them with all your soul. When you go to work, work your ass off. When you hate someone, hate them until it hurts. ~ Henry Rollins.
You want something? Go get it with single-minded devotion. ~ Reggie Lee.
One single day of devotion is worth more than a thousand years of worldly life. ~ Saint Francis De Sales.
Perpetual devotion to what a man calls his business is only to be sustained by perpetual neglect of many other things. ~ Robert Louis Stevenson.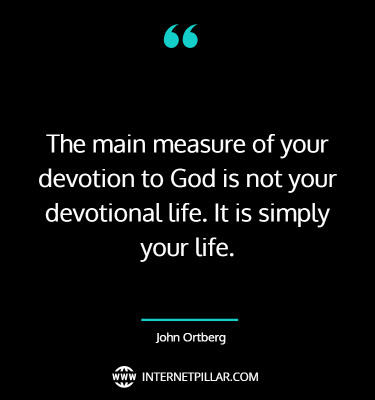 The main measure of your devotion to God is not your devotional life. It is simply your life. ~ John Ortberg.
Prayer without devotion is not a prayer. If a man prays without devotion, he should repeat his prayer with devotion. ~ Maimonides.
Top Devotion Quotes
The man who removes a mountain begins by carrying away small stones. ~ William Faulkner.
In the uttermost meaning of the words, thought is devout, and devotion is thought. Deep calls unto deep. ~ Ralph Waldo Emerson.
Everybody wants their own little place in the world and maybe mine is here. Loving you from a distance. ~ Ranata Suzuki.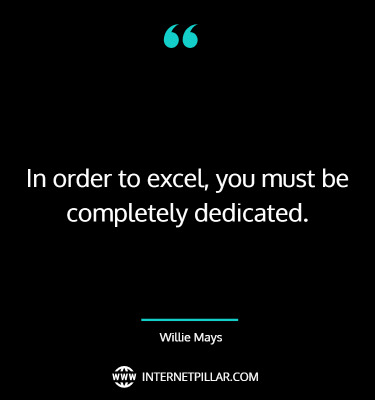 In order to excel, you must be completely dedicated. ~ Willie Mays.
A friend is someone who knows the song in your heart, and can sing it back to you when you have forgotten the words. ~ Donna Roberts.
The best and sweetest flowers in paradise, God gives to is people when they are on their knees in the closet. ~ T. Brooks.
The secret heart is devotion's temple; there the saint lights the flame of purest sacrifice, which burns unseen but not accepted. ~ Hannah More.
No matter where your interest lies, you will not be able to accomplish anything unless you bring your deepest devotion to it. ~ Matsuo Basho.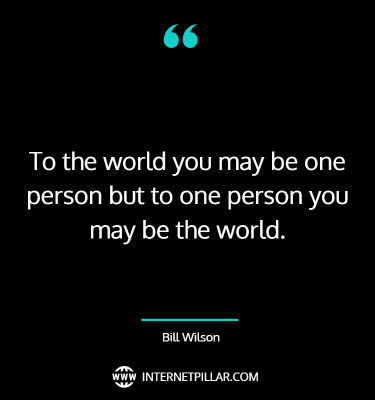 To the world you may be one person but to one person you may be the world. ~ Bill Wilson.
To achieve progress and development it is necessary to bring about coordination between liberty and security through Devotion. ~ Pandurang Shashtri Athavale.
Devotion, when it does not lie under the check of reason, is apt to degenerate into enthusiasm. ~ Joseph Addison.
---
So these were the 60 quotes about Devotion.
If these quotes and sayings connect with you, check out our other posts on women empowerment quotes and loving someone quotes.