Faith in a higher power may provide individuals with comfort, direction, and strength when they are in need.
For years, faith in God has been a source of inspiration, impacting countless lives with its transformational power.
We've compiled a list of 102 "Faith in God" quotes and sayings to inspire and support you on your path.
---
Top 10 Faith In God Quotes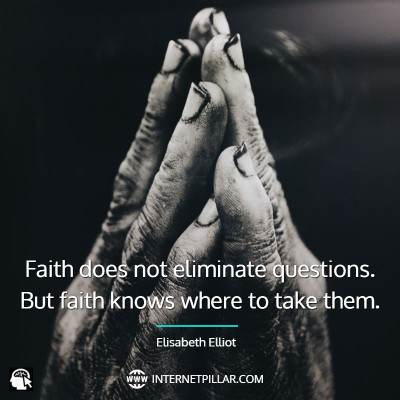 Faith does not eliminate questions. But faith knows where to take them. ~ Elisabeth Elliot.
There is never a moment when God is not in control. Relax! He's got you covered. ~ Mandy Hale.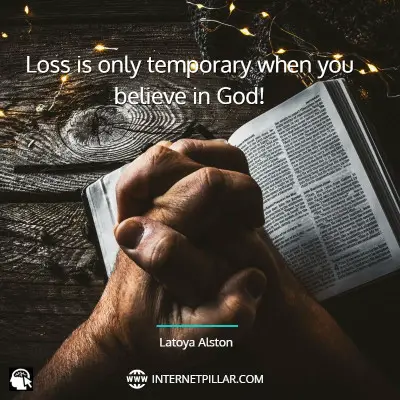 Loss is only temporary when you believe in God! ~ Latoya Alston.
God does not require that we be successful only that we be faithful. ~ Mother Teresa.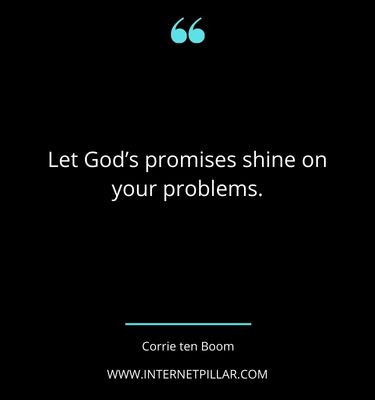 Let God's promises shine on your problems. ~ Corrie ten Boom.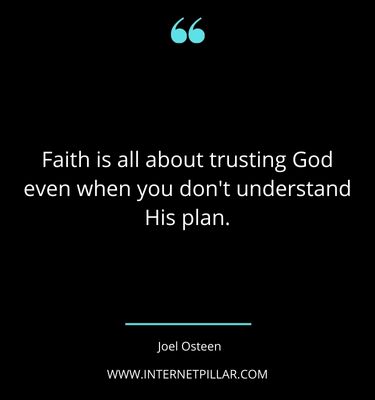 Faith is all about trusting God even when you don't understand His plan. ~ Joel Osteen.
Whatever season of life we are in, God's promises continue to be new every morning. ~ Nancy Wilson.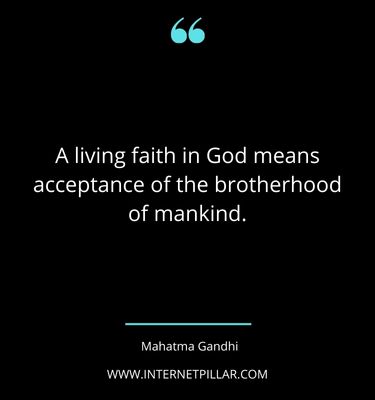 A living faith in God means acceptance of the brotherhood of mankind. ~ Mahatma Gandhi.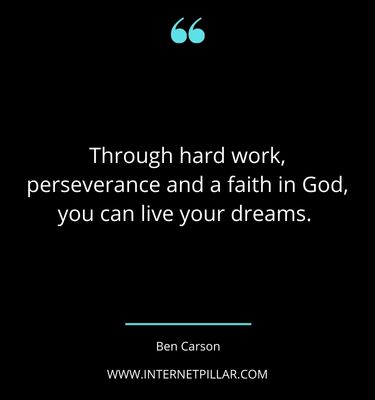 Through hard work, perseverance and a faith in God, you can live your dreams. ~ Ben Carson.
Put up your guards, keep faith in God, I promise you all the world will be ours. ~ Puff Daddy.
Also Read: God is Good Quotes to Inspire Your Faith in God and God is in Control Quotes to Put Trust in God
Put Your Faith In God Quotes
It is wonderful what God can do with a broken heart, if He gets all the pieces. ~ Samuel Chadwick.
When you focus on being a blessing, God makes sure that you are always blessed in abundance. ~ Joel Osteen.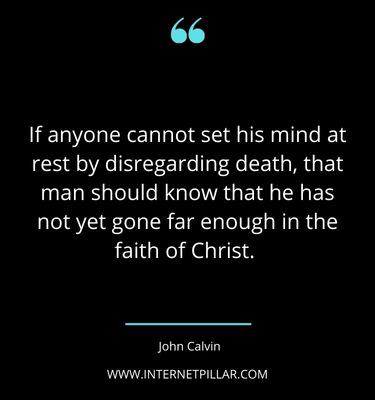 If anyone cannot set his mind at rest by disregarding death, that man should know that he has not yet gone far enough in the faith of Christ. ~ John Calvin.
I trust in God, and His ways are not our ways. So we have to go with that, and there's nothing I can do about that. ~ Cissy Houston.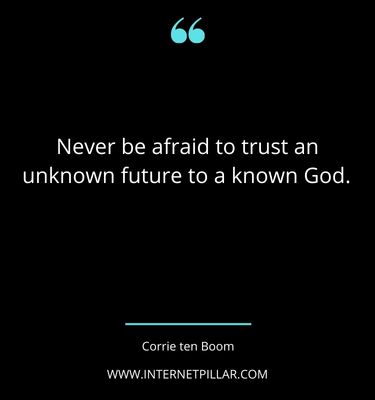 Never be afraid to trust an unknown future to a known God. ~ Corrie ten Boom.
To be a strong and empathetic person always requires us to trust that God will send angels to the people's heart we tried to reach, but couldn't. ~ Shannon L. Alder.
God has a purpose behind every problem. He uses circumstances to develop our character. ~ Rick Warren.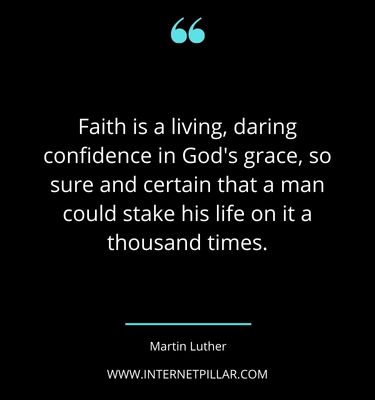 Faith is a living, daring confidence in God's grace, so sure and certain that a man could stake his life on it a thousand times. ~ Martin Luther.
If you believe in a God who controls the big things, you have to believe in a God who controls the little things. It is we, of course, to whom things look 'little' or 'big'. ~ Elisabeth Elliot.
You can believe in God without believing in immortality, but it is hard to see how anyone can believe in immortality and not believe in God. ~ Ernest Dimnet.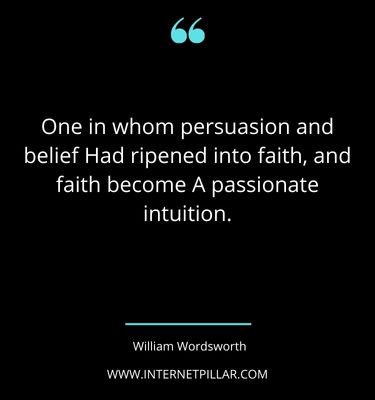 One in whom persuasion and belief Had ripened into faith, and faith become A passionate intuition. ~ William Wordsworth.
He does not believe, that does not live according to his Belief. ~ Thomas Fuller.
Having faith in God means trusting in Him even when everything inside of you wants to take control. ~ Dan Ellis.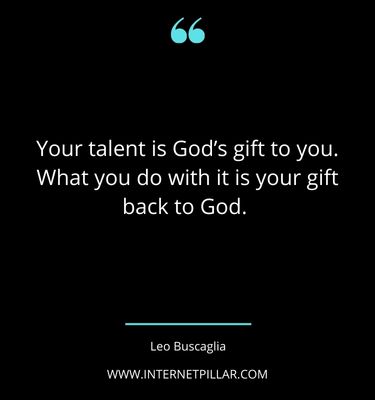 Your talent is God's gift to you. What you do with it is your gift back to God. ~ Leo Buscaglia.
Build a strong faith in God through daily commitment in reading and obeying God's word. ~ Lailah Gifty Akita.
Inspiring Faith In God Quotes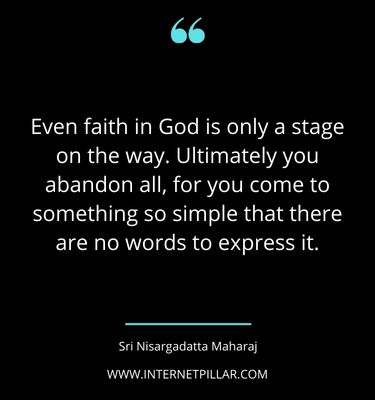 Even faith in God is only a stage on the way. Ultimately you abandon all, for you come to something so simple that there are no words to express it. ~ Sri Nisargadatta Maharaj.
We must stay tuned in to God's voice because the enemy has a trick up his sleeves. He will send a counterfeit attack to see if you take the bait. ~ John Ramirez.
Relying on God has to start all over everyday, as if nothing has yet been done. ~ C. S. Lewis.
Faith is letting down our nets into the transparent deeps at the Divine command, not knowing what we shall draw. ~ Francois Fenelon.
The word hope I take for faith; and indeed hope is nothing else but the constancy of faith. ~ John Calvin.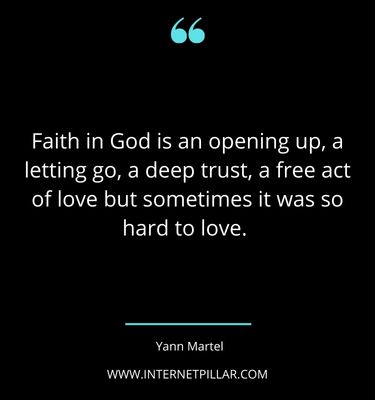 Faith in God is an opening up, a letting go, a deep trust, a free act of love but sometimes it was so hard to love. ~ Yann Martel.
Let your life reflect the faith you have in God. Fear nothing and pray about everything. Be strong, trust God's word, and trust the process. ~ Germany Kent.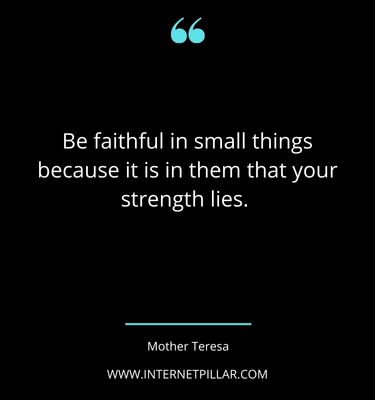 Be faithful in small things because it is in them that your strength lies. ~ Mother Teresa.
Inspirational Faith In God Quotes
The danger of loss of faith in God is not that one will believe in nothing, but rather that one will believe in anything. ~ Gilbert K Chesterton.
We never grow closer to God when we just live life. It takes deliberate pursuit and attentiveness. ~ Francis Chan.
When I believe, I am no longer a mere man, I am already a son of God. ~ Carlo Carretto.
If you want to do the work of God, pay attention to people. Notice them. Especially the people nobody else notices. ~ John Ortberg.
Faith in God includes faith in God's timing. ~ Neal A Maxwell.
Faith has to do with things that are not seen and hope with things that are not at hand. ~ Thomas Aquinas.
God is capable of discerning the thoughts and intents of the heart, and answers prayers of faith both spoken and unspoken. It's all about faith. ~ Luis Ranzolin.
Faith in God necessarily implies a lack of faith in humanity. ~ Barbara G. Walker.
Worship leaves us more open and receptive to God, to hear both warnings and consolations. ~ Ron Oltmanns.
Famous Faith In God Quotes
If you decide that what God is asking you to do with your life is just too much on you and is just a little too inconvenient, then you will never see the miracles he has for you. ~ Andy Stanley.
Faith is unseen but felt, faith is strength when we feel we have none, faith is hope when all seems lost. ~ Catherine Pulsifer.
Faith literally means to "give up, surrender, or commit." Faith is complete confidence. ~ Billy Graham.
The great thing about faith in God is that it keeps a man undisturbed in the midst of disturbance. ~ Oswald Chambers.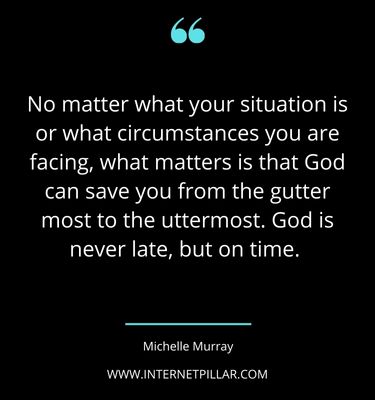 No matter what your situation is or what circumstances you are facing, what matters is that God can save you from the gutter most to the uttermost. God is never late, but on time. ~ Michelle Murray.
Jesus has brought God and with God the truth about our origin and destiny: faith, hope, and love. ~ Pope Benedict XVI.
Sometimes you must stand still in order to get moving to where God wants you to go. ~ D.A. McBride.
The beginning of anxiety is the end of faith, and the beginning of faith is the end of anxiety. ~ George Miller.
Only faith in God and trust in Him give us the strength to endure and obtain victory. ~ Sunday Adelaja.
If you need all the answers to trust God, you are not really trusting God. ~ David McGee.
Popular Faith In God Quotes
Faith is a choice to trust God even when the road ahead seems uncertain. ~ Dave Willis.
Through faith in the Lord Jesus alone can we obtain forgiveness of our sins, and be at peace with God. ~ Anonymous.
Faith enables the believing soul to treat the future as present and the invisible as seen. ~ J. Oswald Sanders.
You were made by God and for God, and until you understand that, life will never make sense. ~ Rick Warren.
God earnestly wants people to do great things. Here is the secret to be an instrument He can use: Be faithful in little things. ~ Michael Farris.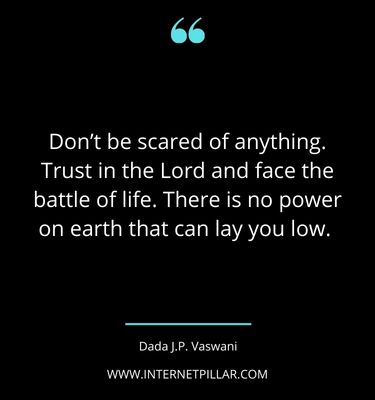 Don't be scared of anything. Trust in the Lord and face the battle of life. There is no power on earth that can lay you low. ~ Dada J.P. Vaswani.
He knows that as long as a man keeps his faith in God and in himself nothing can permanently defeat him. ~ Wilferd Peterson.
Best Faith In God Quotes
God will meet you where you are in order to take you where He wants you to go. ~ Tony Evans.
Always, everywhere God is present, and always He seeks to discover Himself to each one. ~ A.W. Tozer.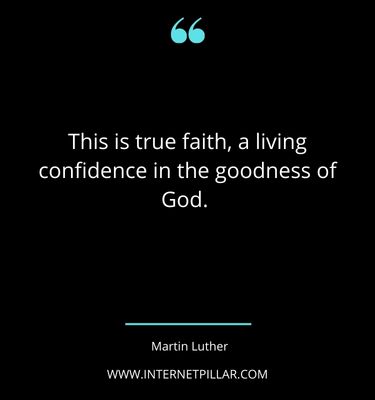 This is true faith, a living confidence in the goodness of God. ~ Martin Luther.
Faith is not the belief that everything will be all right tomorrow, but the belief that I possess the strength to make everything all right today. ~ Charles F. Glassman.
God does not give us everything we want, but He does fulfill His promises, leading us along the best and straightest paths to Himself. ~ Dietrich Bonhoeffer.
Having faith doesn't mean I have all the answers. It means trusting God especially in the midst of uncertainty. ~ Lysa Terkeurst.
My faith didn't remove the pain, but it got me through the pain. Trusting God didn't diminish or vanquish the anguish, but it enabled me to endure it. ~ Robert Rogers.
Remembering the goodness of God in the past, will help us in seasons where it's harder to see Him. ~ Esther Fleece.
Everyone who believes in God at all believes that he knows what you and I are going to do tomorrow. ~ C S Lewis.
Strong Faith In God Quotes
I believe if you keep your faith, you keep your trust, you keep the right attitude, if you're grateful, you'll see God open up new doors. ~ Joel Osteen.
Having faith in God did not mean sitting back and doing nothing. It meant believing you would find success if you did your best honestly and energetically. ~ Ken Follett.
The situations that will stretch your faith most will be those times when life falls apart and God is nowhere to be found. ~ Rick Warren.
The grace,faith,love and power of God will uplift you to greater heights. ~ Lailah Gifty Akita.
True faith means holding nothing back. It means putting every hope in God's fidelity to His Promises. ~ Francis Chan.
Trusting God means looking beyond what we can see to what God sees. ~ Charles Stanley.
Keep the faith. The vision is always for the appointed time. Be patient, prayerful and wait for the fulfillment of your visions. ~ Lailah Gifty Akita.
Faith in God life can never take you by surprise again. ~ James Dobson.
God wants us to make the move – to initiate coming to Him. It is through coming to Him that we will be able to find rest for our souls. ~ Amy Hagerup.
Faith is not the belief that God will do what you want. It is the belief that God will do what is right. ~ Max Lucado.
What greater rebellion, impiety, or insult to God can there be than not to believe his promises? ~ Martin Luther King Jr.
Great Faith In God Quotes
Catch on fire with enthusiasm and people will come for miles to watch you burn. ~ John Wesley.
Religious faith does not consist in supposing that there is a God. It consists in personal trust in God rising to personal fellowship with God. ~ William Temple.
God never said that the journey would be easy, but He did say that the arrival would be worthwhile. ~ Max Lucado.
Faith is to believe what you do not see; the reward of this faith is to see what you believe. ~ Saint Augustine.
God will always bring the right people into your life, but you have to let the wrong people walk away. ~ Joel Osteen.
When you have faith in God, you don't have to worry about the future. You just know it's all in His hands. You just go to and do your best. ~ Elder Bryan Mathison.
The will of God wouldn't take you, where His grace wouldn't protect you. ~ Gloria Shalom.
You don't have any problems, all you need is faith in God. ~ R. W. Schambach.
As believers in Jesus Christ, our work is to believe while God works on our behalf. ~ Joyce Meyer.
If you are listening to the roar, you're going to miss the whisper. ~ Tracy Pinkerton.
We can't enjoy what God has promised us in Christ – forgiveness, a new life here on earth, and eternal life with him someday in heaven – unless we respond to his offer. ~ Matt Eachus.
Put up your guards, keep faith in God, I promise you all the world will be ours. ~ Puff Daddy.
Faith in God is the instrument which enables men and women to remove the hills of difficulty which block their path. ~ William Barclay.
Pray as though everything depended on God. Work as though everything depended on you. ~ Saint Augustine.
Wise Faith In God Quotes
Faith of our fathers, living still. ~ Anonymous.
We are a long time in learning that all our strength and salvation is in God. ~ David Brainerd.
God doesn't change his word, if He has promised you something;you better believe that is done before it's existence. ~ Euginia Herlihy.
Why should we give God thanks? Because everything we have comes from God. ~ Billy Graham.
As believers, you don't need to pray for a new heart, you need to pray for a new head. ~ Andrew Wommack.
Hold fast to your faith. Keep your hope in the Lord. Embrace the love of God. ~ Lailah Gifty Akita.
Probabilities are the big temptation when it comes to exercising faith. ~ Miles Stanford.
Do you want good to come to you from God, then be generous, lend freely and conduct your affairs with justice. It comes down to faith and trust. ~ Gary Schulz.
The only faith that wears well and holds its color in all weathers is that which is woven of conviction and set with the sharp mordant of experience. ~ J. R. Lowell.
---
So these were the 102 top Faith in God quotes and sayings to trust him and know He will always be there for you.
If you like these quotes and sayings, then you can also read my other posts on Being There quotes and Missing a Friend quotes.
---
Sources and Inspiration