Disney films are renowned for imparting core life lessons, particularly the value of friendship.
These stories teach the importance and magic of genuine friendships, reinforcing their significance in both good and bad times.
Many Disney characters embody the essence of true friendship, serving as inspirations for individuals of all ages.
This compilation includes some of the finest Disney quotes about friends and the magic of friendships, suitable for photo captions, birthday cards and Instagram posts with your bestie.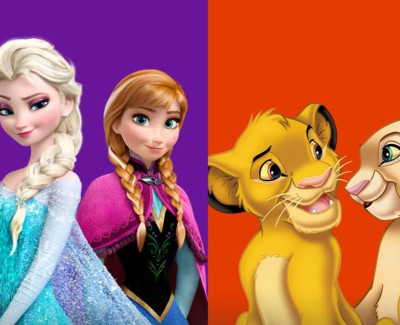 These quotes encapsulate wisdom from various Disney films, offering a mix of inspirational and humorous perspectives on love and friendship.
So whether you're reminiscing your childhood or seeking the perfect words to express friendship, these timeless quotes from Disney movies provide an excellent starting point.
They beautifully capture the sweet, high and low moments that define friendship and make it an enriching part of our lives.
---
Table of Contents
Top 10 Disney Friendship Quotes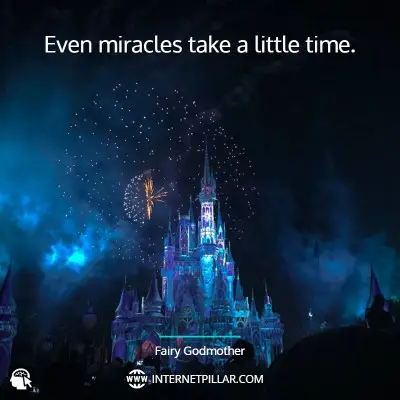 Even miracles take a little time. ~ Fairy Godmother (Cinderella).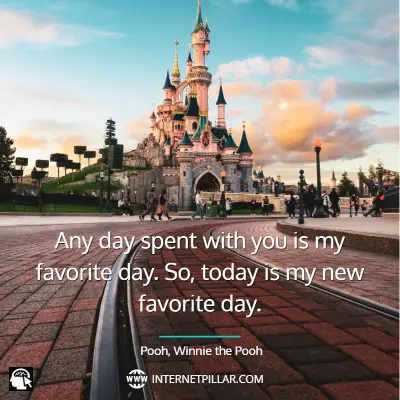 Any day spent with you is my favorite day. So, today is my new favorite day. ~ Pooh, Winnie the Pooh.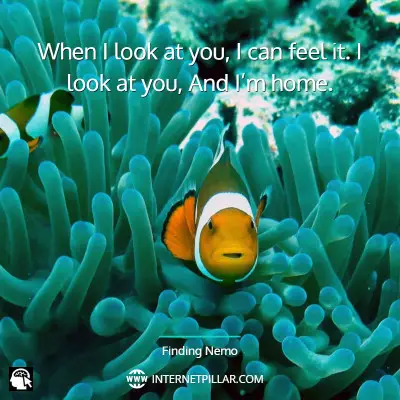 When I look at you, I can feel it. I look at you, And I'm home. ~ Finding Nemo.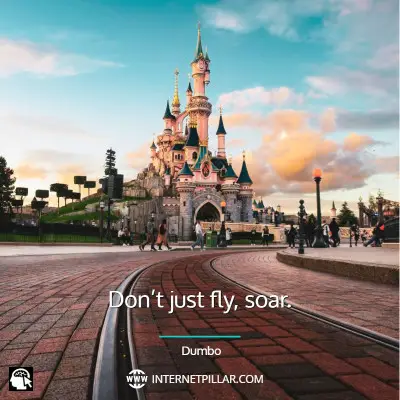 Don't just fly, soar. ~ Dumbo.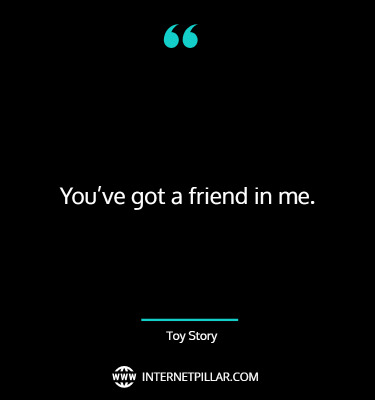 You've got a friend in me. ~ Toy Story.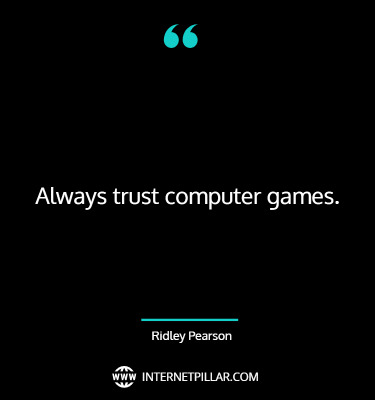 Always trust computer games. ~ Ridley Pearson.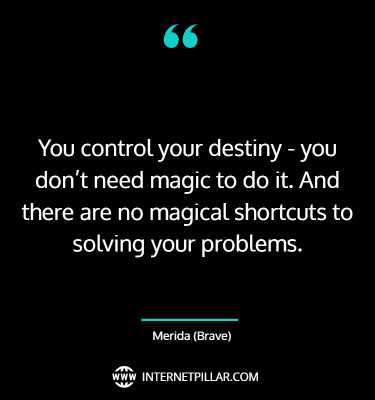 You control your destiny – you don't need magic to do it. And there are no magical shortcuts to solving your problems. ~ Merida (Brave).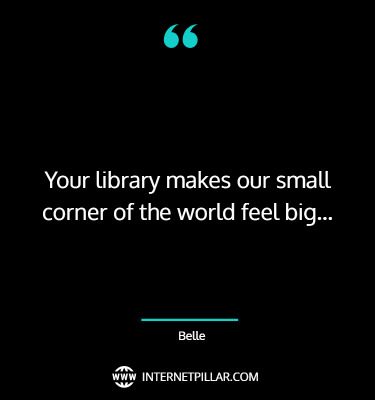 Your library makes our small corner of the world feel big… ~ Belle.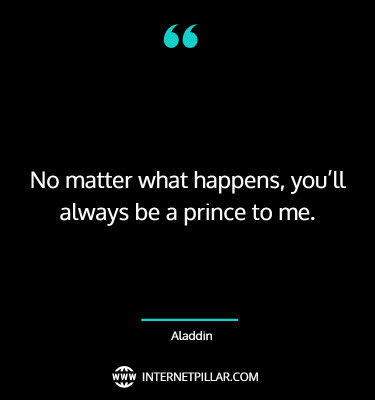 No matter what happens, you'll always be a prince to me. ~ Aladdin.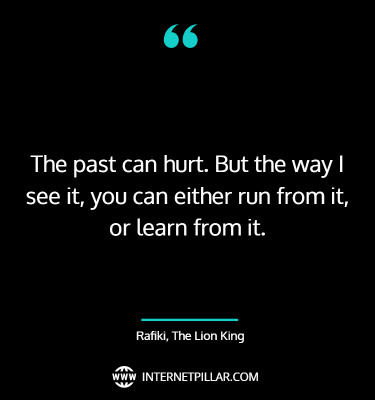 The past can hurt. But the way I see it, you can either run from it, or learn from it. ~ Rafiki, The Lion King.
Related: Best Friend Quotes and Sayings on Friendship and Beautiful Friendship Quotes to Celebrate Friends
Famous Disney Friendship Quotes
Life's not a spectator sport. If watchin' is all you're gonna do, then you're gonna watch your life go by without ya. ~ Laverne (The Hunchback of Notre Dame).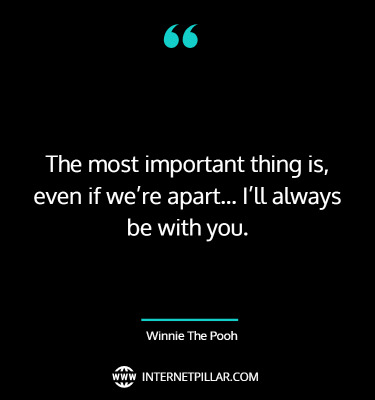 The most important thing is, even if we're apart… I'll always be with you. ~ Winnie The Pooh.
I knew when I met you an adventure was going to happen. ~ Winnie The Pooh.
We didn't even realize we were making memories. We just knew we were having fun. ~ Winnie The Pooh.
The flower that blooms in adversity is the rarest and beautiful of all. ~ The Emperor (Mulan).
If the Beast gave me a library like he gave to Belle, I'd marry him too. ~ Aya Ling.
You were my new dream. ~ Tangled.
No matter what anybody says, you'll always be a prince to me. ~ The Genie.
We keep moving forward, opening new doors and doing new things, because we're curious, and curiosity keeps leading us down new paths. ~ Walt Disney.
No matter how your heart is grieving, if you keep on believing, the dream that you wish will come true. ~ Cinderella.
Every minute spent in your company become the new greatest minute of my life. ~ Bolt.
Popular Disney Friendship Quotes
You are braver than you believe, stronger than you seem, and smarter than you think. ~ Christopher Robin, Winnie the Pooh.
Good friends will help you until you're unstuck. ~ The Many Adventures of Winnie the Pooh.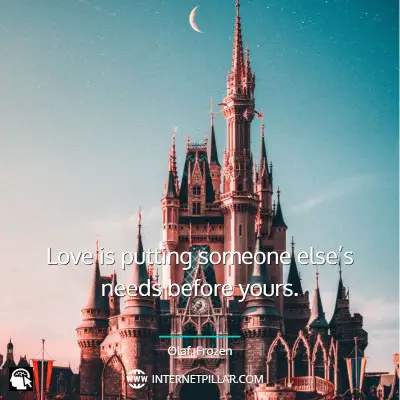 Love is putting someone else's needs before yours. ~ Olaf, Frozen.
She'll be more beautiful than all, in the lovely dress we'll make for Cinderelly. ~ Cinderella.
If you focus on what you left behind, you will never be able to see what lies ahead. ~ Gusteau (Ratatouille).
Today is a good day to try. ~ Quasimodo (The Hunchback of Notre Dame).
If you walk the footsteps of a stranger, you'll learn things you never knew. ~ Pocahontas.
Venture outside your comfort zone. The rewards are worth it. ~ Rapunzel (Tangled).
Inspiring Disney Friendship Quotes
When did my friends become more complicated than my math homework. ~ Lizzie McGuire.
Good bye may seem forever. Farewell is like the end, but in my heart is the memory and there you will always be. ~ Disney.
Ohana means family. Family means nobody gets left behind. ~ Lilo & Stitch.
Believe you can, then you will. ~ Mulan (Princess Stories).
Remember you're the one who can fill the world with sunshine. ~ Snow White, Snow White and the Seven Dwarfs.
A true hero isn't measured by the size of his strength, but by the strength of his heart. ~ Zeus (Hercules).
In every job that must be done, there is an element of fun. ~ Mary Poppins (Mary Poppins).
If you don't know where you want to go, then it doesn't matter which path you take. ~ The Cheshire Cat (Alice in Wonderland).
Uplifting Disney Friendship Quotes
I wouldn't trade it for anything. Never, no, never. Your friendship is the best present ever. ~ Tigger.
The problem is not the problem. The problem is your attitude about the problem. ~ Jack Sparrow (Pirates of the Caribbean).
When will my reflection show who I am inside? ~ Walt Disney Company.
We're a family, we stick together. ~ Toy Story 3.
All it takes is faith and trust. ~ Peter Pan.
You and I are a team; there is nothing more important than our friendship. ~ Monster's Inc.
I'd rather die tomorrow than live a hundred years without knowing you. ~ John Smith, Pocahontas.
Love is a song that never ends. ~ Bambi.
Best Disney Friendship Quotes
Well, spit on my empty grave–if it ain't the attack of the Disney princesses! ~ Amy Plum.
But they say if you dream a thing more than once, it's sure to come true. ~ Walt Disney Company.
And it's almost too perfect. Almost too Disney. ~ Becky Albertalli.
Some people are worth melting for. ~ Frozen.
Every minute spent in your company becomes the new greatest minute of your life. ~ Rhino.
I wouldn't have nothin' if I didn't have you. ~ Monsters, Inc.
The things that make me different are the things that make me ME. ~ Piglet (Winnie the Pooh).
If everybody got somebody by the hand, maybe everyone could learn and understand. ~ Sebastian, The Little Mermaid.
The very things that hold you down are going to lift you up. ~ Timothy Mouse, Dumbo.
Deep Disney Friendship Quotes
Tony had spent a great deal of time dwelling on whoever this poor Disney hostess must have been, not as a casualty but as a person. She never got to be an adult, he'd told himself in horror. ~ Rebecca McNutt.
All at once everything looks different, now that I see you. ~ Rapunzel, Tangled.
You're mad. Bonkers. Off your head … But i'll tell you a secret … some of the best people are. ~ Alice, Alice in Wonderland.
When you're the best of friends having so much fun together, you're not even aware you're such a funny pair. ~ The Fox and the Hound.
Aw shucks, Pluto. I can't be mad at ya! ~ Mickey Mouse.
Meaningful Disney Friendship Quotes
You're never too old to be young. ~ Snow White.
It's better to use your head than break your back. ~ Ernst Robinson (Swiss Family Robinson).
You can be happy or you can be unhappy. It's just according to the way you look at things. ~ Walt Disney.
My dream wouldn't be complete without you in it. ~ Tiana, The Princess and the Frog.
---
So these were the 67 top quotes about Disney Friendship.
If you like these quotes and sayings, then you can also read my other posts on Deadbeat Mom quotes and Husband Hurting Wife quotes.