Elton John, originally named Reginald Kenneth Dwight, is a British singer, composer and pianist born on March 25, 1947, in Pinner, England.
Widely celebrated as one of the top entertainers of the late 20th century, John sold hundreds of millions of records.
He was a piano prodigy, earning a scholarship to the Royal Academy of Music at 11.
His major songwriting partner, Bernie Taupin, teamed up with him in the 1960s and they achieved significant success in the UK and US.
Over his career, Elton blended various pop and rock styles, achieving multiple hits.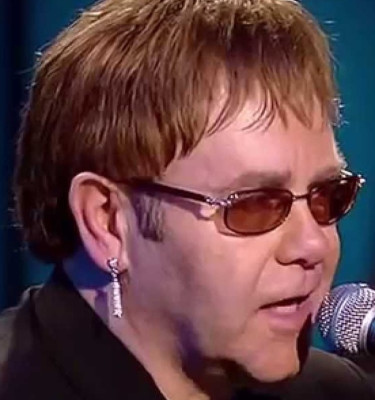 Despite some ups and downs, his popularity endured and he became renowned for his flashy stage costumes.
Openly gay, John faced no significant career setbacks and even composed award-winning songs for movies like "The Lion King."
He also performed in Las Vegas residencies, released numerous albums and went on a final tour named "Farewell Yellow Brick Road."
He was knighted in 1998 and wrote an autobiography in 2019.
I have made a selection of the top quotes by Elton John in this article.
---
Best Elton John Quotes
How wonderful life is while you're in the world. ~ Elton John.
It's much too late to save myself from falling. ~ Elton John.
It seems to me, sorry seems to be the hardest word. ~ Elton John.
Live for each second without hesitation. ~ Elton John.
If you write great songs with meaning and emotion, they will last forever because songs are the key to everything. ~ Elton John.
I get high in the evening sniffing pots of glue. ~ Elton John.
I just think you shouldn't expect people to pay money to see someone sing live and then lip-synch. ~ Elton John.
To forgive and be forgiven, if it's the last thing I do, then in death's release I may find the peace that in life I never knew. ~ Elton John.
You should never take more than you give. ~ Elton John.
You can cage the songbird, but you can't make her sing. And you can trap the free bird, but you'll have to clip her wings. ~ Elton John.
There's a time for everyone, If they only learn, that the twisting kaleidoscope moves us all in turn. ~ Elton John.
I love places that have an incredible history. I love the Italian way of life. I love the food. I love the people. I love the attitudes of Italians. ~ Elton John.
Blue jean baby, LA lady, seamstress for the band. Pretty eyed, pirate smile, you'll marry a music man. Ballerina, you must have seen her dancing in the sand. ~ Elton John.
Jesus wanted us to be loving and forgiving. ~ Elton John.
On a street of right and wrong in every inch of sadness, rocks and tanks go hand in hand with madness. ~ Elton John.
Top dog, top hat, move that muscle, move that fat. ~ Elton John.
I'll even pay sometimes for a woman that's ugly. ~ Elton John.
The less I say the more my work gets done. ~ Elton John.
Take me to the pilot of your soul. ~ Elton John.
I could never go onstage in denims. ~ Elton John.
I'm so proud to be on a Kate Bush record; she's always marched to the beat of her own drum. ~ Elton John.
I don't want a Jennifer Lopez wedding or anything like that. A commitment ceremony would be a nice thing to do. ~ Elton John.
I love football, but I'm sick of the World Cup. I don't even care about England. ~ Elton John.
You think you're being difficult, my little sausage? Have I ever told you about the time I drank eight vodka martinis, took all my clothes off in front of a film crew and then broke my manager's nose? ~ Elton John, Me.
Top Elton John Quotes
I'm very relaxed. I have a family, I have a partner of 20 years, I have a wonderful life; nothing could be better. ~ Elton John.
And it seems to me you lived your life
Like a candle in the wind
Never knowing who to cling to
When the rain set in. ~ Sir Elton John, Candle In The Wind.
Don't judge the picture by the frame, every man is not the same. ~ Elton John.
Religion promotes the hatred and spite against gays. From my point of view, I would ban religion completely. Organised religion doesn't seem to work. It turns people into really hateful lemmings and it's not really compassionate. ~ Elton John.
That was just the mindset of the times: that happiness was somehow less important than keeping up appearances. ~ Elton John.
Like I said, sometimes a gut feeling is the most important thing; sometimes you have to trust fate. ~ Elton John.
No tears to damn you when jealousy burns. ~ Elton John.
Better to build a bridge than a wall. ~ Elton John.
Music has healing power. It has the ability to take people out of themselves for a few hours. ~ Elton John.
I'd always lived with people – my family, or had people living with me, because I'd never liked being on my own. ~ Elton John.
I can't think of anything until I've got printed words in front of me. I never wake up in the middle of the night with a song in my head. ~ Elton John.
Sometimes you can't see the wood for the trees as an artist. ~ Elton John.
Rocket Man, burning out his fuse up here alone. ~ Elton John.
When your persona begins to take over your music and becomes more important, you enter a dangerous place. Once you have people around you who don't question you, you're in a dangerous place. ~ Elton John.
If there is a better singer in England than Craig David, then I am Margaret Thatcher. ~ Elton John.
Don't let the sun go down on me. ~ Elton John.
Don't be afraid to let her into your heart and when you're down, don't try to carry the whole world on your shoulders. ~ Elton John.
Hold me closer tiny dancer, count the headlights on the highway. Lay me down in sheets of linen, you had a busy day today. ~ Elton John.
Popular Elton John Quotes
It's so easy to write songs about misery and hard times and sadness. It's much more difficult to write songs about happy and chirpy stuff. ~ Elton John.
Laughing like children, living like lovers, rolling like thunder, under the covers, and I guess that's why they call it the blues. ~ Elton John.
She's got electric boots, a mohair suit, you know I read it in a magazine. ~ Elton John.
What we should be doing as musicians is trying to bring people together. ~ Elton John.
I cannot bear successful people who are miserable. ~ Elton John.
The work became like the drug addiction, the clothes, anything in my life. It became – it's become an addiction. I'm addicted to working. ~ Elton John.
I've got that resilient thing inside me. But I wasn't a happy bunny. ~ Elton John.
I'm not bored with my life. I'm not just making the records and touring, I would find that boring. ~ Elton John.
I mean, Sting is one of my great buddies and I love him to death. ~ Elton John.
I'm a juvenile product of the working class, who's best friend floats in the bottom of a glass. ~ Elton John.
When stars collide, like you and I, no shadow blocks the sun – The One ~ Elton John
Talk to each other. Never go to bed when you're angry with each other. Lady Antonia Frasier who was married to Harold Pinter said they never went to bed on an argument. ~ Elton John.
Tina Turner gave me the highway blues. ~ Elton John.
Famous Elton John Quotes
I like Stevie Wonder. I usually wind up playing the same old tapes in the car. ~ Elton John.
Shock waves to a tired brain, sends that hungry lady to my door again. She's my shelter from the storm when I feel the rain, entertaining white powder. ~ Elton John.
Loneliness was tough, the toughest role you ever played. Hollywood created a superstar, and pain was the price you paid. ~ Elton John.
There ain't been no angels in heaven around since God invented girls. ~ Elton John.
Sweet freedom whispered in my ear, you're a butterfly, and butterflies are free to fly, fly away, high-away, bye-bye. ~ Elton John.
Bands today have to learn their craft by putting the hard work in that we did when we were young performers. ~ Elton John.
I do like Britney Spears. I think she's cute. I think she's fun. And I like her records. You know, I'm not a pop snob whatsoever. I think she makes great pop records. ~ Elton John.
My old man is drunker than a barrel full of monkeys, but my old lady she don't care. ~ Elton John.
A couple of sounds that I really like are the sounds of a switchblade and a motorbike. ~ Elton John.
I think Jesus was a compassionate, super-intelligent gay man who understood human problems. On the cross, he forgave the people who crucified him. Jesus wanted us to be loving and forgiving. I don't know what makes people so cruel. Try being a gay woman in the Middle East — you're as good as dead. ~ Elton John.
I've always wanted to smash a guitar over someone's head. You just can't do that with a piano. ~ Elton John.
I guess that's why they call it the blues, time on my hands could be time spent with you. ~ Elton John.
Inspirational Elton John Quotes
It's very important to have two tiaras when you're on the road; you never know when you'll be invited to something really formal. ~ Elton John.
This is a tremendous asset for the club, a tremendous headache lifted from our shoulders, really. ~ Elton John.
I had a little Richard and that black piano, oh that sweet Georgia Peach, and the boy from Tupelo. ~ Elton John.
I love people who expect me to wear great, feathery costumes- and I do it. It's like an actor getting into his costume for his part. I don't really feel that part until I'm into whatever I'm going to wear. ~ Elton John.
I'd walk a million miles to give her what she needs. But she would walk a million more to do what she believes. ~ Elton John.
When a rumor doesn't go away it's not a rumor. ~ Elton John.
All this science I don't understand, it's just my job five days a week. ~ Elton John.
I tried to commit suicide one day. It was a very Woody Allen-type suicide. I turned on the gas and left all the windows open. ~ Elton John.
It's the circle of life, and it moves us all, through despair and hope, through faith and love, 'till we find our place, on the path unwinding. ~ Elton John.
I do like my rock stars to be a little larger than life. I don't mind the earnest ones at all, but I do like a bit of individuality. ~ Elton John.
Ask anyone. If it hadn't been for Elvis, I don't know where popular music would be. He was the one that started it all off, and he was definitely the start of it for me. ~ Elton John.
Don't shoot me, I'm just the piano player! ~ Elton John.
Well, I'm a huge fan of Ryan Adams, who's from North Carolina. And he's beginning to break really quite big. ~ Elton John.
My mum always used to buy a record every Friday. ~ Elton John.
I'm glad I've given up drugs and alcohol. It would be awful to be like Keith Richards. He's pathetic. It's like a monkey with arthritis, trying to go onstage and look young. ~ Elton John.
Lawdy Mama, those Friday nights when Suzy wore her dresses down tight. ~ Elton John.
It was insanity, but it sounded romantic. ~ Elton John.
---
So these were the 87 top Elton John quotes on music, life from the Rocketman.
If you like these quotes and sayings, then you can also read my other posts on Miley Cyrus quotes and John Mayer quotes.