To enjoy the moment means is to laugh and feel content with self.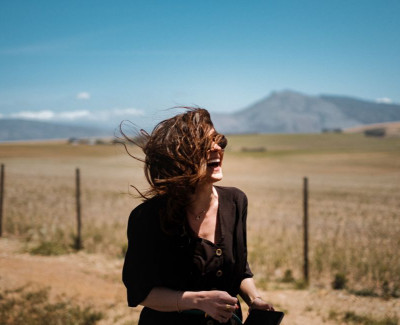 ---
Top 10 Enjoy the Moment Quotes
Enjoy every moment: you never know when things might change. ~ Natalie Imbruglia.
Every moment in our lives is a miracle we should enjoy instead of ignoring. ~ Yoko Ono.
Be happy for this moment. This moment is your life. ~ Omar Khayyam.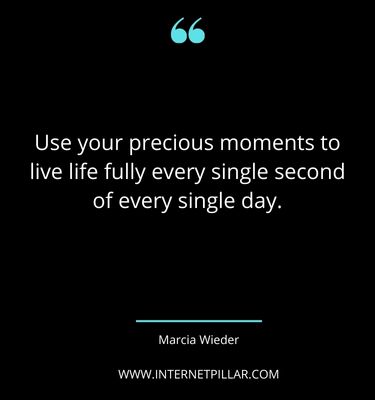 Use your precious moments to live life fully every single second of every single day. ~ Marcia Wieder.
Be happy at the moment; that's enough. Each moment is all we need, not more. ~ Mother Teresa.
Enjoy today. It is one of the good old days you will miss in the future! ~ Etta Sawyerr.
Do not dwell in the past, do not dream of the future, concentrate the mind on the present moment. ~ Buddha.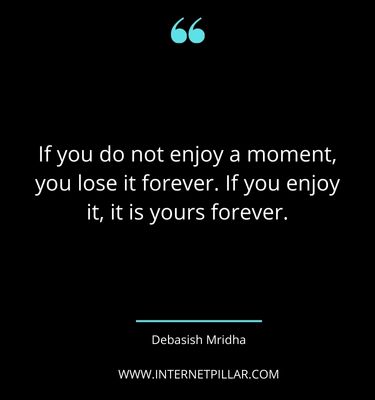 If you do not enjoy a moment, you lose it forever. If you enjoy it, it is yours forever. ~ Debasish Mridha.
Overthinking will not empower you over things that are beyond your control. So, let it be if it is meant to be and cherish the moment. ~ Mahsati A.
The great science to live happily is to live in the present. ~ Pythagoras.
Best Enjoy the Moment Quotes
Use and enjoy your moment of life, don't save it. There is no courtesy desk for us to go and get a refund on an unused life! ~ Unknown.
Dance. Smile. Giggle. Marvel. Trust. Hope. Love. Wish. Believe. Most of all, enjoy every moment of the journey, and appreciate where you are at this moment instead of always focusing on how far you have to go. ~ Mandy Hale.
Breath deeply; this breath is your life. Enjoy the moment; this moment is your life. Love with your heart, let your heart be the compass of your life. ~ Debasish Mridha.
We make patterns, we share moments. ~ Jenny Downham.
The only thing that holds true happiness is that moment when you're in it. Nothing can be controlled. ~ Eliza Doolittle.
Life is about not knowing, having to change, taking a moment and making the best of it, without knowing what's going to happen next. ~ Gilda Radner.
The first recipe for happiness is: Avoid too lengthy meditation on the past. ~ André Maurois.
Enjoy every moment you have. Because in life, there are no rewinds, only flashbacks. Make sure it's all worth it. ~ Unknown.
Don't take life too seriously. Sometimes take a pause, look around, and enjoy the moment. Every second counts, every breath matters! The wheel of time never stops turning. ~ Emmanuel Apetsi.
The ability to be in the present moment is a major component of mental wellness. ~ Abraham Maslow.
Don't make things too complicated. Try to relax, enjoy every moment, get used to everything. ~ Angelique Kerber.
Enjoy small moments as they come. In the end, that's what makes life worthwhile. ~ Nadun Lokuliyanage.
Famous Enjoy the Moment Quotes
We never remember days, only moments. ~ Cesare Pavese.
If you spend your whole life waiting for the storm, you'll never enjoy the sunshine. ~ Morris West.
Cherish every moment with those you love at every stage of your journey. ~ Jack Layton.
Sometimes it is better to slow down in life and enjoy the moment that is happening. ~ Unknown.
Live life for the moment because everything else is uncertain! ~ Louis Tomlinson.
Today is the first day of the rest of your life. ~ American Proverb.
Life gives you plenty of time to do whatever you want to do if you stay in the present moment. ~ Deepak Chopra.
The best way to pay for a lovely moment is to enjoy it. ~ Richard Bach.
I don't have to chase extraordinary moments to find happiness – it's right in front of me if I'm paying attention and practicing gratitude. ~ Brene Brown.
I love and enjoy every moment. Is there anything more beautiful I can do with that moment? ~ Unknown.
Don't try to be everywhere. Just be here and do your thing. That's heaven on earth. ~ Hiral Nagda.
Children have neither a past nor a future. Thus they enjoy the present, which seldom happens to us. ~ Jean de La Bruyère.
Learn to enjoy every minute of your life. Be happy now. Don't wait for something outside of yourself to make you happy in the future. ~ Earl Nightingale.
Deep Enjoy the Moment Quotes
Yesterday is history. Tomorrow is a mystery. Today is a gift. That is why it is called the present. ~ Alice Morse Earle.
Each moment of your life is a picture which you had never seen before and which you'll never see again. So enjoy life and make each moment beautiful. ~ Unknown.
We need to embrace every day and enjoy it as much as we can. ~ Karen Todd Scarpulla.
If you think this moment is yours, then just enjoy it because you don't know what will happen next. ~ Unknown.
The only way to survive eternity is to be able to appreciate each moment. ~ Lauren Kate.
If you're always racing to the next moment, what happens to the one you're in? Slow down and enjoy the moment you're in and live your life to the fullest. ~ Nanette Mathews.
Enjoy the moment. How? Don't spend your time on perpetual planning. Or perpetual worry. Or perpetual whatever. Instead, just enjoy the moment. ~ Joshua Millburn.
Love the moment, and the energy of that moment will spread beyond all boundaries. ~ Corita Kent.
Cherish all your happy moments; they make a fine cushion for old age. ~ Booth Tarkington.
Life was always a matter of waiting for the right moment to act. ~ Paulo Coelho.
Change the way you think, and you will enjoy every moment of life. ~ Unknown.
Do not ruin today with mourning tomorrow. ~ Catherynne M. Valente.
Powerful Enjoy the Moment Quotes
Mix a little foolishness with your serious plans. It is lovely to be silly at the right moment. ~ Horace.
Learn from the past, set vivid, detailed goals for the future, and live in the only moment of time over which you have any control: now. ~ Denis Waitley.
Some moments are happy. Some moments are sad. Live each moment. Embrace life! ~ Avijeet Das.
There will be bad times in life, but you will have good times, so enjoy and remember that moment. ~ Unknown.
Every single moment is your life, so enjoy the moment to enjoy your life fully. ~ Debasish Mridha.
Life is short, and if we enjoy every moment of every day, then we will be happy no matter what happens or what changes along the way. ~ Gretchen Bleiler.
Live in the present, launch yourself on every wave, find eternity in each moment. ~ Henry David Thoreau.
Like water, every moment is precious. ~ Michael Bassey Johnson.
The older one gets, the more one feels that the present moment must be enjoyed, comparable to a state of grace. ~ Marie Curie.
Be grateful for the home you have, knowing that at this moment, all you have is all you need. ~ Sarah Ban Breathnach.
Allow yourself to enjoy each moment in your life. ~ Steve Maraboli.
We're so busy watching out for what's just ahead of us that we don't take time to enjoy where we are. ~ Bill Watterson.
Popular Enjoy the Moment Quotes
Today, you can proudly look back at all the difficult roads that you had to travel in life to get here. Enjoy the moment! ~ Avijeet Das.
Life is beautiful. Cherish every moment, even if you're stressed or hurt or whatnot. There's always tomorrow, and it always gets better. ~ Ariana Grande.
Nothing is permanently perfect. But there are perfect moments and the will to choose what will bring about more perfect moments. ~ Mary Balogh.
If you aren't in the moment, you are either looking forward to uncertainty, or back to pain and regret. ~ Jim Carrey.
---
Here is a video that will help you to stay in the moment and enjoy it.
---
So these were the 67 quotes about Enjoy the Moment.
If you like these quotes and sayings, then you can also read my other popular blog posts on the topics of Cheer Up quotes and America quotes and Civil War quotes and Solitude quotes.