Fear can make you feel as though you are nothing.
Fear is just an emotion and you can surmount it.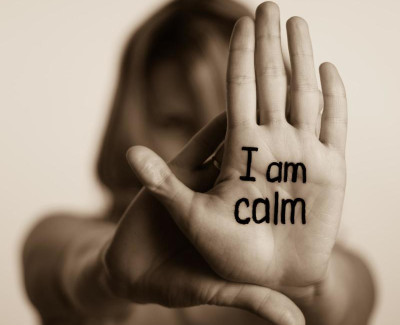 Here is a great collection of Fear is the Enemy Quotes for you.
---
Top 10 Fear is the Enemy Quotes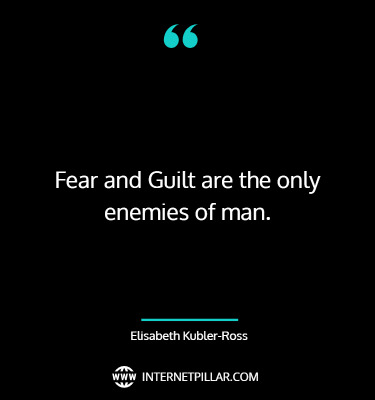 Fear and Guilt are the only enemies of man. ~ Elisabeth Kubler-Ross.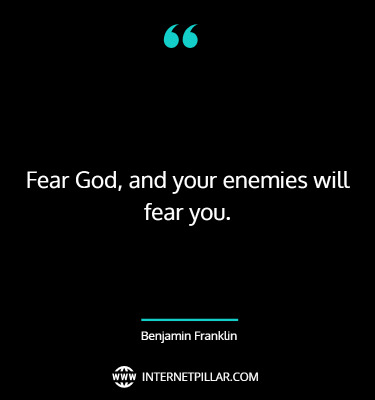 Fear God, and your enemies will fear you. ~ Benjamin Franklin.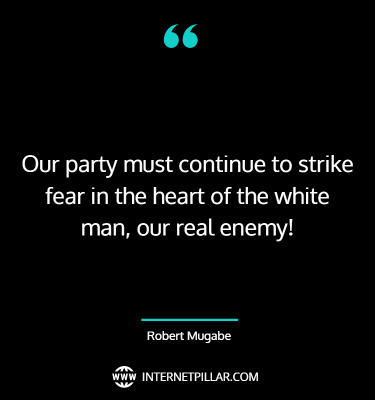 Our party must continue to strike fear in the heart of the white man, our real enemy! ~ Robert Mugabe.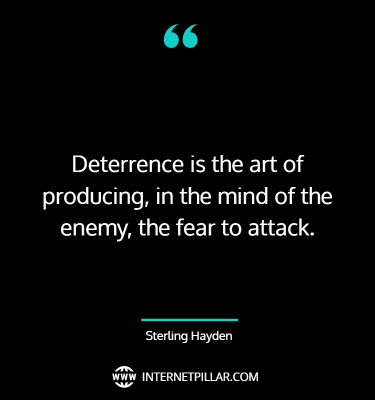 Deterrence is the art of producing, in the mind of the enemy, the fear to attack. ~ Sterling Hayden.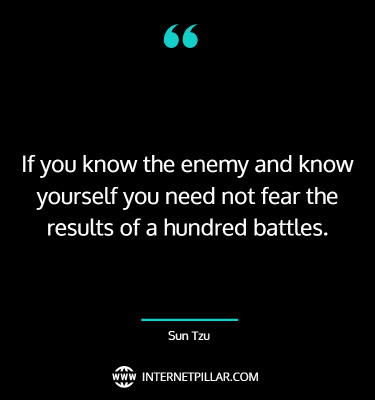 If you know the enemy and know yourself you need not fear the results of a hundred battles. ~ Sun Tzu.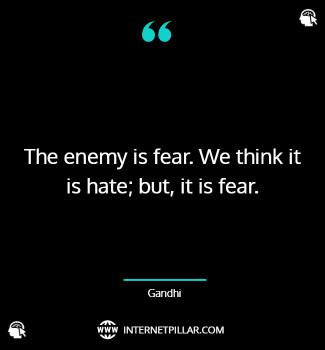 The enemy is fear. We think it is hate; but, it is fear. ~ Gandhi.
Compassion has enemies, and those enemies are things like pity, moral outrage, fear. ~ Joan Halifax.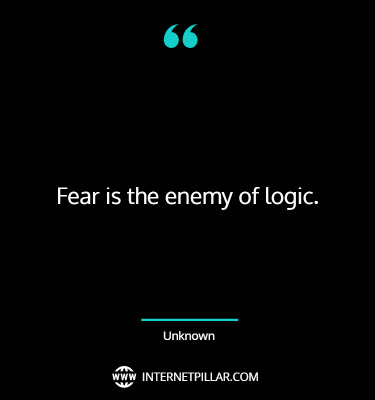 Fear is the enemy of logic. ~ Unknown.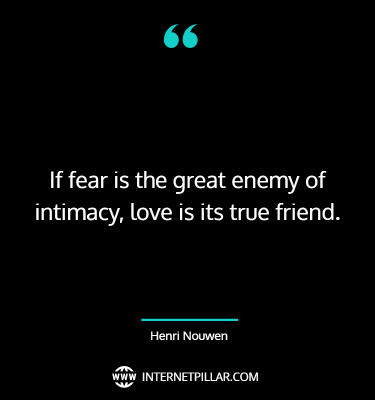 If fear is the great enemy of intimacy, love is its true friend. ~ Henri Nouwen.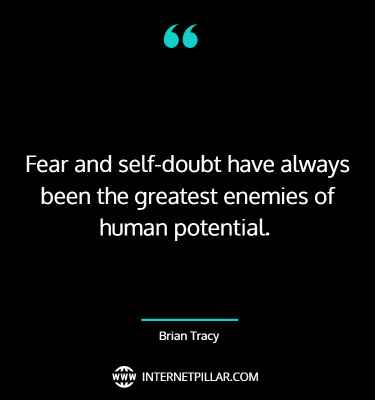 Fear and self-doubt have always been the greatest enemies of human potential. ~ Brian Tracy.
Also Read: 70 Fear Quotes to Inspire You to Challenge Your Fears and Be Bold Quotes to Motivate You to be Fearless
Powerful Fear is the Enemy Quotes
Man created language to be understood. It should be normal to understand what people convey to us. Fear, ulterior motives, and closed mindedness are the enemies of understanding. ~ John Fairclough.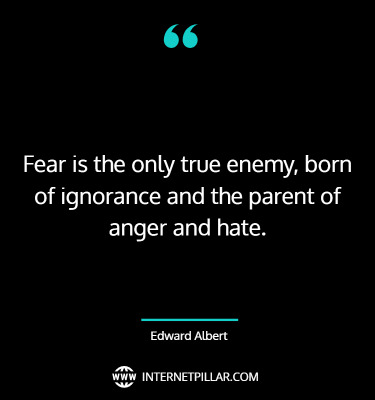 Fear is the only true enemy, born of ignorance and the parent of anger and hate. ~ Edward Albert.
Under the influence of fear, which always leads men to take a pessimistic view of things, they magnified their enemies' resources, and minimized their own. ~ Livy.
Fears, even the most basic ones, can totally destroy our ambitions. Fear, if left unchecked, can destroy our lives. Fear is one of the many enemies lurking inside us. ~ Jim Rohn.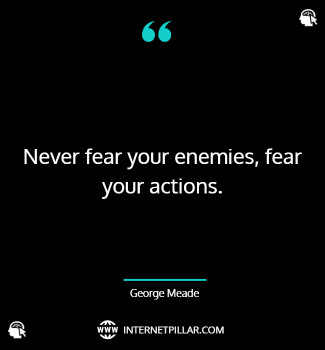 Never fear your enemies, fear your actions. ~ George Meade.
Famous Fear is the Enemy Quotes
When the tyrant has disposed of foreign enemies by conquest or treaty, and there is nothing more to fear from them, then he is always stirring up some war or other, in order that the people may require a leader. ~ Plato.
Fear has been the original parent of superstition, and every new calamity urges trembling mortals to deprecate the wrath of their invisible enemies. ~ Edward Gibbon.
Discipline is simply the art of making the soldiers fear their officers more than the enemy. ~ Claude Adrien Helvetius.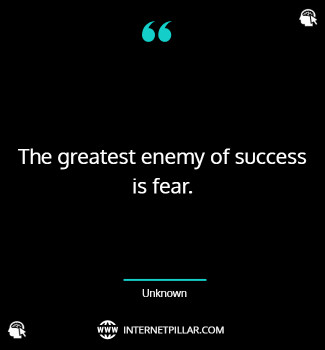 The greatest enemy of success is fear. – Unknown
It seems to me that there are two great enemies of peace – fear and selfishness. ~ Katherine Paterson.
Best Fear is the Enemy Quotes
Let your dissent fuel you, your anger inspire you, your rage convey you, and your fury strike a chilling fear onto the spines of your enemies. ~ Evan Meekins.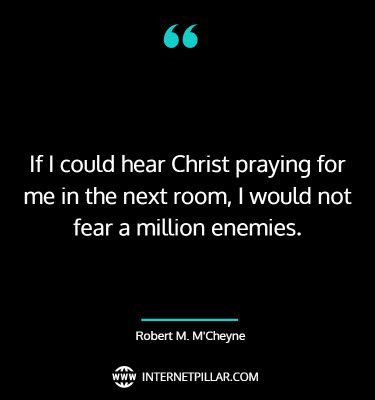 If I could hear Christ praying for me in the next room, I would not fear a million enemies. ~ Robert Murray M'Cheyne.
Worry, doubt, fear and despair are the enemies which slowly bring us down to the ground and turn us to dust before we die. ~ Douglas MacArthur.
Fear is the great enemy of intimacy. Fear makes us run away from each other or cling to each other but does not create true intimacy. ~ Henri Nouwen.
Popular Fear is the Enemy Quotes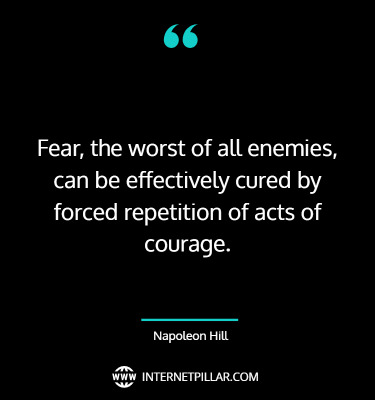 Fear, the worst of all enemies, can be effectively cured by forced repetition of acts of courage. ~ Napoleon Hill.
One of the most important things you can do in your life is to learn to pull back the curtain of fear so you can see it for what it really is – the enemy blowing a lot of smoke and pushing your buttons. ~ Victoria Osteen.
I greatly fear some of America's greatest and most dangerous enemies are such as think themselves her best friends. ~ Nathan Hale.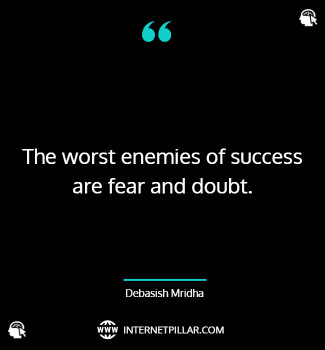 The worst enemies of success are fear and doubt. ~ Debasish Mridha.
Let us conduct ourselves so that all men wish to be our friends and all fear to be our enemies. ~ Alexander the Great.
Reconciliation with our enemies is simply a desire to better our condition, a weariness of war, or the fear of some unlucky thing from occurring. ~ Francois de La Rochefoucauld.
---
So these were the 32 quotes about Fear is the Enemy.
If you like these quotes and sayings, then you can also read my other popular blog posts on the topics of Things Will Get Better quotes and Flip Flops quotes.
References and Sources: