Green is a color of the nature and environment. It symbolizes life.
Green is also the color of money and it represents success, wealth and prosperity.
---
Best Green Quotes
It seems very safe to me to be surrounded by green growing things and water. ~ Barbara Kingsolver.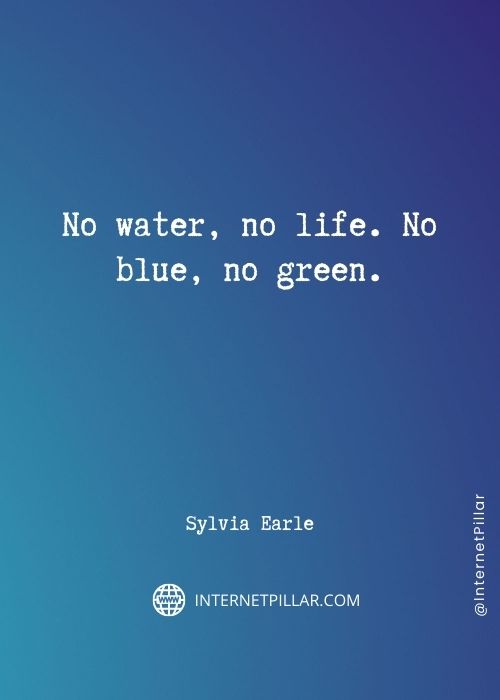 No water, no life. No blue, no green. ~ Sylvia Earle.
How green was my valley then, and the valley of them that have gone. ~ Richard Llewellyn.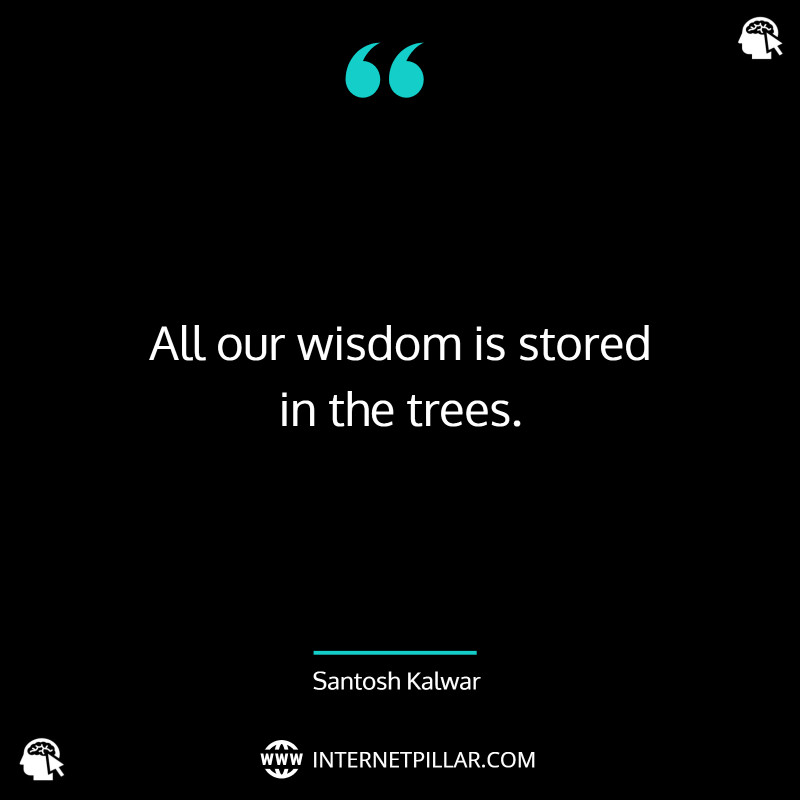 All our wisdom is stored in the trees. ~ Santosh Kalwar.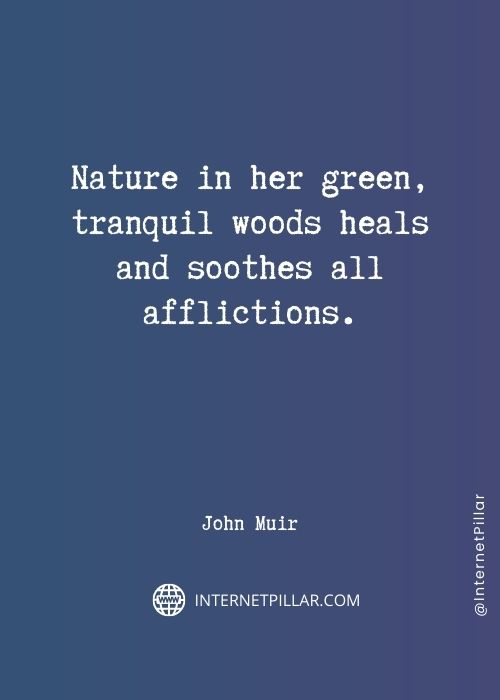 Nature in her green, tranquil woods heals and soothes all afflictions. ~ John Muir.
Green represents the dead image of life. ~ Rudolf Steiner.
Going green doesn't start with doing green acts, it starts with a shift in consciousness. ~ Ian Somerhalden.
Top Green Quotes
Green fingers are the extension of a verdant heart. ~ Russell Page.
Green is a soothing color, isn't it? I mean Gryffindor rooms are all well and good but the trouble with red is – it is said to send you a little mad – not that I'm casting aspersions . . . ~ Jack Thorne.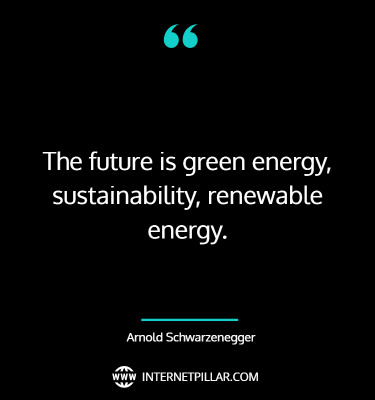 The future is green energy, sustainability, renewable energy. ~ Arnold Schwarzenegger.
Green is the fresh emblem of well founded hopes. In blue the spirit can wander, but in green it can rest. ~ Mary Webb.
A man who contemplates revenge keeps his wounds green. ~ Francis Bacon.
Green does not have to mean the sort of hair-shirt, wood-burning-stove sensibility of the '70s. Green can and should be sleek and modern. ~ Graydon Carter.
Beautiful Green Quotes
Absolute green is the most restful color, lacking any undertone of joy, grief, or passion. On exhausted men, this restfulness has a beneficial effect, but after a time it becomes tedious. ~ Wassily Kandinsky.
Our green valleys will be greener once we fully grasp the infinite vitality of the green! ~ Mehmet Murat ildan.
When you're green, you're growing. When you're ripe, you rot. ~ Ray Kroc.
Green in nature is one thing, green in literature another. Nature and letters seem to have a natural antipathy; bring them together and they tear each other to pieces. ~ Virginia Woolf.
Inspirational Green Quotes
Learn of the green world what can be thy place in scaled invention or true artistry. ~ Ezra Pound.
An optimist is a person who sees a green light everywhere, while a pessimist sees only the red stoplight… the truly wise person is colorblind. ~ Albert Schweitzer.
Dark green is my favorite color. It's the color of nature and the color of money and the color of moss! ~ Leonardo DiCaprio.
We sat in silence, letting the green in the air heal what it could. ~ Erica Bauermeister.
Colorless green ideas sleep furiously. ~ Noam Chomsky.
I can breathe where there is green. Green grows hope. It keeps my heart beating and helps me remember who I am. ~ Courtney M. Privett.
Famous Green Quotes
It's not easy being green. ~ Kermit the Frog.
A meter of green is greener than a centimeter. ~ Paul Gauguin.
With the gun you can make the earth red but if you have a plough you can make the earth green. ~ Narendra Modi.
Life is a green madness just now, trying to squeeze the last bit of warmth from the season. ~ Vernor Vinge.
A plant is the most cliche thing, but a little bit of green has a great effect on happiness. Being at a cubicle all day is not pleasing, but a little life on your desk can give you a little life, too. ~ Bobby Berk.
Green calm below, blue quietness above. ~ John Greenleaf Whittier.
Nature's first green is gold. ~ Robert Frost.
Green is a process, not a status. We need to think of 'green' as a verb, not an adjective. ~ Daniel Goleman.
I just need green. I need to wake up and see grass and squirrels. I don't want to see skyscrapers. ~ Andre Leon Talley.
Inspiring Green Quotes
Never stay up on the barren heights of cleverness, but come down into the green valleys of silliness. ~ Ludwig Wittgenstein.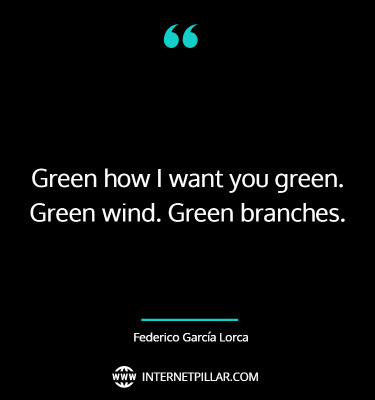 Green how I want you green. Green wind. Green branches. ~ Federico García Lorca.
He had that curious love of green, which in individuals is always the sign of a subtle artistic temperament, and in nations is said to denote a laxity, if not a decadence of morals. ~ Oscar Wilde.
Green is the prime color of the world, and that from which its loveliness arises. ~ Pedro Calderon de la Barca.
In every wood in every spring there is a different green. ~ J. R. R. Tolkien.
Green makes me think of silence, or maybe it's loneliness. I get the feeling of a terribly distant star. ~ Kobo Abe.
Bring outdoor life into the home. ~ Steven Magee.
Being green and clean is not just an aspiration but an action. ~ Christine Pelosi.
In the hierarchy of colors, green represents the social middle class, self-satisfied, immovable, narrow. ~ Wassily Kandinsky.
The work an unknown good man has done is like a vein of water flowing hidden underground, secretly making the ground green. ~ Thomas Carlyle.
If your knees aren't green by the end of the day, you ought to seriously re-examine your life. ~ Bill Watterson.
---
So these were the 43 quotes about Green.
If these quotes and sayings connect with you, check out our other blogs on Happy Sunday quotes and crazy friends quotes.