Sunday is well-recognized universally as a day of rest and is a perfect opportunity to unwind, relax and engage in activities that bring joy and contentment.
It could be spending some quality time with loved ones and embarking on a nature trail or simply spending time at home.
This is also a day when many individuals engage in worship, reflecting on their spiritual beliefs.
Sundays play a crucial role in recharging ourselves, preparing for the week ahead with positivity and enthusiasm.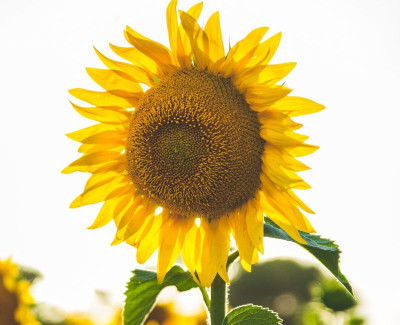 To enhance your Sunday experience, a curated collection of uplifting quotes is presented in the post.
Also read: Monday quotes and Thankful Thursday quotes.
These include wisdom from renowned thinkers, writers and everyday individuals, reminding you to enjoy the present and find happiness in life's simplicity.
Whether you prefer humorous or inspirational quotes, or those specifically designed for Sunday mornings or nights, this collection aspires to bring a smile to your face, inspiring a fresh perspective on this day and setting you up for a successful week ahead.
---
Best Happy Sunday Quotes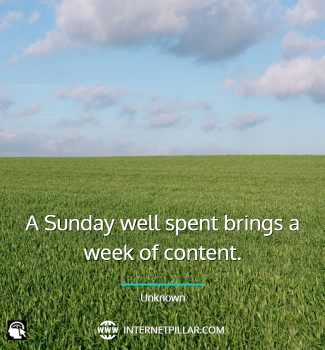 A Sunday well spent brings a week of content. ~ Unknown.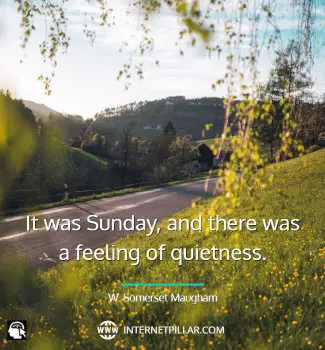 It was Sunday, and there was a feeling of quietness. ~ W. Somerset Maugham.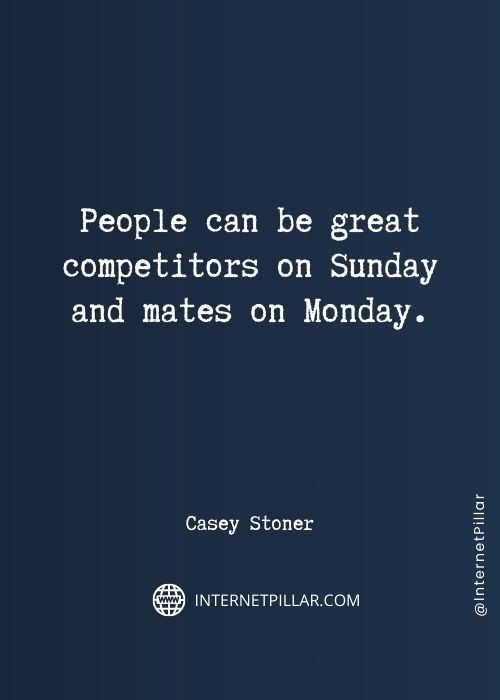 People can be great competitors on Sunday and mates on Monday. ~ Casey Stoner.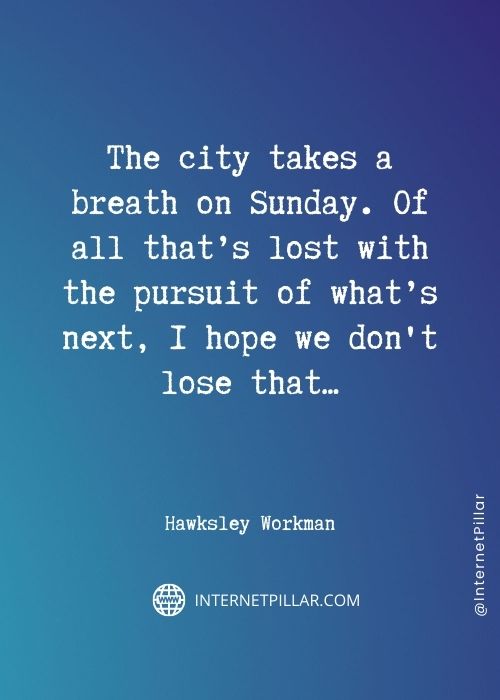 The city takes a breath on Sunday. Of all that's lost with the pursuit of what's next, I hope we don't lose that… ~ Hawksley Workman.
Time flows in a strange way on Sundays. ~ Haruki Murakami.
Sunday, for me, is all about being home with the family with no plans. ~ John Lasseter.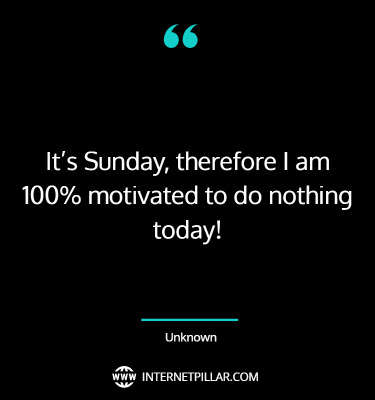 It's Sunday, therefore I am 100% motivated to do nothing today! ~ Unknown.
She swears lazy Sundays were made for her. Doing whatever it is she wants to do, even if it is, nothing at all. ~ Unknown.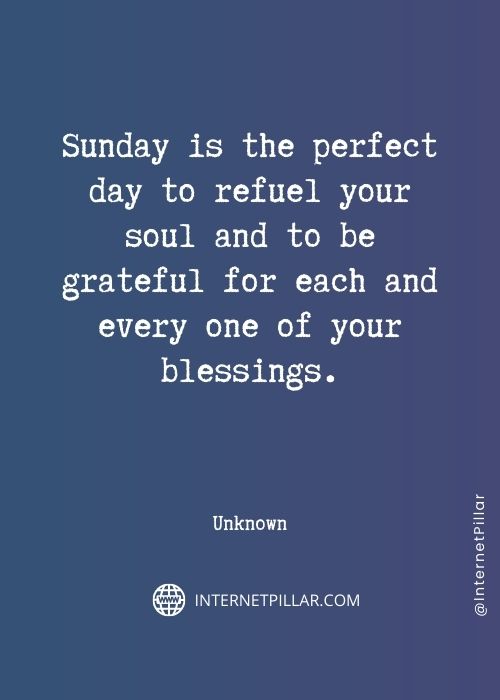 Sunday is the perfect day to refuel your soul and to be grateful for each and every one of your blessings. ~ Unknown.
SUNDAY, The day.. I planned a lot but actually do nothing. ~ Lovely Goyal.
There are many persons who look on Sunday as a sponge to wipe out the sins of the week. ~ Henry Ward Beecher.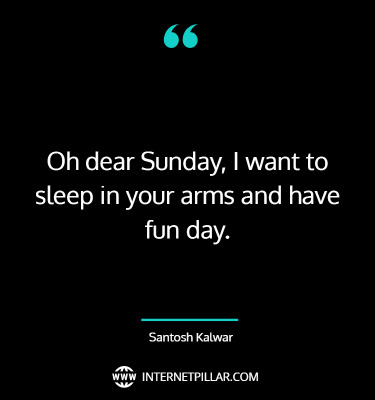 Oh dear Sunday, I want to sleep in your arms and have fun day. ~ Santosh Kalwar.
The frantic pace of life is only interrupted by the quietness of Sunday. ~ Byron Pulsifer.
Top Happy Sunday Quotes
Sunday was always the best of days for being the self you had intended to be, but were not, for one reason or another. ~ Jesse Ball.
Sunday afternoon is for papers and writing. ~ Nicholas Haslam.
When I woke up Sunday morning at the Open and stepped outside and felt the wind and rain in my face, I knew I had an excellent chance to win if I just took my time and trusted myself. ~ Tom Kite.
Sunday is your best day. You know you had an amazing week. Time to recover and think how you gonna kill the next one. ~ Unknown.
Start this Sunday with a clean heart. No doubt, no tears, no fear, no worry. Thank God for his priceless gifts and miracles throughout the world. ~ Unknown.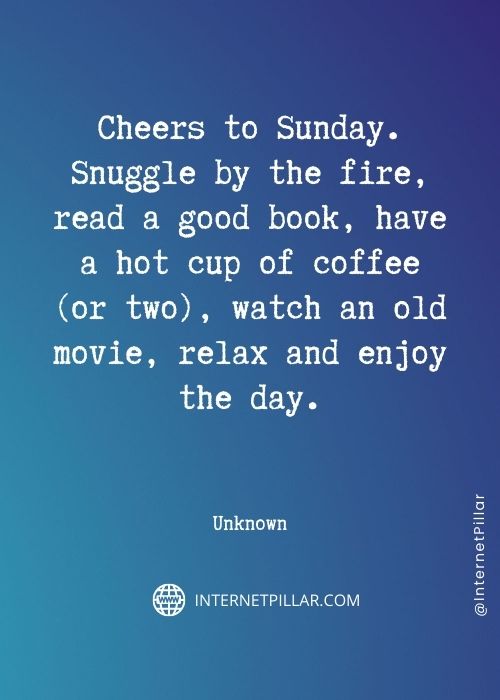 Cheers to Sunday. Snuggle by the fire, read a good book, have a hot cup of coffee (or two), watch an old movie, relax and enjoy the day. ~ Unknown.
Now, every day when I wake up I am grateful. I have to be. And I have to count the things that are abundant in my life. Literally count them. ~ James Altucher.
Poetry is truth in its Sunday clothes. ~ Philibert Joseph Roux.
Stuttering is painful. In Sunday school, I'd try to read my lessons, and the children behind me were falling on the floor with laughter. ~ James Earl Jones.
Beautiful Happy Sunday Quotes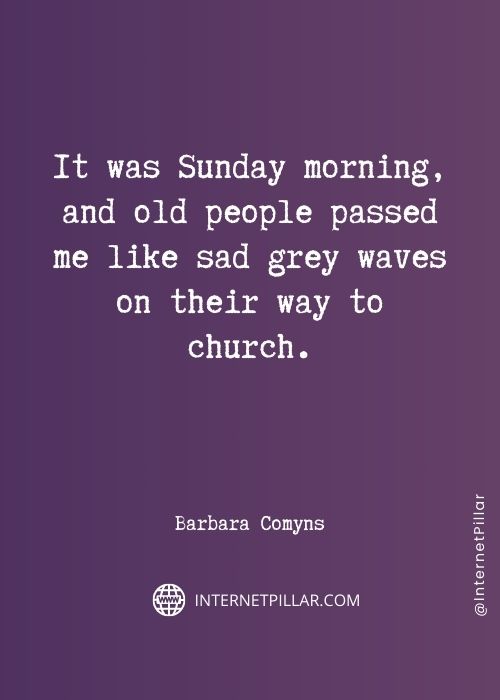 It was Sunday morning, and old people passed me like sad grey waves on their way to church. ~ Barbara Comyns.
This is Sunday, and the question arises, what'll I start tomorrow? ~ Kurt Vonnegut.
Why is Sunday a day of rest because it is different than all the rest? ~ Byron Pulsifer.
A Sunday morning spent reading the paper together, maybe drinking some mimosas, alone, and talking until noon. That would be pretty amazing. ~ Dierks Bentley.
If God hadn't rested on Sunday, He would have had time to finish the world. ~ Gabriel Garcia Marquez.
Sunday is the day when I prepare for the week ahead by making improbable To Do lists and browsing Pinterest for ideas on how to decorate my imaginary mansion. ~ Nanea Hoffman.
Inspirational Happy Sunday Quotes
Sunday brings along memories of childhood when I used to wake up to go to church. Then when I would return home there would be something special for breakfast. I miss those days. ~ Quincy Latte.
Do not let Sunday be taken from you. If your soul has no Sunday, it becomes an orphan. ~ Albert Schweitzer.
On Sunday mornings, as the dawn burned into day, swarms of gulls descended on the uncollected trash, hovering and dropping in the cold clear light. ~ Edward Conlon.
Sundays tend to be a day where just I do nothing but visit people. It's kind of like trick-or-treating. ~ Chuck Palahniuk.
There is always something new to learn and feel each Sunday. ~ Bishop Gerald Causse.
Sunday clears away the rust of the whole week. ~ Joseph Addison.
Famous Happy Sunday Quotes
Sunday is a day to clear the mind of all that has transpired the week before. ~ Byron Pulsifer.
The goal of Sunday is to leave my home as little as possible. ~ Mark Morris.
The flower has no weekday self, dressed as it always is in Sunday clothes. ~ Malcolm De Chazal.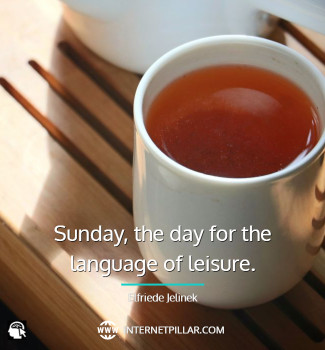 Sunday, the day for the language of leisure. ~ Elfriede Jelinek.
I love waking up to Sunday morning pancakes. The whole process of making them, just out in the kitchen together making pancakes on a Sunday morning; that's an experience every girl should have. ~ Ronda Rousey.
Well, there's nothing better than putting your feet up on a Sunday afternoon and grabbing a good book. ~ Chris Klein.
Inspiring Happy Sunday Quotes
Just in terms of allocation of time resources, religion is not very efficient. There's a lot more I could be doing on a Sunday morning. ~ Bill Gates.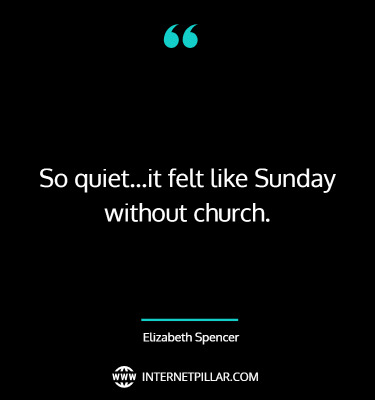 So quiet…it felt like Sunday without church. ~ Elizabeth Spencer.
Don't waste a single Sunday. If you don't waste Sundays, you will be less likely to waste Mondays, Tuesdays, and Wednesdays. ~ Matthew Kelly.
Champagne makes you feel like it's Sunday and better days are just around the corner. ~ Marlene Dietrich.
On this lovely Sunday, remember to take a deep breath and relax. Enjoy your family, your friends, and indulge yourself in a nice cup of coffee. ~ Unknown.
Sundays… Sleep until you're hungry. Then eat until you're sleepy. ~ Unknown.
It's a beautiful Sunday morning and a great opportunity to thank the Lord for reminding us how blessed we are. ~ Unknown.
Wherever you go, no matter what the weather, always bring your own sunshine. ~ Unknown.
Sunday is the golden clasp that binds together the volume of the week. ~ Henry Wadsworth Longfellow.
Between Monday and Saturday men make an audience. On Sunday, they make a congregation. ~ Mokokoma Mokhonoana.
On Sunday morning, I'm not nervous… I can't wait to tell what God wants me to say. ~ Charles Stanley.
So that Sunday morning I ended up going to church and that's when I got saved. ~ Russell Wilson.
---
So these were the 55 top quotes about Happy Sunday.