Hamish Linklater is an American actor and playwright born on July 7, 1976, in Massachusetts.
His mother, Kristin Linklater, was a prominent figure in the theater world. From a young age, Hamish was involved in Shakespearean roles, thanks to his mother's connection with Shakespeare & Company.
Over the years, he's been in many films and TV shows, including "The New Adventures of Old Christine" and "Legion."
In 2021, he gained significant praise for his role in Netflix's "Midnight Mass." His acting pedigree is complemented by his theater work, including Broadway performances.
He's also ventured into writing, producing and directing, as seen with his 2022 project "Downtown Owl."
In his personal life, Hamish was previously married to Jessica Goldberg and they have a daughter.
He is now with actress Lily Rabe, with whom he has two daughters and is expecting a third.
Below is a list of quotes by Hamish Linklater.
---
Best Hamish Linklater Quotes
I'm a pretty cliché actor in that I hate watching myself on film. ~ Hamish Linklater.
You want to throw yourself in as many uncomfortable places as possible, if you want to build muscles in uncomfortable parts of your body and grow as an artist. ~ Hamish Linklater.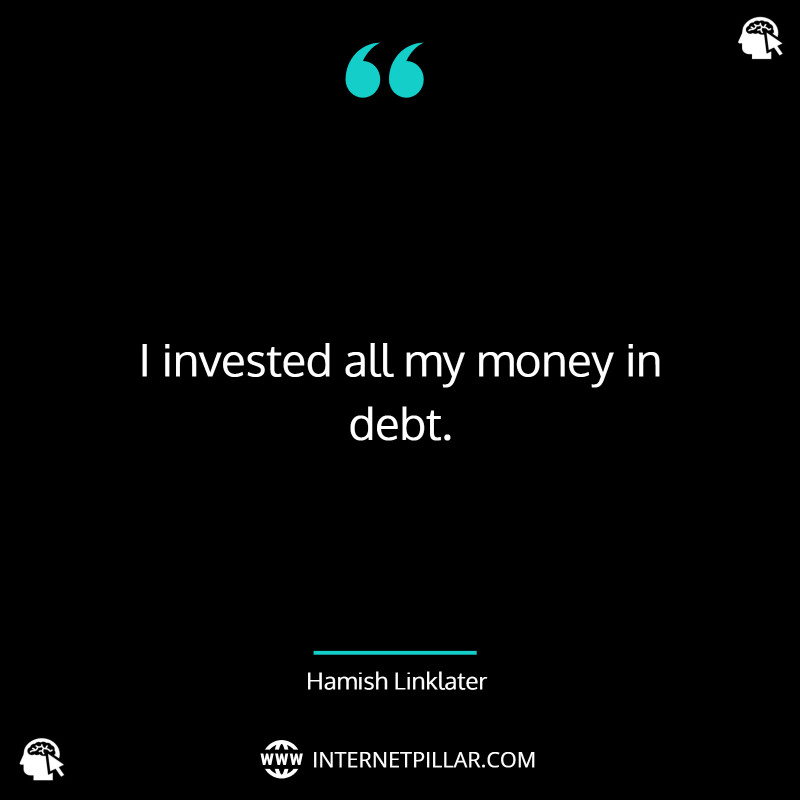 I invested all my money in debt. ~ Hamish Linklater.
I've never seen anyone handling pans in the streets of New York, and if I did I doubt I'd give them money, unless I needed a pan. I do give money to homeless people, whether they ask or no. ~ Hamish Linklater.
It was an outdoor Shakespeare theater that I grew up at. That feels like home, and the place I'm always trying to figure out how to get to. ~ Hamish Linklater.
Top Hamish Linklater Quotes
When you're making a pilot, what you're mostly thinking is, 'Please let this be a real job, please.' ~ Hamish Linklater.
I bought a house right before the housing crisis happened. So I paid too much and then I was stuck with it for a long time. So that was sad for me. I was like, "I'd better make a movie about this to get it out of my system". ~ Hamish Linklater.
I did try to go to college and try to be an English major. ~ Hamish Linklater.
In my ideal world there would be 99% unemployment for actors, and I would be the 1% that's employed. I hear about somebody getting a job at Starbucks and I get jealous. ~ Hamish Linklater.
---
So these were the 9 quotes by Hamish Linklater for you.
If these quotes and sayings connect with you, check out our other posts on Klaus Mikaelson quotes and Sasuke Uchiha quotes.