Indiana is known as "The Hoosier State".
Indianapolis is the capital and largest city in Indiana.
---
Best Indiana Quotes
Indiana was so lovely. Just so lovely. ~ Renato Dulbecco.
Okay. Well, the truth is, I'm from Indiana… ~ Kimmy Schmidt.
I love Indiana. ~ Paul George.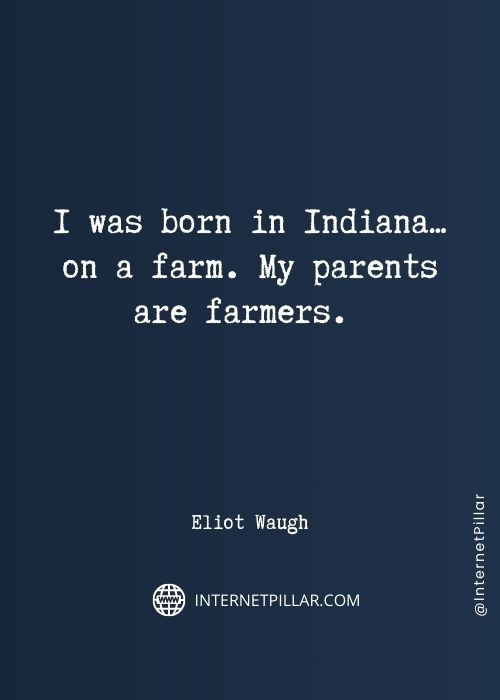 I was born in Indiana… on a farm. My parents are farmers. ~ Eliot Waugh.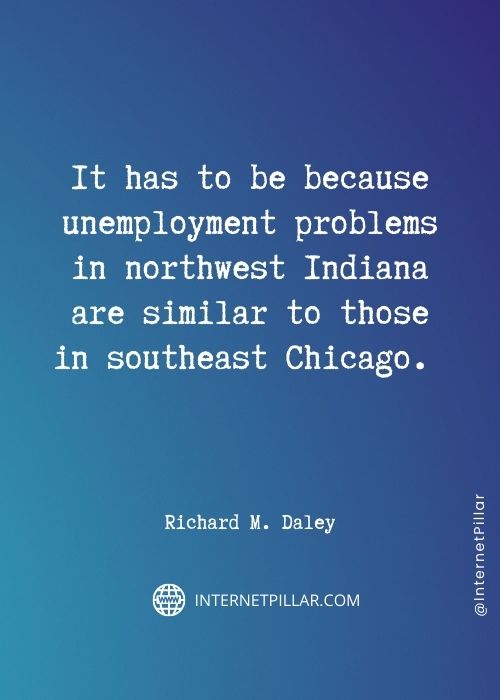 It has to be because unemployment problems in northwest Indiana are similar to those in southeast Chicago. ~ Richard M. Daley.
Anybody that's been in Indiana for five minutes knows that Hoosier hospitality is not a slogan, it's a reality. ~ Mike Pence.
I love everything about Indiana. ~ Jermaine O'Neal.
I'm from a small farm town in Indiana! ~ Angela Ahrendts.
Well, I have another location in mind. How about opening a shop in Indiana? ~ Jill Taylor.
I grew up in Columbus, Indiana, a kind of industrial and farmland place. ~ Stephen Sprouse.
Growing up in Terre Haute, Indiana, there's not a whole lot to do. What I did was I just went to the basketball court at the Boys & Girls Club and literally stayed there all day until my mom got off of work. ~ Greg Oden.
I want to say to you Indiana people that I owe you a big, big debt of gratitude because nowhere in the world is a sporting group followed more than this state follows basketball. And I just want to thank you for the opportunity that I had to coach in this state – it will always be something that I will cherish. ~ Bobby Knight.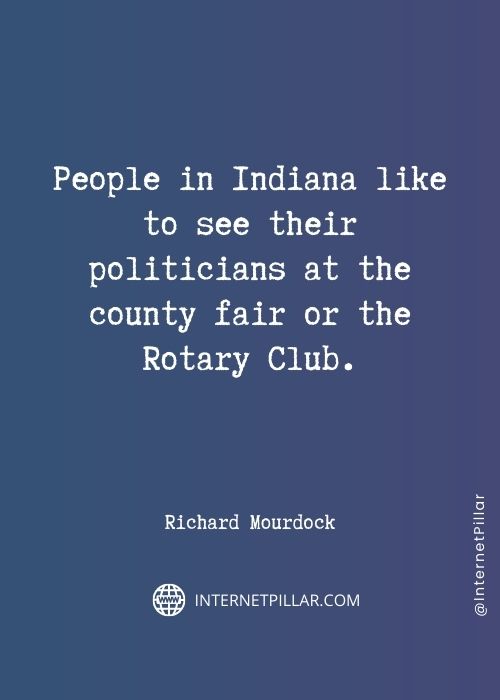 People in Indiana like to see their politicians at the county fair or the Rotary Club. ~ Richard Mourdock.
The Religious Freedom Restoration Act in Indiana does not give anyone the right to deny services to anyone in this state. It is simply a balancing test used by our federal courts and jurisdictions across the country for more than two decades. ~ Mike Pence.
If the federal government had been around when the Creator was putting His hand to this state, Indiana wouldn't be here. It'd still be waiting for an environmental impact statement. ~ Ronald Reagan.
Top Indiana Quotes
I live in Indiana and teach at Purdue University, a wonderful school with some of the brightest students I have ever had the privilege of working with. My colleagues are powerful and intelligent and kind. The cost of living is low, the prairie is wide, and on clear nights, I can see all the stars in the sky above. ~ Roxane Gay.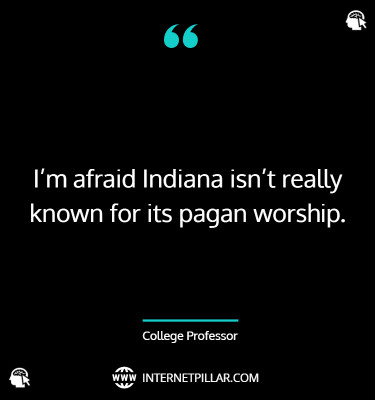 I'm afraid Indiana isn't really known for its pagan worship. ~ College Professor.
I was born and raised in the state of Indiana, and it's where I started Papa John's, so this state and our partnership with the Pacers hold a special place in my heart. ~ John Schnatter.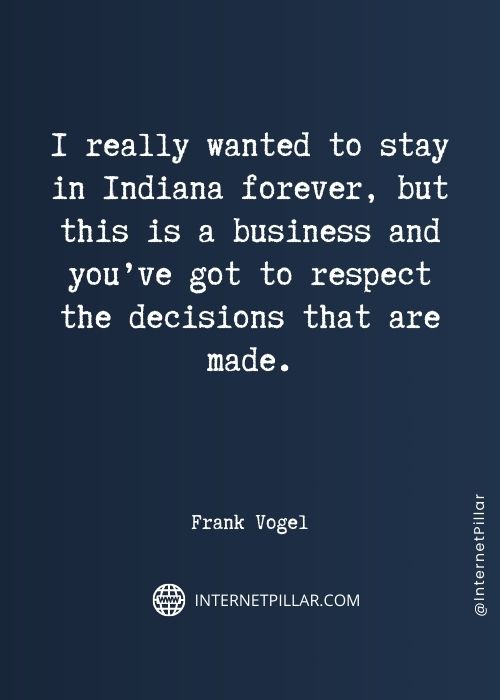 I really wanted to stay in Indiana forever, but this is a business and you've got to respect the decisions that are made. ~ Frank Vogel.
In Indiana, which has been hard hit by manufacturing losses, job declines, and shrinking wages, Governor Pence combined tax cuts with spending restraint to spur the Hoosier economy. ~ Lawrence Kudlow.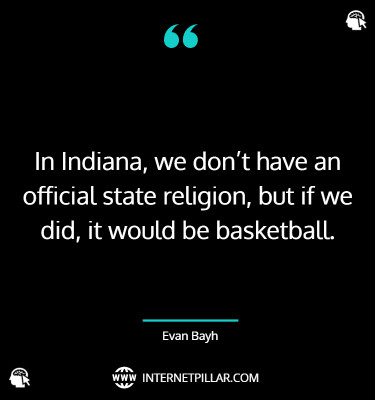 In Indiana, we don't have an official state religion, but if we did, it would be basketball. ~ Evan Bayh.
I'm from Gary, Indiana, and everybody's damn near at the poverty level. It's a rough city to grow up in, and it's a modern-day ghost town. ~ Freddie Gibbs.
At a tiny station in New Albany, Indiana, which is right across from the river from Louisville, Kentucky, where I grew up. The Louisville stations were loath to hire beginners, so I had to go across the river. ~ Bob Edwards.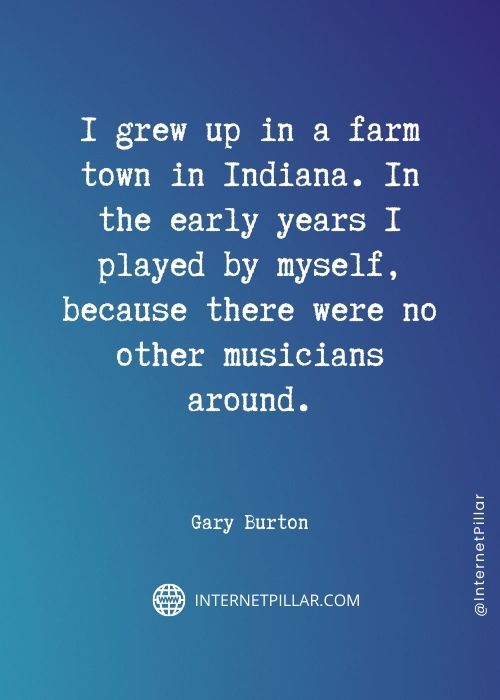 I grew up in a farm town in Indiana. In the early years I played by myself, because there were no other musicians around. ~ Gary Burton.
In Indiana, the Affordable Care Act will raise the average cost of health insurance in the individual market by an unaffordable 72 percent. ~ Mike Pence.
Famous Indiana Quotes
Indiana taxpayers, retired Hoosier state policemen and teachers are neither greedy speculators nor unpatriotic. They are, however, secured creditors of Chrysler. They deserve to have their funds protected under the full auspices of the law. ~ Richard Mourdock.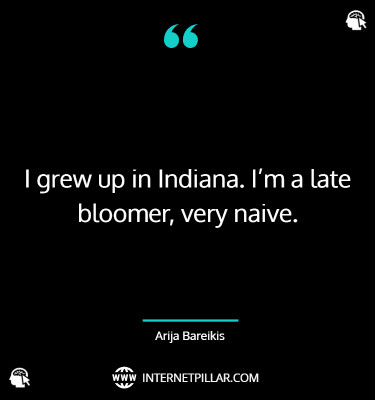 I grew up in Indiana. I'm a late bloomer, very naive. ~ Arija Bareikis.
In my home state of Indiana, we prove every day that you can build a growing economy on balanced budgets, low taxes, even while making record investments in education and roads and health care. ~ Mike Pence.
Manhattan's probably one of the bluest parts in the country, and Indiana's definitely one of the redder states. I have sympathy for both sides. ~ Jim Gaffigan.
I grew up in Montpelier, Indiana. It's a little town in the northeast corner of Indiana. It's a rural community; about two thousand people, a very much hometown U.S.A. kind of thing. ~ Kevin A. Ford.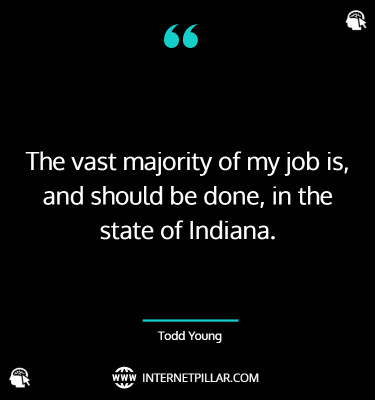 The vast majority of my job is, and should be done, in the state of Indiana. ~ Todd Young.
In Indiana, Made-in-America is more than a slogan: More Hoosiers are employed in manufacturing than in any other industry. ~ Mike Braun.
Interesting Indiana Quotes
It sounds outright bland, but people here in Indiana want conscientious public servants who have deep convictions but are prepared to work across the aisle when possible. ~ Todd Young.
For me, growing up in Indiana with cornfields and churches, I was always very intrigued by the Academy Awards ~ they were a big event. That was the one night of the year when all of the glittering movie stars got together, and I used to love that night because, as a child, it was a way to dream for me. ~ Ryan Murphy.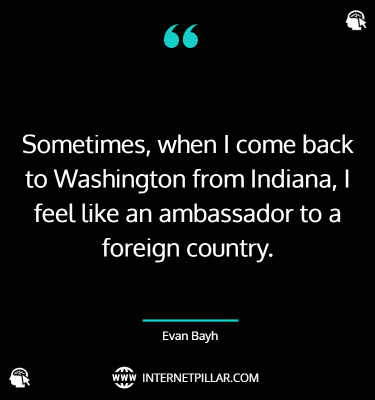 Sometimes, when I come back to Washington from Indiana, I feel like an ambassador to a foreign country. ~ Evan Bayh.
Here in Indiana, we run a nationally-recognized program called the Healthy Indiana Plan. The Healthy Indiana Plan offers the uninsured an affordable health care plan with savings accounts that they control. ~ Mike Pence.
I am going to try to rip the economic guts out of Indiana. But we're going to do it methodically and aggressively. ~ Bruce Rauner.
I believe that the Right to Work issue is a perfectly appropriate one for Indiana to look at. ~ Mitch Daniels.
Skiing not only for yourself and your family, but for your country, was surreal. The amount of support I got from back home in Indiana was insane. ~ Nick Goepper.
Quotes about Indiana State
Indiana houses the home offices of most fraternities and sororities in the country. If Indiana doesn't pass a law that guarantees people that they'll be free of discrimination, those fraternities and sororities need to move out of Indiana. ~ Dannel Malloy.
Indiana basketball is bigger than one person. ~ Kelvin Sampson.
We want to make it clear that Indiana's open for business. We want to make it clear that Hoosier hospitality is not a slogan, it's our way of life. It's the reason why people come here from around the world and they come back again and again. Because Hoosiers are the kindest, most generous, most decent people in the world. ~ Mike Pence.
People in Indiana have known me for 25 years. They've known George Bush four. ~ John Mellencamp.
I grew up believing that one person could make a difference. In Indiana, you saw that with basketball. The small town could beat the big town, like in the movie 'Hoosiers.' That is one of the things that attracts me to entrepreneurs. ~ Mary Meeker.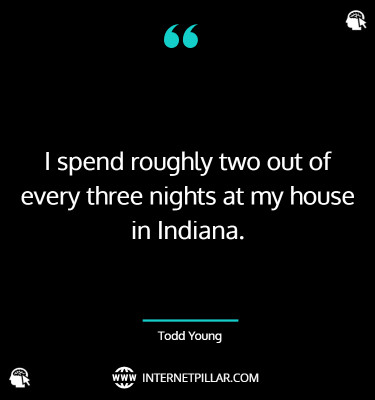 I spend roughly two out of every three nights at my house in Indiana. ~ Todd Young.
The two places that I had most imprinted in my mind and in my memory were UCLA and Indiana. To play at one and coach at the other is unbelievable. ~ Steve Alford.
While other state governments stiff their vendors, close parks, delay tax refunds, and ignore unacceptably poor service levels, Indiana state employees are setting national standards for efficiency. ~ Mitch McConnell.
Wise Indiana Quotes
Indiana is much, much, much slower than California, and I love it. ~ Reggie Miller.
I left Indiana, and I ain't been back since. I've been doing comedy and paying my bills. ~ Mike Epps.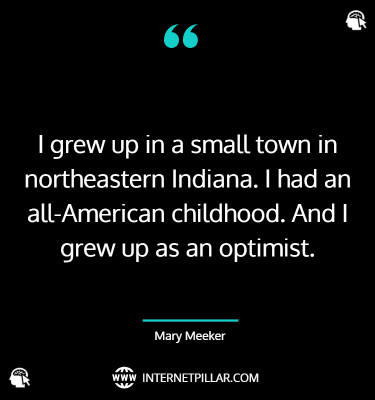 I grew up in a small town in northeastern Indiana. I had an all-American childhood. And I grew up as an optimist. ~ Mary Meeker.
On the Internet, information from Indiana and India is equally cheap and easy to access. ~ Ethan Zuckerman.
In Indiana, gays and lesbians can be fired from their jobs with impunity, and in Arkansas, it's the same thing. We need those protective laws to truly have an equal society. ~ George Takei.
The people in Indiana are so kind and so genuine. ~ Michael Horse.
The skiing center of the world is southeastern Indiana, where I like to call home. It looks like the Alps there; it's crazy. ~ Nick Goepper.
Well, I was born and raised in the Midwest, in Indiana specifically, and my childhood was full of weekend movies, you know, the Saturday and Sunday popcorn movies. ~ Sydney Pollack.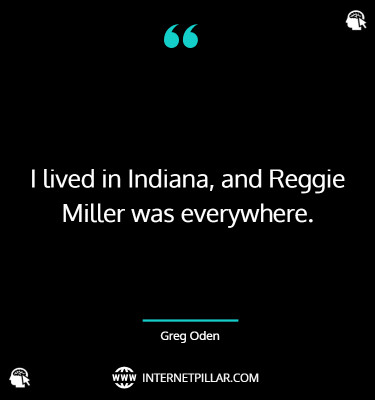 I lived in Indiana, and Reggie Miller was everywhere. ~ Greg Oden.
The only thing I wanted out of Indiana was a chance to win my whole career there. ~ Paul George.
Indiana Captions for Instagram
Kiss me I'm from Indiana.
It's a Farm thing, you wouldn't understand!
Crossroads of America.
Restart your engines.
We So Corny!.
Enjoy Indiana.
Hoosier Daddy?
50 Million Years Tidal Wave Free.
Lincolns boyhood home.
Honest to Goodness Indiana.
Popular Indiana Quotes
Strange as it seems, Indiana has no law against wearing your underpants on your head. ~ National Editor.
Here in Indiana and in many states throughout the union, we rely on coal to power our homes and provide good-paying middle class jobs – like the one my family relied on when I was a kid. The coal mine helped put food on our table and helped me pursue an education and realize the American Dream. ~ Larry Bucshon.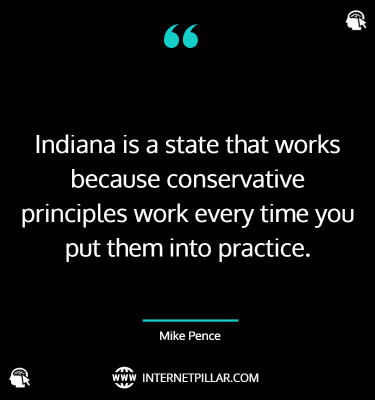 Indiana is a state that works because conservative principles work every time you put them into practice. ~ Mike Pence.
When I had a job catering, I catered a wedding for the Smashing Pumpkins bassist in Indiana. And I served Billy Corgan shrimp off a tray. ~ Amy Poehler.
I love working for the people of Indiana. I love helping our citizens make the most of their lives, but I do not love Congress. ~ Evan Bayh.
I came to Indiana for one reason: I think you can win championships at Indiana. ~ Kelvin Sampson.
There were a lot of things that happened at Indiana that I was proud of. ~ Kelvin Sampson.
Mitch Daniels in Indiana was the best governor in America for eight years. I've gone to Indianapolis to study with him. ~ Bruce Rauner.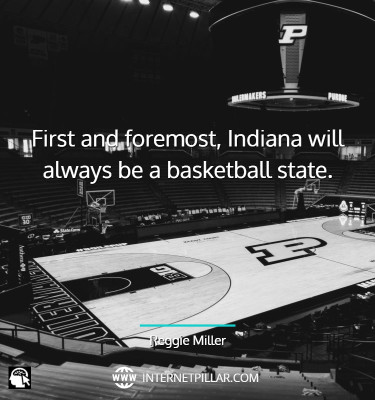 First and foremost, Indiana will always be a basketball state. ~ Reggie Miller.
I'm from Indiana. I know what you're thinking, Indiana… Mafia. But in Indiana it's not like New York where everyone's like, 'We're from New York and we're the best' or 'We're from Texas and we like things big' it's more like 'We're from Indiana and we're gonna move.' ~ Jim Gaffigan.
---
So these were the 80 quotes and captions about Indiana state of United States.
If you like these quotes and sayings, then you can also read my other popular blog posts on the topics of Georgia quotes and Hawaii quotes and Idaho quotes and Illinois quotes.