Georgia, known as 'The Peach State', was the 13th colony, established in 1733 and became a state in 1788.
Named after King George II, it is the third-largest peach producer in the U.S. and borders Tennessee, South Carolina, Florida and Alabama.
Georgia has diverse geography, including the Appalachian Plateau, Blue Ridge Mountains, Piedmont region and Atlantic Coastal Plain and is home to wildlife such as black bears, bobcats and bald eagles.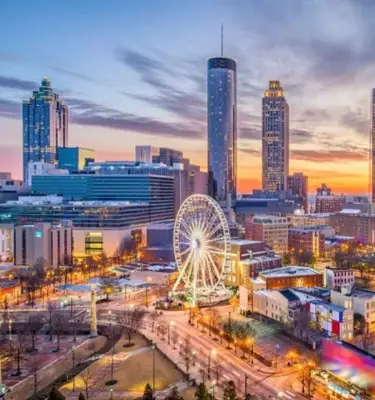 Pine trees cover the state, making it a key producer of lumber, resins and turpentine, as well as the largest producer of peanuts and kaolin clay in the U.S. Spanish moss and invasive kudzu vine are also common.
Below you will find the best quotes about Georgia state.
---
Georgia Quotes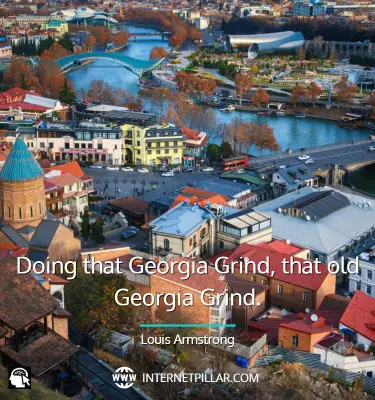 Doing that Georgia Grind, that old Georgia Grind. ~ Louis Armstrong.
We on the grind in Georgia. ~ Field Mob.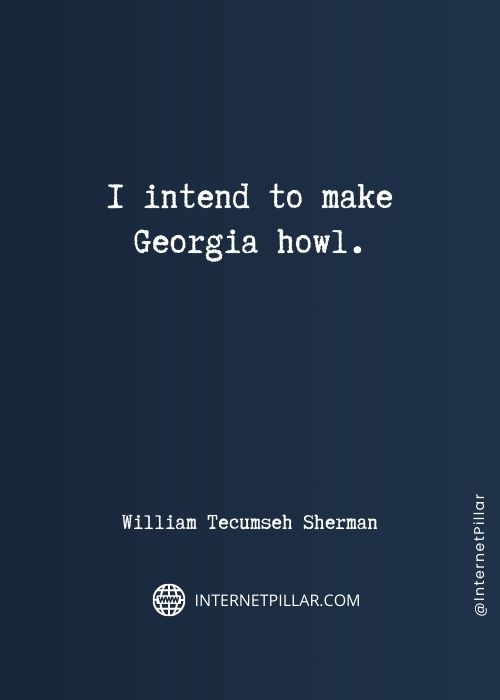 I intend to make Georgia howl. ~ William Tecumseh Sherman.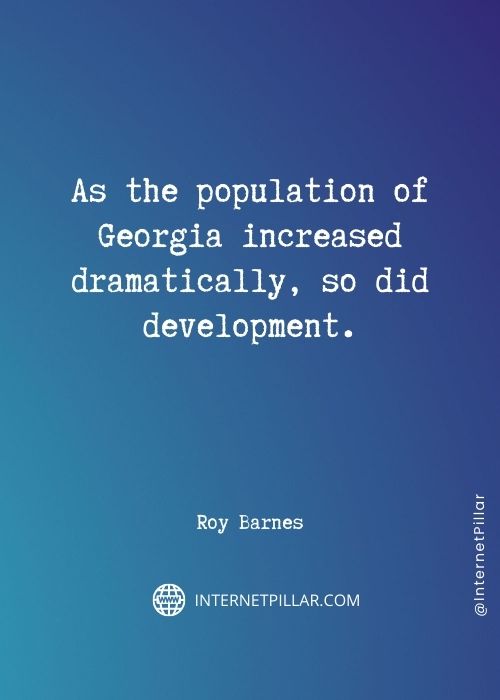 As the population of Georgia increased dramatically, so did development. ~ Roy Barnes.
I can make this march, and I will make Georgia howl! ~ William Tecumseh Sherman.
For one, the 'countryness' is pretty much in my blood. I'm from Georgia, down south. That voice just lives in me. ~ Lil Nas X.
I live in Atlanta, Georgia, and none of the other Backstreet Boys live in Georgia. So a lot of times, when people come to my house they're like, 'Hey, is A.J. here?' Or, 'Is Kevin here?' Or, 'Is Nick in the bathroom?' ~ Brian Littrell.
Best Georgia Quotes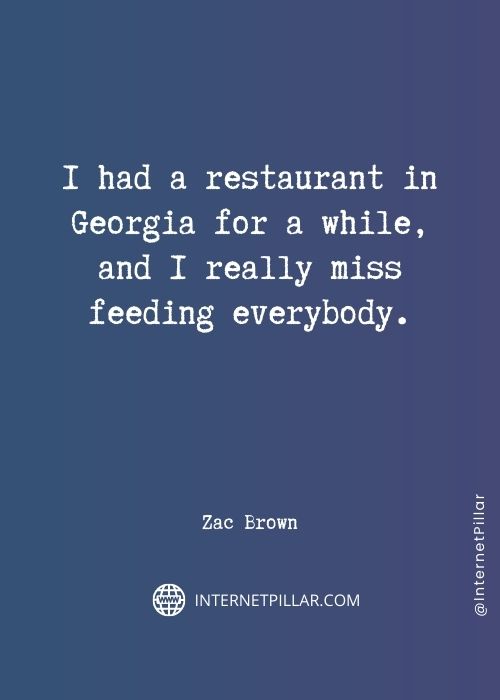 I had a restaurant in Georgia for a while, and I really miss feeding everybody. ~ Zac Brown.
Down in Atlanta on Harris Street, everybody that you meet can do that rag, called the Georgia Rag. ~ Blind Willie McTell.
My version of 'Georgia' became the state song of Georgia. That was a big thing for me, man. It really touched me. Here is a state that used to lynch people like me suddenly declaring my version of a song as its state song. That is touching. ~ Ray Charles.
Smokey and The Bandit was just a lark. All we did was run up and down those Georgia roads wrecking cars and having the time of our life. ~ Jerry Reed.
I have an outdoor kitchen at home in Georgia, and I try to never eat inside. ~ Zac Brown.
We need comprehensive immigration reform. Dr. King wouldn't be pleased at all to know that there are millions of people living in the shadow, living in fear in places like Georgia and Alabama. ~ John Lewis.
I believe Georgia should aspire to nothing less than greatness And I believe greatness is within our grasp. ~ Sonny Perdue.
I look back on my life, comin' out of Macon, Georgia – I never thought I'd be a superstar, a living legend. I never heard of no rock and roll in my life. ~ Little Richard.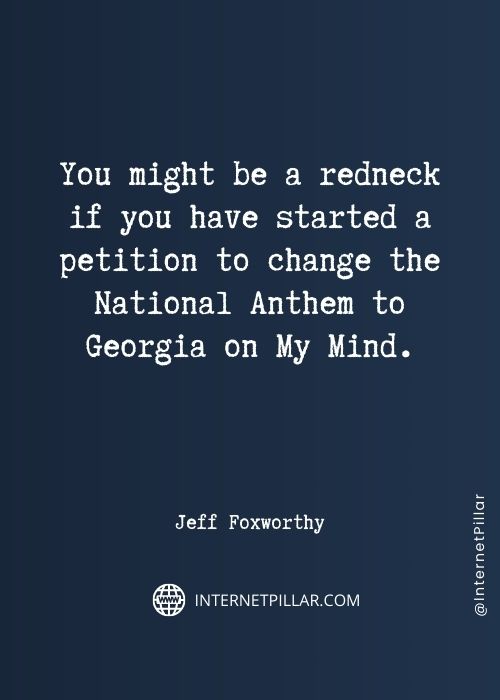 You might be a redneck if you have started a petition to change the National Anthem to Georgia on My Mind.-Jeff Foxworthy.
Famous Georgia Quotes
Tennessee's a hillbilly dumping ground, and Georgia's a lousy state too. ~ Flannery O'Connor.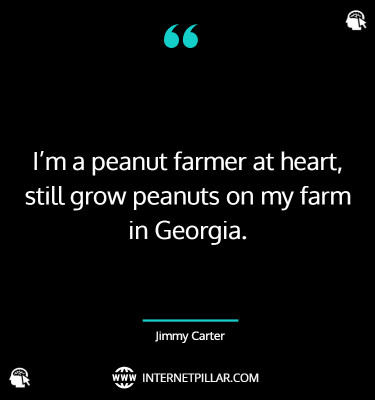 I'm a peanut farmer at heart, still grow peanuts on my farm in Georgia. ~ Jimmy Carter.
I have a dream that one day on the red hills of Georgia, the sons of former slaves and the sons of former slave owners will be able to sit together at the table of brotherhood. ~ Martin Luther King, Jr.
I love David Bowie and Cher and Diana Ross. I wanted to follow in their footsteps. So I set out to do that in a rock-'n'-roll band in Atlanta, Georgia. That led me to nightclubs and to the sort of Andy Warhol experience of creating a personality. ~ RuPaul.
There ain't no revolution, only evolution, but every time I'm in Georgia I eat a peach for peace. ~ Duane Allman.
Coming from a small town it was tough to dream big. When I grew up in a small town in Georgia, my biggest dream was one day to be able to go to Atlanta. ~ Herschel Walker.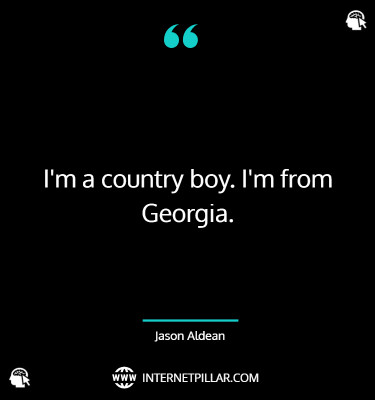 I'm a country boy. I'm from Georgia. ~ Jason Aldean.
Unfortunately, if you've ever been in southern Georgia on the beaches in a lightning storm, if you're out there, you're in great, great danger, and you can be killed very, very quickly. ~ Norman Schwarzkopf.
Top Georgia Quotes
I grew up in Doraville, Georgia and I ate barbecued ribs and chicken fried steak, and all kinds of cheesy grits, you know, and I never even thought twice about it. ~ Kathy Freston.
My mom has an English accent, so we always referred to the trunk as the 'boot.' And then, suddenly, we moved to Georgia and I would say things like 'open the boot' with a bit of an accent, and I quickly realized I had to adapt; that kind of thing will get you beat up! ~ Nicole Beharie.
Georgia is further south than some parts of Texas will ever be. ~ John Grail.
Be cocky. Walk into the Georgia Dome like you own it. ~ Mary Lou Retton.
I lived in Atlanta for a couple of years while getting my master's at Georgia State. I thought I hated it at the time, but I've been back a couple of times since, and there's no place I've lived to which returning is so much like visiting a place I only remember from my dreams. ~ David Liss.
I grew up in Georgia, in a small town in the southwest corner of Georgia, actually, called Sylvester. ~ Sue Monk Kidd.
Popular Georgia Quotes
I grew up partially around Stone Mountain, Georgia, and in that part of the country, there was always this aura of mythology and a palpable sense of otherness about being a Southerner. ~ Kara Walker.
For the entire state of Georgia, having the premiere of Gone With the Wind on home ground was like winning the Battle of Atlanta 75 years late. ~ Anne Edwards.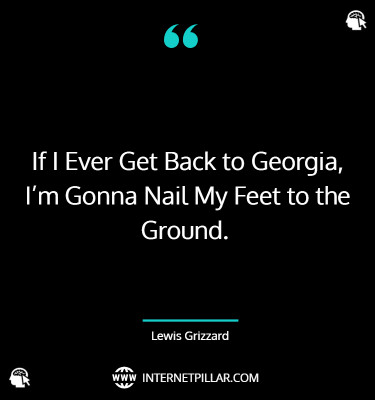 If I Ever Get Back to Georgia, I'm Gonna Nail My Feet to the Ground. ~ Lewis Grizzard.
I kinda like Florida. It's hot as hell, but we moved to Tallahassee, which is so close to Georgia. It really wasn't Florida the way people think of Florida. It wasn't south Florida. But you could still easily drive to Panama City Beach and get a little bit of Redneck Riviera if you want that. Get some airbrushed T-shirts on, and you're done. ~ Tony Hale.
Here in Georgia, we continue to grapple with our own vestiges of hate. The image carved into Stone Mountain, like Confederate monuments across this state, stand as constant reminders of racism, intolerance, and division. ~ Stacey Abrams.
It was said by Fisher Ames that "falsehood proceeds from Maine to Georgia, while truth is pulling on his boots." ~ Fisher Ames.
I ask all Americans with a conscience to shun anything and everything to do with the murderous state of Georgia. ~ Michael Moore.
Wise Georgia Quotes
If you're going to play high school football, you do it in Texas or Florida or Georgia for the simple fact it's such a big deal. ~ J. R. Martinez.
Talking about oh Georgia take me to your Southlands, I sometimes feel that life is rolling on, Oh Georgia lead me through your heartlands, I need to see them one more time before they're gone. ~ Elton John.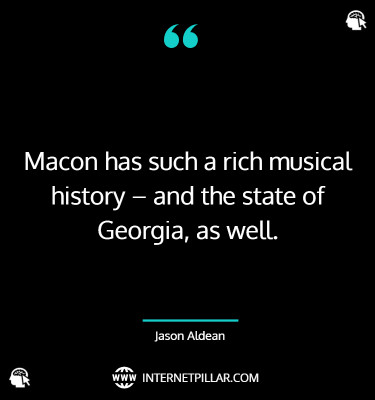 Macon has such a rich musical history – and the state of Georgia, as well. ~ Jason Aldean.
Being a Georgia author is a rather specious dignity, on the same order as, for the pig, being a Talmadge ham. ~ Flannery O'Connor.
Climate change is a reality and if left unchecked, rising ocean tides will harm Georgia's Atlantic coast and threaten our state's robust tourism and shipping industries. ~ James L. Barksdale.
Profound Georgia Quotes
Twyla, I love your outfit, you look like a little Georgia peach. – Alexis.
I have a lot of friends that are ex-Miss Alabamas and ex-Miss Georgias. ~ Fannie Flagg.
In Georgia where children work day and night in the cotton mills, they have just passed a bill to protect song birds. What about the little children from whom all song is gone? ~ Mother Jones.
When it's springtime down in Georgia, it's wintertime up in Maine. ~ Elton John.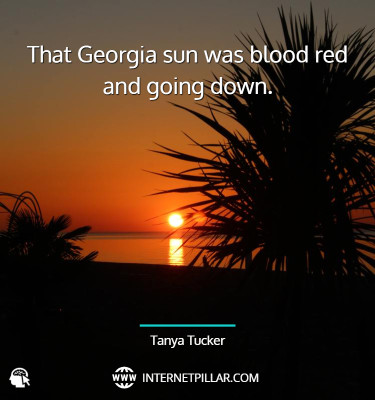 That Georgia sun was blood red and going down. -Tanya Tucker.
Sprinting for a full day in Atlanta in midsummer proved very challenging. That humidity is crazy. Georgia is a beautiful state, but the weather is intense. I was warned, but for some reason, I thought it would be like L.A. in the summer. The reality? No. ~ Theo James.
There is no tradition more worthy of envy, no institution worthy of such loyalty, as the University of Georgia. ~ Larry Munson.
---
So these were the 50 quotes about Georgia state of United States.
If you like these quotes and sayings, then you can also read my other popular blog posts on the topics of Connecticut quotes and Delaware quotes and Florida quotes.