Jane Matilda Bolin was the first black woman to graduate from Yale Law School, join the New York City Bar Association and serve as a US judge.
Denied admission to Vassar College due to racial discrimination, Bolin still pursued a law career, passing the New York bar in 1932.
She made significant strides in child services, advocating for racial equality. A children's rights activist, Bolin also served on several civil rights organizations' boards.
Even after retiring in 1979, she volunteered as a reading instructor and served on the New York State Board of Regents, inspiring future legal professionals.
I have made a list of the most famous quotes by Jane Bolin.
---
Top 5 Jane Bolin Quotes
When I came in, the one or two black probation officers handled only black families. I had that changed. ~ Jane Bolin.
I wasn't concerned about first, second or last. My work was my primary concern. ~ Jane Bolin.
I'd rather see if I can help a child than settle an argument between adults over money. ~ Jane Bolin.
I was rejected on account of being a woman, but I'm sure that race also played a part. ~ Jane Bolin.
There was little opportunity for women in law, and absolutely none for a 'coloured one' ~ Jane Bolin.
Famous Jane Bolin Quotes
Poughkeepsie is fascist to the extent of deluding itself that there is superiority among human beings by reasons solely of color, race or religion. ~ Jane Bolin.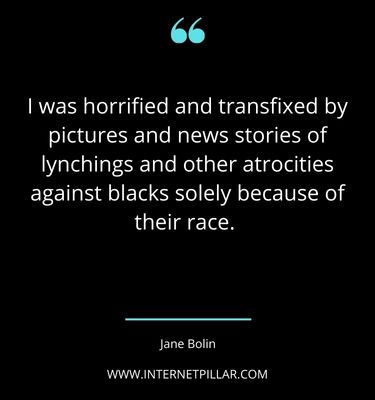 I am saddened and maddened even nearly half a century later to recall many of my Wellesley experiences, but my college days for the most part evoke sad and lonely personal memories. ~ Jane Bolin.
Families and children are so important to our society, and to dedicate your life to trying to improve their lives is completely satisfying. ~ Jane Bolin.
Those gains we have made were never graciously and generously granted. We have had to fight every inch of the way. ~ Jane Bolin.
It is easy to imagine how a young, protected child who sees portrayals of brutality is forever scarred and becomes determined to contribute in her own small way to social justice. ~ Jane Bolin.
We have to fight every inch of the way and in the face of sometimes insufferable humiliations. ~ Jane Bolin.
As time went by, I was embarrassed by it because it was years after I went on the bench before another African American woman went on the bench. ~ Jane Bolin.
---
So these were the 15 famous quotes about Jane Bolin.
If you like these quotes and sayings, then you can also read my other posts on Uma Thurman quotes and Ulrike Meinhof quotes.