Dame Julie Andrews born Julia Elizabeth Wells in 1935 is a famous English actress and singer with a four-octave voice.
She started her career in music at age 10 performing with her parents and had her solo debut in 1947.
Andrews gained fame in Broadway musicals such as "The Boy Friend" "My Fair Lady" and "Camelot."
She made her movie debut in "Mary Poppins" (1964) winning an Academy Award and a Grammy.
Despite facing typecasting she took on diverse roles in films like "The Americanization of Emily" and "Torn Curtain."
Andrews later starred in "The Princess Diaries" series and voiced characters in "Shrek" and "Despicable Me."
In addition to acting she has written children's books and autobiographies.
In 1997 she was inducted into the Theater Hall of Fame and in 2000 she was made Dame Commander of the Order of the British Empire.
I have made a list of the best quotes by Julie Andrews.
---
Best Julie Andrews Quotes
Unfortunately something always has to go by the wayside. ~ Julie Andrews.
Books make great gifts because they're everybody's favorite things. ~ Julie Andrews.
Beginnings are always hard. ~ Julie Andrews.
I'd like to be an original, to be myself and not a pale copy of anyone else. ~ Julie Andrews.
I am an optimistic lady. ~ Julie Andrews.
When adversity hits, go out and learn something. ~ Julie Andrews.
After all, children are children no matter their background. ~ Julie Andrews.
You never start out being a star. ~ Julie Andrews.
All careers go up and down like friendships, like marriages, like anything else, and you can't bat a thousand all the time. ~ Julie Andrews.
If you just literally stand still for a while, listen and think, things will eventually get sorted out. ~ Julie Andrews.
The amateur works until they get something right. The professional works until they can't go wrong. ~ Julie Andrews.
I'm never lonely when I'm writing, because you live with the characters that are so alive in your mind. And you really see them and know them and get to be friends with them. ~ Julie Andrews.
Of course, you can say it backwards, which is dociousaliexpilisticfragicalirupus, but that's going a bit too far, don't you think? ~ Julie Andrews.
In every job that must be done, there is an element of fun. You find the fun and – SNAP – the job's a game! ~ Julie Andrews.
Be a part of all that is decent and be an ambassador for the kind of world that you want to live in. ~ Julie Andrews.
Top Julie Andrews Quotes
The librarians that I've spoken to, the teachers and the librarians who really care and do advise parents and children of what's good and what's out there, they are very special. They have a kind of wisdom that a lot of people don't have. ~ Julie Andrews.
I miss singing very, very much, but the best thing is I have never been busier. ~ Julie Andrews.
Have you noticed how nobody ever looks up? Nobody looks at chimneys, or trees against the sky, or the tops of buildings. Everybody just looks down at the pavement or their shoes. The whole world could pass them by and most people wouldn't notice. ~ Julie Andrews.
I think of part of myself as a very passionate person, but I don't think that comes across. I don't know where it comes from, that reserve or veneer of British niceness. But it doesn't bother me if other people don't spot the passion. I know it's there. ~ Julie Andrews.
I've never minded being disciplined. I'd always rather have a quiet evening in than go to a wild party. Discipline for me has always been the foundation which leaves me free to fly. ~ Julie Andrews.
I've got a good right hook. ~ Julie Andrews.
The old fairy tales are very, very violent, and these days I think we could do with a little less of it. ~ Julie Andrews.
Richard Burton rang me up once and said, Do you know you're my only leading lady I've never slept with? I said, Well, please don't tell everybody, it's the worst image. ~ Julie Andrews.
I was always told I was not pretty enough. ~ Julie Andrews.
Inspirational Julie Andrews Quotes
Dear Lady Gaga, thank you for the wonderful tribute. Oh my god, it really warmed my heart! ~ Julie Andrews.
Some people regard discipline as a chore. For me, it is a kind of order that sets me free to fly. ~ Julie Andrews.
I suppose partially because of the success of the early movies and things like that, I began to realize that children do look up to you in some way, and there is a responsibility for how you behave with them. I know that it's important to make them feel very valuable, not to talk down to them. ~ Julie Andrews.
Hopefully, I brought people a certain joy. That will be a wonderful legacy. ~ Julie Andrews.
As my mother said, I never sprang out of bed with a glad shout! My voice needed oiling and then it took off. ~ Julie Andrews.
Once upon a time, there was a Magic Kingdom made of hopes and childhood fantasies. A timeless place where every land was filled with wonder. A place where everyone who entered its gates would be given the gift of the young at heart. ~ Julie Andrews.
Well it's all right to cry. It helps a great deal sometimes… ~ Julie Andrews.
If you're lucky enough to be able to have therapy – because I know it's very privileged – it gets rid of so much garbage and enables you to focus on what's important. When I first went into analysis, my mother was absolutely horrified. She thought I'd be a loony! ~ Julie Andrews.
Popular Julie Andrews Quotes
Miracles, contrary to popular belief, do not just happen. A miracle is the achievement of the impossible, and it is only when we put aside out greed, anger, pride and prejudice so that our minds are open and ready to accept it, that a miracle can occur. ~ Julie Andrews.
Mary Poppins is magical and fun. ~ Julie Andrews.
I'm more contented and at peace with myself now than I was as a box-office queen. I'm less uptight. I've even reached a stage where it doesn't shatter me if somebody prints something bad about me. ~ Julie Andrews.
It is not enough to reach for the brass ring. You must also enjoy the merry go round. ~ Julie Andrews.
I work out as little as I can for as much gain as I can. Yoga and a little bit of ballet – only 30 or 40 minutes every other day. I keep supple for myself more than for roles. ~ Julie Andrews.
Success is terrifying. Like happiness, it is often appreciated in retrospect. It's only later that you place it in perspective. Years from now, I'll look back and say, 'God, wasn't it wonderful.' ~ Julie Andrews.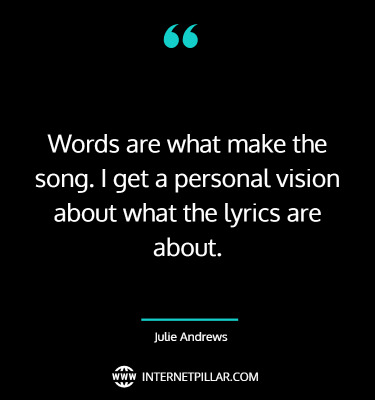 Words are what make the song. I get a personal vision about what the lyrics are about. ~ Julie Andrews.
As you become older, you become less judgmental and take offense less. But marriage is hard work; the illusion that you get married and live happily ever after is absolute rubbish. ~ Julie Andrews.
A library takes the gift of reading one step further by offering personalized learning opportunities second to none, a powerful antidote to the isolation of the Web. ~ Julie Andrews.
Motivational Julie Andrews Quotes
My sense of the family history is somewhat sketchy, because my mother kept a great deal to herself. ~ Julie Andrews.
If you remain calm in the midst of great chaos, it is the surest guarantee the it will eventually subside. ~ Julie Andrews.
Perseverance is failing 19 times and succeeding the 20th. ~ Julie Andrews.
I was raised never to carp about things and never to moan, because in vaudeville, which is my background, you just got on with it through all kinds of adversities. ~ Julie Andrews.
I play with my grandchildren. I tend to my garden, which I love. Of course, I love to read, and family is really what it's all about. ~ Julie Andrews.
I am told that the first comprehensible word I uttered as a child was 'home'. ~ Julie Andrews.
I don't want to be thought of as wholesome. ~ Julie Andrews.
Singing has never been particularly easy for me. ~ Julie Andrews.
On the whole, I think women wear too much and are too fussy. You can't see the person for all the clutter. ~ Julie Andrews.
Miracles are happening every day. I do think that's true. If you can take the time to look. It took me a while to learn that, though some children know it instinctively and they do have wonder when they are kids. But the trouble is, as we grow older, we lose it. ~ Julie Andrews.
I would be a fool to deny my own abilities. ~ Julie Andrews Edwards.
I adored my birth father and constantly worried that I was being disloyal to him and his schoolteacher roots if I spent too much time performing and enjoying it. ~ Julie Andrews.
Famous Julie Andrews Quotes
I do ask myself sometimes, what am I doing writing about animals that talk like we do? But I guess it's okay if it brings across a point. ~ Julie Andrews.
Because of the Thames I have always loved inland waterways – water in general, water sounds – there's music in water. Brooks babbling, fountains splashing. Weirs, waterfalls; tumbling, gushing. ~ Julie Andrews.
I can't believe 50 years have gone by since that film was released. I blinked and suddenly here I am. We all really felt blessed and as for me; how lucky can a girl get. Great music does more than enhance a film, it cements our memories in the film going experience. ~ Julie Andrews.
I'm the lucky lady that was asked to be in those wonderful iconic pieces. ~ Julie Andrews.
For the last time, you cannot wear that cropped fleece vest. ~ Julie Andrews.
I don't sing the way I used to, so I'm doing everything I can to put the word out that they shouldn't expect that. ~ Julie Andrews.
The world is full of magical places, and the library has always been one of them for me. A library can be that special place for our children. ~ Julie Andrews.
Public libraries are our great teachers and storytellers, and are a vital adjunct to our schools. In this day of standardized and homogenized education, a library offers individual and personalized learning opportunities second to none. ~ Julie Andrews.
Sometimes I'm so sweet even I can't stand it. ~ Julie Andrews.
You know, making an animated movie is such a lonesome thing. You mostly don't see your fellow actors or anything. You go into your booth, you record all your dialogue. It's very much an issue of trust. You leave it all up to the director. ~ Julie Andrews.
Inspiring Julie Andrews Quotes
Use your knowledge, and your heart, to stand up for those who can't stand, speak for those who can't speak, be a beacon of light for those whose lives have become dark. ~ Julie Andrews.
Can I give them what they think they're going to get from me? That's always the big question. ~ Julie Andrews.
If you're passionate about what you do, then go for it wholeheartedly. Be prepared that if anytime, you may be surprised by a phenomenal opportunity that may come your way, and that's when I say, do your homework. Be ready. ~ Julie Andrews.
Feed the body food and drink, it will survive today. Feed the soul art and music, it will live forever. ~ Julie Andrews.
Once in a while I experience an emotion onstage that is so gut-wrenching, so heart-stopping, that I could weep with gratitude and joy. The feeling catches and magnifies so rapidly that it threatens to engulf me. ~ Julie Andrews.
All love shifts and changes… ~ Julie Andrews.
Where the Lord closes a door, somewhere He opens a window. ~ Julie Andrews.
---
So these were the 75 top Julie Andrews quotes on life and movies.
If you like these quotes and sayings, then you can also read my other posts on Tina Turner quotes and Dale Earnhardt quotes.