Junot Diaz is a a Pulitzer Prize-winning author who was born in the Dominican Republic.
He moved to the United States when he was a child, and now lives in New York City.
His books are about his life experiences as an immigrant, and include stories about his family and friends.
He wrote a book called "The Brief Wondrous Life of Oscar Wao" which was about a Dominican boy who loved science fiction and wanted to escape his life.
You will find below a curated collection of the best 'Junot Diaz' quotes that you can read and share with others.
---
Top 10 Junot Díaz Quotes
You can't regret the life you didn't lead. ~ Junot Díaz.
There are multiple possibilities for every book. ~ Junot Diaz.
Travel light. She extended her arms to embrace her house, maybe the whole world. ~ Junot Díaz.
I guess it's true what they say: if you wait long enough everything changes. ~ Junot Díaz.
Know that in this world there's somebody who will always love you. ~ Junot Díaz.
Every single immigrant we have, undocumented or documented, is a future American. That's just the truth of it. ~ Junot Díaz.
You don't want to let go, but don't want to be hurt, either. It's not a great place to be but what can I tell you? ~ Junot Díaz.
I'm like everybody else: weak, full of mistakes, but basically good. ~ Junot Díaz.
It's just a matter of willpower. The day you decide it's over, it's over. You never get over it. ~ Junot Díaz.
The reader writes the final chapter. ~ Junot Diaz.
Famous Junot Díaz Quotes
In my view, a writer is a writer because even when there is no hope, even when nothing you do shows any sign of promise, you keep writing anyway. ~ Junot Díaz.
We're accepted as long as we conform to what we are expected to be, and I'm sure that's not any different for anyone else. ~ Junot Díaz.
Every time someone gives you a formula for what you should be and what you should do, you should know they're giving you a pair of handcuffs. ~ Junot Díaz.
And that's when I know it's over. As soon as you start thinking about the beginning, it's the end. ~ Junot Díaz.
You eventually erase her contact info from your phone but not the pictures you took of her in bed while she was naked and asleep, never those. ~ Junot Díaz.
The whole culture is telling you to hurry, while the art tells you to take your time. Always listen to the art. ~ Junot Díaz.
Sometimes you just have to try, even if you know it won't work. ~ Junot Díaz.
I just want some space to myself every now and then. Every time I'm with you I have this sense that you want something from me. ~ Junot Díaz.
A first lesson in the fragility of love and the preternatural cowardice of men. And out of this disillusionment and turmoil sprang Beli's first adult oath, one that would follow her into adulthood, to the States and beyond. I will not serve. ~ Junot Díaz.
The broader you are, the less likely you are to be universal. ~ Junot Díaz.
Art is not boosterism, it's not propaganda, and it's not spin, but that's not something that art does, and nor has it historically ever done it. ~ Junot Díaz.
It's never the changes we want that change everything. ~ Junot Díaz.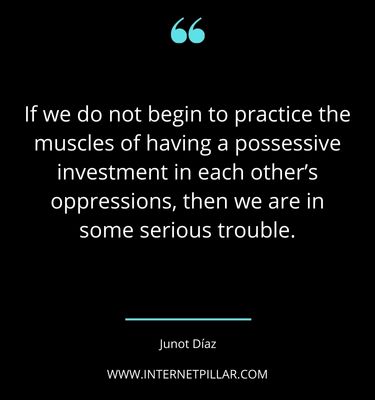 If we do not begin to practice the muscles of having a possessive investment in each other's oppressions, then we are in some serious trouble. ~ Junot Díaz.
Great Junot Díaz Quotes
Diaz's novel The Brief Wondrous Life of Oscar Wao won the Pulitzer Prize for Fiction in 2008, and he was awarded a MacArthur Fellowship "Genius Grant" in 2012.
That's life for you. All the happiness you gather to yourself, it will sweep away like it's nothing. If you ask me I don't think there are any such things as curses. I think there is only life. That's enough. ~ Junot Díaz.
She was the kind of girlfriend God gives you young, so you'll know loss the rest of your life. ~ Junot Díaz.
Nothing more exhilarating … than saving yourself by the simple act of waking. ~ Junot Diaz.
The greatest myth of all is what America is. I think that America is such an incredibly dynamic place because of immigration. ~ Junot Díaz.
I never hear white writers get asked, 'Do you worry about how you represent white people?' ~ Junot Díaz.
The only way out is in. ~ Junot Díaz.
Sometimes a start is all we ever get. ~ Junot Díaz.
Once someone gets a little escape velocity going, ain't no play in the world that will keep them from leaving. ~ Junot Díaz.
Success, after all, loves a witness, but failure can't exist without one. ~ Junot Diaz.
Best Junot Díaz Quotes
I think men spend so much time passing for being men. ~ Junot Díaz.
Any art worth its name requires you to be fundamentally lost for a very long time. ~ Junot Díaz.
You're the only person I've ever met who can stand a bookstore as long as I can. ~ Junot Diaz.
The thoughts he put in her head. Someone should've arrested him for it. ~ Junot Díaz.
If you didn't grow up like I did then you don't know, and if you don't know it's probably better you don't judge. ~ Junot Díaz.
God bless perseverance. Because it's not easy. ~ Junot Díaz.
But if these years have taught me anything it is this: you can never run away. Not ever. The only way out is in. ~ Junot Díaz.
I write very, very slowly, and for me, I have to summon all sorts of resources to make one of these pieces work. ~ Junot Díaz.
Popular Junot Díaz Quotes
For a long time, I let my mother say what she wanted about me, and what was worse, for a long time I believed her. ~ Junot Díaz.
It's exactly at these moments, when all hope has vanished, that prayer has dominion. ~ Junot Díaz.
People are always fascinated by infidelity because, in the end – whether we've had direct experience or not – there's part of you that knows there's absolutely no more piercing betrayal. People are undone by it. ~ Junot Díaz.
In order to write the book you want to write, in the end you have to become the person you need to become to write that book. ~ Junot Díaz.
People can say what they want, but historically, feminism in the Dominican Republic has been extremely strong. ~ Junot Díaz.
Art most consistently puts us in touch with our best self. ~ Junot Diaz.
We all have a blind spot and it's shaped exactly like us. ~ Junot Díaz.
Powerful Junot Díaz Quotes
Our relationship wasn't the sun, the moon, the stars, but it wasn't bullshit, either. ~ Junot Diaz.
The half-life of love is forever. ~ Junot Díaz.
Tell her that you love her hair, that you love her skin, her lips, because, in truth, you love them more than you love your own. ~ Junot Díaz.
The only advice for a writer is to read. ~ Junot Diaz.
If you can't see women – half the species – as human, you can't see yourself as human. ~ Junot Díaz.
I'm an immigrant and I will stay an immigrant forever. ~ Junot Díaz.
This is what I know: people's hopes go on forever. ~ Junot Díaz.
She smelled like herself, like the wind through a tree. ~ Junot Díaz.
My African roots made me what I am today. They're the reason I exist at all. ~ Junot Díaz.
She would be a new person, she vowed. They said no matter how far a mule travels it can never come back a horse, but she would show them all. ~ Junot Díaz.
If you want to make a human being into a monster, deny them, at the cultural level any reflection of themselves. ~ Junot Díaz.
---
So these were the 60 popular quotes about Junot Diaz.
If you like these quotes and sayings, then you can also read my other posts on Norman Maclean quotes and Tee Grizzley quotes.
You are welcome to share these quotes, sayings and phrases with your friends and family on Facebook, Twitter, Instagram, WhatsApp, and Pinterest and inspire them to take their life to the next level and achieve success and greatness!