Katherine Noel Valentine Brosnahan Spade (1962-2018) was a renowned American fashion designer and co-founder of "Kate Spade New York."
Born in Kansas City and a journalism graduate from Arizona State University, she identified a niche for affordable, chic handbags while working at Mademoiselle in Manhattan.
In 1993, she and her husband Andy Spade launched their brand, which diversified into various categories.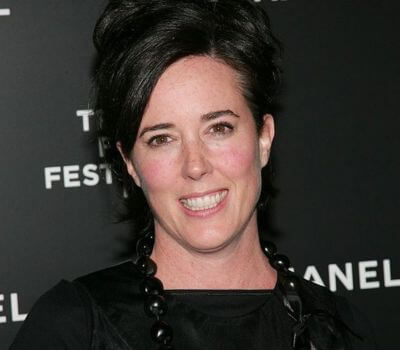 By 2006, all stakes were sold to Neiman Marcus Group. After a brief break, Katherine introduced the luxury brand "Frances Valentine" in 2016.
Married to Andy, they had a daughter. Despite her professional success, Katherine battled depression and anxiety, leading to her unfortunate demise in 2018.
Her design excellence earned her numerous accolades.
I have handpicked the best quotes by Kate Spade.
---
Best Kate Spade Quotes
She's a dreamer, a doer, a thinker. She sees possibility everywhere. ~ Kate Spade.
I really wish I worried less. ~ Kate Spade.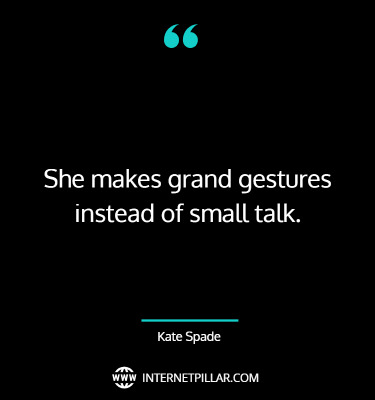 She makes grand gestures instead of small talk. ~ Kate Spade.
Playing dress-up begins at age 5 and never truly ends. ~ Kate Spade.
I do things that I actually love and understand. ~ Kate Spade.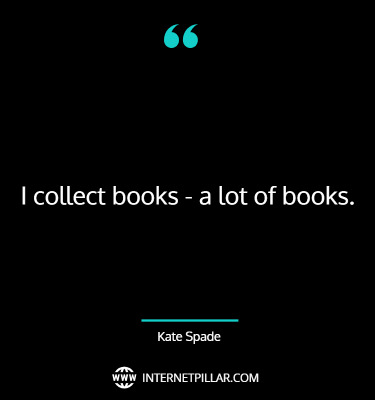 I collect books – a lot of books. ~ Kate Spade.
Eat cake for breakfast. ~ Kate Spade.
Sometimes I shoot out of bed like it's a relay race, and I'm on the phone, leaving voicemails. ~ Kate Spade.
I'm admittedly not that into the Internet. ~ Kate Spade.
If I run, I'm much healthier – I run on a treadmill. ~ Kate Spade.
Style is the sum of so many things – beginning with a sense of who you are and having self-confidence. ~ Kate Spade.
I buy so much fake jewelry, it's funny. It's not real. I don't wear real diamonds or anything. ~ Kate Spade.
Famous Kate Spade Quotes
I believe that accessories should bring color and texture to an every day wardrobe based on each individual's sense of style. ~ Kate Spade.
Every time I go to the market, Andy says, 'Don't forget the Triscuits!' ~ Kate Spade.
I did not go to fashion school. I arrived in New York in 1986 from Kansas City and was working as accessories editor for Mademoiselle Magazine. While working at Mademoiselle I noticed that the market lacked stylish and sensible handbags, so I decided to create my own. ~ Kate Spade.
I didn't grow up thinking, 'Oh, I'm going to be a designer.' ~ Kate Spade.
Before I came to New York, I only had a few pictures of the city in my mind. And you know 'That Girl?' Marlo Thomas jumping with her hat? I always loved that, and I wondered what that double street she crosses is. And it's Park Avenue! And that's what I can see out my window. ~ Kate Spade.
Being a mother adds an enormous amount of stress to your life. You need to make sure you're there for everything. ~ Kate Spade.
When you're trying to be a parent and a businessperson at the same time, that is the most stressful thing you could do. ~ Kate Spade.
In order to lead a fascinating life one brimming with art, music, intrigue, and romance; you must surround yourself with precisely those things. ~ Kate Spade.
I created my bags from the notion of developing a well-edited line of fashionable, but not "trendy" handbags. By designing styles that will be as relevant tomorrow as they are today, my brand has established itself as a modern classic. ~ Kate Spade.
A handbag is only one item to be worn with a complete outfit. Add a peony pink leather handbag to a charcoal gray suit, for instance, and the impact is chic with a touch of wit. ~ Kate Spade.
Top Kate Spade Quotes
You can never be overdressed or overeducated. ~ Kate Spade.
My mother was very good at encouraging me to dress however I wanted to dress. My sisters would sometimes think, 'Oh my God, you let her buy that fuzzy leopard coat at that vintage store?' I thought, of course, I looked like Audrey Hepburn. ~ Kate Spade.
I adore pretty things and witty words. ~ Kate Spade.
I remember someone once said there is a practical aspect to my designs, and I remember thinking, 'That doesn't sound so creative,' but that is actually the truth. There is a practicality to it. I don't design just to design. There is a reason and, hopefully, an interesting reason behind it – that is where my creativity comes in. ~ Kate Spade.
She makes the day brighter, she leaves a little sparkle wherever she goes. ~ Kate Spade.
'Frances' is a longtime family name on my dad's side. My grandfather, father, brother, and my daughter's name is Frances. ~ Kate Spade.
I started designing my handbags in my apartment and I had six samples made in satin-finished nylon. I displayed them at trade shows but they went unnoticed at first. ~ Kate Spade.
Students were pulled aside to spend more time in art class, and I wasn't one of them. ~ Kate Spade.
I loved fashion, I really did, but I was not obsessed with it. I wanted to be behind the scenes, like in that movie 'Broadcast News.' Holly Hunter – her I wanted to be. ~ Kate Spade.
I was preppy, then suddenly switched around age 14. I asked my mother to go to this vintage store, and she let me buy a leopard swing coat, pink cigarette pants, and lime-green gloves. ~ Kate Spade.
Surround yourself with the things you love. Discard the rest. ~ Kate Spade.
No one realizes how hard parenthood is. I am not saying going into the office is easy. It's not. But parenthood, as fun as it is, is not for the fainthearted. ~ Kate Spade.
Popular Kate Spade Quotes
I'm one of six children. I'd love to sound educated and say I dive into a good book when I'm there, but in truth, I spend time with the kids playing cards, ping-pong, and board games. ~ Kate Spade.
The best thing about being a business owner is that you get to run your own schedule. ~ Kate Spade.
The idea of recklessly spending money – even though it sounds like it's lots of fun, it's fashion – isn't interesting to me. It is a business. ~ Kate Spade.
In the same way that men wear ties to add personality to their clothing, so too should women wear their accessories. ~ Kate Spade.
Cynicism is intellectual dandyism, but graciousness in speech is an aphrodisiac. ~ Kate Spade.
Think, travel, celebrate, charm, decorate, dress, live – colorfully. ~ Kate Spade.
I like a full house because it's how I grew up. I'm one of six children. ~ Kate Spade.
I work from home a lot. I think I get as much work done at the office as at home, and I'm used to working with people who don't work in the office. I don't really care where they are, even if they're on a banana leaf somewhere. If they deliver their work, I am completely fine. I don't need someone sitting at their desk to produce. ~ Kate Spade.
Ultimate Kate Spade Quotes
Start each day like it's your Birthday! ~ Kate Spade.
I don't think that fashion is something people encourage in a lot of schools, but I think they should – it's all about personal expression. ~ Kate Spade.
I love lamps. I can't stand overhead lighting. I have to have everything on a dimmer. ~ Kate Spade.
Live in such a way, that if someone speaks badly of you no one would believe it. Playing dress-up begins at age five and never truly ends. ~ Kate Spade.
She is quick and curious and playful and strong. ~ Kate Spade.
I've never been a millionaire but I just know I'd be darling at it. ~ Kate Spade.
I love Comme des Garcons. I think everything she touches is almost like gold. And she does it so quietly. No branding. ~ Kate Spade.
I hope that people remember me not just as a good businesswoman but as a great friend – and a heck of a lot of fun. ~ Kate Spade.
People have this impression that I'm a little kooky, but I'm actually very OCD. I love order and organization. I'm a big list maker. But if I cross off too many tasks, and it's hard to see the remaining ones, I have to start a new list. Now that's OCD. ~ Kate Spade.
If you're as honest and fair as you can be, not only in business but in life, things will work out. ~ Kate Spade.
Inspiring Kate Spade Quotes
Starting at 11, I was a movie-theater popcorn girl, a babysitter, a sales clerk – in the Midwest, they start them early! ~ Kate Spade.
I started getting orders from some of the leading stores Fred Segal, Bergdorf Goodman. I realized then that my bags were being noticed by the fashion world. ~ Kate Spade.
I think the details and the quality are so important that it has to have an emotional tug. Even if it's the simplest shoe, it has to have something that says, 'Oh, I have to have you.' ~ Kate Spade.
Pretty and witty make the perfect pair. ~ Kate Spade.
I love beauty. ~ Kate Spade.
Our family has dinner together every night – you can tell that my daughter wants to run. After dinner, I go up to my room and immediately put on my pajamas. I mean, immediately. I read some things that I haven't read yet, and I jump into bed. ~ Kate Spade.
People always ask me, 'Where do you find inspiration?' and I think it's a difficult question to answer because – everywhere. ~ Kate Spade.
---
So these were the 65 top Kate Spade quotes and sayings.
If you like these quotes and sayings, then you can also read my other posts on Lucky Luciano quotes and ASAP Rocky quotes.