Lack of Communication means a situation in which two or more people can't communicate to each other very well.
Communication is essential in every good relationship, whether personal or professional. Despite its significance, communication may be a difficult skill to learn.
When communication fails, it may lead to misunderstandings, disagreement, and even the breakup of a partnership.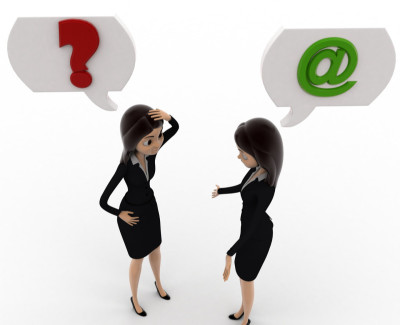 That's where quotes and sayings about a lack of communication come into play.
---
Top 10 Lack of Communication Quotes
Sometimes there is a greater lack of communication in facile talking than in silence. ~ Faith Baldwin.
Write to be understood, speak to be heard, read to grow. ~ Lawrence Clark Powell.
It is lack of communication that leads to unhappy marriage. ~ Lailah Gifty Akita.
A lack of communication leaves fear and doubt. ~ Kellan Lutz.
A lack of communication between citizens and policemen is real stuff. ~ Stevie Wonder.
Poor is the manifestation of the absence of communication. ~ Meir Ezra.
The more we elaborate our means of communication, the less we communicate. ~ J. B. Priestley.
New techniques – often spinning out of technology and lack of privacy has resulted in new manipulative communication formats. ~ Martin Lindstrom.
A beautiful thing happens when we start paying attention to each other. It is by participating more in your relationship that you breathe life into it. ~ Steve Maraboli.
The most important thing in communication is to hear what isn't being said. ~ Peter Drucker.
Also Read: Team Communication Quotes to Inspire and Motivate Teams and Best Communication Quotes and Sayings of All Time
Famous Lack of Communication Quotes
I think our biggest problem is lack of real, honest communication between black men and black women. A lot of men talk amongst men, and a lot of women speak amongst women. ~ Hill Harper.
Our lack of intimacy is due to our refusal to unplug and shut off communication from all others so we can be alone with Him. ~ Francis Chan.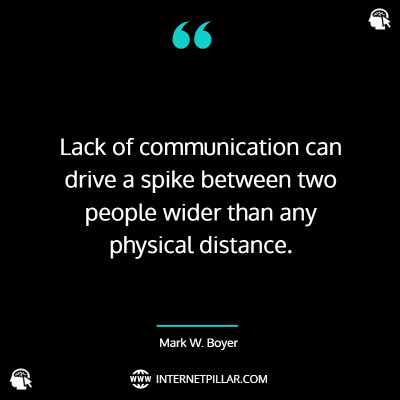 Lack of communication can drive a spike between two people wider than any physical distance. ~ Mark W. Boyer.
It's (the lack of communication between the people in his paintings, ed.) probably a reflection of my own, if I may say, loneliness. I don't know. It could be the whole human condition. ~ Edward Hopper.
To speak little is natural. Therefore a gale does not blow a whole morning nor does a downpour last a whole day. ~ Lao Tzu.
I come from the mind-set that, if you want it to work, it will work, whether it's a friendship or a relationship. If you're both in the same mind-set and you want to be together and you want to make it work, you can make it work. It just takes dedication and knowing that there might be some miscommunication and lack of communication sometimes. ~ Chloe Grace Moretz.
The speed of communications is wondrous to behold. It is also true that speed can multiply the distribution of information that we know to be untrue. ~ Edward R. Murrow.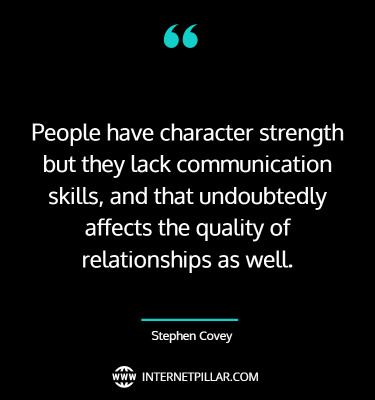 People have character strength but they lack communication skills, and that undoubtedly affects the quality of relationships as well. ~ Stephen Covey.
Popular Lack of Communication Quotes
We need men and women to sit down and talk to each other about sex honestly and openly. That would help us fight Aids so immediately. But our lack of communication is hugely problematic. ~ Emma Thompson.
I think Bergman's films have eternal relevance, because they deal with the difficulty of personal relationships and lack of communication between people and religious aspirations and mortality, existential themes that will be relevant a thousand years from now. When many of the things that are successful and trendy today will have been long relegated to musty-looking antiques, his stuff will still be great. ~ Woody Allen.
Speak to me: I will spend my lifetime trying to understand you. ~ Kamand Kojouri.
I think our biggest problem is lack of real, honest communication between black men and black women. A lot of men talk amongst men, and a lot of women speak amongst women. ~ Hill Harper.
Good communication is just as stimulating as black coffee, and just as hard to sleep after. ~ Anne Morrow Lindbergh.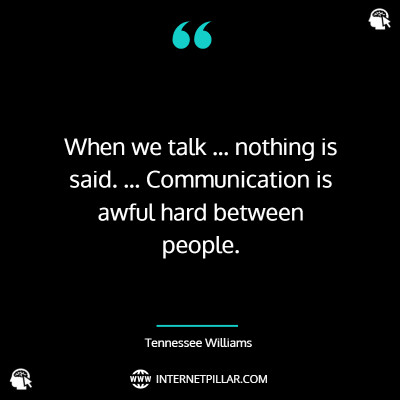 When we talk … nothing is said. … Communication is awful hard between people. ~ Tennessee Williams.
Cruel people offer pity when they no longer feel threatened. However, kind people offer compassion and understanding regardless. ~ Shannon L. Alder.
Communication – the human connection – is the key to personal and career success. ~ Paul J. Meyer.
Best Lack of Communication Quotes
The greatest communication barrier known to man is the lack of the common core of experience "When's the last time you had a Manic Episode Doctor"? ~ Stanley Victor Paskavich.
I think it's a deeper issue on the lack of communication in our culture in general. It's not abnormal to see a family out to dinner and every person is on their phone instead of communicating with each other and that's pretty sad. ~ Laura Benanti.
Time doesn't heal all wounds, only distance can lessen the sting of them. ~ Shannon Alder.
There are many reasons our prayers may lack power. Sometimes they become routine. Our prayers become hollow when we say similar words in similar ways over and over so often that the words become more of a recitation than a communication. ~ Joseph B. Wirthlin.
As a writer I have always fought for the right to write. For writing is a time-honored means of communication. Lack of communication, the refusal of some to understand, or outright refusal to learn about other human beings is based on fear. Fear is what keeps people apart. ~ Piri Thomas.
When people talk, listen completely. Most people never listen. ~ Ernest Hemingway.
Technology is a compulsive and addictive way to live. Verbal communication cannot be lost because of a lack of skill. The ability to listen and learn is key to mastering the art of communication. If you don't use your verbal skills and networking, it will disappear rapidly. Use technology wisely. ~ Rick Pitino.
---
So these were the 33 top quotes about Lack of Communication.
If you like these quotes and sayings, then you can also read my other posts on Make it Count quotes and Child of God quotes.
---
References and Sources: