Levi Ackerman is a pivotal character in "Attack on Titan," known as humanity's strongest soldier and a captain in the Survey Corps.
He's often aloof and stern, but deeply values his team. With straight black hair, sharp blue eyes and a fit build, he commands respect within the city walls.
A fierce fighter, Levi's rage intensifies when a loved one is endangered. Beyond combat, he's recognized for his cleanliness, straightforwardness and strict discipline.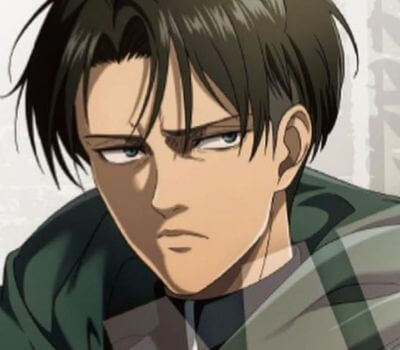 His commitment centers around safeguarding Eren and his status in the Scouting Legion.
Gifted in using the 3D Maneuver Gear, Levi's Ackerman lineage further enhances his abilities, providing superior physical skills and acumen.
Beyond the anime/manga, Levi tops popularity charts and even features in the game "Dead by Daylight."
I have compiled the best quotes by Levi Ackerman below.
---
Best Levi Ackerman Quotes
The lesson you need to learn right now can't be taught with words, only with action. ~ Levi Ackerman.
I don't know why you're so obsessed with Eren, but try to control yourself. ~ Levi Ackerman.
No casualties. Don't you dare die! ~ Levi Ackerman.
If you don't want to die, think! ~ Levi Ackerman.
Is your head as hollow as that gun barrel? ~ Levi Ackerman.
Give up on your dreams and die. ~ Levi Ackerman.
The difference between your decision and ours is experience. But you don't have to rely on that. ~ Levi Ackerman.
The only thing we're allowed to do is believe that we won't regret the choice we made. ~ Levi Ackerman.
We pay a price for believing. ~ Levi Ackerman.
Inspirational Levi Ackerman Quotes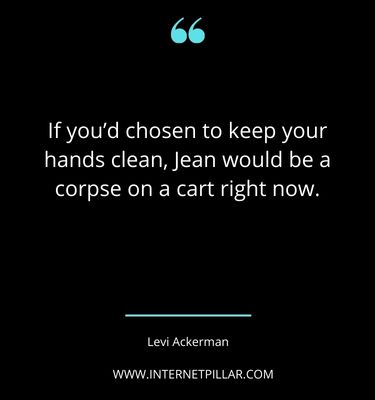 If you'd chosen to keep your hands clean, Jean would be a corpse on a cart right now. ~ Levi Ackerman.
I don't know which option you should choose and I could never advise you on that – no matter what kind of wisdom dictates the option you pick, no one will be able to tell if it's right or wrong until you arrive at some sort of outcome from your choice. ~ Levi Ackerman.
A lot of times, you're going into situations you know nothing about. So what you need is to be quick to act – and make tough decisions in worst-case scenarios. ~ Levi Ackerman.
Some scouts' lives are more valuable than others, only those dumb enough to acknowledge that join us. ~ Levi Ackerman.
Motivational Levi Ackerman Quotes
Believe in yourself, or believe in the survey corps and me. ~ Levi Ackerman.
I don't know and I never have, but I can believe in my own abilities or the choices of the companions I trust. But no one ever knows how it will turn out. So choose for yourself – whichever decision you will regret the least. ~ Levi Ackerman.
Don't get me wrong. It's not like I trust him. If he betrays us or goes berserk, I'll put him down without hesitation. ~ Levi Ackerman.
What will you do after your dream is fulfilled? ~ Levi Ackerman.
Whether you have the body, dead is dead. ~ Levi Ackerman.
Famous Levi Ackerman Quotes
Don't get me wrong, I think you'll never be Erwin's replacement. ~ Levi Ackerman.
I want to put an end to that recurring nightmare, right now. There are those who would get in my way. But I'm fine playing the role of the lunatic who kills people like that. I have to be ready to rearrange some faces. Because I choose the hell of humans killing each other over the hell of being eaten. ~ Levi Ackerman.
It's good to see that someone has the balls to go – but don't forget to do your damnedest to stay alive. ~ Levi Ackerman.
This is just my opinion, but when it comes to teaching somebody discipline – I think pain is the most effective way. ~ Levi Ackerman.
---
---
If these quotes and sayings connect with you, check out our other posts on Superman quotes and Obito Uchiha quotes.