"Living in the Moment" means being present in the current moment.
Living in the moment has been practiced for ages, and it's no secret that it's necessary for a happy and serene existence.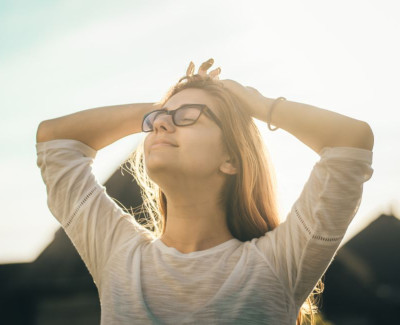 In this article, we'll look at quotes about living in the moment and see how they might help us find calm in our hectic lives.
---
Top 10 Living in the Moment Quotes
Be happy in the moment, that's enough. Each moment is all we need, not more. ~ Mother Teresa.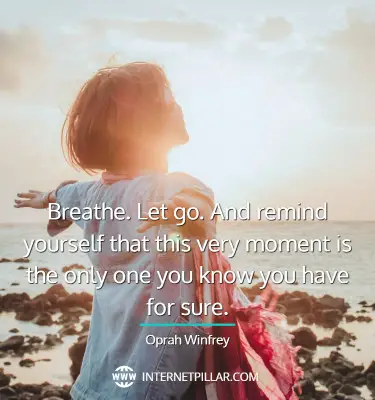 Breathe. Let go. And remind yourself that this very moment is the only one you know you have for sure. ~ Oprah Winfrey.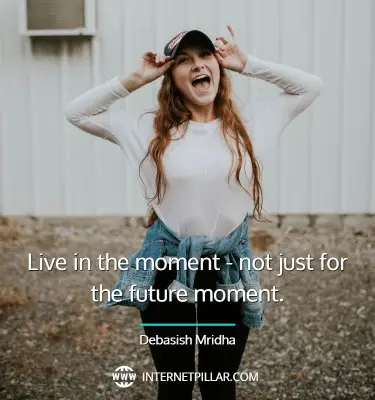 Live in the moment – not just for the future moment. ~ Debasish Mridha.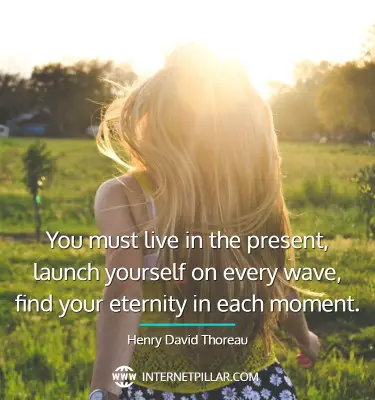 You must live in the present, launch yourself on every wave, find your eternity in each moment. ~ Henry David Thoreau.
Why not just live in the moment, especially if it has a good beat? ~ Goldie Hawn.
Don't let the sadness of your past and the fear of your future ruin the happiness of your present. ~ Unknown.
The best time for new beginnings is NOW. ~ Unknown.
The point is to be in the moment, not miss the moment while trying to capture it. ~ Sheralyn Pratt.
The past has no power over the present moment. ~ Eckhart Tolle.
The best way to create a better future is to do your best at this very moment. ~ Debasish Mridha.
Also Read: 53 Living Simple Quotes to Simplify Your Life and 55 Materialism Quotes to Start Living a Simple Life
Inspiring Living in the Moment Quotes
The past is never there when you try to go back. It exists, but only in memory. To pretend otherwise is to invite a mess. ~ Chris Cobbs,
Living in the moment, that's the first step to Having. ~ Suh Yoon Lee.
Eternity belongs to those who live in the present. ~ Ludwig Wittgenstein.
You only live once, but if you do it right, once is enough. ~ Joe Lewis.
Never worry about anything. Live in the present. Live now. Be happy. ~ Marsilio Ficino.
Don't let yesterday use up too much of today. ~ Will Rogers.
Don't live the same day over and over again and call that a life. Life is about evolving mentally, spiritually, and emotionally. ~ Germany Kent.
What matters is what we do with the life we have. ~ Carrie Ryan.
The meeting of two eternities, the past and the future… is precisely the present moment. ~ Henry David Thoreau.
Live in the moment, where everything is just right, take your time and limit your bad memories and you'll get wherever it is you're going a lot faster and with less bumps in the road along the way. ~ J.A. Redmerski.
Look at everything always as though you were seeing it either for the first or last time: Thus is your time on earth filled with glory. ~ Betty Smith.
It is only possible to live happily-ever-after on a day-to-day basis. ~ Margaret Bonnano.
Today is life – the only life you are sure of. Make the most of today. ~ Dale Carnegie.
Life is a great and wondrous mystery, and the only thing we know that we have for sure is what is right here right now. Don't miss it. ~ Leo Buscaglia.
Realize deeply that the present moment is all you ever have. Make the Now the primary focus of your life. ~ Eckhart Tolle.
Best Living in the Moment Quotes
If you want to conquer the anxiety of life, live in the moment, live in the breath. ~ Amit Ray.
Your time is limited, so don't waste it living someone else's life. ~ Steve Jobs.
If there's one thing I learned, it's that nobody is here forever. You have to live for the moment, each and every day . . . the here, the now. ~ Simone Elkeles.
Life is a journey, not a destination. ~ Ralph Waldo Emerson.
Life is about not knowing, having to change, taking the moment and making the best of it, without knowing what's going to happen next. ~ Gilda Radner.
Life is about dancing in the rain while the sun sings its music and the rainbows deliver hope. It is in being totally and fully present with ourselves, that we can live a whole lifetime in a single moment. ~ Mimi Novic.
I just want to live each moment to the fullest. And enjoy life. ~ Kadeena Cox.
The past is behind, learn from it. The future is ahead, prepare for it. The present is here, live it. ~ Thomas S. Monson.
Be Yourself. Life is precious as it is. All the elements for your happiness are already here. There is no need to run, strive, search, or struggle. Just Be. ~ Thich Nhat Hanh.
Wake up to a brand new day and realize why you woke up to meet the day! Live to the end of another day and understand why you lived in the day! ~ Ernest Agyemang Yeboah.
The best way to pay for a lovely moment is to enjoy it. ~ Richard Bach.
Live in the Moment Quotes
Yesterday is history. Tomorrow is a mystery. Today is a gift. That is why it is called the present. ~ Alice Morse Earle.
Learn from the past, look to the future, but live in the present. ~ Petra Nemcova.
Happiness is achieved when you stop waiting for your life to begin and start making the most of the moment you are in. ~ Germany Kent.
Begin doing what you want to do now. We are not living in eternity. We have only this moment, sparkling like a star in our hand – and melting like a snowflake. ~ Francis Bacon.
Now is the only time we have, and the only time we have any control over. ~ Richard Carlson.
Life is short, and if we enjoy every moment of every day, then we will be happy no matter what happens or what changes along the way. ~ Gretchen Bleiler.
You are only here now; you're only alive in this moment. ~ Jon Kabat-Zinn.
I want to see you happy. I want you to live in the moment and smile spontaneously. Your entire face lights up. It's beautiful. ~ Kerry Lonsdale.
Life is a succession of moments. To live each one is to succeed. ~ Coreta Kent.
I'm learning how to live in the present and be grateful for what's working rather than look for the 'what's not working' piece. ~ Ali MacGraw.
Don't let the past steal your present. ~ Cherralea Morgan.
Be where you are; otherwise you will miss your life. ~ Buddha.
Don't make things too complicated. Try to relax, enjoy every moment, get used to everything. ~ Angelique Kerber.
Quotes about Living in the Moment
Twenty years from now you will be more disappointed by the things you didn't do than by the things you did. ~ Mark Twain.
If you worry about what might be, and wonder what might have been, you will ignore what is. ~ Unknown.
If you aren't in the moment, you are either looking forward to uncertainty, or back to pain and regret. ~ Jim Carrey.
Rejoice in the things that are present; all else is beyond thee. ~ Michel de Montaigne.
Remember to do everything with an abundance of love, so that one day you will remember the beauty of every moment lived. ~ Mimi Novic.
Life is a preparation for the future, and the best preparation for the future is to live as if there were none. ~ Albert Einstein.
Be happy for this moment. This moment is your life. ~ Omar Khayyam.
Life is not something we put on the backburner hoping to get to live further down the line ~ Adiela Akoo.
The decision to make the present moment a friend is the end of the ego. ~ Eckhart Tolle.
We spend precious hours fearing the inevitable. It would be wise to use that time adoring our families, cherishing our friends and living our lives. ~ Maya Angelou.
Happiness is not by chance, but by choice. ~ Jim Rohn.
Powerful Living in the Moment Quotes
You don't need anyone's consent to live your dreams ~ Bernard Kelvin Clive.
Forever is composed of nows. ~ Emily Dickinson.
One today is worth two tomorrows. ~ Benjamin Franklin.
If you spend your whole life waiting for the storm, you'll never enjoy the sunshine. ~ Morris West.
Living in the moment is being aware of the moment we are in. If our minds are in the past or future, we are not truly alive in the present. ~ Satsuki Shibuya.
As you become more present in your own life, you will begin to enlighten others by your example. ~ Germany Kent.
Don't wait. The time will never be just right. ~ Napoleon Hill.
Go confidently in the direction of your dreams! Live the life you've imagined. ~ Henry David Thoreau.
The ability to be in the present moment is a major component of mental wellness. ~ Abraham Maslow.
Instead of bracing yourself for the perils of the unknown, embrace the joy that is here, in your present moment. ~ Michelle D. Rosado.
We need to embrace every day and enjoy it as much as we can. ~ Karen Todd Scarpulla.
The only way to survive eternity is to be able to appreciate each moment. ~ Lauren Kate.
The here and now is all we have, and if we play it right it's all we'll need. ~ Ann Richards.
Mindfulness is living in the moment without judging it. ~ Debasish Mridha.
Famous Living in the Moment Quotes
You do not find a happy life. You make it. ~ Camilla Eyring Kimball.
Remember then: there is only one time that is important – Now! It is the most important time because it is the only time when we have any power. ~ Leo Tolstoy.
We're so busy watching out for what's just ahead of us that we don't take time to enjoy where we are. ~ Bill Watterson.
Enjoy life now. This is not a rehearsal. ~ Unknown.
The older one gets, the more one feels that the present moment must be enjoyed, comparable to a state of grace. ~ Marie Curie.
Some moments are happy. Some moments are sad. Live each moment. Embrace life! ~ Avijeet Das.
My past and my future depends on today. ~ Trevor Hall.
Nothing ever happened in the past that can prevent you from being present now. ~ Eckhart Tolle.
top acting as if life is a rehearsal. Live this day as if it were your last. The past is over and gone. The future is not guaranteed. ~ Wayne Dyer.
Let us not look back in anger, nor forward in fear, but around in awareness. ~ James Thurber.
Live in the present and make it so beautiful that it will be worth remembering. ~ Ida Scott Taylor.
Enjoy the little things in life, for one day you may look back and realize they were the big things. ~ Robert Breault.
The purpose of life is to live it, to taste experience to the utmost, to reach out eagerly and without fear for newer and richer experience. ~ Eleanor Roosevelt.
Inspirational Living in the Moment Quotes
I promise myself that I will enjoy every minute of the day that is given me to live. ~ Thich Nhat Hanh.
If you are depressed you are living in the past. If you are anxious you are living in the future. If you are at peace you are living in the present. ~ Lao Tzu.
We know nothing of tomorrow; our business is to be good and happy today. ~ Sydney Smith.
Living in the present moment creates the experience of eternity. ~ Deepak Chopra.
Live today. Not yesterday. Not tomorrow. Just today. Inhabit your moments. Don't rent them out to tomorrow. ~ Jerry Spinelli.
Happiness, not in another place but this place…not for another hour, but this hour. ~ Walt Whitman.
Quotes about Living Life in the Moment
Life is available only in the present moment. If you abandon the present moment you cannot live the moments of your daily life deeply. ~ Thich Nhat Hanh.
Don't wait for a crisis to realize what matters most. Put yourself first right now. Because right now is all we have. ~ Brittany Burgunder.
Don't be pushed by your problems, be led by your dreams. ~ Ralph Waldo Emerson.
Learn from yesterday, live for today, look to tomorrow, rest this afternoon. ~ Charles M. Schulz.
Nothing is more precious than being in the present moment. Fully alive, fully aware. ~ Thích Nhất Hạnh.
Write it on your heart that every day is the best day in the year. ~ Ralph Waldo Emerson.
Happiness is not something you postpone for the future; it is something you design for the present. ~ Jim Rohn.
Nothing is worth more than this day. ~ Johann Wolfgang von Goethe.
---
So these were the 105 quotes about Living in the Moment.
If you like these quotes, then you can also read our other posts on New Dad quotes and Toxic Mother quotes and Toxic Father quotes and Abandonment Issues quotes.
---
References and Sources: