Long distance relationships can be daunting and isolating.
However, inspirational long distance relationship quotes can serve as a powerful remedy for loneliness, encapsulating complex emotions succinctly and meaningfully.
They are beneficial for those feeling low due to the distance, seeking inspiration for messages, struggling to articulate emotions, or attempting to convey a point in brief communication.
It's crucial for long-distance partners to maintain communication to avoid misunderstandings that could end the relationship.
The collection of 85 quotes caters to various needs, from comforting words to romantic sentiments to boost excitement for the next meeting.
Despite their challenges, long distance relationships can be rewarding and these quotes can help foster closeness, no matter the miles between.
They're also perfect for sharing with your significant other, strengthening the bond and keeping the connection alive.
---
Best Long Distance Relationship Quotes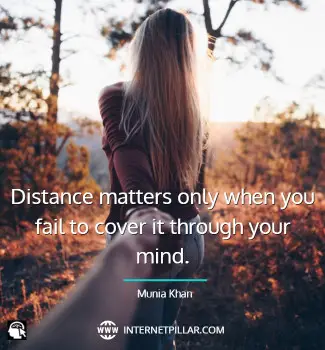 Distance matters only when you fail to cover it through your mind. ~ Munia Khan.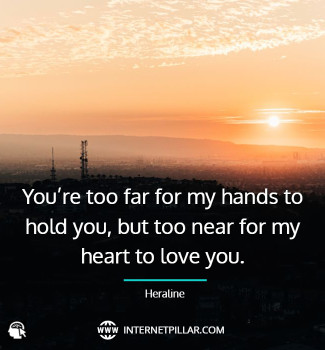 You're too far for my hands to hold you, but too near for my heart to love you. ~ Heraline.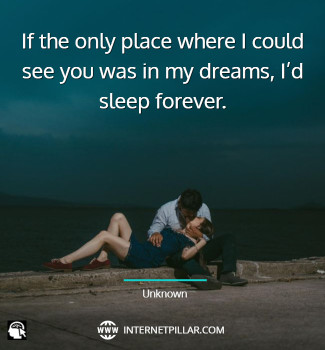 If the only place where I could see you was in my dreams, I'd sleep forever. ~ Unknown.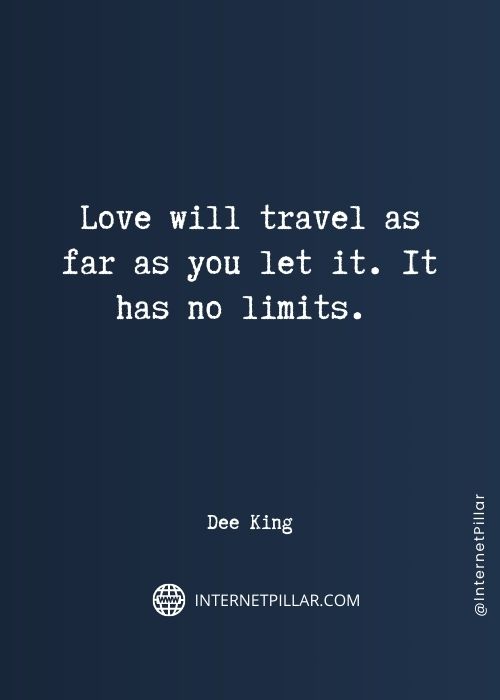 Love will travel as far as you let it. It has no limits. ~ Dee King.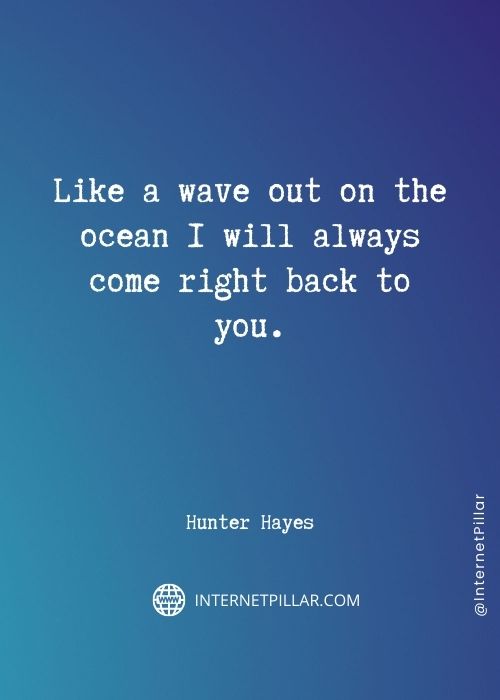 Like a wave out on the ocean I will always come right back to you. ~ Hunter Hayes.
If you think missing me is hard, you should try missing you. ~ Unknown.
Love is composed of a single soul inhabiting two bodies. ~ Aristotle.
I carry your heart with me (I carry it in my heart). ~ E.E. Cummings.
When your absence is felt, your presence is the essence and it makes a difference. ~ Michael Bassey Johnson.
I dropped a tear in the ocean. The day you find it is the day I will stop missing you. ~ Unknown.
The distance may be far and wide but my heart can cover them all. The space between us is so much more but you should know that I love you so! ~ Linda Roy.
Sad Long Distance Relationship Quotes
The Pain of parting is nothing to the joy of meeting again. ~ Charles Dickens.
The best and most beautiful things in the world cannot be seen or even touched. They must be felt with the heart. ~ Helen Keller.
In many ways, the art of love is largely the art of persistence. ~ Albert Ellis.
If you listen to the wind very carefully, you'll be able to hear me whisper my love for you. ~ Andrew Davidson.
You have to go wholeheartedly into anything in order to achieve anything worth having. ~ Frank Lloyd Wright.
The scariest thing about distance is that you don't know whether they'll miss you or forget you. ~ Nicholas Sparks.
When two souls are one, they hear each other, even in silence. ~ Matshona Dhliwayo.
Forget all the reasons why it won't work, and believe the one reason why it will. ~ Unknown.
Maybe, it's not the distance that's the problem, but how you handle it. ~ David Levithan.
Related Quotes: 58 Relationship Building Quotes for Strong Relationships and 60 Companionship Quotes to Inspire You in Relationship
Famous Long Distance Relationship Quotes
Absence is to love what wind is to fire; it extinguishes the small, it inflames the great. ~ Roger de Bussy-Rabutin.
This is the sad bed of chosen chastity because you are miles and mountains away. ~ Erica Jong.
The heart may think it knows better: the senses know that absence blots people out. ~ Elizabeth Bowen.
I'm not telling you it is going to be easy – I am telling you it is going to be worth it. ~ Art Williams.
Long distance is not for daydreamers, it's for believers like us, we believe. ~ Unknown.
Absence makes the heart grow fonder, but it sure makes the rest of you lonely. ~ Charles M. Schulz.
But nothing makes a room feel emptier than wanting someone in it. ~ Calla Quinn.
Absence sharpens love, presence strengthens it. ~ Thomas Fuller.
My darling, we share the same heart under the same stars, and that's magical. ~ Unknown.
Distance is temporary, but our love is permanent. This may be the last time I see you, but if you keep me in your heart, together we shall be eternal; if you believe, we shall never part. ~ Ben Harper.
Top Long Distance Relationship Quotes
I found that I missed him the more he was absent from my life, and the more I missed him, the more I loved him. ~ Donna Lynn Hope.
Your absence has not taught me how to be alone, it merely has shown that when together we cast a single shadow on the wall. ~ Doug Fetherling.
Morning without you is dwindled dawn. ~ Emily Dickinson.
I'm like a star in the night sky, sometimes you won't see me, But I'm always there! ~ Unknown.
Love reckons hours for months, and days for years; and every little absence is an age. ~ John Dryden.
Life has taught us that love does not consist in gazing at each other but in looking outward together in the same direction. ~ Saint-Exupery.
Distance unites missing beats of two hearts in love. ~ Munia Khan.
You don't develop courage by being happy in your relationships every day. You develop it by surviving difficult times and challenging adversity. ~ Epicurus.
No matter where I am, no matter where I go, your heart is my northern light, I will always find my way home. ~ Michael Kilby.
Love is missing someone whenever you're apart, but somehow feeling warm inside because you're close in heart. ~ Kay Knudsen.
I exist in two places, here and where you are. ~ Margaret Atwood.
Love is not finding someone to live with. It's finding someone you can't live without. ~ Rafael Ortiz.
Popular Long Distance Relationship Quotes
If you truly love something, give it a chance to fail. If it survives, it is going to be stronger than ever. ~ Unknown.
I believe in the immeasurable power of love; that true love can endure any circumstance and reach across any distance. ~ Steve Maraboli.
I will wait for you because honestly, I don't want anyone else. ~ Unknown.
In true love, the smallest distance is too great, and the greatest distance can be bridged. ~ Hans Nouwens.
Love knows not distance; it hath no continent; its eyes are for the stars. ~ Gilbert Parker.
Once trust is built, distance cannot kill it. Time and space alone cannot destroy authentic connection. ~ Vironika Tugaleva.
I don't miss you and you alone – I miss you and me together. ~ Unknown.
Absence is to love as wind is to fire; it extinguishes the small and kindles the great. ~ Roger de Bussy-Rabutin.
Romantic Long Distance Relationship Quotes
All the while, believe me, I prayed our night would last twice as long. ~ Sappho.
If distance were measured in terms of the heart we'd never be more than a minute apart. ~ Unknown.
My dear, I think of you always and at night I build myself a warm nest of things I remember and float in your sweetness till morning. ~ Zelda Fitzgerald.
We are the perfect couple, we're just not in the perfect situation. ~ Unknown.
If love cannot stand the test of time, then it has failed the test of love. ~ Bernard Byer.
Distance isn't a big factor in a relationship. Communication is. But most of all commitment is the most important one. ~ Unknown.
A thing is mighty big when time and distance cannot shrink it. ~ Zora Neale Hurston.
Our lives were now worlds apart, separated by time, circumstance, and the unbridgeable chasm of money. ~ Travis Luedke.
Tomorrow when you feel the warm breeze brush against your face, that's the kiss I blew to you. ~ Unknown.
Close together or far apart; you're forever in my heart. ~ Harry Styles.
My heart is your home, wherever in the world you are – you will always have a place to stay. ~ K.A. Hill.
Distance makes the heart grow fonder. ~ Simone Elkeles.
As contraries are known by contraries, so is the delights of presence best known by the torments of absence. ~ Alcibiades.
Great Long Distance Relationship Quotes
I miss you even more than I could have believed; and I was prepared to miss you a good deal. ~ Vita Sackville-West.
We were together even when we were apart. ~ Shannon A. Thompson.
The ocean separates lands, not souls. ~ Munia Khan.
How lucky I am to have something that makes saying goodbye so hard. ~ A.A. Milne.
She affected me, even when she was absent. ~ Shannon A. Thompson.
Can miles truly separate? If you want to be with someone you love, aren't you already there? – Richard Bach.
Sometimes you have to be apart from people you love, but that doesn't make you love them any less. Sometimes you love them more. ~ Nicholas Sparks.
I don't cry because we've been separated by distance, and for a matter of years. Why? Because for as long as we share the same sky and breathe the same air, we're still together. ~ Donna Lynn Hope.
Time is the longest distance between two places. ~ Tennesse Williams.
Ever has it been that love knows not its own depth until the hour of separation. ~ Kahlil Gibran.
Powerful Long Distance Relationship Quotes
Obviously, a long-distance relationship is hard. But, like anything worth having, you make it work. ~ Leona Lewis.
I fell in love with her when we were together, then fell deeper in love in the years we were apart. ~ Nicholas Sparks.
Distance means so little when someone means so much. ~ Tom McNeal.
Distance between two hearts is not an obstacle; Rather a great reminder of just how strong true love can be. ~ Unknown.
If you found that one person who is really worth the sacrifices, pain, and hardships then your efforts will not go to waste. ~ Anna Agoncillo.
That farewell kiss which resembles greeting, that last glance of love which becomes the sharpest pang of sorrow. ~ George Eliot.
Every day is a countdown to the next time I see you. ~ Unknown.
One day the plane ticket will be one way. ~ Unknown.
---
So these were the 85 famous quotes about Long Distance Relationship.
If you like these quotes and sayings, then you can also read my other popular blog posts on the topics of Grandparents quotes and Bad Days quotes.