Love is a strong emotion that benefits our mental and emotional health and has the power to positively transform people.
Spreading love, kindness and trust creates a ripple effect of positivity, enhancing self-esteem and promoting a sense of goodwill.
This emotional exchange nurtures a sense of being loved, which in turn fosters love towards others, even those we might dislike.
A variety of love forms exist, from a mother's love to a spouse's affection, each carrying its own depth and meaning.
Famous quotes from spiritual leaders, writers and other influential figures inspire us to practice universal love.
They highlight that love is not limited; it is for everyone, reaching every living being in the universe.
By loving unconditionally, you invite love into your own life, promoting happiness and a sense of belonging.
This collection of "Love Everyone" quotes encourages readers to embrace this philosophy, spreading love in their everyday interactions.
---
Top 10 Love Everyone Quotes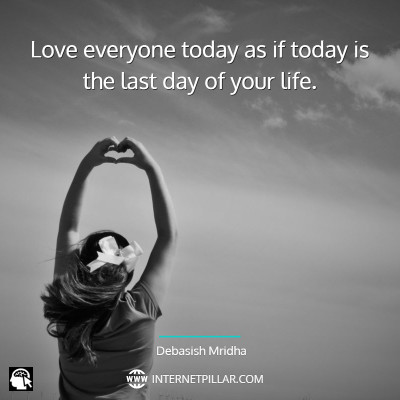 Love everyone today as if today is the last day of your life. ~ Debasish Mridha.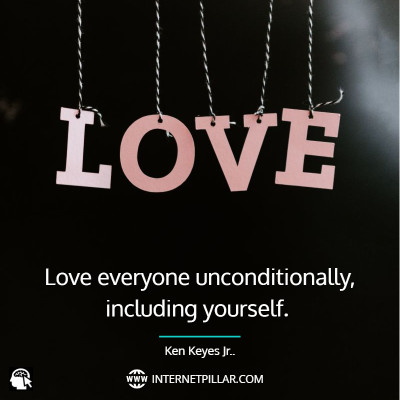 Love everyone unconditionally, including yourself. ~ Ken Keyes Jr.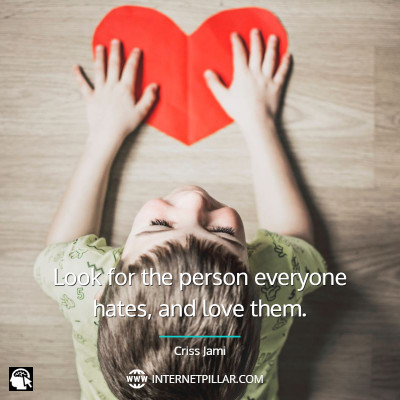 Look for the person everyone hates, and love them. ~ Criss Jami.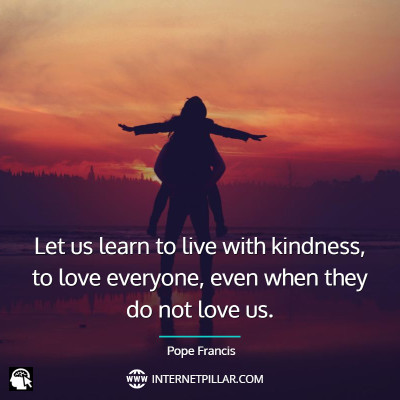 Let us learn to live with kindness, to love everyone, even when they do not love us. ~ Pope Francis.
Life without love is like a tree without blossoms or fruit. ~ Khalil Gibran.
Help each other. Love everyone. Every leaf. Every ray of light. Forgive. ~ Terrence Malick.
Be a lover. Give love. Choose love. Love everyone, always. ~ Harry Styles.
Love everyone, including yourself. This is real sadhana. ~ Baba Hari Dass.
When it comes to love, everyone is a liar. ~ Brady Udall.
True love is like ghosts, which everyone talks about and few have seen. ~ François de La Rochefoucauld.
See also: Love Language Quotes on the Power of Love and Timeless Love Quotes That Are Eternal
Famous Love Everyone Quotes
I'm an artist; I love everyone. ~ Chris Zylka.
Superman loves everyone. He's like Jesus except he punches people. ~ Grant Morrison.
Truth is, I love everyone that is a good person regardless of what they look like, walk like, or who they love. ~ Doja Cat.
We should learn to love everyone equally, because in essence we are all one, one Atman, one soul. ~ Mata Amritanandamayi.
The Pope loves everyone, rich and poor alike, but the Pope has the duty, in Christ's name, to remind the rich to help the poor, to respect them, to promote them. ~ Pope Francis.
Everybody needs love. Everyone deserves it. ~ Reese Witherspoon.
I like to think of myself as very loyal, and I love everyone I surround myself with, whether they're friends or girlfriends or whatever. ~ Taylor Lautner.
When you're taught to love everyone, to love your enemies, then what value does that place on love? ~ Marilyn Manson.
You cannot love everyone; it is ridiculous to think you can. ~ Anton Szandor LaVey.
Best Love Everyone Quotes
Eventually, I think you find a spiritual and emotional connection with someone, and I think it unifies you with everyone else. I think if you love one person, it makes you love everyone. ~ Russell Brand.
If I were to meet the slave-traders who kidnapped me and even those who tortured me, I would kneel and kiss their hands, for if that did not happen, I would not be a Christian and Religious today… The Lord has loved me so much: we must love everyone… we must be compassionate! ~ Josephine Bakhita.
Love everyone, serve everyone, remember God, and tell the truth. ~ Neem Karoli Baba.
Watch out for each other. Love everyone and forgive everyone, including yourself. Forgive your anger. Forgive your guilt. Your shame. Your sadness. Embrace and open up your love, your joy, your truth, and most especially your heart. ~ Jim Henson.
God loves you as though you are the only person in the world, and He loves everyone the way He loves you. ~ David Jeremiah.
Popular Love Everyone Quotes
If I could choose to have one superpower, I would want to be able to make everyone love everyone! ~ Betsey Johnson.
Of course, I love everyone I meet. How could I fail to! Within everyone is the spark of God. I am not concerned with racial or ethnic background or the color of one's skin; all people look to me like shining lights! I see in all creatures the reflections of God. All people are my kinfolk – people to me are beautiful! ~ Peace Pilgrim.
Our perception of celebrities in Hollywood is not the reality. The reality of our lives is so much like everyone else's life. We have family members we love, everyone gets up in the morning, they have three meals a day and they go about their business. ~ Sissy Spacek.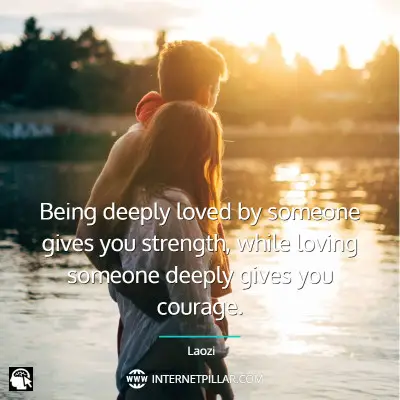 Being deeply loved by someone gives you strength, while loving someone deeply gives you courage. ~ Laozi.
Don't be a jerk. Try to love everyone. Give more than you take. And do it despite the fact that you only really like about seven out of 500 people. ~ Judd Apatow.
When it comes to love, everyone wants to receive it, but at the end of the day, you don't get to receive it until you start to give it. That goes for everything. What you give is what you receive. If you want the drug, you have to give the drug. ~ Ashton Kutcher.
I did not come into the world to prove anything. I came into the world to love everyone and everything. ~ Sri Chinmoy.
Profound Love Everyone Quotes
While you were busy trying to prove God stands behind you, God was before me lighting the trail, so he could lead us both. ~ Shannon L. Alder.
God loves everyone in the world who doesn't love himself. Does God love God? ~ Pierre Teilhard de Chardin.
When we were born, nobody gave us a lesson on how to breathe – we just did. The same thing happens with love. Nobody tells you how to love – we just do. ~ Connor Chalfant.
For it was not into my ear you whispered, but into my heart. It was not my lips you kissed, but my soul. ~ Judy Garland.
It's a great feeling to do what you want and do what you love. Everyone should try it sometime if you're not doing it already. ~ Jason Landry.
Deep Love Everyone Quotes
I love everyone. Why? The moment I dislike someone, they own me. They own my energy, thoughts, feelings, etc. ~ Sean Stephenson.
As Christians, we're asked to give. In my sport, if someone needs equipment or help with something, regardless of who they are as a competitor, I'm called to help them for a higher purpose. So it definitely affects everything I do. It's not easy. It's very hard to love everyone. ~ Elana Meyers.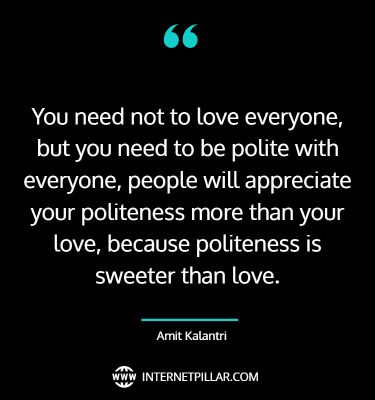 You need not to love everyone, but you need to be polite with everyone, people will appreciate your politeness more than your love, because politeness is sweeter than love. ~ Amit Kalantri.
Love is the beauty of the soul. ~ Saint Augustine.
We must remain in love and develop in love; that must be the compelling force in our lives. It is possible to love everyone. When you sense you lack love, you must quite simply pray. ~ Esther Smith.
Thought-Provoking Love Everyone Quotes
I want people to smile when they hear my name. I love everyone. I want to help make it a better time for the kids after me. ~ Lil B.
You need to love everyone. ~ Pierce Brosnan.
At the touch of love, everyone is a poet. ~ Plato.
You don't have to do anything. Why worry? It's all god's plan anyway. Just love everyone and believe. ~ Frazier Glenn Miller, Jr.
God never said to love only those you deem deserving. ~ Richelle E. Goodrich.
A kiss is a lovely trick designed by nature to stop speech when words become superfluous. ~ Ingrid Bergman.
I've always been raised to love everyone, to accept everyone for their differences, and to just be open. But at a young, a very young age, I realized what racism was all about. ~ Nia Long.
Thoughtful Love Everyone Quotes
When everything falls apart, only one thing sustains our hope: God loves us, he loves everyone! ~ Pope Francis.
Before you look for dirt in people, look for treasure. ~ Matshona Dhliwayo.
If I succeed in loving you, I will be able to love everyone and all species on Earth… This is the real message of love ~ Nhat Hanh.
We are love. But in an everyday setting we have to make choices. We have limits. We can love everyone and we can't love everyone. ~ Mark Nepo.
Imagine living in abject poverty and not knowing anything other than that for generations. Or alternatively, imagine being born into a really wealthy family, but there was no real love. Everyone's living these extraordinary, interesting lives whether they know it or not. ~ Annie Lennox.
A life without love is like a tree without fruit. ~ Stephen King.
The world says fall in love, but the universe says rise in love. ~ Matshona Dhliwayo.
We can not love everyone and be loved by everyone. It would be perfection, and nothing is perfect in this world. ~ Paul Pogba.
---
So these were the 60 top quotes about Love Everyone.
If you like these quotes and sayings, then you can also read my other posts on Sociopath quotes and Teen Pregnancy quotes.