Timeless love signifies an enduring affection that is eternal and deeply caring.
Love is multifaceted; it's gentle, liberating, warm and a binding force that nurtures our existence.
It impels us to share affection, cherish ourselves and ensures we are never alone.
A world without love would be bleak and isolating, devoid of connection despite the crowd.
Love is essential in every facet of life, influencing our thoughts, ideas and actions.
It emerges in various forms, from parental care, romantic partners, to supportive friendships, acting as a vital force that drives life.
This compilation of 60 timeless love quotes is designed to encapsulate these emotions, providing a medium to express love or reflect one's sentiments about this eternal bond.
These quotes celebrate the timeless nature of love, reminding us of its enduring power and its indispensable role in our lives.
---
Best Timeless Love Quotes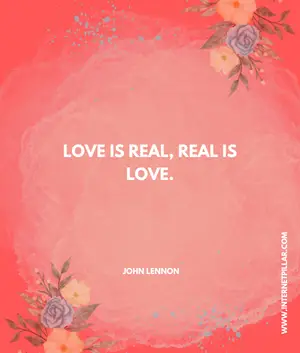 Love is real, real is love. ~ John Lennon.
Love is a friendship set to music. ~ Joseph Campbell.
Where there is love there is life. ~ Mahatma Gandhi.
At the touch of love everyone becomes a poet. ~ Plato.
A loving heart is the truest wisdom. ~ Charles Dickens.
No one ever fell in love gracefully. ~ Connie Brockway.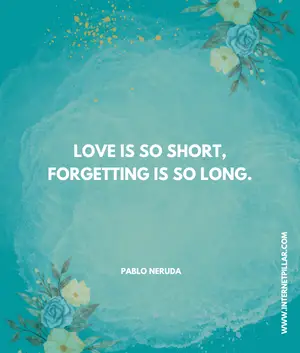 Love is so short, forgetting is so long. ~ Pablo Neruda.
Soul meets soul on lovers' lips. ~ Percy Bysshe Shelley.
We are shaped and fashioned by those we love. ~ Goethe​.
You can't help who you fall in love with. ~ E.L. Montes.
Love is the greatest refreshment in life. ~ Pablo Picasso.
Also see: Relationship Quotes to Bring You Closer to Your Love and Compassion Quotes on Showing Empathy and Love
Lovely Timeless Love Quotes
I love you. Remember. They cannot take it. ~ Lauren Oliver.
If I know what love is, it is because of you. ~ Herman Hesse.
There is no charm equal to tenderness of heart. ~ Jane Austen.
Love all, trust a few, do wrong to none. ~ William Shakespeare.
You can't blame gravity for falling in love. ~ Albert Einstein.
Love, having no geography, knows no boundaries. ~ Truman Capote.
We loved with a love that was more than love. ~ Edgar Allan Poe.
Love is how you stay alive, even after you are gone. ~ Mitch Albom.
There is no remedy for love but to love more. ~ Henry David Thoreau.
With love one can live even without happiness. ~ Fyodor Dostoyevsky.
Love is like war: easy to begin but very hard to stop. ~ H. L. Mencken.
Beautiful Timeless Love Quotes
When love is not madness, it is not love. ~ Pedro Calderón de la Barca.
Falling in love is a wonderfully terrifying sensation. ~ Steve Maraboli.
You have to kiss a lot of frogs before you find your prince. ~ E.L. James.
Whatever our souls are made of, his and mine are the same. ~ Emily Bronte.
Love makes your soul crawl out from its hiding place. ~ Zora Neale Hurston.
I like not only to be loved, but also to be told I am loved. ~ George Eliot.
We never get enough of falling in love and believing in love. ~ Shemar Moore.
Love is like the wind, you can't see it but you can feel it. ~ Nicholas Sparks.
It's not how much we give but how much love we put into giving. ~ Mother Teresa.
Great Timeless Love Quotes
Love is a canvas furnished by nature and embroidered by imagination. ~ Voltaire.
Sometimes love means letting go when you want to hold on tighter. ~ Melissa Marr.
All, everything that I understand, I only understand because I love. ~ Leo Tolstoy.
One word frees us of all the weight and pain of life: That word is love. ~ Sophocles.
Love is a fruit in season at all times, and within reach of every hand. ~ Mother Teresa.
The moment we begin to seek love, love begins to seek us. And to save us. ~ Paulo Coelho.
Never close your lips to those whom you have already opened your heart. ~ Charles Dickens.
Nobody has ever measured, not even poets, how much the heart can hold. ~ Zelda Fitzgerald.
I have decided to stick to love; hate is too great a burden to bear. ~ Martin Luther King, Jr.
I find that romance is for readers. I want adventures; they are for the living. ~ Moryah DeMott.
Ever has it been that love knows not its own depth until the hour of separation. ~ Kahlil Gibran.
Top Timeless Love Quotes
When you're falling in love, you never notice it until you've already hit the ground. ~ Terry Mark.
Don't try to stop your heart from falling in love, because in the end it may be worth it. ~ Fad Ibra.
Trust your heart if the seas catch fire, live by love though the stars walk backward. ~ E.E. Cummings.
To love is nothing. To be loved is something. But to love and be loved, that's everything. ~ T. Tolis.
You don't love because: you love despite; not for the virtues, but despite the faults. ~ William Faulkner.
Being deeply loved by someone gives you strength, while loving someone deeply gives you courage. ~ Lao Tzu.
Falling in love consists merely in uncorking the imagination and bottling the common sense. ~ Helen Rowland.
Powerful Timeless Love Quotes
You know you're in love when you can't fall asleep because reality is finally better than your dreams. ~ Dr. Seuss
Love is an endless act of forgiveness. Forgiveness is me giving up the right to hurt you for hurting me. ~ Beyonce.
Love is of all passions the strongest, for it attacks simultaneously the head, the heart, and the senses. ~ Lao Tzu.
Love looks not with the eyes, but with the mind, And therefore is winged Cupid painted blind. ~ William Shakespeare.
You know it's love when all you want is that person to be happy, even if you're not part of their happiness. ~ Julia Roberts.
True love, especially first love, can be so tumultuous and passionate that it feels like a violent journey. ~ Holliday Grainger.
I'm in love with you, and I'm not in the business of denying myself the simple pleasure of saying true things. ~ Augustus Waters.
To love or have loved, that is enough. Ask nothing further. There is no other pearl to be found in the dark folds of life. ~ Victor Hugo.
The real lover is the man who can thrill you by kissing your forehead or smiling into your eyes or just staring into space. ~ Marilyn Monroe.
Lots of people want to ride with you in the limo, but what you want is someone who will take the bus with you when the limo breaks down. ~ Oprah Winfrey.
True love is eternal, infinite, and always like itself. It is equal and pure, without violent demonstrations: it is seen with white hairs and is always young in the heart. ~ Honore de Balzac.
---
I hope you have liked these quotes on love that is timeless.
You are requested to check out our other blog posts on the topics of Dare to Dream Quotes and Winning Mindset Quotes.