Luke Combs, a renowned country music artist, was born on March 2, 1990, in North Carolina.
He launched his career with "The Way She Rides" in 2014. His single 'Hurricane' topped the country music chart.
"This One's For You," his debut album from 2017, became a Billboard sensation. His 2019 album, "What You See Is What You Get," featured numerous hits.
In 2020, he wed Nicole Hocking and announced a 2022 baby arrival. Combs has candidly spoken about battling anxiety and OCD.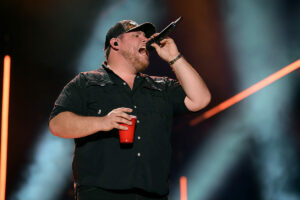 His accolades include a deal with Sony Music Nashville and several chart leaders. Notably, he's revered for his tenacity and humility.
Combs' intriguing background involves a stint as a bouncer, ambitions of police work, respect for rapper DaBaby, football, and peculiar shower routines.
Here are some of the top quotes by Luke Combs.
---
Best Luke Combs Quotes
I've always been a super regular guy. ~ Luke Combs.
I hope you get everything that you had coming. ~ Luke Combs.
Couldn't wait to ride out of that one-horse town, didn't see no use in sticking around. ~ Luke Combs.
Yeah, those were the days we thought we'd never lose. But we did and we miss how it was when we were just kids. ~ Luke Combs.
When all my friends would get away, seems I'd get caught plain as day. ~ Luke Combs.
I ain't afraid to take too many steps out of line, so don't tempt me with a good time. ~ Luke Combs.
I guess goodbye's just too tough, 'cause last time was the last time but we're fallin' all over again. ~ Luke Combs.
I knew I was a good singer – I've been singing my whole life, so I was comfortable enough with that – I felt like I could compensate for not being great on guitar. ~ Luke Combs.
I think I never had this grandiose dream of being any country music star. I just slowly progressed into that's what I'm doing. ~ Luke Combs.
By half past 10, I'm half past tipsy. At quarter to 12, man I've done had plenty. The countdown's on when the first beer hits me. Five, four, three, two, one. Too many. ~ Luke Combs.
Her day starts with a coffee and ends with a wine. ~ Luke Combs.
It's a good pair of jeans and a pair of boots that are comfortable and a T-shirt; that's as far as I go. Getting wild with it might be a nice jacket, but I'm not a high fashion guy for sure. ~ Luke Combs.
Everyone's got some but I need one that brings you back; we all got our reasons, just like you. ~ Luke Combs.
I think the crowds in Europe are songwriter crowds. Like, they are a fan of the words, and they're there to listen. An American crowd, they're there to get rowdy, man. And I love both. ~ Luke Combs.
I could play a gig on the moon and not be nervous about it. ~ Luke Combs.
I think that was kind of always my goal; get people to come back and see a show twice and then see it a third time. And now I've got people who have been to 30, 40 shows. ~ Luke Combs.
I never knew a king-size bed was just another place to drown, or how lonely lonely sounds, but man I get it now. ~ Luke Combs.
It's okay, I know you're scared when I'm not here. But I'll always be right there. Even though I'm leavin' I ain't goin' nowhere. ~ Luke Combs.
Top Luke Combs Quotes
You wrecked my whole world when you came and hit me like a hurricane. ~ Luke Combs.
Comfort is key for me. I'm a bigger guy, so whatever fits is nice, too. ~ Luke Combs.
Beautiful, crazy, she can't help but amaze me. ~ Luke Combs.
And I'll bet you're doin' your best to move on. Well, you're not the only lonely one. ~ Luke Combs.
I do gravitate towards the sad songs because I find them to be more of a challenge for me from a writing perspective. There are things about those songs that do touch people in a way that a fun song can't. ~ Luke Combs.
Turkey hunting is my thing; it's only once a year, but if it's turkey season, don't call me, because I won't answer. ~ Luke Combs.
I drove to Nashville a few times, met with some people and hung out, went to the Opry, and that kind of stuff. I made the decision – you've got to be present to win, so I packed it up and moved out here, and it's been great. It's been the best decision I ever made. ~ Luke Combs.
Sometimes we've oil and water, but I wouldn't have it any other way. ~ Luke Combs.
The way you say I love you, too. It's like rain on an old tin roof. And your hand fits in mine like a needle in a groove. Some things go better together and probably always will. ~ Luke Combs.
It's me they love to give the credit to. I'm just trying to give the credit where credit's due because me don't mean a thing without you. ~ Luke Combs.
If you're anything like me you just might be doing whatever it takes to drown out the noise. ~ Luke Combs.
There's a lot of things in this whole world I can stand. But when it comes to losin' you, I just can't. ~ Luke Combs.
I didn't even know what a tour manager was, but I was the tour manager, booking agent, all that stuff for almost two years without knowing it. I wasn't overwhelmed, because I enjoyed doing it. ~ Luke Combs.
Inspirational Luke Combs Quotes
I can only stay for so long 'til that Honky Tonk Highway's calling me home. ~ Luke Combs.
We'd been out touring for a couple of years before we signed with Sony and everything. ~ Luke Combs.
I know that I'm a very highly visible member of the country music community right now, and I want to use that position for good and to say that people can change, and people do want to change, and I'm one of those people trying. ~ Luke Combs.
I've been singing my entire life. The guitar came to me later on down the road. ~ Luke Combs.
As crazy as it sounds, my generation is very lazy. ~ Luke Combs.
There's an authenticity in just being who you are and not having an act about it or wear clothes you normally wouldn't wear. I'm just comfortable in my own skin. ~ Luke Combs.
It's awesome to have friends among the country music community that you know are looking out for you and that you are excited to get to see on the road. ~ Luke Combs.
I apologize for being associated with that. Hate is not a part of my core values, and it's not something that I consider a part of myself at all. ~ Luke Combs.
When I picked up the guitar, it wasn't like, 'Okay, I'm going to be Kenny Chesney.' It was like, 'I want to play a chord,' and then it was like, 'I want to play another one, then play a song, then sing while playing the song.' ~ Luke Combs.
I'm trying to learn, I'm trying to get better. ~ Luke Combs.
It's a match made up in heaven. Like good ol' boys and beer and me as long as you're right here. ~ Luke Combs.
These city lights can't shine quite like the stars. I wish I could wish her back into my arms. ~ Luke Combs.
I think there's kind of a comfortability with me onstage – and I think my cool factor is not having one. I'm not extra cool or extra different. ~ Luke Combs.
Famous Luke Combs Quotes
I just love writing songs and singing them. People seem to enjoy them, and that's all you can really ask for. I didn't get into it to try to be a celebrity or whatever. ~ Luke Combs.
I pick up a beer can and get to feeling like Superman. ~ Luke Combs.
I've always been a 'small goals' kind of guy. ~ Luke Combs.
Just 'cause I'm leavin'. It don't mean that I won't be right by your side when you need me. And you can't see me in the middle of the night. ~ Luke Combs.
Anytime that me and the guys go out on the road, it's fun to step away from the craziness of what it is we do. I just enjoy that time being outside with my buddies. ~ Luke Combs.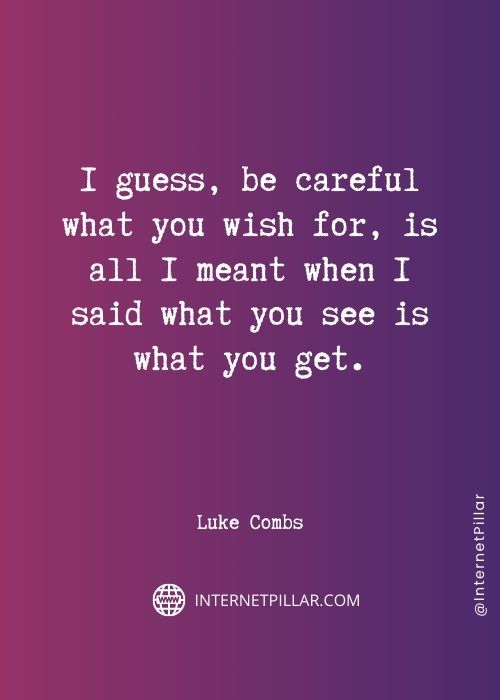 I guess, be careful what you wish for, is all I meant when I said what you see is what you get. ~ Luke Combs.
I've been knocked down time and time again. Got picked back up by love and a few good friends. ~ Luke Combs.
I didn't know how to play guitar until I was 21, but from the moment I was good enough on guitar to even put one song together, I kind of billed myself as an artist. ~ Luke Combs.
She got the best of me. She broke my heart. Now all that's left of me is beating in this guitar. ~ Luke Combs.
I can't get enough of you, honey, you're right on the money. I'm a junkie for your midnight moves. I'm in love with lovin' on you. ~ Luke Combs.
Will you pick up when I call or just forget we loved at all? We don't have to talk. I just wanna hear your voice. ~ Luke Combs.
You don't think that much about life. You just live it. ~ Luke Combs.
As a younger man, that was an image that I associated to mean something else. And as I've grown in my time as an artist, and as the world has changed drastically in the last five to seven years, I am now aware how painful that image can be to someone else. ~ Luke Combs.
You hit me category five with your smile. Blew me away. ~ Luke Combs.
And I've been on a hell of a redneck road for three weeks now and it all started on the day that she walked out. ~ Luke Combs.
Popular Luke Combs Quotes
What I thought was gonna be the death of me was my saving grace. ~ Luke Combs.
Sometimes, you sit down to write a song, you don't realize what it's going to mean to somebody other than yourself. ~ Luke Combs.
I've never been too concerned with what I'm wearing, and that probably makes a lot of people angry, but I let the music do the talking and let the image be what it's going to be. ~ Luke Combs.
And I ain't gotta see my ex-future mother-in-law anymore. Oh Lord, when it rains it pours. ~ Luke Combs.
Both of my grandfathers were in the service. It's one of those things that you can't be thankful enough for. ~ Luke Combs.
I'm an honest dude, not trying to be anything other than who I am. ~ Luke Combs.
I've played for a lot of tough crowds. ~ Luke Combs.
If I can reach the guy in Alabama that hunts, and he hears that song, and he sees me – like, he's comfortable with me, my image as a person, as an artist – he's willing to sit down and give that song a chance. ~ Luke Combs.
Sometimes people are looking for, 'What's the next Tesla car? What's this really cool, super-specific thing that people are going to want?' But I try to be just like a Ford truck. They sell a lot more Ford trucks than they do Tesla cars. ~ Luke Combs.
Longneck ice-cold beer never broke my heart. ~ Luke Combs.
The coolest Christmas present I've ever received is probably socks. My grandma always gets me socks – every year – and that's something that I've probably never bought for myself. If Christmas wasn't around and my grandma didn't get me socks, I wouldn't own any, probably. ~ Luke Combs.
I really enjoy the shopping and going out and getting stuff for other people. I could really give a damn about getting gifts for myself, but I really enjoy giving gifts. ~ Luke Combs.
Write what you want to write, write what people want to hear, and write about what they're going through, because if you could connect with the people who are listening to your music and coming to your concerts and coming to your meet and greets, then you're doing your job well. ~ Luke Combs.
It's been cool to watch the fans who've kind of always been there for me. That's just a special feeling every night; to go out and know that there are people that are proud, not just to be at the show but proud to be your fan, and they're invested in what you're doing. ~ Luke Combs.
I'm a horrendous golfer, though I do enjoy it. ~ Luke Combs.
I lied when I said, I'm leaving and not coming back. ~ Luke Combs. Song – One Number Away, Album – This One's for You.
---
So these were the 75 top Luke Combs quotes and lyrics on music and life.
If you like these quotes and sayings, then you can also read my other posts on Chief Keef quotes and Steve Harvey quotes.