The relationship between a mother and her son is remarkably unique and special, underpinned by trust and respect.
Mothers provide their sons with unconditional love, care and comfort, while sons reciprocate with immense love for their mothers.
Mother and son quotes capture this profound bond, articulating emotions that might otherwise be challenging to express.
A mother is the only person with whom a son can share all his feelings and thoughts, while she respectfully gives him personal space.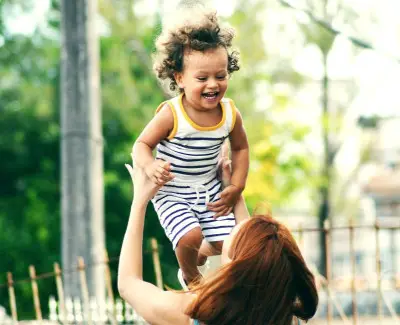 Likewise, a son goes to great lengths to ensure his mother's happiness.
These quotes are a beautiful way of acknowledging this affectionate bond, allowing sons to express their love and respect towards their mothers.
So, explore these heart-warming quotes to celebrate and appreciate the endearing connection between a mother and her son.
---
Top Mother and Son Quotes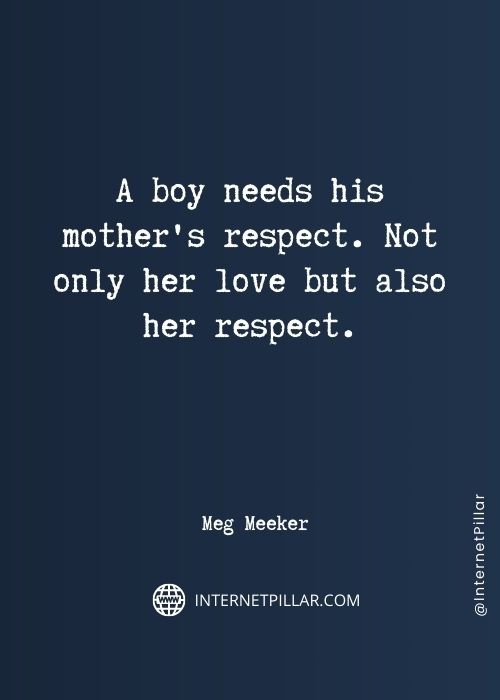 A boy needs his mother's respect. Not only her love but also her respect. ~ Meg Meeker.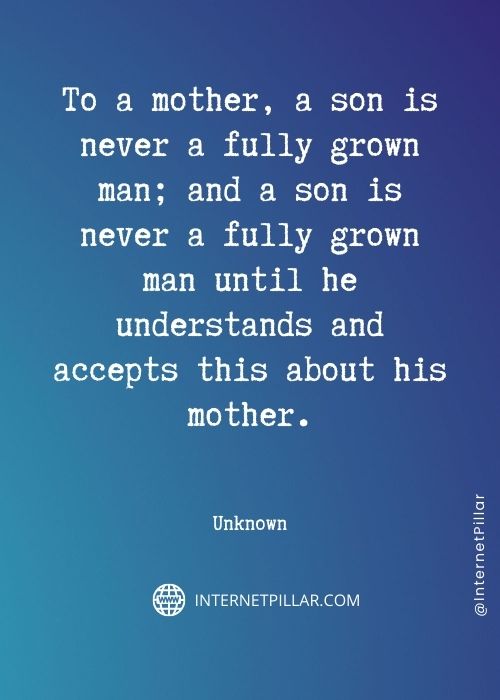 To a mother, a son is never a fully grown man; and a son is never a fully grown man until he understands and accepts this about his mother. ~ Unknown.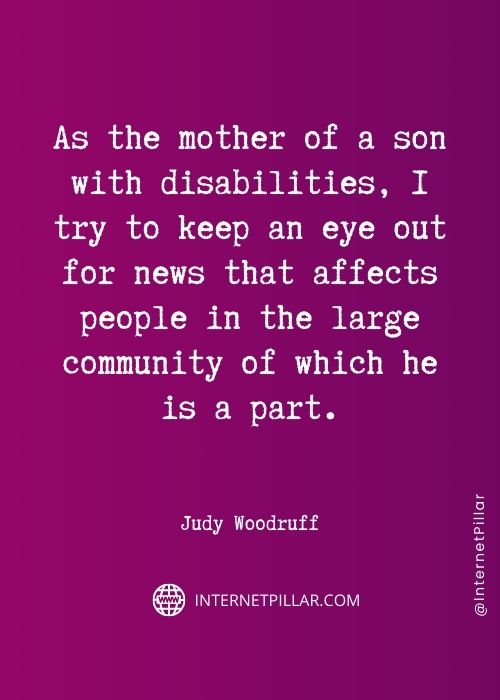 As the mother of a son with disabilities, I try to keep an eye out for news that affects people in the large community of which he is a part. ~ Judy Woodruff.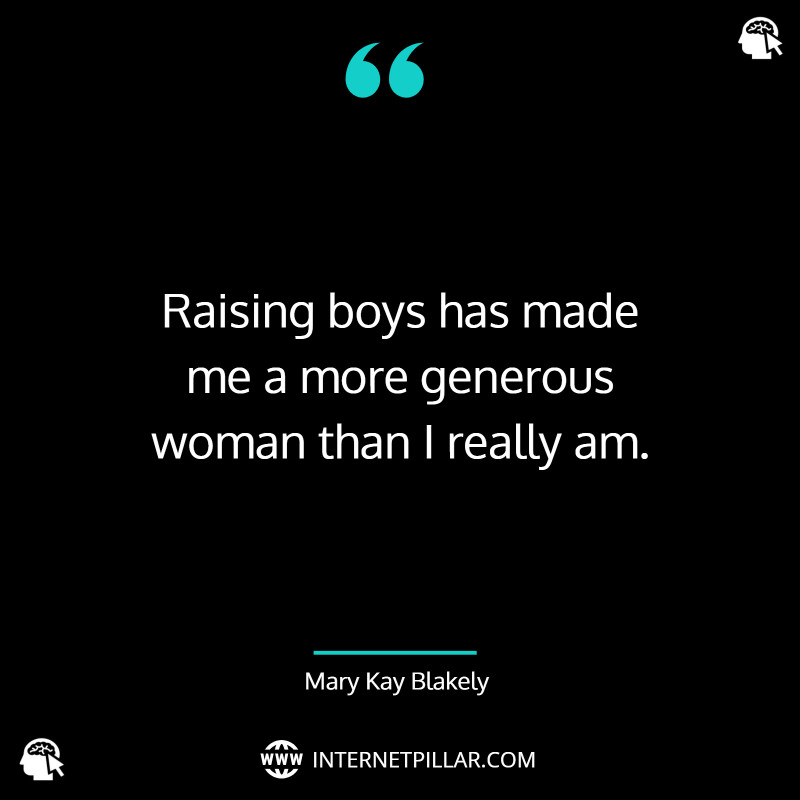 Raising boys has made me a more generous woman than I really am. ~ Mary Kay Blakely.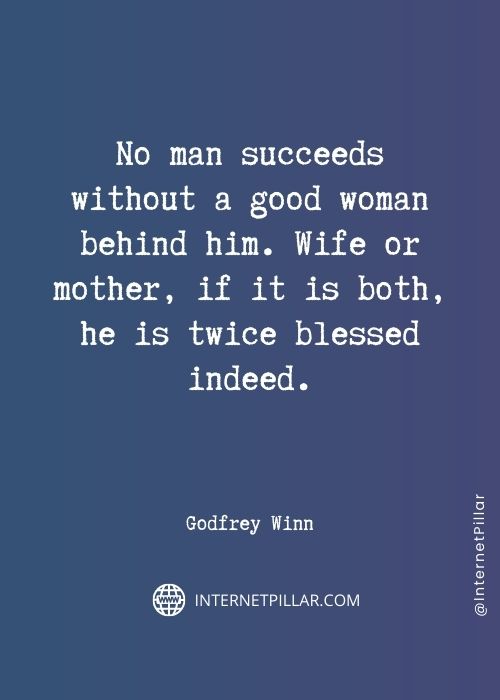 No man succeeds without a good woman behind him. Wife or mother, if it is both, he is twice blessed indeed. ~ Godfrey Winn.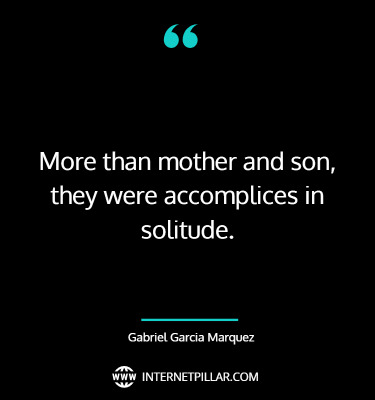 More than mother and son, they were accomplices in solitude. ~ Gabriel Garcia Marquez.
To be a mother of a son is one of the most important things you can do to change the world. Raise them to respect women, raise them to stand up for others, raise them to be kind. ~ Shannon L. Alder.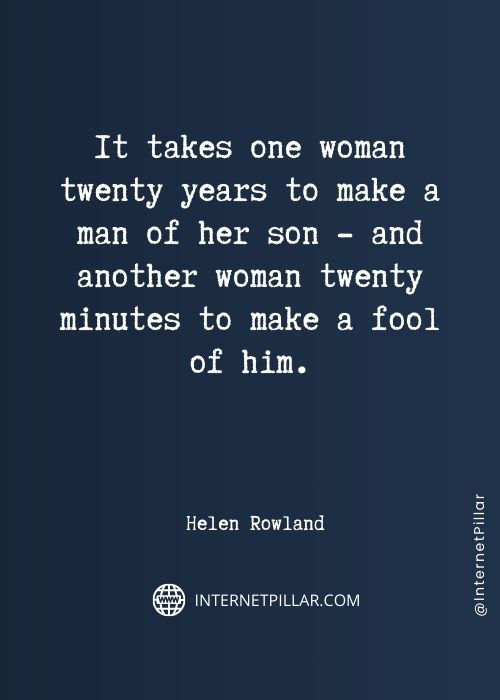 It takes one woman twenty years to make a man of her son – and another woman twenty minutes to make a fool of him. ~ Helen Rowland.
A mother's love is indeed the golden link that binds youth to age; and he is still but a child, however time may have furrowed his cheek, or silvered his brow, who can recall with a softened heart, the fond devotion or the gentle chidings of the best friend that God ever give us. ~ Christian Nestell Bovee.
Sometimes the strength of motherhood is greater than natural laws. ~ Barbara Kingsolver.
A man never sees all that his mother has been to him until it's too late to let her know that he sees it. ~ W. D. Howells.
Mothers unconsciously allow more latitude to sons, and open encouragement, and with daughters they treat them as they would treat themselves. ~ Susie Orbach.
But a mother-son relationship is not a coequal one, is it? He is lonely with only you just as you are lonely with only him. ~ Mary Balogh.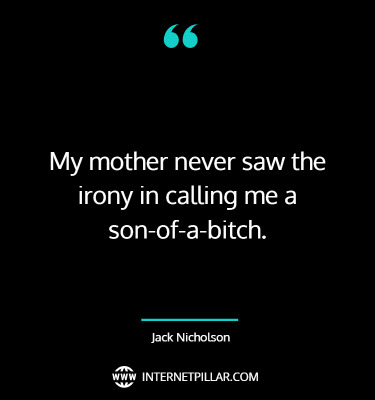 Having a child makes you realize the importance of life – narcissism goes out the window. Heaven on earth is looking at my little boy. The minute he was born, I knew if I never did anything other than being a mom, I'd be fine. ~ Jenny McCarthy.
Yet now in my arms, I was holding a helpless baby boy who would grow into a man. I cannot imagine that soft little face one-day having whiskers. ~ Rhonda Stoppe.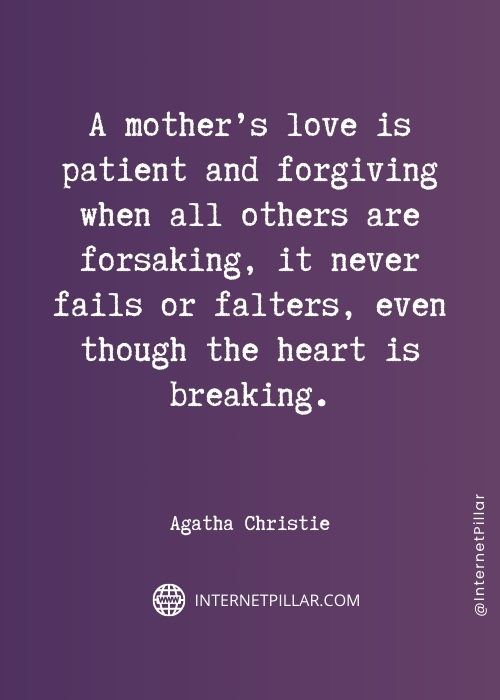 A mother's love is patient and forgiving when all others are forsaking, it never fails or falters, even though the heart is breaking. ~ Agatha Christie.
The moment a child is born, the mother is also born. She never existed before. The woman existed, but the mother, never. A mother is something absolutely new. ~ Rajneesh.
Related: Godmother Quotes on Loving and Guiding Child and Black Motherhood Quotes and Sayings for Black Moms
Best Mother and Son Quotes
When I was a child, my mother said to me, 'If you become a soldier, you'll be a general. If you become a monk you'll end up as the pope.' Instead I became a painter and wound up as Picasso. ~ Pablo Picasso.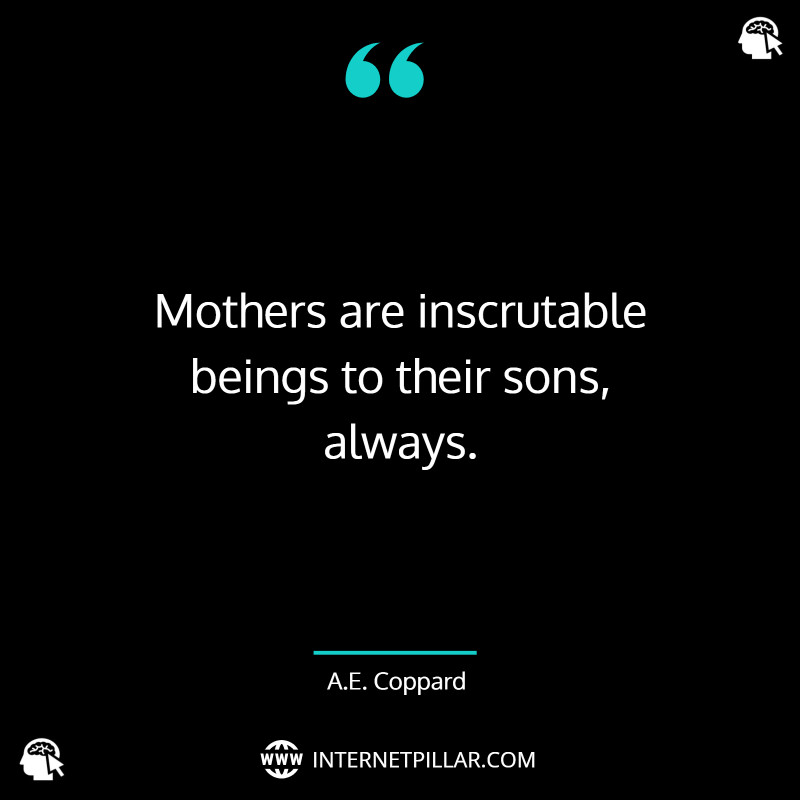 Mothers are inscrutable beings to their sons, always. ~ A.E. Coppard.
Sons worship their mothers, seeing them as flawless, almighty beings who spread love and who are able to do anything. That is why the most important lesson that a mother can teach her son is to respect, love, and understand women. ~ Unknown.
As the son of a feminist mother, I grew up with the idea that work was a sort of salvation for women as it would give them freedom from the domestic grind. Now it seems work is a form of slavery, undertaken out of apparent compulsion rather than choice. ~ Tom Hodgkinson.
Of course, my son has been the center of my life and will always be the center of my love. When he was young, I was the rock in his life. Now that I am old, he is the rock in my life. ~ Hyacinth Mottley.
As mothers, our job, if we believe what both Aristotle and Augustine tell us, is to help our sons seek knowledge and truth, because these are the things that bring true satisfaction of the soul. ~ Meg Meeker.
Mothers yielding Bibles, contemplating smearing the blood of lamb chops over her doorway. Anything to keep her son alive another day. ~ Antonia Perdu.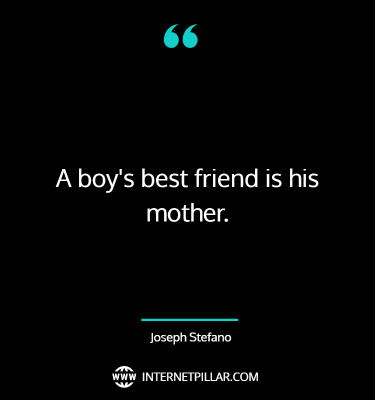 A boy's best friend is his mother. ~ Joseph Stefano.
There will be many times you will feel like you have failed. But in the eyes, heart and mind of your child, you are supermom. ~ Stephanie Precourt.
When a mother holds her baby boy for the first time, she also instinctively knows something else: If she does her job right and raises her son with self-esteem, support, and wisdom, he will become the man she knows he was meant to be. ~ Meg Meeker.
There has never been, nor will there ever be, anything quite so special as the love between the mother and a son. ~ Unknown.
Moms yearn to learn anything that better helps them with their sons. After all, they love their boys, but many find them more difficult to parent than their girls, especially from age four and up. ~ Emerson Eggerichs.
Famous Mother and Son Quotes
When you look into your mother's eyes, you know that is the purest love you can find on this Earth. ~ Mitch Albom.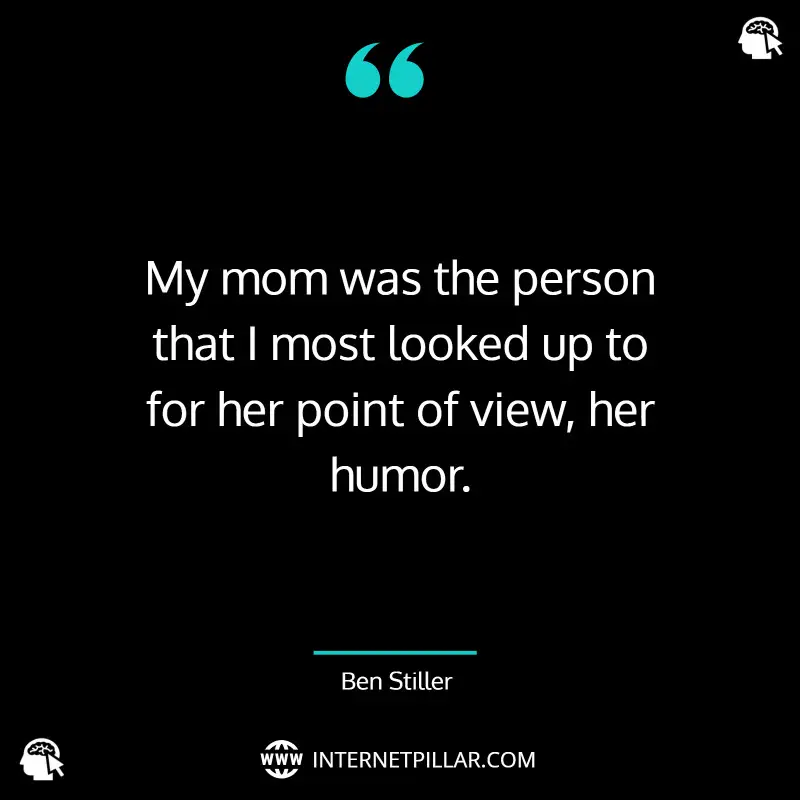 My mom was the person that I most looked up to for her point of view, her humor. ~ Ben Stiller.
I remember my mother's prayers and they have always followed me. They have clung to me all my life. ~ Abraham Lincoln.
Every mother hopes that her daughter will marry a better man than she did, and is convinced that her son will never find a wife as good as his father did. ~ Martin Andersen Nexo.
After my mother died, I found a little book of hers which recorded everything I had ever done, how I had done it, and how proud she was of her son Conrad. ~ Conrad Viedt.
As she was his sacrosanct mother; and he was; and would immortally remain; forever as her immortally impeccable child. ~ Nikhil Parekh.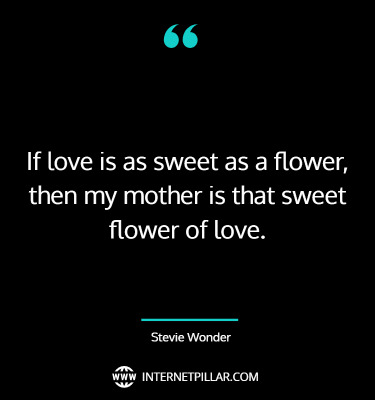 If love is as sweet as a flower, then my mother is that sweet flower of love. ~ Stevie Wonder.
My mother is my root, my foundation. She planted the seed that I base my life on, and that is the belief that the ability to achieve starts in your mind. ~ Michael Jordan.
A mother's love doesn't make her son more dependent and timid; it actually makes him stronger and more independent. ~ Cheri Fuller.
There is only one pretty child in the world, and every mother has it. ~ Chinese Proverb.
I often scratch my head in bewilderment over the lack of understanding of mothers about their precious baby boys. They love their sons more than they love their very lives, but they readily confess ignorance and confusion. ~ Emerson Eggerichs.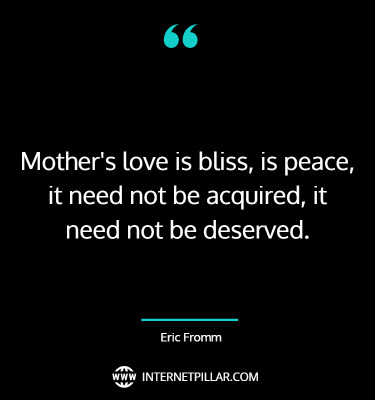 Mother's love is bliss, is peace, it need not be acquired, it need not be deserved. ~ Eric Fromm
Let France have good mothers, and she will have good sons. ~ Napoleon Bonaparte.
How can you, a young man understand his mother, how can you understand her thoughts, her needs and her soul? ~ Therese Lund.
Popular Mother and Son Quotes
My mother never gave up on me. I messed up in school so much they were sending me home, but my mother sent me right back. ~ Denzel Washington.
That strong mother doesn't tell her cub, Son, stay weak so the wolves can get you. She says, Toughen up, this is reality we are living in. ~ Lauryn Hill.
When you are a mother, you are never really alone in your thoughts. A mother always has to think twice, once for herself and once for her child. ~ Sophia Loren.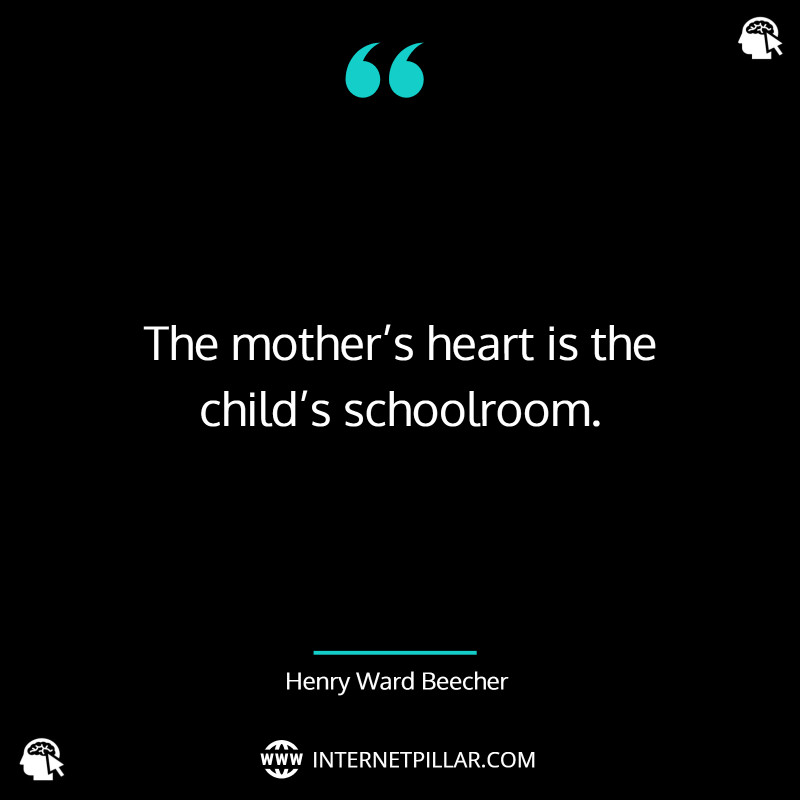 The mother's heart is the child's schoolroom. ~ Henry Ward Beecher.
If a man has been his mother's undisputed darling he retains throughout life the triumphant feeling, the confidence in success, which not seldom brings actual success along with it. ~ Sigmund Freud.
There is an endearing tenderness in the love of a mother to a son that transcends all other affections of the heart. ~ Washington Irving.
Sons are the anchors of a mother's life. ~ Sophocles.
All women become like their mothers. That is their tragedy. No man does. That's his. ~ Oscar Wilde.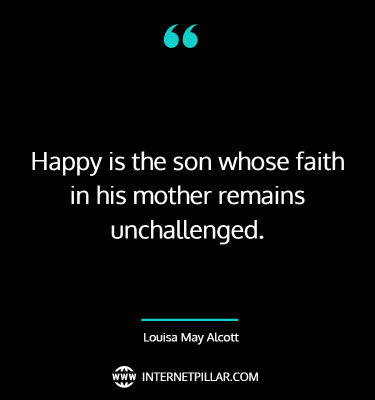 Happy is the son whose faith in his mother remains unchallenged. ~ Louisa May Alcott.
A man never sees all that his mother has been to him until it's too late to let her know that he sees it. ~ William Dean Howells.
Lovely Mother and Son Quotes
My compliments go to you proactive mothers who are raising their sons with your eyes on their future. ~ John Lee.
What greater aspiration and challenge are there for a mother than the hope of raising a great son or daughter? ~ Rose Kennedy.
Your children are not your children. They are the sons and daughters of Life's longing for itself. ~ Kahlil Gibran.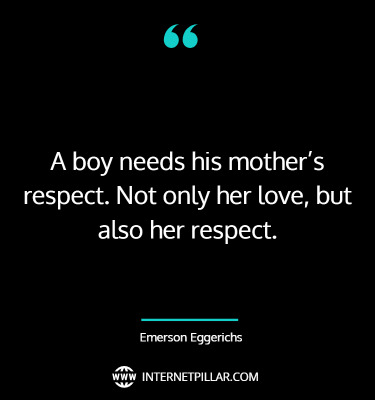 A boy needs his mother's respect. Not only her love, but also her respect. ~ Emerson Eggerichs.
My son can be as open as he wants with me, but he cannot forget I am his mother and that all will not be forgiven. ~ Sonali Bendre.
Men are what their mothers made them. ~ Ralph Waldo Emerson.
A mother's love for her child is like nothing else in the world. It knows no law, no pity, it dares all things, and crushes down remorselessly all that stands in its path. ~ Helen Rice.
Mother is her son's first god; she must teach him the most important lesson of all – how to love. ~ T. F. Hodge.
Most young men are such bores. They haven't lived long enough to learn that they are not the wonders to the world they are to their mothers. ~ L.M.Montgomery.
The father is always a Republican toward his son, and his mother's always a Democrat. ~ Robert Frost.
Heaven on Earth is looking at my little boy. ~ Jenny McCarthy.
---
So these were the 65 quotes about Mother and Son relationship.
If these quotes and sayings connect with you, check out our other posts on trusting god quotes and jealousy quotes.