Are you looking for motivational quotes for life.
Here is a curated collection of quotes that will help you to traverse the journey of life and will provide you with inspiration and motivation whenever you are feeling low.
These quotes can be used as stepping stones for success in life.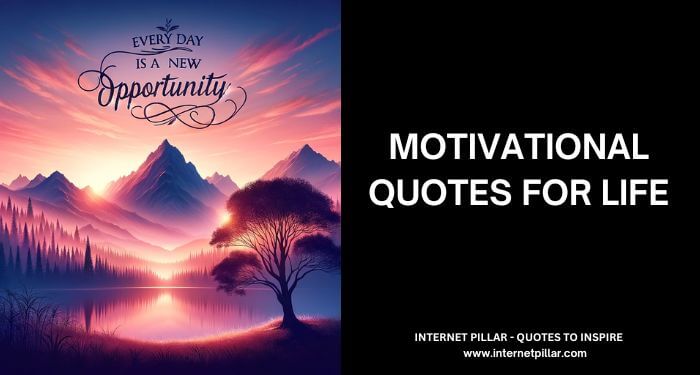 So let's get started.
---
Motivational Quotes for Life
Your only limit is you. ~ Unknown.
Dream it. Believe it. Build it. ~ Unknown.
Dreams don't work unless you do. ~ Unknown.
Fall seven times, stand up eight. ~ Unknown.
Grow through what you go through. ~ Unknown.
Be the energy you want to attract. ~ Unknown.
Your life is as good as your mindset. ~ Unknown.
You've got to be in it to win it. ~ Tony Robbins
Don't wait for opportunity. Create it. ~ Unknown.
The best time for new beginnings is now. ~ Unknown.
Also read: Team Motivational Quotes to Inspire Collaboration
Powerful Motivational Quotes for Life
Success is a journey, not a destination. ~ Unknown.
The best revenge is massive success. ~ Frank Sinatra
Don't count the days, make the days count. ~ Unknown.
Happiness is not by chance, but by choice. ~ Unknown.
Great things never come from comfort zones. ~ Unknown.
Be the change you wish to see in the world. ~ Unknown.
Be yourself; everyone else is already taken. ~ Oscar Wilde
Life doesn't get easier. You just get stronger. ~ Unknown.
See also: Daily Motivational Quotes for Success
Motivational Quotes for Life Success
You miss 100% of the shots you don't take. ~ Wayne Gretzky
You didn't come this far to only come this far. ~ Unknown.
The mind is everything. What you think you become. ~ Buddha
Believe you can and you're halfway there. ~ Theodore Roosevelt
What we achieve inwardly will change outer reality. ~ Plutarch
The best way to predict the future is to invent it. ~ Alan Kay
A negative mind will never give you a positive life. ~ Unknown.
Be somebody who makes everybody feel like a somebody. ~ Unknown.
The only way to do great work is to love what you do. ~ Steve Jobs
Act as if what you do makes a difference. It does. ~ William James.
Must Read: Motivational Quotes for Work
Motivational Quotes for Life Challenges
Don't watch the clock; do what it does. Keep going. ~ Sam Levenson
Life is either a daring adventure or nothing at all. ~ Helen Keller
Do more things that make you forget to check your phone. ~ Unknown.
Life comes from the earth and life returns to the earth. ~ Zhuangzi.
The only thing we have to fear is fear itself. ~ Franklin D. Roosevelt
Start where you are. Use what you have. Do what you can. ~ Arthur Ashe
Life is what happens when you're busy making other plans. ~ John Lennon
Do something today that your future self will thank you for. ~ Unknown.
You have to believe in yourself when no one else does. ~ Serena Williams
Whether you think you can or you think you can't, you're right. ~ Henry Ford.
You Should Read: Motivational Quotes to Start Your Day
Top Motivational Quotes for Life
It does not matter how slowly you go as long as you do not stop. ~ Confucius
If you want to lift yourself up, lift up someone else. ~ Booker T. Washington
It does not matter how slowly you go, as long as you do not stop. ~ Confucius
Your time is limited, don't waste it living someone else's life. ~ Steve Jobs
You are never too old to set another goal or to dream a new dream. ~ C.S. Lewis
Life is not about finding yourself. Life is about creating yourself. ~ Unknown.
Every day may not be good, but there is something good in every day. ~ Unknown.
Life is 10% what happens to us and 90% how we react to it. ~ Charles R. Swindoll
I have not failed. I've just found 10,000 ways that won't work. ~ Thomas A. Edison.
You Might Like: Monday Motivational Quotes
Best Motivational Quotes for Life
To live a creative life, we must lose our fear of being wrong. ~ Joseph Chilton Pearce
The biggest adventure you can take is to live the life of your dreams. ~ Oprah Winfrey
I am not a product of my circumstances. I am a product of my decisions. ~ Stephen Covey
Life is short. Live it. Fear is natural. Face it. Memory is powerful. Use it. ~ Unknown.
The only joy in the world is to begin. ~ Unknown. (Sometimes attributed to Cesare Pavese)
The harder you work for something, the greater you'll feel when you achieve it. ~ Unknown.
We are here to add what we can to life, not to get what we can from life. ~ William Osler.
Spread love everywhere you go. Let no one ever come without leaving happier. ~ Mother Teresa
Only those who will risk going too far can possibly find out how far one can go. ~ T.S. Eliot
The most important thing is to enjoy your life – to be happy – it's all that matters. ~ Steve Jobs
The only person you are destined to become is the person you decide to be. ~ Ralph Waldo Emerson
I can accept failure, everyone fails at something. But I can't accept not trying. ~ Michael Jordan
Motivational Quotes about Life
Go confidently in the direction of your dreams! Live the life you've imagined. ~ Henry David Thoreau
Don't be pushed around by the fears in your mind. Be led by the dreams in your heart. ~ Roy T. Bennett.
You learn more from failure than from success. Don't let it stop you. Failure builds character. ~ Unknown
Success is not final, failure is not fatal: It is the courage to continue that counts. ~ Winston Churchill
You can never cross the ocean until you have the courage to lose sight of the shore. ~ Christopher Columbus
What you get by achieving your goals is not as important as what you become by achieving your goals. ~ Zig Ziglar
The pessimist sees difficulty in every opportunity. The optimist sees opportunity in every difficulty. ~ Winston Churchill
If you are working on something that you really care about, you don't have to be pushed. The vision pulls you. ~ Steve Jobs
Success is not the key to happiness. Happiness is the key to success. If you love what you are doing, you will be successful. ~ Albert Schweitzer.
---
I hope these quotes will give you motivation to get ahead in life and be successful.