Are you looking for daily motivational quotes for success, then look no further.
Success isn't just about money or fame. To me, it's all about making your dreams a reality through hard work and by overcoming challenges that come your way.
I have curated a list of the most powerful quotes that will motivate you to go after success in every aspect of your life.
Let's get started on the journey to success.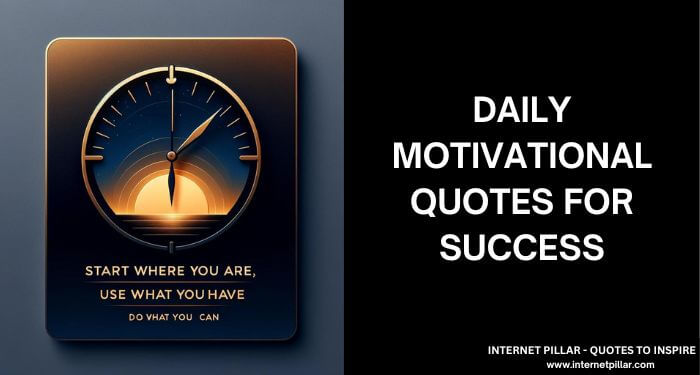 ---
Top 10 Daily Motivational Quotes for Success
I never dreamed about success. I worked for it. ~ Estée Lauder.
Strive not to be a success, but rather to be of value. ~ Albert Einstein.
It is better to fail in originality than to succeed in imitation. ~ Herman Melville.
Try not to become a man of success. Rather become a man of value. ~ Albert Einstein.
The only place where success comes before work is in the dictionary. ~ Vince Lombardi.
Success is getting what you want, happiness is wanting what you get. ~ W. P. Kinsella.
In most things success depends on knowing how long it takes to succeed. ~ Montesquieu.
Don't spend time beating on a wall, hoping to transform it into a door. ~ Coco Chanel.
Also read: Inspirational Success Quotes for Life and Business
Daily Motivational Quotes on Success
The worst part of success is trying to find someone who is happy for you. ~ Bette Midler.
I don't believe in failure. It's not failure if you enjoyed the process. ~ Oprah Winfrey.
It is hard to fail, but it is worse never to have tried to succeed. ~ Theodore Roosevelt.
Success is a lousy teacher. It seduces smart people into thinking they can't lose. ~ Bill Gates.
Do the best you can until you know better. Then when you know better, do better. ~ Maya Angelou.
If you want to live a happy life, tie it to a goal, not to people or things. ~ Albert Einstein.
Success is stumbling from failure to failure with no loss of enthusiasm. ~ Winston S. Churchill.
Powerful Daily Motivational Quotes for Success
When we strive to become better than we are, everything around us becomes better too. ~ Paulo Coelho.
Experience is a hard teacher because she gives the test first, the lesson afterward. ~ Vernon Sanders Law.
If people knew how hard I worked to get my mastery, it wouldn't seem so wonderful after all. ~ Michelangelo.
Success is not final; failure is not fatal: It is the courage to continue that counts. ~ Winston S. Churchill.
Success depends upon previous preparation, and without such preparation, there is sure to be failure. ~ Confucius.
Best Daily Motivational Quotes for Success
There are no secrets to success. It is the result of preparation, hard work, and learning from failure. ~ Colin Powell.
The only thing standing between you and outrageous success is continuous progress you need discipline. ~ Dan Waldschmidt.
Develop success from failures. Discouragement and failure are two of the surest stepping stones to success. ~ Dale Carnegie.
Without continual growth and progress, such words as improvement, achievement, and success have no meaning. ~ Benjamin Franklin.
Our greatest weakness lies in giving up. The most certain way to succeed is always to try just one more time. – Thomas Alva Edison.
If A is a success in life, then A equals x plus y plus z. Work is x; y is play; and z is keeping your mouth shut ~ Albert Einstein.
Life Changing Daily Motivational Quotes for Success
Talent is cheaper than table salt. What separates the talented individual from the successful one is a lot of hard work. ~ Stephen King.
It is our attitude at the beginning of a difficult task which, more than anything else, will affect its successful outcome. ~ William James.
Hard work spotlights the character of people: some turn up their sleeves, some turn up their noses, and some don't turn up at all. ~ Sam Ewing.
There are three ways to ultimate success: The first way is to be kind. The second way is to be kind. The third way is to be kind. ~ Mister Rogers.
Success is no accident. It is hard work, perseverance, learning, studying, sacrifice and most of all, love of what you are doing or learning to do. ~ Pele.
Success is peace of mind, which is a direct result of self-satisfaction in knowing you made the effort to become the best of which you are capable. ~ John Wooden.
The fight is won or lost far away from witnesses ~ behind the lines, in the gym, and out there on the road, long before I dance under those lights. ~ Muhammad Ali.
I do not know anyone who has got to the top without hard work. That is the recipe. It will not always get you to the top, but should get you pretty near. ~ Margaret Thatcher.
There are two types of people who will tell you that you cannot make a difference in this world: those who are afraid to try and those who are afraid you will succeed. ~ Ray Goforth.
Hard work is a prison sentence only if it does not have meaning. Once it does, it becomes the kind of thing that makes you grab your wife around the waist and dance a jig. ~ Malcolm Gladwell.
---
I hope this collection of quotes about daily motivation will help you achieve success in life.