Norman Lawrence Crosby was a Boston-born American comedian, recognized as "The Master of Malaprop."
He rose to fame in the 1950s as a stand-up comedian, using malapropisms in his acts.
Crosby made his debut on "The Tonight Show Starring Johnny Carson" in 1964 and later co-starred on shows such as "The Beautiful Phyllis Diller Show" and "The Comedy Shop."
He participated in multiple Dean Martin Celebrity Roasts and was a pitchman for Anheuser-Busch Natural Light beer in the late 1970s.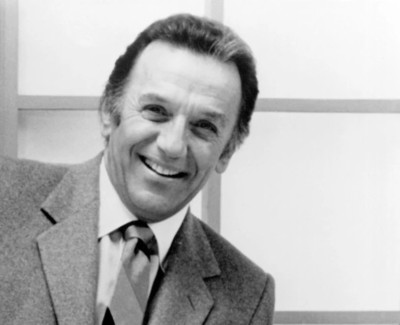 Crosby co-hosted the Jerry Lewis MDA Labor Day Telethon from 1983-2010 and acted in films with Adam Sandler.
He holds a star on the Hollywood Walk of Fame. Personally, Crosby served during World War II, suffering hearing damage.
He married Joan Crane Foley, fathered two children and was actively involved in Freemasonry. He passed away at 93 from heart failure.
I have curated the best quotes from Norm Crosby.
---
Best Norm Crosby Quotes
It's extremely hard work keeping fresh. ~ Norm Crosby.
A handicap is only if you let it be a handicap. ~ Norm Crosby.
If your eyes hurt after you drink coffee, you have to take the spoon out of the cup. ~ Norm Crosby.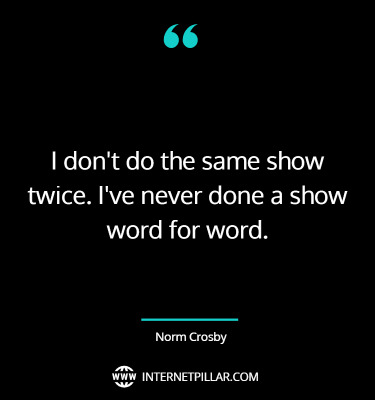 I don't do the same show twice. I've never done a show word for word. ~ Norm Crosby.
I think it is – the biggest plus the performer can have is to be a little unique. ~ Norm Crosby.
When you go into court you are putting your fate into the hands of twelve people who weren't smart enough to get out of jury duty. ~ Norm Crosby.
I think it's the most wonderful thing in the world to have an identity, something the audience can remember you for. ~ Norm Crosby.
Inspiring Norm Crosby Quotes
I was the first spokesperson for the Better Hearing Institute in Washington. And that's the message we tried to send out – there is hearing help out there, and the technology and options are amazing. ~ Norm Crosby.
Gene Autry, Roy Rogers, Dale Evans – these people are giants, legends; their names are household words. Of course, so's Jell-O. ~ Norm Crosby.
Why do Canadians like to do it doggie style? So they can both keep watching the hockey game. ~ Norm Crosby.
I'm a great audience myself. I tried to keep in the background while others were on, but sometimes I'd just get hysterical. ~ Norm Crosby.
'USA Today' once did a big article called, 'Who said it? Was it Norm or George Bush?' They had quotes of mine and quotes of his, and they went to some congressmen and senators and said, 'Who said it?' It was hysterical. ~ Norm Crosby.
Top Norm Crosby Quotes
A young comic, if he's any good, can easily get on 'Carson' or 'Griffin' or 'Dinah Shore,' because they want to say the same thing, that they discovered the new talent. ~ Norm Crosby.
My school was so tough the school newspaper had an obituary section. ~ Norm Crosby.
I would watch 'The Ed Sullivan Show' and borrow a few lines here and there from guests like Red Buttons and Buddy Hackett to create a routine. Then I started getting invited to do political functions like the governor's birthday ball or mayor's dinner. ~ Norm Crosby.
I've been on the 'Tonight Show' a million times, and I'd be embarrassed to do the same thing more than once. ~ Norm Crosby.
Every city you go to has television and radio talk shows that are dying to give young comics a showcase. They all want to be able to say that so-and-so started here, got his first break on this show. ~ Norm Crosby.
I met Elvis first in Las Vegas. I think I was appearing with Tom Jones and he came backstage to say hello to Tom or we went to his dressing room to say hello. ~ Norm Crosby.
All's fair if you have a really good attorney. ~ Norm Crosby.
Old is when people compliment your alligator shoes, and you're not wearing any. ~ Norm Crosby.
That, to me, is what comedy is all about: keeping fresh and keeping current and changing with the times. ~ Norm Crosby.
Hearing aids didn't cause any problem with my social life, my career, no problem at all, and I've been wearing them for a long time. As a matter of fact, once I became an entertainer and started working on television, I was probably the first performer to talk about hearing problems on the air. ~ Norm Crosby.
Popular Norm Crosby Quotes
Although I had a good job as an advertising manager for a shoe company in Boston, I really liked to fool around with comedy. ~ Norm Crosby.
I don't ever remember overcoming adversities. ~ Norm Crosby.
It was a melting pot in Las Vegas. You got every age level, every ethnic background, every social aura – it was an absolute Americana audience… people who were there to celebrate occasions; people who were there to gamble; people who were there because they were awed by the whole Vegas operation. Tourists. ~ Norm Crosby.
My hearing loss was essentially due to noise exposure during my military service. I was on an anti-submarine sub-chaser in WWII, and we had lots of depth charges going off all around us. There were plenty of explosions, and they were loud! ~ Norm Crosby.
When people have hearing loss, I think they often take that burden and pass it on to their friends and family, and we make them scream and yell at us so we can hear! But I think it's better to take responsibility and wear hearing aids! ~ Norm Crosby.
---
So these were the top 27 Norm Crosby quotes for you.
If you like these quotes and sayings, then you can also read my other posts on Passive Income quotes and Damian Lillard quotes.