The tenth month of every year is October and it occurs between September and November.
In October, the leaves begin to change color and fall from the trees.
In some parts of the world, Halloween is celebrated in the month of October.
---
Best October Quotes
Hello, October! Let the colors fall begin. ~ Unknown.
Every leaf speaks bliss to me, fluttering from the autumn tree. ~ Emily Brontë.
Goodbye September, and a big hello to October. ~ Unknown.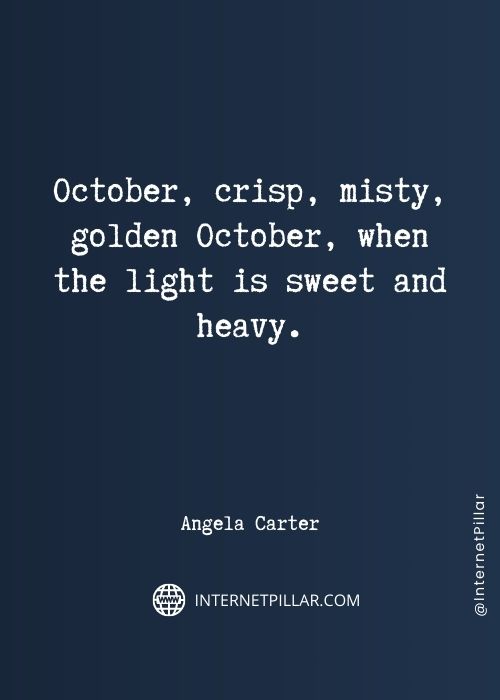 October, crisp, misty, golden October, when the light is sweet and heavy. ~ Angela Carter.
I keep falling in love with October, Over and over again! ~ Charmaine J. Forde.
First of all, it was October, a rare month for boys. ~ Ray Bradbury.
The crickets still sing in October. ~ Kevin Dalton.
If the leaves are changing, I feel poetry in the air. ~ Laura Jaworski.
October, the extravagant sister. ~ Oliver Wendell Holmes.
Hello October! My favorite spooky month. ~ Unknown.
Autumn… the year's last, loveliest smile. ~ William Cullen Bryant.
Hello October, please be kind and less happening. I am not in the mood to go through a lot of excitement this month. ~ Unknown.
Hello, October! Now, the days are going to be cooler and the days shorter. ~ Unknown.
He loved October. Had always loved it. There was something sad and beautiful about it—the ending and beginning of things. ~ Jacqueline Woodson.
October, tuck tiny candy bars in my pockets and carve my smile into a thousand pumpkins…. Merry October! ~ Rainbow Rowell.
October is a symphony of permanence and change. ~ Bonaro W. Overstreet.
I wish that every day was Saturday and every month was October. ~ Charmaine J. Forde.
My favorite color is October. ~ Unknown.
Famous October Quotes
I'm so glad I live in a world where there are Octobers. ~ L.M. Montgomery.
October's poplars are flaming torches lighting the way to winter. ~ Nova Bair.
It must be October, the trees are falling away and showing their true colors. ~ Charmaine J Forde.
You ought to know that October is the first Spring month. ~ Karel Capek.
Twilight, even remembered twilight, is better than no light at all. ~ China Miéville.
October turned my maple's leaves to gold; The most are gone now; here and there one lingers; Soon these will slip from out the twig's weak hold, Like coins between a dying miser's fingers. ~ Thomas Bailey Aldrich.
October's foliage yellows with his cold. ~ John Ruskin.
The wind grew cold. The leaves turned red. The bark turned red. The soil turned red. The stars turned red. Something was wrong with October. ~ T.R. Darling.
Happy October Quotes
O suns and skies and clouds of June, And flowers of June together, Ye cannot rival for one hour October's bright blue weather. ~ Helen Hunt Jackson.
October had the tremendous possibility. The summer's oppressive heat was a distant memory, and the golden leaves promised the world full of beautiful adventures. They made me believe in miracles. ~ Sarah Guillory.
Sweet October, fill with praise, Rich and glowing as thy days, Every poet's heartfelt lays. ~ Caroline May.
October, here's to you. Here's to the heady aroma of the frost-kissed apples, the winey smell of ripened grapes, the wild-as-the-wind smell of hickory nuts and the nostalgic whiff of that first wood smoke. ~ Ken Weber.
October Inspirational Quotes
And close at hand, the basket stood With nuts from brown October's wood. ~ John Greenleaf Whittier.
In October, a maple tree before your window lights up your room like a great lamp. Even on cloudy days, its presence helps to dispel the gloom. ~ John Burroughs.
It takes a strong man to be with a woman full of fire and stars and all of October. ~ Melody Lee.
October is a hallelujah! reverberating in my body year-round…. ~ John Nichols.
There is no season when such pleasant and sunny spots may be lighted on, and produce so pleasant an effect on the feelings, as now in October. ~ Nathaniel Hawthorne.
October had tremendous possibility. The summer's oppressive heat was a distant memory, and the golden leaves promised a world full of beautiful adventures. They made me believe in miracles. ~ Sarah Guillory.
Popular October Quotes
Listen! The wind is rising, and the air is wild with leaves. We have had our summer evenings, now for October eves! ~ Humbert Wolfe.
Hello October, I've missed you. ~ Unknown.
Bittersweet October. The mellow, messy, leaf-kicking, perfect pause between the opposing miseries of summer and winter. ~ Carol Bishop Hipps.
October is the month for painted leaves…. As fruits and leaves and the day itself acquire a bright tint just before they fall, so the year near its setting. October is its sunset sky; November the later twilight. ~ Henry David Thoreau.
The end of the summer is not the end of the world. Here's to October… ~ A.A. Milne.
October was always the least dependable of months … full of ghosts and shadows. ~ Joy Fielding.
There is October in every November and there is November in every December! All seasons melted in each other's life! ~ Mehmet Murat ildan.
October is a fine and dangerous season in America . . . a wonderful time to begin anything at all. ~ Thomas Merton.
Hello October Quotes
October is crisp days and cool nights, a time to curl up around the dancing flames and sink into a good book. ~ John Sinor.
In the entire circle of the year there are no days so delightful as those of a fine October. ~ Alexander Smith.
First of all, it was October, a rare month for boys. ~ Ray Bradbury.
October extinguished itself in a rush of howling winds and driving rain and November arrived, cold as frozen iron, with hard frosts every morning and icy drafts that bit at exposed hands and faces. ~ J.K. Rowling.
Ah, September! You are the doorway to the season that awakens my soul… but I must confess that I love you only because you are a prelude to my beloved October. ~ Peggy Toney Horton.
The trees are in their autumn beauty, The woodland paths are dry, Under the October twilight the water Mirrors a still sky. ~ William Butler Yeats.
The clear light that belongs to October was making the landscape radiant. ~ Florence Bone.
October is the fallen leaf, but it is also a wider horizon more clearly seen. It is the distant hills once more in sight, and the enduring constellations above them once again. ~ Hal Borland.
O hushed October morning mild, Begin the hours of this day slow. Make the day seem to us less brief. ~ Robert Frost.
You don't waste October sunshine. Soon the old autumn sun would bed down in cloud blankets, and there would be weeks of gray rain before it finally decided to snow. ~ Katherine Arden.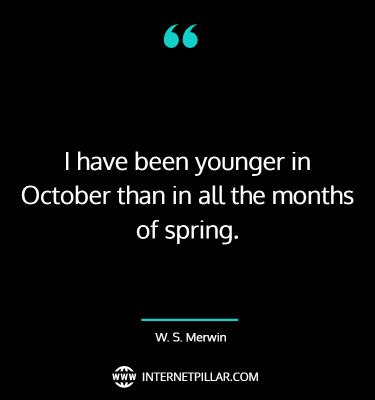 I have been younger in October than in all the months of spring. ~ W. S. Merwin.
What of October, that ambiguous month, the month of tension, the unendurable month? ~ Doris Lessing.
October is the opal month of the year. It is the month of glory, of ripeness. It is the picture-month. ~ Henry Ward Beecher.
October is not only a beautiful month but marks the precious yet fleeting overlap of hockey, baseball, basketball, and football. ~ Jason Love.
---
So these were the 60 quotes about October month.
If these quotes and sayings connect with you, check out our other posts on follow your dreams quotes and blissful quotes.