Pauli Murray, born Anne Pauline Murray in 1910, was a trailblazing pioneer in the fight for social justice.
Orphaned at an early age and challenged by racism and sexism, Murray fought tirelessly for equality, becoming a renowned poet, writer, activist, legal theorist and Episcopal priest.
Despite facing formidable barriers, Murray was a stellar student who worked multiple jobs to finance her education.
Her refusal to accept racial segregation saw her taking bold steps like refusing to apply to a segregated college and making waves with her legal insights at Howard University, which would later influence the landmark Brown vs. Board of Education case.
Beyond academia, Murray co-founded the National Organization for Women, championed the rights of women and people of color within various movements and eventually broke religious barriers by becoming the first African American woman Episcopal priest.
Related: Topher Kearby Quotes from Bestselling Writer and Artist and Ben Bradlee Quotes from the Famous Writer
Murray's relentless pursuit of justice continues to inspire us decades after her passing.
Below you will find the most popular Pauli Murray Quotes.
---
Best Pauli Murray Quotes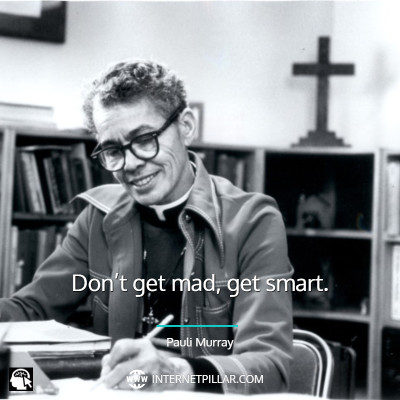 Don't get mad, get smart. ~ Pauli Murray.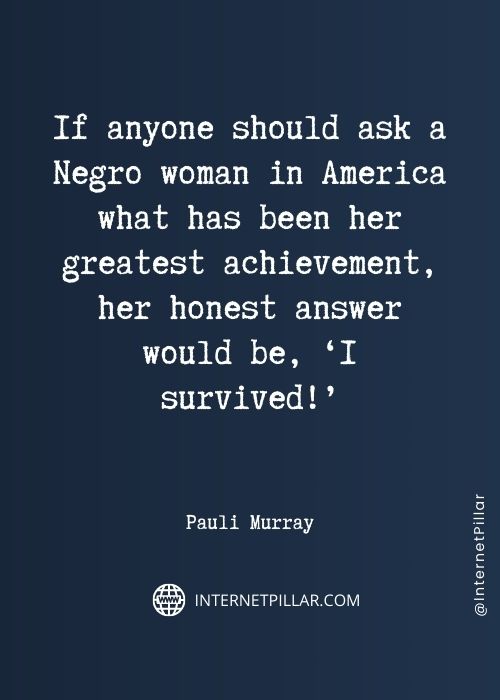 If anyone should ask a Negro woman in America what has been her greatest achievement, her honest answer would be, 'I survived!' ~ Pauli Murray.
One person plus one typewriter constitutes a movement. ~ Pauli Murray.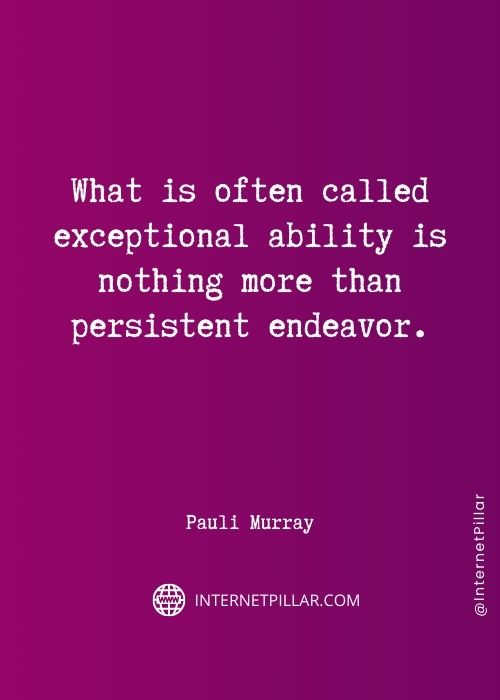 What is often called exceptional ability is nothing more than persistent endeavor. ~ Pauli Murray.
In January 1973, Murray lost Barlow to cancer. By September, she had resigned from Brandeis University and entered the General Theological Seminary. The year after she earned her Master of Divinity degree, she became the first African-American woman to be ordained an Episcopal priest. ~ Pauli Murray.
Popular Pauli Murray Quotes
The lesson of history that all human rights are indivisible and that the failure to adhere to this principle jeopardizes the rights of all is particularly applicable here. A built-in hazard of an aggressive ethnocentric movement which disregards the interests of other disadvantaged groups is that it will become parochial and ultimately self-defeating in the face of hostile reactions, dwindling allies, and mounting frustrations…Only a broad movement for human rights can prevent the Black Revolution from becoming isolated and can insure ultimate success. ~ Pauli Murray.
When my brothers try to draw a circle to exclude me, I shall draw a larger circle to include them. Where they speak out for the privileges of a puny group, I shall shout for the rights of all mankind. ~ Pauli Murray.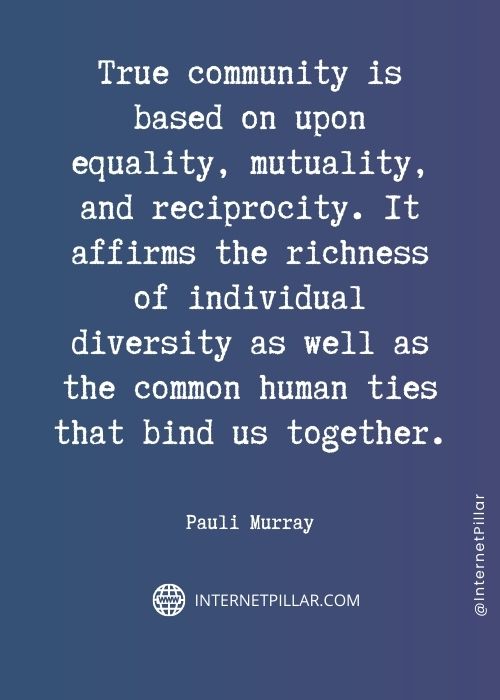 True community is based on upon equality, mutuality, and reciprocity. It affirms the richness of individual diversity as well as the common human ties that bind us together. ~ Pauli Murray.
I intend to destroy segregation by positive and embracing methods(…) When my brothers try to draw a circle to exclude me, I shall draw a larger circle to include them. Where they speak out for the privileges of a puny group, I shall shout for the rights of all mankind. ~ Pauli Murray.
Top Pauli Murray Quotes
And while I could not always suppress the violent thoughts that raged inside me, I would nevertheless dedicate my life to seeking alternatives to physical violence, and would wrestle continually with the problem of transforming psychic violence into creative energy. ~ Pauli Murray.
Hope is a song in a weary throat. ~ Pauli Murray.
According to Aunt Pauline, my godmother and my mother's oldest sister, who later adopted me, I entered the world during a stormy period in my parents' lives. Before I was conceived, my mother and father had had one of their brief but periodic separations. My mother had fled to her parents' home in Durham, North Carolina, where her family urged her to seek a divorce. She had returned to Baltimore with that intention, or so her family thought. Instead, there was a passionate reunion between my parents, and I, not a divorce, was the result. ~ Pauli Murray.
In not a single one of these little campaigns was I victorious. In other words, in each case, I personally failed, but I have lived to see the thesis upon which I was operating vindicated. And what I very often say is that I've lived to see my lost causes found. ~ Pauli Murray.
---
Here is a trailer of My Name is Pauli Murray for you to watch.
---
So these were 13 top Pauli Murray quotes and sayings.
If you like these quotes and sayings, then you can also read my other posts on Adyashanti quotes and John Donne quotes.