Books are great and shape our lives.
Reading books opens a new vista to the world for us.
Here is a top collection of quotes about books reading to make you fall in love with books.
---
Inspiring Quotes about Books Reading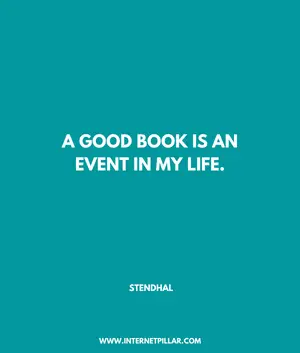 A good book is an event in my life. ~ Stendhal
Books are a uniquely portable magic. ~ Stephen King
Today a reader, tomorrow a leader. ~ Margaret Fuller
Reading brings us unknown friends. ~ Honoré de Balzac
Books were safer than other people anyway. ~ Neil Gaiman
A book is a gift you can open again and again. ~ Garrison Keillor
Books are for people who wish they were somewhere else. ~ Mark Twain
Sleep is good, he said, and books are better. ~ George R.R. Martin
A word after a word after a word is power. ~ Margaret Atwood
Motivational Quotes about Books Reading
Never trust anyone who has not brought a book with them. ~ Lemony Snicket
The whole world opened to me when I learned to read. ~ Mary McLeod Bethune
If you don't like to read, you haven't found the right book. ~ J.K. Rowling
Some books leave us free and some books make us free. ~ Ralph Waldo Emerson
Books are no more threatened by Kindle than stairs by elevators. ~ Stephen Fry
I can't imagine a man really enjoying a book and reading it only once. ~ C.S. Lewis
A good bookshop is just a genteel Black Hole that knows how to read. ~ Terry Pratchett
A classic is a book that has never finished saying what it has to say. ~ Italo Calvino.
Many people, myself among them, feel better at the mere sight of a book. ~ Jane Smiley.
I can feel infinitely alive curled up on the sofa reading a book. ~ Benedict Cumberbatch
The library is inhabited by spirits that come out of the pages at night. ~ Isabel Allende.
Best Quotes about Books Reading
You can never get a cup of tea large enough or a book long enough to suit me. ~ C.S. Lewis
Only the very weak-minded refuse to be influenced by literature and poetry. ~ Cassandra Clare
Once you have read a book you care about, some part of it is always with you. ~ Louis L'Amour
Books are mirrors: you only see in them what you already have inside you. ~ Carlos Ruiz Zafon
Make it a rule never to give a child a book you would not read yourself. ~ George Bernard Shaw
There is more treasure in books than in all the pirate's loot on Treasure Island. ~ Walt Disney
Until I feared I would lose it, I never loved to read. One does not love breathing. ~ Harper Lee
The worst thing about new books is that they keep us from reading the old ones. ~ Joseph Joubert
Top Quotes about Books Reading
The books that the world calls immoral are books that show the world its own shame. ~ Oscar Wilde
Show me a family of readers, and I will show you the people who move the world. ~ Napoleon Bonaparte
It's strange because sometimes, I read a book, and I think I am the people in the book. ~ Stephen Chbosky
Let's be reasonable and add an eighth day to the week that is devoted exclusively to reading. ~ Lena Dunham
Books and doors are the same thing. You open them, and you go through into another world. ~ Jeanette Winterson
A reader lives a thousand lives before he dies . . . The man who never reads lives only one. ~ George R.R. Martin
Some books should be tasted, some devoured, but only a few should be chewed and digested thoroughly. ~ Francis Bacon
Motivating Books Reading Quotes
A good would take me out of myself and then stuff me back in, outsized, now, and uneasy with the fit. ~ David Sedaris
The more that you read, the more things you will know. The more that you learn, the more places you'll go. ~ Dr. Seuss
Books are the plane, and the train, and the road. They are the destination, and the journey. They are home. ~ Anna Quindlen
I find television very educating. Every time somebody turns on the set, I go into the other room and read a book. ~ Groucho Marx.
A book is a garden, an orchard, a storehouse, a party, a company by the way, a counselor, a multitude of counselors. ~ Charles Baudelaire
A great book should leave you with many experiences, and slightly exhausted at the end. You live several lives while reading. ~ William Styron
Books and Reading Quotes
Finally, from so little sleeping and so much reading, his brain dried up and he went completely out of his mind. ~ Miguel de Cervantes Saavedra
One glance at a book and you hear the voice of another person, perhaps someone dead for 1,000 years. To read is to voyage through time. ~ Carl Sagan
What a blessing it is to love books as I love them;- to be able to converse with the dead, and to live amidst the unreal! ~ Thomas Babington Macaulay
Books are the quietest and most constant of friends; they are the most accessible and wisest of counselors, and the most patient of teachers. ~ Charles W. Eliot.
---
In conclusion, books are amazing and help with enhancing your personality.
I hope these quotes about books reading inspired you to read a book.
If you like these quotes and sayings, then I would request you to read my other popular popular blog posts on the topics of Trying Hard quotes and Know Yourself Quotes and Quotes about Enemies.