Life is tough and we all face difficult times in life.
We must keep trying and never give up. If you keep trying hard the things will change eventually.
This collection of trying hard quotes are surely going to help you sail through tough times.
---
Best Trying Hard Quotes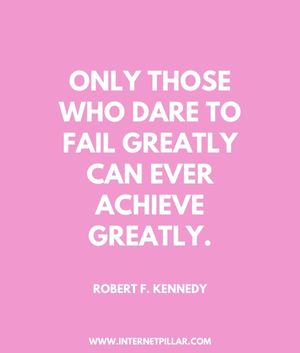 Only those who dare to fail greatly can ever achieve greatly. ~ Robert F. Kennedy.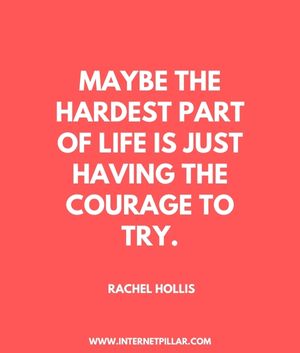 Maybe the hardest part of life is just having the courage to try. ~ Rachel Hollis.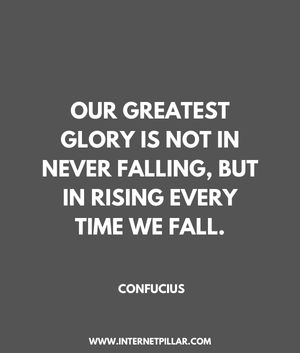 Our greatest glory is not in never falling, but in rising every time we fall. ~ Confucius.
I believe that every story has happy end , Just don't stop trying to get it. ~ Antonious Atef.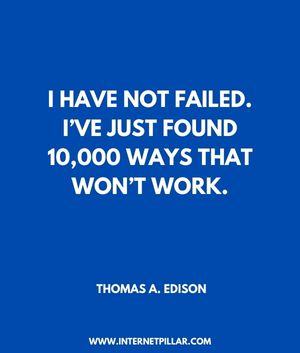 I have not failed. I've just found 10,000 ways that won't work. ~ Thomas A. Edison.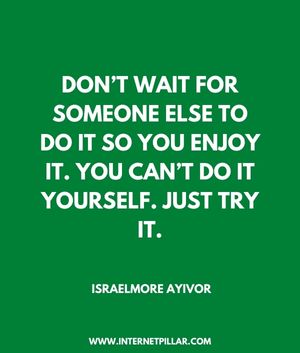 Don't wait for someone else to do it so you enjoy it. You can't do it yourself. Just try it. ~ Israelmore Ayivor.
Inspiring Trying Hard Quotes
Your hardest times often lead to the greatest moments of your life. Keep going. Tough situations build strong people in the end. ~ Roy T. Bennett.
Tough times never last, but tough people do. ~ Robert H. Schuller.
If you don't give up on something you truly believe in, you will find a way. ~ Roy T. Bennett
Don't get lost. Give it a try. Go find the place that you're wishing for. ~ Natsuki Takaya
Do not give up dreaming. Failure is no reason to stop trying. ~ Alan Maiccon.
Also Read: 105 Life is Hard Quotes to Keep You Going and 123 Famous Hard Work Quotes To Succeed In Life & Business
Motivational Trying Hard Quotes
You live once exactly you should try everything that you never had a try. ~ Pēteris Bitāns
Whether you try too hard to fit in or you try too hard to stand out, it is of equal consequence: you exhaust your significance. ~ Criss Jami
Failure of your first attempt does not mean you can't be a winner of great battles; it rather means, you must trigger only when your target is in focus. ~ Israelmore Ayivor
Failure is constructive feedback that tells you to try a different approach to accomplish what you want. ~ Idowu Koyenikan
Never stop dreaming, never stop believing, never give up, never stop trying, and never stop learning. ~ Roy T. Bennett
Success is not obtained overnight. It comes in installments; you get a little bit today, a little bit tomorrow until the whole package is given out. The day you procrastinate, you lose that day's success. ~ Israelmore Ayivor
Not only try but try your best! ~ Mehmet Murat ildan.
Inspirational Trying Hard Quotes
I love mistakes. It shows you were trying. ~ Sophia Braun
The one who falls and gets up is stronger than the one who never tried. Do not fear failure but rather fear not trying. ~ Roy T. Bennett
The more I try the more I am scorned. ~ Novala Takemoto
When the going gets tough, put one foot in front of the other and just keep going. ~ Roy T. Bennett
A person who tries has an advantage over the person who wishes. ~ Utibe Samuel Mbom
Sometimes doing your best is not good enough. Sometimes you must do what is required. ~ Winston S. Churchill
Great things happen to those who don't stop believing, trying, learning, and being grateful. ~ Roy T. Bennett.
Positive Trying Hard Quotes
Don't give up too soon. If you persevere you will succeed. ~ Lailah Gifty Akita
To become a better you, do not see the failure of your first attempts and declare yourself a loser. ~ Israelmore Ayivor
Trust yourself. You've survived a lot and you will survive whatever is coming. ~ Bram Stoker.
To be tested is good. The challenged life may be the best therapist. ~ Gail Sheehy.
Life isn't about winning or losing; it's about getting up and trying again. ~ Daniel L. Lewis.
Imperfection keeps me trying, and I won't stop even if I do achieve it. ~ Nabil N. Jamal.
Defeat is not the worst of failures. Not to have tried is the true failure. ~ George E. Woodberry.
Quotes for Trying Hard
At the very moment when people underestimate you is when you can make a breakthrough. ~ Germany Kent.
Try again; you have millions of alternatives. Fill yourself with the bullets of hope and you will kill failure with one shot. ~ Israelmore Ayivor.
One who moves the hill set off by taking away the rocks. ~ Amit Kalantri.
Trying is the first step. The hardest step. Nothing gets done without that. ~ Misha Home.
As long as you want the belt, don't run away from the fight. Do what it takes to win the battles you face. ~ Israelmore Ayivor.
---
So this ends the list of 37 quotes about Trying Hard.
If you like these quotes and sayings, then I hope you would also like my other popular blog posts on the topics of Deep Soul quotes and Stay in your Lane quotes and Fly High Quotes.
---
Sources and References: