Ralph David Abernathy (1926-1990) was a black American pastor and key civil rights leader, closely associated with Martin Luther King Jr.
He graduated from Alabama State University and Atlanta University.
As the First Baptist Church's pastor in Montgomery, he co-organized the 1955-56 Montgomery bus boycott with King, initiating the nonviolent civil rights movement.
They co-founded the Southern Christian Leadership Conference (SCLC), with Abernathy succeeding King as president post his assassination.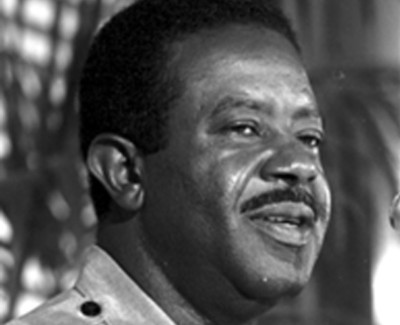 He led the SCLC till 1977, returning to pastoral work thereafter.
Related: Yuri Kochiyama Quotes and Fred Korematsu Quotes
His 1989 autobiography, "And the Walls Came Tumbling Down," recounts his experiences.
I have handpicked some of the most inspiring quotes by Ralph Abernathy.
---
Best Ralph Abernathy Quotes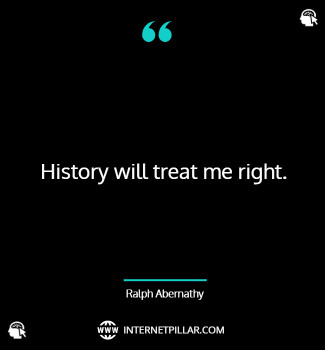 History will treat me right. ~ Ralph Abernathy.
If you see a good fight, get in it and fight to win it! ~ Ralph Abernathy.
Christians should be ready for a change because Jesus was the greatest changer in history. ~ Ralph Abernathy.
Everything I learned about the Great Depression was from a college textbook. ~ Ralph Abernathy.
I wanted to show that Martin Luther King was simply a human being, not a god, not a saint. ~ Ralph Abernathy.
I will always be open to receive my friends. I will not force myself on them. ~ Ralph Abernathy.
I went to jail 44 times. I've been beaten and left for dead on the side of the road fighting for freedom… Yet Rosa Parks is better known in history than Ralph David Abernathy. Why is that? ~ Ralph Abernathy.
I'm sick and tired of black and white people of good intent giving aspirin to a society that is dying of a cancerous disease. ~ Ralph Abernathy.
Top Ralph Abernathy Quotes
Bring on your tear gas, bring on your grenades, your new supplies of Mace, your state troopers and even your national guards. But let the record show we ain't going to be turned around. ~ Ralph Abernathy.
Not only are a voteless people a hopeless people. A non-producing people are hopeless also. ~ Ralph Abernathy.
I am not going to say I have been a saint. I have not been a perfect man. None is perfect but the Father, which is in Heaven. ~ Ralph Abernathy.
Famous Ralph Abernathy Quotes
Violence is the weapon of the weak. ~ Ralph Abernathy.
The industrial landscape is already littered with remains of once successful companies that could not adapt their strategic vision to altered conditions of competition. ~ Ralph Abernathy.
I have suffered as much as Martin Luther King. Only I didn't get the bullet. And I would have taken the bullet if I could have. ~ Ralph Abernathy.
I don't know what the future may hold, but I know who holds the future. ~ Ralph Abernathy.
It's not the name they call you, it's the name you answer to. ~ Ralph Abernathy.
You may be assured that we won't ever let your words die. Like the words of our Master, Jesus Christ, they will live in our minds and our hearts and in the souls of black men and white men, brown men and yellow men as long as time shall last. ~ Ralph Abernathy.
---
So these were the 17 top quotes about Ralph Abernathy.
If you like these quotes and sayings, then you can also read my other posts on Michael Shermer quotes and Santiago Calatrava quotes.