Ginger hair is characteristic of a redhead.
Redheads are said to be more sun-sensitive.
---
Top 10 Redhead Quotes
Redheads are like other women – only more so. ~ Unknown.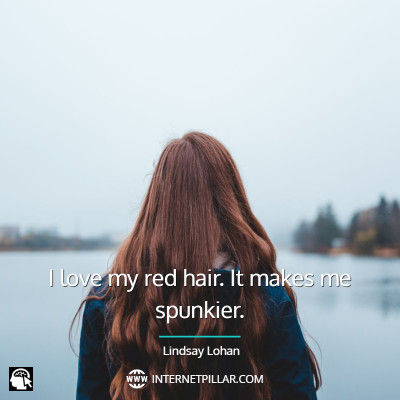 I love my red hair. It makes me spunkier. ~ Lindsay Lohan.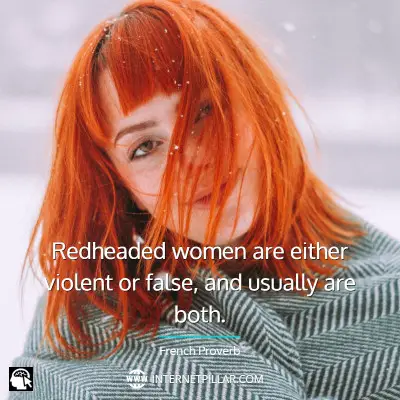 Redheaded women are either violent or false, and usually are both. ~ French Proverb.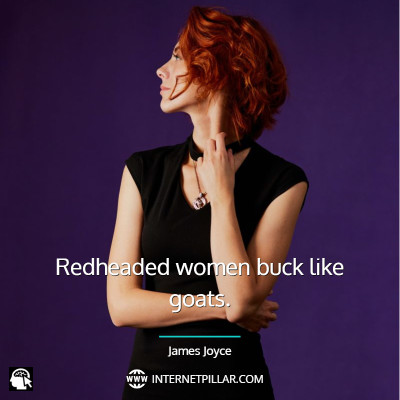 Redheaded women buck like goats. ~ James Joyce.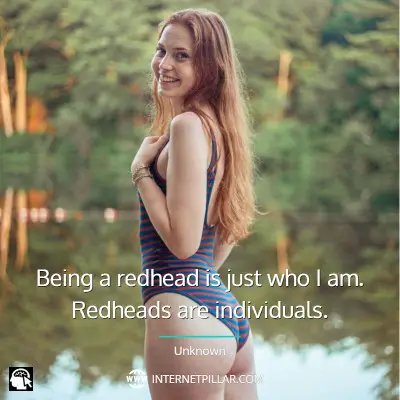 Being a redhead is just who I am. Redheads are individuals. ~ Unknown.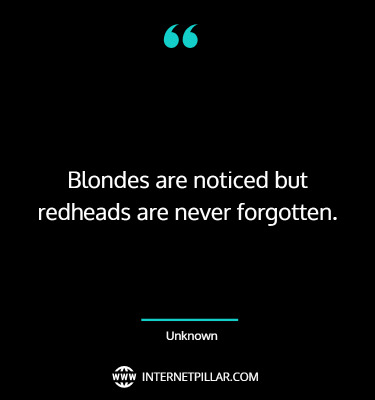 Blondes are noticed but redheads are never forgotten. ~ Unknown.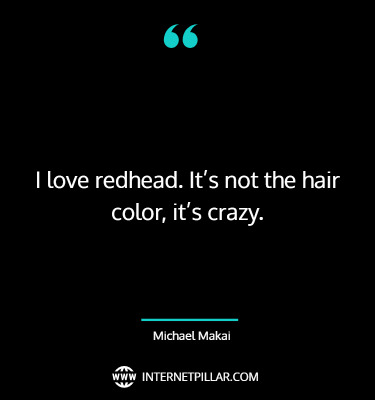 I love redhead. It's not the hair color, it's crazy. ~ Michael Makai.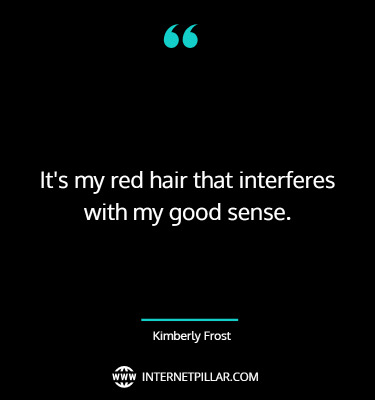 It's my red hair that interferes with my good sense. ~ Kimberly Frost.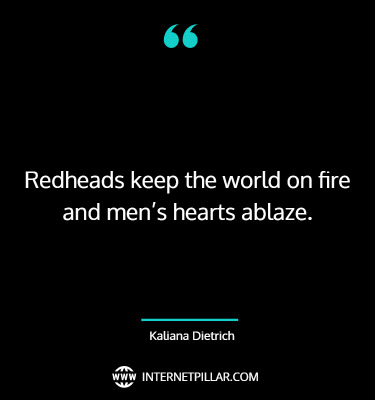 Redheads keep the world on fire and men's hearts ablaze. ~ Kaliana Dietrich.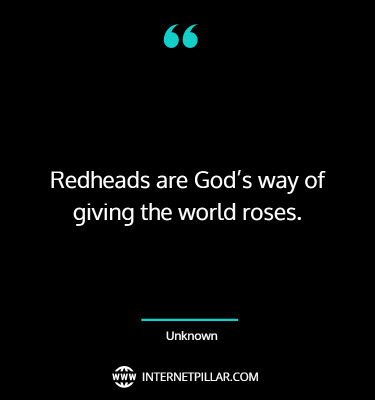 Redheads are God's way of giving the world roses. ~ Unknown.
Famous Redhead Quotes
Natural Redheads Rock! ~ Stephanie Lahart.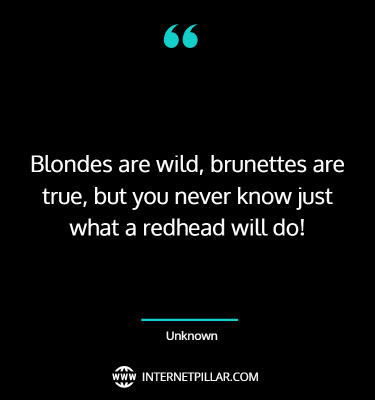 Blondes are wild, brunettes are true, but you never know just what a redhead will do! ~ Unknown.
There was never a saint with red hair. ~ Russian proverb.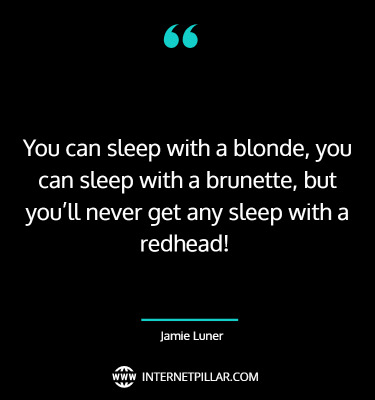 You can sleep with a blonde, you can sleep with a brunette, but you'll never get any sleep with a redhead! ~ Jamie Luner.
My husband said he wanted to have a relationship with a redhead, so I dyed my hair. ~ Jane Fonda.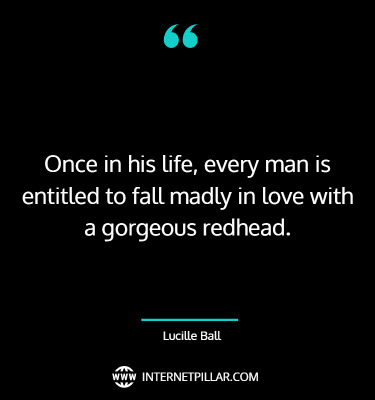 Once in his life, every man is entitled to fall madly in love with a gorgeous redhead. ~ Lucille Ball.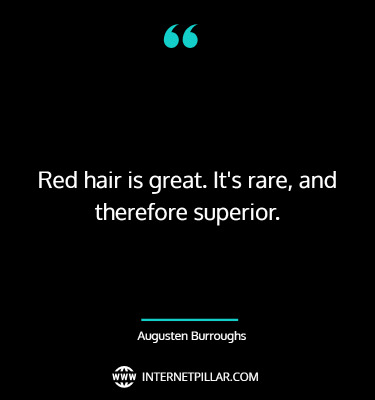 Red hair is great. It's rare, and therefore superior. ~ Augusten Burroughs.
Best Redhead Quotes
While the rest of the species is descended from apes, redheads are descended from cats. ~ Mark Twain.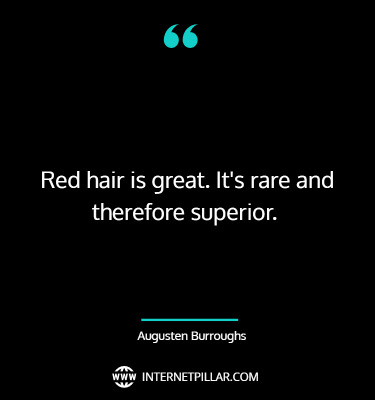 Red hair is great. It's rare and therefore superior. ~ Augusten Burroughs.
If you want trouble. Find yourself a redhead. ~ Unknown.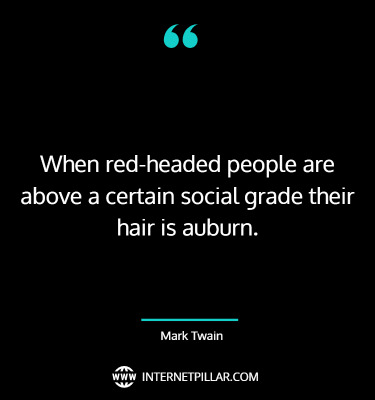 When red-headed people are above a certain social grade their hair is auburn. ~ Mark Twain.
Red hair, sir, in my opinion, is dangerous. ~ P.G. Wodehouse.
Popular Redhead Quotes
People were making fun of redheads before I came along. ~ Chris Lilley.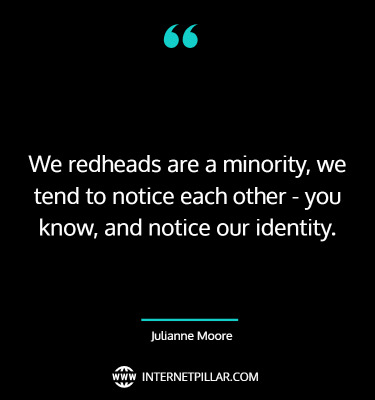 We redheads are a minority, we tend to notice each other – you know, and notice our identity. ~ Julianne Moore.
I used to hate being a redhead because it was different. Now I love being a redhead because it's different and I feel like I'm different. ~ Jess Glynne.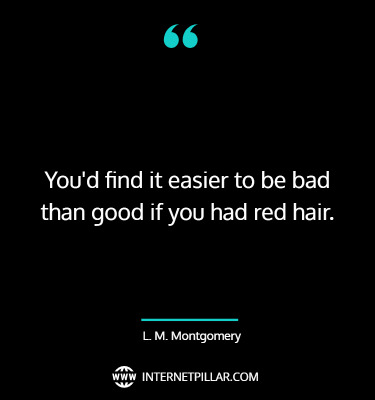 You'd find it easier to be bad than good if you had red hair. ~ L. M. Montgomery.
The blood of a redheaded woman is three degrees cooler than the blood of a normal woman. This has been established by medical studies. ~ Joe Hill.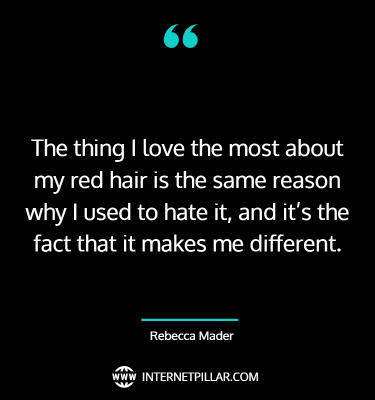 The thing I love the most about my red hair is the same reason why I used to hate it, and it's the fact that it makes me different. ~ Rebecca Mader.
Deep Redhead Quotes
Only two things are necessary to keep a redhead happy. One is to let her think she is having her own way, and the other is to let her have it. ~ Unknown.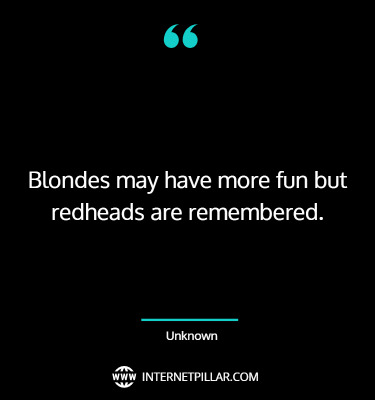 Blondes may have more fun but redheads are remembered. ~ Unknown.
I definitely know that I'm quirky. I know that I'm different. Red hair definitely made me different growing up. ~ Jayma Mays.
Redheads are known to have a complicated personality and are considered a myth. There has yet to be seen a simple-natured Redheaded female. Those that I've met so far matched the myth. ~ Unknown.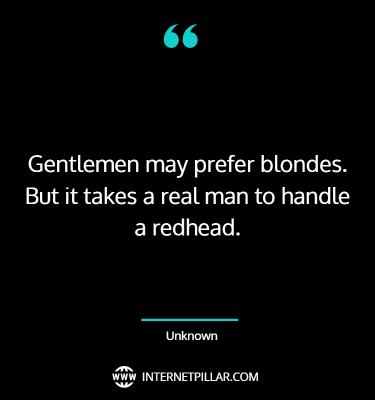 Gentlemen may prefer blondes. But it takes a real man to handle a redhead. ~ Unknown.
The sun on a brunette's hair looks red. The sun on a redhead's hair looks like Heaven on Earth. ~ Unknown.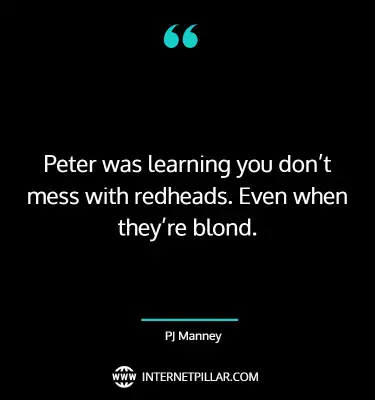 Peter was learning you don't mess with redheads. Even when they're blond. ~ PJ Manney.
Profound Redhead Quotes
I'm stronger and sassier as a redhead. ~ Kate Walsh.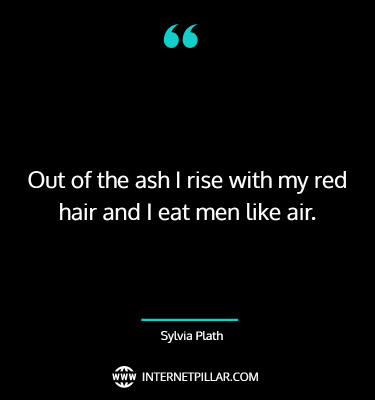 Out of the ash I rise with my red hair and I eat men like air. ~ Sylvia Plath.
Redheads get so stereotyped. You're either exotic and wild or totally Victorian. ~ Alicia Witt.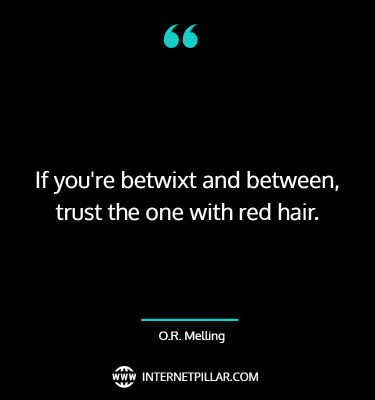 If you're betwixt and between, trust the one with red hair. ~ O.R. Melling.
Red hair is my life long sorrow. ~ L.M. Montgomery.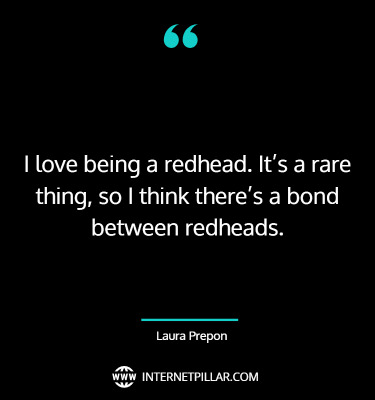 I love being a redhead. It's a rare thing, so I think there's a bond between redheads. ~ Laura Prepon.
I attract a different kind of boy when my hair's red. I get more quality men. ~ Kirsten Dunst.
---
So these were the 45 top quotes about Redhead.
If you like these quotes and sayings, then you can also read my other posts on Ghetto quotes and Flamingo quotes.