Rick Ross, real name William Leonard Roberts II, is a famous American rapper and music executive.
He's well known for his powerful voice, grand persona and rich lyrics about overcoming street struggles to achieve wealth and luxury.
Before his 2006 hit "Hustlin'", there was intense competition among record labels to sign him, with Jay-Z's Def Jam winning out.
Ross's debut album, "Port of Miami" and subsequent two albums topped the Billboard charts.
His song "Aston Martin Music" went 3× platinum. Besides solo achievements, Ross led the hip hop group Triple C's and founded Maybach Music Group in 2009, signing artists like Meek Mill and Wale.
His label collaborated with Def Jam and Epic Records on many albums. Ross has received several award nominations and accolades throughout his career.
Rick Ross is the first artist signed to P. Diddy's Ciroc Entertainment.
I have selected the top quotes by Rick Ross in this article.
---
Best Rick Ross Quotes
I just take everything one at a time and make sure everything I do is the best. ~ Rick Ross.
I love Adele. When I see her, I may kiss Adele. ~ Rick Ross.
Puff Daddy is a great party thrower. He goes down in the history books. ~ Rick Ross.
It's a new year, new year, new money, money! ~ Rick Ross.
Watching dudes come up is one of my biggest joys. ~ Rick Ross.
I ain't gon' lie. I got love for Solange. She look sexy to me. ~ Rick Ross.
I was a real avid 'Fresh Prince of Bel-Air' fan. I think I may know every episode. ~ Rick Ross.
I just love Wingstop. ~ Rick Ross.
I think we all have a right to bear arms, whichever amendment that is. ~ Rick Ross.
If you're a hater we make you scared to show your face. It's called success. ~ Rick Ross.
Anybody that really know me know that I love to make a lot of content, make a lot of music. ~ Rick Ross.
I'm building a dream with elevators in it. ~ Rick Ross.
If you're a battle rapper on the block, the emcee battle challenger, not writing your rhymes could really hurt you. When you're an artist where maybe the focus is really the talent and the different things you bring to the game, I believe it's more understandable. ~ Rick Ross.
Famous Rick Ross Quotes
My advice for anyone looking to lose weight is to not make it feel like a job. ~ Rick Ross.
I've been a fan of Adele since her first project. ~ Rick Ross.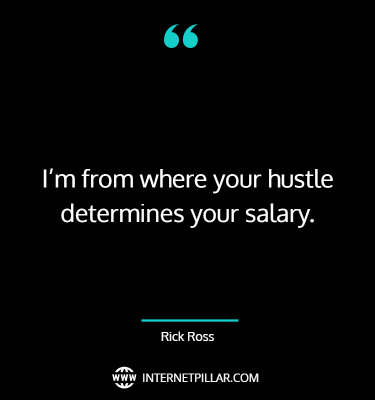 I'm from where your hustle determines your salary. ~ Rick Ross.
Every day, the approach to life changes. And that's what music is all about to me. ~ Rick Ross.
As artists, we are blessed to be able to make money but, on the same note, are held accountable for our federal tax obligations just like everyone else. ~ Rick Ross.
You gotta judge a man by his principles. ~ Rick Ross.
I believe I've always been so successful on the black market for a lot of different reasons. ~ Rick Ross.
MMG for life. ~ Rick Ross.
I love pears. Most definitely – it's a fact. ~ Rick Ross.
Every boss started as a worker. ~ Rick Ross.
Some of my best friends are white. ~ Rick Ross.
I feel like I can make records where, you know, I can get in the alley and exchange bars with Styles P, but I can also get in the studio and create a classic with Rihanna. ~ Rick Ross.
Inspiring Rick Ross Quotes
I embraced EDM from the beginning. ~ Rick Ross.
John Legend is brilliant. I feel he may be my best collaborator when it comes to delivering that undeniable soulful sound, and he does it in such a classy way. ~ Rick Ross.
When I was sitting at home watching 'Yo! MTV Raps' as a kid, seeing the bright jackets excited me. ~ Rick Ross.
I'm single, I'm enjoying life. Being a boss. Like all true bosses, one day you gotta give it up. ~ Rick Ross.
Five years before 'Port of Miami,' I was to a point where I may have even felt like quitting… the style and the wordplay of my lyricism was more complex than what Miami was used to. ~ Rick Ross.
For anybody that grow a beard or have hair on their face, I welcome you to the beard game. We're all family. I encourage that. I encourage beards. ~ Rick Ross.
My mom's a hustler. She a grinder. ~ Rick Ross.
I nickname my cars. Most of the time, it doesn't make any sense. One of my Benzes I call Justin Bieber. My Maybach is Oprah. ~ Rick Ross.
I remember the first time eating my chef's Caesar salad. It was just like one of those moments in the movie theater when everything gets quiet. ~ Rick Ross.
Living fast where it's all about the money bags? Never front. ~ Rick Ross.
My father watched all the 'Star Trek' and 'Star Wars' that you could imagine, along with the martial arts. So I was into all that as a youngster, and I always rooted for the bad guy. ~ Rick Ross.
When someone mentions my name because they're attacking someone that I'm close with, it's my problem now. ~ Rick Ross.
When I used to sit in the office with Jay Z and L.A. Reid… we would negotiate back and forth and discuss music. You're sitting in front of someone for hours. It's all about being passionate. Everything begins with yourself. ~ Rick Ross.
Every day is a new opportunity to reach that goal. ~ Rick Ross.
A boss is all about good business, so start with everything that you can control and you can turn up that costs you nothing, then lay all the knobs out, look at all the controls, all the remotes, and just turn them all up. It don't cost you anything. ~ Rick Ross.
Forget yesterday, live for today. Tomorrow will take care of itself. ~ Rick Ross.
Money doesn't make me – I make the money. ~ Rick Ross.
Capital Cities – the rock group – I'm a huge fan of theirs. ~ Rick Ross.
Top Rick Ross Quotes
I'm not trying to make a particular weight. I'm just working out and doing what's best for Rozay. ~ Rick Ross.
I realized that my success comes from doing the things I love most. ~ Rick Ross.
I do see a lot of young artists who write records or sacrifice records because there are a lot of older artists who are preoccupied; they don't have as much time as they used to to be in the studio. ~ Rick Ross.
Are you the person who just wakes up, puts your T-shirt on and runs out of the house? Or do you wake up an hour early – get your mental notes together, fix you a little coffee… prepare yourself for the day and try to do something really great? It begins with you. ~ Rick Ross.
DJ Khaled most definitely knows how to rock a party. ~ Rick Ross.
I may not be a role model, but I most definitely could be motivation for a lot of people in the hoods. ~ Rick Ross.
When you face obstacles or go through different phases, I always relied on my music. I depend on my music, my teammates. So at the end of the day, having incredible music, for me, would keep me in the space I want to be as an artist. ~ Rick Ross.
I believe everybody got the right to live their own life the way they want to. ~ Rick Ross.
Miami is a party city, a go-fast city. ~ Rick Ross.
In high school, I played football and became an all-American offensive lineman, but my father hadn't been to any of my games. In those instances, you still hold your head up high. But, when you look up into the stands and you see everyone else's parents cheering and supporting, you have to just stay focused and push through. ~ Rick Ross.
I'm a hustler. I'm the Boss. ~ Rick Ross.
If I quit all the things I loved cold turkey, I knew it would only be so long before I went back to my old ways. ~ Rick Ross.
I'm very versatile and there's nothing I really regret in my life. I'm excited with who I am and I'm just going to keep riding the wave. ~ Rick Ross.
Popular Rick Ross Quotes
At the end of the day, I'm the biggest boss. I'm self-made. ~ Rick Ross.
I really savor the times of me and all my best friends and family members getting together. ~ Rick Ross.
When I think of CeeLo Green, I think about previous collaborations, like 'Tears of Joy.' ~ Rick Ross.
I used to eat big meals at 2 A.M. and base it on my schedule. But I don't do that no more. ~ Rick Ross.
I ain't trying to keep up with the trends – the hats, the hair colors, the dress codes. ~ Rick Ross.
Love is for free, just expensive to shop. ~ Rick Ross.
I'm a big chicken guy, and Wingstop chicken wings are my number one go-to, so I just got involved with the company. I purchased a few franchises myself. I like to consider myself a global brand ambassador. ~ Rick Ross.
Being dead broke is the Root of all Evil… ~ Rick Ross.
Really, every day is the perfect day to boss up. Every day that you wake up is a perfect day to boss up. It's all about continuing to put one foot in front of the next. That's what it's about. Whatever you think you're going through, just put one foot in front of the next. ~ Rick Ross.
I usually have an idea that I want to build on and let the music take me where I wanna go. ~ Rick Ross.
I've been fortunate enough to experience financial success on a large scale through both my music career and my many business ventures. With this type of financial success comes financial responsibility. ~ Rick Ross.
Some experiences can give you a chip on your shoulder, but they also teach you the value of independence and looking out for yourself. ~ Rick Ross.
I love the story of 'Lamborghini Doors,' a record with Meek Mill and myself – it came together when I went to visit him during his incarceration. ~ Rick Ross.
If you set a regimen up, you can lose weight. I grinded my weight off. ~ Rick Ross.
Everybody who know Rick Ross know that, for one, I love creating music, and one of the biggest impacts we have on the game was the fact that when we came into the game, artists was waiting two to three years to put out albums. I was one of the few that put out an album every year along with two or three mixtapes. ~ Rick Ross.
As an artist, you find at different times you want to do different things. ~ Rick Ross.
How many people you bless is how you measure success. ~ Rick Ross.
Regardless of how it goes down, life goes on. ~ Rick Ross.
I respect the Grammys, being a writer. But me being an artist representing hip hop? No. ~ Rick Ross.
It's pretty much a given known fact in the industry that before I was successful, I wrote for other artists. ~ Rick Ross.
There's always money to get. ~ Rick Ross.
Love is for free, just expensive to shop. ~ Rick Ross.
I scoop Emmy winners like kitty litter. ~ Rick Ross.
I come from Carol City. The city renamed it Miami Gardens. ~ Rick Ross.
I created MMG years ago. My desire was to create a space where the most talented artists in the world could be nurtured and supported. With that came a commitment. I vowed to support these artists through the good and the bad. ~ Rick Ross.
My father wasn't there the majority of the time. My father, someone who I always honored and looked up to, had been in the military; he had been to war. I would hear stories about different experiences he went through, but as I got older, my father moved away. ~ Rick Ross.
When you walk in a room, the room should feel that this guy's different. What does he do? Who is he? And that's confidence, not cockiness. ~ Rick Ross.
---
So these were the 87 top Rick Ross quotes and sayings.
If you like these quotes and sayings, then you can also read my other posts on Edward Weston quotes and Elizabeth Proctor quotes.