Rob Zombie is an American singer, songwriter, filmmaker, and voice actor.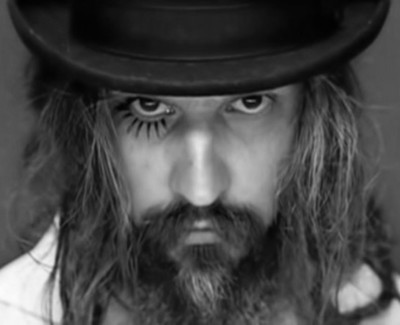 ---
Best Rob Zombie Quotes
I wanted it to be like a high quality, drive-in movie. ~ Rob Zombie.
I like being organized and super particular. ~ Rob Zombie.
It's never been about making money. ~ Rob Zombie.
I never made movies that had any of my music. I haven't crossed them over that much. ~ Rob Zombie.
Dreaming be damned, this is control. Raping your soul, devil's hole. ~ Rob Zombie.
Every time I start the next movie, it's as exciting as the first time. ~ Rob Zombie.
I love Westerns. I really love John Wayne. Frank Capra, any of his movies I love. ~ Rob Zombie.
Short answers seem like you don't care even if you are trying to answer. I get the same flack for my short texting. ~ Rob Zombie.
I have always found clowns really fascinating, especially on film. Even as a kid I was never scared of them. ~ Rob Zombie.
As far as directors, I'm a big fan of any kind of Billy Wilder stuff. Anything he does. ~ Rob Zombie.
I think if you're going to remake a film it should be something that was a good idea, but wasn't executed well. There isn't anything I would like to remake. I have too many of my own ideas I want to make. ~ Rob Zombie.
There are always tons of names on a movie of people that didn't actually do anything on that film. I feel bad for the people that busted their ass because they get the same credit as someone who did nothing. It's kind of a weird thing. ~ Rob Zombie.
When you can program your own life, you're just going to program what you already like. Because of that, people's taste becomes much more narrow-minded. ~ Rob Zombie.
When you get older, you kind of learn when something is done, you just walk away. Sometimes people just want to keep fixing things. But you know it's kind of just like your gut that tells you, You're done, walk away because you can always keep fixing it. ~ Rob Zombie.
I don't want to just make horror movies; I don't want to just make any type of movie – I don't just like horror movies, I love movies. ~ Rob Zombie.
Top Rob Zombie Quotes
Sometimes I feel like people don't even know how to react in some situations because of online culture. Since many things are online, you might not react to something that is happening live. ~ Rob Zombie.
The pirating thing is bad. The people it hurts the most are the ones you least think it hurts. It's not the big Britney Spears albums that are being pirated; it's the indie bands that don't have two cents to their name. ~ Rob Zombie.
To me, horror and comedy never work. Never worked for me, anyway. ~ Rob Zombie.
I'm never aiming to make a movie like someone else's movie, but in order to describe a movie to someone else who hasn't seen it, you usually have to reference things they have seen. ~ Rob Zombie.
I don't like the fact that people are supposed to think horror movies have a way things should go. I always try to do the exact opposite of what people expect and want. ~ Rob Zombie.
When I watch a movie, I don't make a sound or move. The more I'm into the movie, the more bored I look. ~ Rob Zombie.
Popular Rob Zombie Quotes
There are so many projects that don't happen, just sometimes they don't get announced, so no one ever knows about them and you don't have to talk about them. ~ Rob Zombie.
I think so much about everything. I'm obsessive. ~ Rob Zombie.
I think probably the scariest thing, as weird as it sounds, was 'The Wizard of Oz' and the flying monkeys with the witch. I remember seeing that – it still seems freaky. ~ Rob Zombie.
Just getting movies made is difficult because it takes a lot of money; I mean, it costs more money to make one movie than most bands will spend on every single record of their entire career; it's a huge undertaking. ~ Rob Zombie.
I guess I get enough real life, in real life, so that's why I like things that are more extreme. ~ Rob Zombie.
I'd always want to decorate my bedroom. I needed visuals and to be stimulated by things. I'm still like that. It's the way I see the world. ~ Rob Zombie.
My goal is to keep making films and grow as a filmmaker; that's always my goal. ~ Rob Zombie.
Every time I make a movie I have too many characters and too many locations. ~ Rob Zombie.
A big mistake a lot of filmmakers do is they like, We cut our whole ending to a Rolling Stones song. You better find a new ending then, because unless you have $2 million for that song. ~ Rob Zombie.
White Zombie was a bunch of kids with the worst equipment playing in a basement. But that is what is so great about it. There is no reason to think that you can't do it. ~ Rob Zombie.
Once you feel like you're being dictated by other people's expectations, it usually backfires. ~ Rob Zombie.
I don't think you should self-censor yourself. ~ Rob Zombie.
I'm psychotically involved in every tiny little aspect. That's just the way I've been about everything my whole life. ~ Rob Zombie.
Who is this irresistible creature who has an insatiable love for the dead? ~ Rob Zombie.
The funny thing is, I'm so used to not caring what anyone says, good or bad, that unfortunately even when people say good things I wish it made me feel good, but it doesn't. ~ Rob Zombie.
I'm not a big fan of remakes. And even if they are good, they're still not as good as the original, so what's the point? ~ Rob Zombie.
Great things come out of being hungry and cold. Once you're pampered, you get lazy. ~ Rob Zombie.
I try to stay friends with everybody because you might go back and work with somebody who you had a horrible experience with and it could be great the next time. You never know which way it's going to go, never say never. ~ Rob Zombie.
Things like that become a blur – shot at some soundstage, somewhere – that's as much as I can remember. ~ Rob Zombie.
Famous Rob Zombie Quotes
The art of moviemaking seems to get thrown away. The cinematography is gone, and the look of everything becomes of little importance. You lose the memorable images; everything looks like it's been shot at night with a security camera. ~ Rob Zombie.
I've always been a fan of just extreme things. Whether it be in movies, books, TV or real life. ~ Rob Zombie.
My advice: Don't quit. When I got to New York City, I lived so far below the poverty line, because I didn't give in and get a job at 7-Eleven. I think you can thrive in misery. ~ Rob Zombie.
If you have a lot of money, you know that you can make almost anything happen, but with a smaller budget you don't have a lot of time or too many resources, so you have to conceive things in a very simple manner and make them happen fast. ~ Rob Zombie.
Why does everybody think things are always contractual? I saw a shitload of questions and thought better keep these answers short or I'll never get to all of these. ~ Rob Zombie.
When you lock a movie's release date and then move it two months, it's just not good. It's good for everything but the cast, crew, and people who are creatively trying to make a film. ~ Rob Zombie.
I think it is good escapist entertainment even though it's bad. ~ Rob Zombie.
No matter how successful the remake is, it seems to me it's forgotten quickly after and it's the original that still lives on. ~ Rob Zombie.
I find making trailers really frustrating, because sometimes the worst trailers are for the best movies. ~ Rob Zombie.
Every cool riff has already been written by Black Sabbath. You're either playing it faster or slower or backwards, but they wrote it first. ~ Rob Zombie.
I've always loved Alice Cooper. ~ Rob Zombie.
Inspirational Rob Zombie Quotes
Movies in general are more generic. If something sells just make more. That's Hollywood. ~ Rob Zombie.
I really just do what I like. I don't understand what the general public likes sometimes. ~ Rob Zombie.
A lot of times the best trailers are for complete dogshit movies. It's a shame that people are beyond quick to judge things these days. Lots of great stuff gets lost that way. ~ Rob Zombie.
By the time we got to MGM, and Lions Gate the movie was done there was nothing else to say. It was done. Just as at Universal, it was art by committee. ~ Rob Zombie.
When you have too many people and you're trying to satisfy everybody's input, you usually end up with something so incredibly generic that it has no point of view. ~ Rob Zombie.
I love all kinds of movies. I'd especially like to make some, you know, violent crime drama. ~ Rob Zombie.
The only thing I ever really care about is animals – animal causes. I don't really care about people that much, but animals I feel like they always need to be protected. ~ Rob Zombie.
I like European movies because it seems those audiences are a little more patient. Those movies are always slower, where over here, the studio system freaks out if something doesn't happen every five minutes or if anything is confusing. ~ Rob Zombie.
Growing up as a kid, there were so many people that I disliked, I daydreamed about hurting them. Hell just seemed like a good place for all of them to go. Unfortunately, I don't believe it exists. ~ Rob Zombie.
I like movies where you can come back and re-watch them and admire the cinematography 25 years later. ~ Rob Zombie.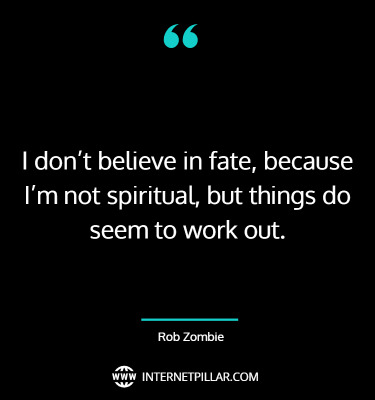 I don't believe in fate, because I'm not spiritual, but things do seem to work out. ~ Rob Zombie.
I'm definitely of the mindset that I wouldn't want to be part of any group that would have me as a member. ~ Rob Zombie.
All the classic bands that have been around forever, they came up gradually. ~ Rob Zombie.
You just have to do the thing that you feel is true to your vision, and then the audience will make the decision. But as soon as you feel like you're creating a product to just cater to what you think they want, it never works. It always feels phony. And the audience can tell immediately. ~ Rob Zombie.
I'm not a big fan of the thought that you can become a star by winning a contest. I'm sort of old-fashioned. I think people need to get out there and they need to work and they need to do their music because they love it. If they become successful, then great, and if they are not, whatever. ~ Rob Zombie.
You can't make everyone happy right away, you can't figure out what people want you to do, you just have to do what you want to do and hope it works out. ~ Rob Zombie.
It's lifestyle music. It's not like some secretary who likes some pop song, but can't name who the band is; whereas a heavy metal fan is into every aspect of it. We'll see if rap holds up to that. Run-DMC seemed to be the Led Zeppelin of rap. ~ Rob Zombie.
I could care less what people think. ~ Rob Zombie.
The thing that I see disappearing is just the love of old movies among kids. Everything's accessible, so you can get it, but when everything's accessible, that means you have to access it. And if you're not interested, you don't. ~ Rob Zombie.
One of the main things when you get notes from a studio is they don't want anyone to be confused ever, everything has got to be so obvious at all times unless it's a twist ending. ~ Rob Zombie.
I don't know that I have a fascination with witches per se – well, maybe I just have a fascination with everything that's weird. ~ Rob Zombie.
---
So these were the 72 top Rob Zombie quotes on music, bands and life.
If you like these quotes and sayings, then you can also read my other posts on Xenophon quotes and Mario Andretti quotes.