Sadness is an emotion experienced when our desires and reality don't align and often makes us feel isolated.
At times, life brings grief, heartache and sorrowful circumstances, leaving us unprepared for the turmoil.
During these challenging times—breakups, loss of a loved one, financial troubles, health issues—finding solace in sad quotes about love and life can help articulate feelings and serve as reminders that we aren't alone in our struggles.
Engaging with trusted friends, professionals like therapists, or anonymous hotlines can also provide essential support.
Reading quotes about sadness can offer encouragement, inspiration and perspective from others who have traversed similar emotional terrains.
These quotes from notable individuals across various fields can help us 'feel our feelings', accept the sadness and ultimately begin the healing process.
In summary, embracing the sadness can sometimes be the first step towards resilience.
---
Top 10 Sad Quotes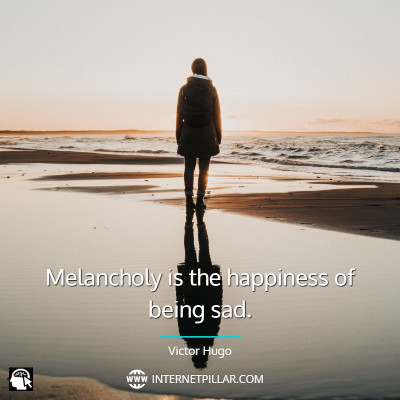 Melancholy is the happiness of being sad. ~ Victor Hugo.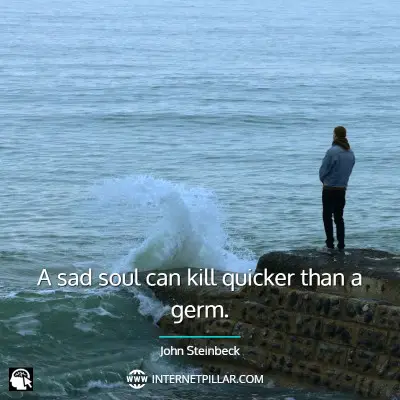 A sad soul can kill quicker than a germ. ~ John Steinbeck.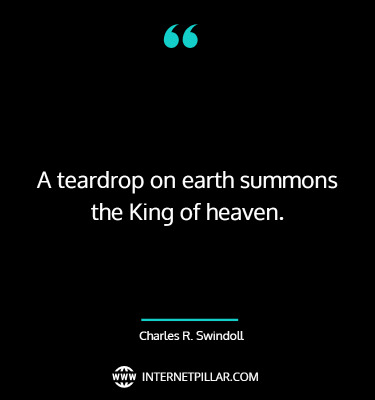 A teardrop on earth summons the King of heaven. ~ Charles R. Swindoll.
To have felt too much is to end in feeling nothing. ~ Dorothy Thompson.
The good life is not one immune to sadness but one in which suffering contributes to our development. ~ Alain de Botton.
Sadness is the ambrosia of all art. ~ Frances Fong.
We all create fictions to hide our pain. ~ The Lazarus.
I've been trying to go on living like nothing has changed, but it's too hard. ~ Unknown *.
You don't really need someone to complete you. You only need someone to accept you completely. ~ Unknown *
It is sad not to love, but it is much sadder not to be able to love. ~ Miguel de Unamuno.
Famous Sad Quotes
It makes me sad to think that we are so happy in love and yet so unhappy when we are not together. ~ Unknown *.
We must understand that sadness is an ocean, and sometimes we drown, while other days we are forced to swim. ~ R.M. Drake.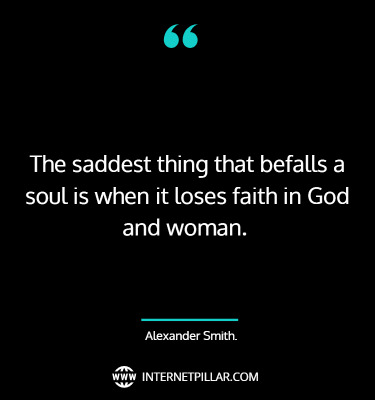 The saddest thing that befalls a soul is when it loses faith in God and woman. ~ Alexander Smith.
Every human walks around with a certain kind of sadness. They may not wear it on their sleeves, but it's there if you look deep. ~ Taraji P. Henson.
Depression is the inability to construct a future. ~ Rollo May.
It's sad when someone you know becomes someone you knew. ~ Henry Rollins.
Tears are words the mouth can't say nor can the heart bear. ~ Joshua Wisenbaker.
It's so hard to say goodbye, but I'll always cherish the time we had. ~ Unknown *.
Our sweetest songs are those that tell of saddest thought. ~ Percy Bysshe Shelley.
I'm tired of fighting. For once, I want to be fought for. ~ Dick Tate.
One must not let oneself be overwhelmed by sadness. ~ Jacqueline Kennedy-Onassis.
See also: Loneliness Quotes to Comfort You When Feeling Sad and Sad Relationship Quotes to Cope with Heartache
Profound Sad Quotes
When you're happy, you enjoy the music but when you're sad, you understand the lyrics. ~ Frank Ocean.
Better by far you should forget and smile than that you should remember and be sad. ~ Christina Rossetti.
I'm sorry. I don't want to talk about it. ~ Unknown *.
Your pain is the breaking of the shell that encloses your understanding. ~ Khalil Gibran.
I'm so sorry, but I can't be with you. I'm just too sad. ~ Unknown *.
The sky cries for those filled with sadness. ~ Sonya Watson.
Don't grieve. Anything you lose comes round in another form. ~ Unknown *.
It doesn't hurt to feel sad from time to time. ~ Willie Nelson.
Best Sad Quotes
The walls we build around us to keep sadness out also keeps out the joy. ~ Jim Rohn.
In deep sadness there is no place for sentimentality. ~ William S. Burroughs.
There is no sadder sight than a young pessimist, except an old optimist. ~ Mark Twain.
First, accept sadness. Realize that without losing, winning isn't so great. ~ Alyssa Milano.
There are two types of people in the world: Those who prefer to be sad among others, and those who prefer to be sad alone. ~ Nicole Krauss.
Nothing is more sad than the death of an illusion. ~ Arthur Koestler.
Thought-Provoking Sad Quotes
Life is full of things I can't control. ~ Unknown *.
I do believe that if you haven't learnt about sadness, you cannot appreciate happiness. ~ Nana Mouskouri.
Never make someone a priority when all you are to them is an option. ~ Maya Angelou.
It is sadder to find the past again and find it inadequate to the present than it is to have it elude you and remain forever a harmonious conception of memory. ~ F. Scott Fitzgerald.
I'm not happy. I'm not sad. I'm not anything. ~ Unknown *.
The word 'happy' would lose its meaning if it were not balanced by sadness. ~ Carl Jung.
The pain never really goes away; you just elevate and get used to it by growing stronger. ~ Ritu Ghatourey.
Popular Sad Quotes
You cannot protect yourself from sadness without protecting yourself from happiness. ~ Jonathan Safran Foer.
Broken relationships are a source of heavy heartbreak that seem to affect every family. ~ Jerry B. Jenkins.
Sad things happen. They do. But we don't need to live sad forever. ~ Mattie Stepanek.
Behind every sweet smile, there is a bitter sadness that no one can ever see and feel. ~ Tupac Shakur.
Every man has his secret sorrows which the world knows not; and often times we call a man cold when he is only sad. ~ Henry Wadsworth Longfellow.
Separation from those we love is never easy, but it must be faced with courage. ~ Unknown *.
Do not feel sad for your tears as rocks never regret the waterfalls. ~ Munia Khan.
Sadness is also a kind of defense. ~ Ivo Andrich.
Sadness usually results from one of the following causes either when a man does not succeed or is ashamed of his success. ~ Seneca.
Some people are going to leave, but that's not the end of your story. That's the end of their part in your story. ~ Faraaz Kazi.
Short Sad Quotes
Sad hurts but it's a healthy feeling. It is a necessary thing to feel. ~ J.K. Rowling.
The worst feeling isn't being lonely, it's being forgotten by someone you'd never forget. ~ Helen Hywater.
Sadness is but a wall between two gardens. ~ Kahlil Gibran.
When you feel sad, it's okay. It's not the end of the world. ~ Mac Miller.
We're taught to be ashamed of confusion, anger, fear, and sadness, and to me, they're of equal value to happiness, excitement, and inspiration. ~ Alanis Morrisette.
We never taste happiness in perfection, our most fortunate successes are mixed with sadness. ~ Pierre Corneille.
---
So these were the 63 top quotes about being Sad.
If you like these quotes and sayings, then you can also read my other posts on Good People quotes and Overthinking quotes.