Samuel Morse was an American painter and inventor who is best known for developing the electric telegraph (1832-1835) and Morse Code (1838) with Alfred Vail.
Despite being an average student, Morse developed an interest in electricity at Yale College, alongside his passion for painting.
After his return from England where he studied painting, Morse took up portraiture to earn a living. In 1832, he conceived the idea of an electric telegraph while on a ship returning from Europe.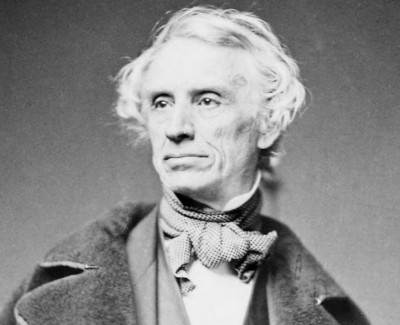 Despite initial lack of interest, Morse gained Congress' financial support in 1843 for the first U.S telegraph line, sending the first message, "What hath God wrought" in 1844.
A U.S. Supreme Court decision in 1854 established his patent rights.
Related: Gustav Klimt Quotes from the Austrian Painter and Garrett Morgan Quotes from the Inventor of the Gas Mask
Morse was also a philanthropist and his legacy includes the Morse Telegraph Club and his preserved 1837 telegraph instrument.
I have picked the most meaningful quotes by Samuel Morse for you.
---
Top 5 Samuel Morse Quotes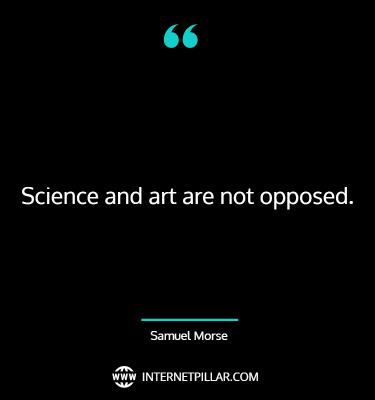 Science and art are not opposed. ~ Samuel Morse.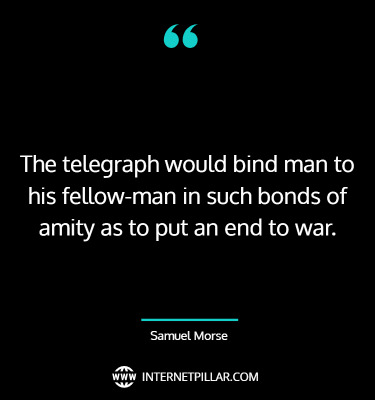 The telegraph would bind man to his fellow-man in such bonds of amity as to put an end to war. ~ Samuel Morse.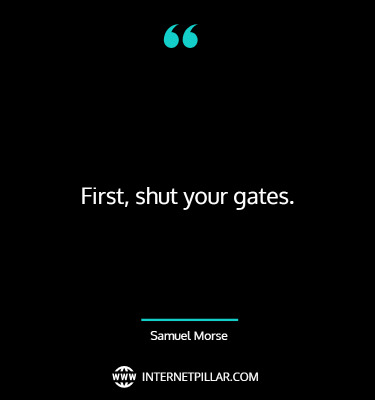 First, shut your gates. ~ Samuel FB Morse.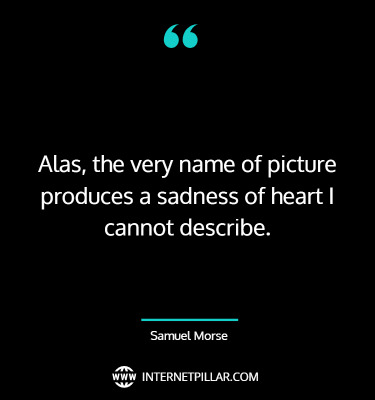 Alas, the very name of picture produces a sadness of heart I cannot describe. ~ Samuel Morse.
The serpent has already commenced his coil about our limbs, and the lethargy of its poison is creeping over us. ~ Samuel Morse.
Meaningful Samuel FB Morse Quotes
It baptized the American telegraph with the name of its Author. Comment on the choice of a biblical text as the inaugural message. ~ Samuel Morse.
I have no wish to be remembered as a painter, for I never was a painter; my idea of that profession was perhaps too exalted; I may say, is too exalted. I leave it to others more worthy to fill the niches of art. ~ Samuel Morse.
Painting has been a smiling mistress to many, but she has been a cruel jilt to me; I did not abandon her, she abandoned me. ~ Samuel Morse.
Famous Samuel FB Morse Quotes
The mere holding of slaves, therefore, is a condition having per se nothing of moral character in it, any more than the being a parent, or employer, or ruler. ~ Samuel Morse.
I assert that the Federalists in the Northern States have done more injury to their country by their violent opposition measures than a French alliance could.… Federalists are cowards, a base set—traitors to their country and ought to be hanged like traitors. ~ Samuel Morse.
Education without religion is in danger of substituting wild theories for the simple commonsense rules of Christianity. ~ Samuel Morse.
My price is five dollars for a miniature on ivory, and I have engaged three or four at that price. My price for profiles is one dollar, and everybody is willing to engage me at that price. ~ Samuel Morse.
It would not be long ere the whole surface of this country would be channelled for those nerves which are to diffuse, with the speed of thought, a knowledge of all that is occurring throughout the land, making, in fact, one neighborhood of the whole country. ~ Samuel Morse.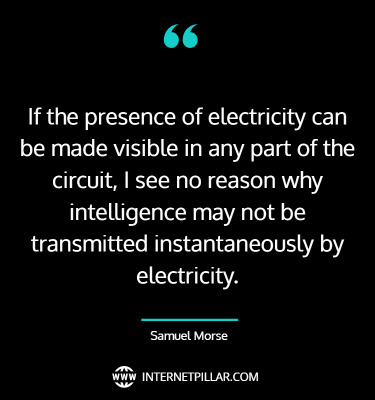 If the presence of electricity can be made visible in any part of the circuit, I see no reason why intelligence may not be transmitted instantaneously by electricity. ~ Samuel Morse.
Best Samuel Morse Quotes
I have been so constantly under the necessity of watching the movements of the most unprincipled set of pirates I have ever known, that all my time has been occupied in defense, in putting evidence into something like legal shape that I am the inventor of the Electro-Magnetic Telegraph. ~ Samuel Morse.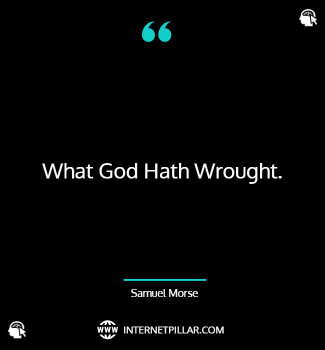 What God Hath Wrought. ~ Samuel Morse.
We must raise the salaries of our operators or they will all be taken from us, that is, all that are good for anything. You will recollect that, at the first meeting of the Board of Directors, I took the ground that 'it was our policy to make the office of operator desirable, to pay operators well and make their situation so agreeable that intelligent men and men of character will seek the place and dread to lose it.' I still think so, and, depend upon it, it is the soundest economy to act on this principle. ~ Samuel Morse.
---
So these were the 18 top quotes about Samuel Morse.
If you like these quotes and sayings, then you can also read my other posts on Percy Lavon Julian quotes and Aleksandr Dugin quotes.