Starting over signifies the initiation of a new phase, be it in life, career, relationships, or even business.
It often appears intimidating due to the inherent fear of the unknown, yet it can also bring exhilaration and a sense of freedom.
This article presents 83 motivational quotes to aid those standing on the precipice of a new beginning, encouraging them to approach the future with optimism rather than apprehension.
Life is a succession of phases and starting over is a natural progression, much like the transition from day to night.
By learning from past phases and focusing on the present, one can effectively navigate these transitions.
These inspiring quotes are designed to bolster your strength, helping you release the past and confidently embrace the new.
---
Table of Contents
Best Starting Over Quotes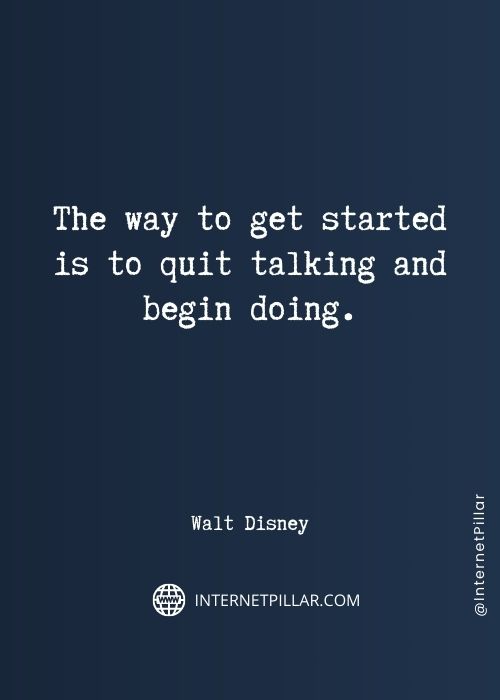 The way to get started is to quit talking and begin doing. ~ Walt Disney.
Nothing in the universe can stop you from letting go and starting over. ~ Guy Finley.
You are never too old to start over. Every day is a chance to make changes to create the life we want. ~ Karon Waddell.
If you fail the first time that's just a chance to start over again. ~ Lenny Wilkins.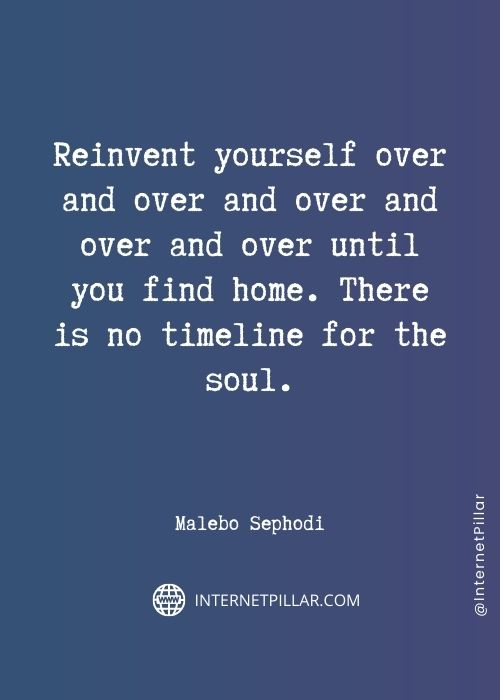 Reinvent yourself over and over and over and over and over until you find home. There is no timeline for the soul. ~ Malebo Sephodi.
All he would say was that sometimes you have to burn it down and start over. ~ Kelly Braffet.
It's never too late to start over! ~ Lynne Gentry.
Whatever wrong turns you've taken in life you can always start over and find your way back to happiness. ~ Marty Rubin.
Chance is not a word to toss in the air. It's a word to take in, a word to give yourself. ~ Michelle Muriel.
The only real battle in life is between hanging on and letting go. ~ Shannon L. Alder.
All great beginnings start in the dark, when the moon greets you to a new day at midnight. ~ Shannon L. Alder.
Never feel guilty for starting again. ~ Rupi Kaur.
Though nobody can go back and make a new beginning, anyone can start over and make a new ending. ~ Chico Xavier.
Be willing to be a beginner every single morning. ~ Meister Eckhart.
The secret to change is to focus all of your energy, not on fighting the old, but on building the new. ~ Dan Millman.
Powerful Starting Over Quotes
Letting go means to come to the realization that some people are a part of your history, but not a part of your destiny. ~ Steve Maraboli.
Every day is a new beginning. Treat it that way. Stay away from what might have been, and look at what can be. ~ Marsha Petrie Sue.
The distance is nothing; it's only the first step that is difficult. ~ Marquise Du Deffand.
You can start anew at any given moment. Life is just the passage of time and it's up to you to pass it as you please. ~ Charlotte Eriksson.
The secret to living the life of your dreams is to start living the life of your dreams today, in every little way you possibly can. ~ Mike Dooley.
Start over. Start new. Forget what just happened. It's like having the ability to hit a 'refresh' button. ~ Nina Lesowitz.
You are never too old to set another goal or to dream a new dream. ~ C. S. Lewis.
It isn't always a change of scenery needed to make life better. Sometimes it simply requires opening your eyes. ~ Richelle E. Goodrich.
Related: 84 Motivational Bodybuilding Quotes for Gym and Weightlifting and 91 Inspiring Eagle Quotes to Soar High with Motivation
Top Starting Over Quotes
We must always change, renew, rejuvenate ourselves; otherwise we harden. ~ Johann Von Goethe.
You don't have to be great to start, but you have to start to be great. ~ Joe Sabah.
If all you can do is crawl, start crawling. ~ Rumi.
I had already invested so much time and energy into this project. Starting over felt like an exhausting option. ~ Alexandra Franzen.
My mother told me always to count to ten. And if that doesn't do the trick, start over again. ~ Lucille Ball.
Hope is a renewable option: if you run out of it at the end of the day, you get to start over in the morning. ~ Barbara Kingsolver
The hoping and praying usually starts as you find yourself on the wrong side of a trend and the losses get bigger and bigger. Get out and start over when the loss is small. ~ Anirudh Sethi.
For what it's worth: It's never too late to be whoever you want to be. I hope you live a life you're proud of, and if you find that you're not, I hope you have the strength to start over. ~ F. Scott Fitzgerald.
The beginning is always today. ~ Mary Shelley.
Do what you can, with what you have, where you are. ~ Theodore Roosevelt.
Inspiring Starting Over Quotes
It ain't nothing to find no starting place in the world. You just start from where you find yourself. ~ August Wilson.
Begin your life today, and again tomorrow. ~ Jonathan Lockwood Huie.
It's humbling to start fresh. It takes a lot of courage. But it can be reinvigorating. You just have to put your ego on a shelf & tell it to be quiet. ~ Jennifer Ritchie Payette.
If you don't like the road you're walking, start paving another one. ~ Dolly Parton.
That last page turned is a perfect excuse to write a whole new book. ~ Toni Sorenson.
To start over after failing the initial dream is part of our maturing process. ~ Kathleen de Azevedo.
New beginnings are often disguised as painful endings. ~ Lao Tzu.
The first step towards getting somewhere is to decide you're not going to stay where you are. ~ John Pierpont Morgan.
We must be willing to get rid of the life we've planned, so as to have the life that is waiting for us. The old skin has to be shed before the new one can come. ~ Joseph Campbell.
Celebrate endings, for they precede new beginnings. ~ Jonathan Lockwood Huie.
Do not wait until the conditions are perfect to begin. Beginning makes the conditions perfect. ~ Alan Cohen.
This is life. Things get taken away. You will learn to start over many times — or you will be useless. ~ Mitch Albom.
Start by doing what's necessary: then do what's possible: and suddenly you're doing the impossible. ~ St Francis Of Assisi.
Famous Starting Over Quotes
Learn from yesterday, live for today, hope for tomorrow. ~ Albert Einstein.
To change one's life: Start immediately. Do it flamboyantly. ~ William James.
There are some things one can only achieve by a deliberate leap in the opposite direction. ~ Franz Kafka.
If you really want to live you'd better start at once to try. If you don't, it doesn't really matter but you'd better start to die. ~ W.H. Auden.
A journey of a thousand miles begins with a single step. ~ Lao Tzu.
If I must start somewhere, right here and now is the best place imaginable. ~ Richelle E. Goodrich.
It is no disgrace to start all over. It is usually an opportunity. ~ George Matthew Adams.
I have always been delighted at the prospect of a new day, a fresh try, one more start, with perhaps a bit of magic waiting somewhere behind the morning. ~ J. B. Priestly.
Whatever you can do, or dream you can, Begin it. Boldness has genius, power and magic in it, Begin it now. ~ Johann Wolfgang von Goethe.
A man needs a reason to ride this country. When people feel the morning sun on them, they want to get up and start over. ~ Randolph Scott.
Making the beginning is one third of the work. ~ Irish.
Don't worry about being worried. You're heading out on an adventure and you can always change your mind along the way and try something else. ~ Tracy Kidder.
Take the first step in faith. You don't have to see the whole staircase, just take the first step. ~ Martin Luther King, Jr.
Whether you and I and a few others will renew the world some day remains to be seen. But within ourselves we must renew it each day. ~ Herman Hesse.
I found myself starting over and needed an outlet, a way to channel a seething debris of rage left over from the divorce and my slowly deteriorating self-esteem and confidence. ~ Donna Isaacson.
If God closes a door AND a window, consider the fact that it might be time to build a whole new house. ~ Mandy Hale.
Arriving at one goal is the starting point to another. ~ John Dewey.
Starting over can be challenging, but also it can be a great opportunity to do things differently. ~ Catherine Pulsifer.
For last year's words belong to last year's language And next year's words await another voice. And to make an end is to make a beginning. ~ T.S. Eliot.
The secret to change is to focus all of your energy, not on fighting the old, but on building the new. ~ Socrates.
Popular Starting Over Quotes
Oh, my friend, it's not what they take away from you that counts. It's what you do with what you have left. ~ Hubert Humphrey.
If you alter yourself, there are no difficulties, only opportunities to grow and start over again. ~ Antawn Barb & Joe Barb I'll.
A Sunrise is God's way of saying, "Let's start again". ~ Todd Stocker.
I discovered that a fresh start is a process. A fresh start is a journey – a journey that requires a plan. ~ Vivian Jokotade.
You raze the old to raise the new. ~ Justina Chen Headley.
Forgive yourself your failures, but resume. Fall down, pick yourself up, dust yourself off, and start over again. One teacher liked to say 'Fall down nine times, get up ten.' ~ James Ishmael Ford.
Failure is the opportunity to begin again more intelligently. ~ Henry Ford.
Recreate your life, always, always. Remove the stones, plant rose bushes and make sweets. Begin again. ~ Cora Coralina.
Sometimes the hardest part isn't letting go but rather learning to start over. ~ Nicole Sobon.
It's never too late – never too late to start over, never too late to be happy. ~ Jane Fonda.
It's good to start over. It will be scary but you will see what you're really made of; it's the best opportunity to achieve what you never thought you could. ~ Jennifer Coletta.
Rather than turning the page, it's much easier to just throw the book away. ~ Anthony Liccione.
Starting all over again is not that bad because when you restart, you get another chance to make things right. ~ Ryan Ferreras.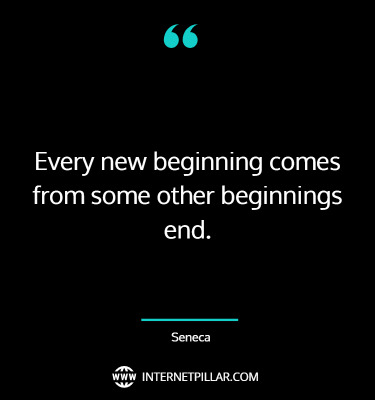 Every new beginning comes from some other beginnings end. ~ Seneca.
You leave old habits behind by starting out with the thought, 'I release the need for this in my life'. ~ Wayne Dyer.
Never forget, Today, you have 1% of your life left. ~ Tom Hopkins.
Although no one can go back and make a brand new start, anyone can start from now and make a brand new ending. ~ Carl Bard.
---
So these were the 83 quotes about Starting Over.
If these quotes and sayings connect with you, check out our other posts on finding yourself quotes and manifestation quotes.