Welcoming life's opportunities and overcoming obstacles are crucial for personal development and realizing our fullest potential.
Taking chances and embracing risks can result in unexpected outcomes, rewarding experiences and invaluable life teachings.
By stepping out of our comfort zones and exploring the unfamiliar, we open ourselves up to novel possibilities and broaden our perspectives.
We've assembled a collection of inspiring quotes from diverse sources to encourage you to take risks in life. These statements highlight the significance of being brave, bold and open to new adventures.
Allow these Taking Risks quotes to inspire you to make bold moves, pursue your aspirations and lead a life that surpasses the ordinary.
---
Top 10 Taking Risks Quotes
Risk leads to greatness. ~ Tim Sullivan.
The reward is in the risk. ~ Rachel Cohn.
Taking risks gives me energy. ~ Jay Chiat.
Leap and the net will appear. ~ Zen Saying.
Risk is what keeps us young. ~ Peagreen Clock.
Risk is the companion of fortune. ~ Jeffrey Fry.
Test fast, fail fast, adjust fast. ~ Tom Peters.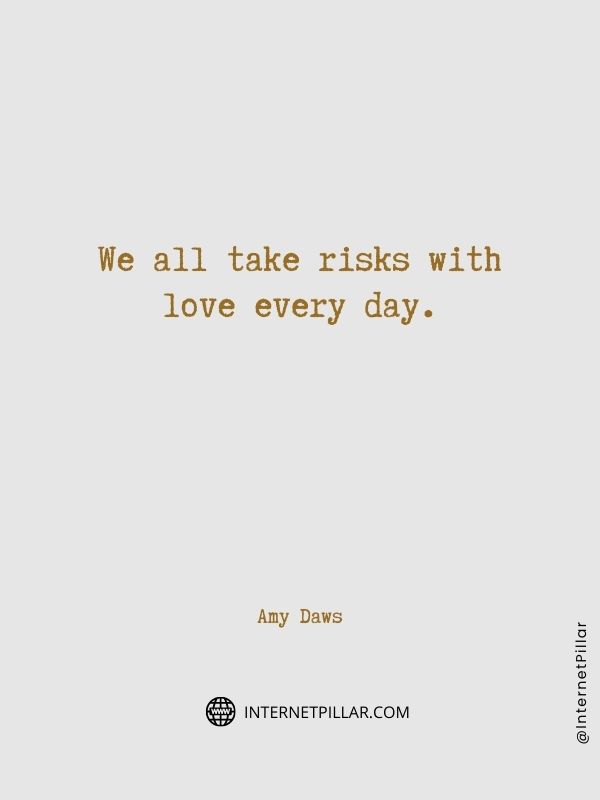 We all take risks with love every day. ~ Amy Daws.
Risk is the unique path to success. ~ Adria J. Cimino.
To save all we must risk all. ~ Friedrich von Schiller.
Related Quotes: 101 Warrior Quotes on Strength, Bravery and Battles and 57 Be Brave Quotes to Achieve Success in Life
Images for Taking Risks Quotes
The result of big risk is bigger reward. ~ Amit Kalantri.
If you want a guarantee, buy a toaster. ~ Clint Eastwood.
Don't be too scared to calculate risks. ~ Sunday Adelaja.
Without risk, life is far too predictable. ~ Renee Ahdieh.
If you want to win we're gonna have to take risks. ~ Jane.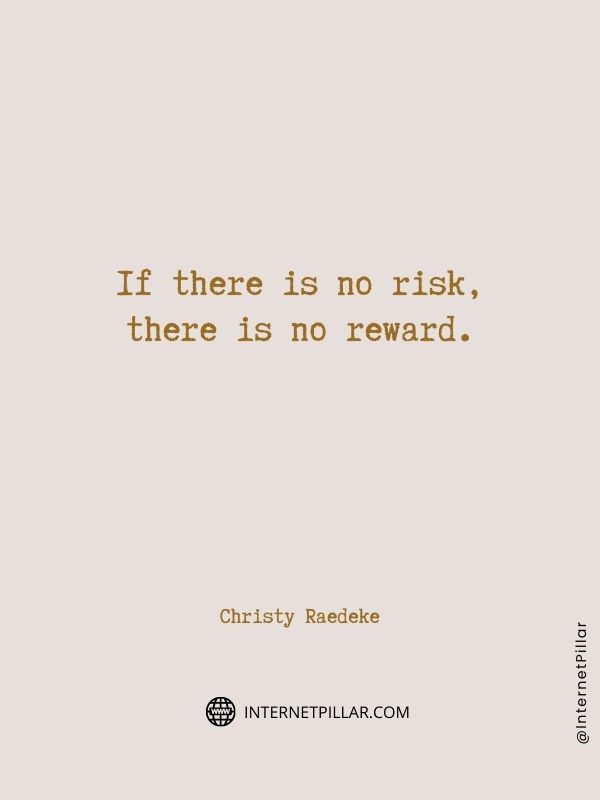 If there is no risk, there is no reward. ~ Christy Raedeke.
I win by taking risks. By standing out. ~ Carolyn Lee Adams.
It's more risky to take no risks at all. ~ Constance Friday.
If you risk nothing, then you risk everything. ~ Geena Davis.
Take the risk! You find the right road! ~ Lailah Gifty Akita.
Desperate times required judicious risk-taking. ~ Eoin Colfer.
An ambitious man needs to know when to take risks. ~ Auliq Ice.
There is something attractive about taking risks. ~ Sonny Mehta.
There's risk inherent in most things that matter. ~ Alexis Hall.
To win without risk is to triumph without glory. ~ Pierre Corneille.
Life is either a daring adventure or nothing at all. ~ Helen Keller.
If you want big rewards, you gotta take big risks. ~ Tenley Parrish.
All life's a risk, that's what makes it interesting. ~ Megan Chance.
Why not go out on a limb? That's where the fruit is. ~ Frank Scully.
Taking Risks Quotes
It is better to risk starving to death than surrender. ~ Jim Carrey.
Safety is indeed stability, but it is not progression. ~ Criss Jami.
If you don't take risks, you'll have a wasted soul. ~ Drew Barrymore.
Great men take and overtake risk tactically. ~ Ernest Agyemang Yeboah.
If I am risk adverse, my growth will be reversed. ~ Craig D. Lounsbrough.
Don't worry about failure; you only have to be right once. ~ Drew Houston.
People who live life in fear of taking risks die without living it. ~ Fola.
The process of growing and learning always involves risk. ~ Nido R. Qubein.
Life is being on the wire, everything else is just waiting. ~ Karl Wallenda.
Risk Taking Quotes
Most things worth doing come with their fair share of risks. ~ Kirsten Beyer.
There's no such thing as safety. Only degrees of risk. ~ Christopher Paolini.
You either accept the risk of winning, or the guarantee of losing. ~ F.C. Yee.
If you are just safe about the choices you make, you don't grow. ~ Heath Ledger.
Risk is our business. That's what relationships are all about. ~ Eric McCormack.
Everything is a risk. Not doing anything is a risk. It's up to you. ~ Nicola Yoon.
I am not afraid of taking risks. We have to take risks for peace. ~ Yitzhak Shamir.
If you do not take risks for your opinion, you're nothing. ~ Nassim Nicholas Taleb.
Life's about taking risks. Don't be afraid to put yourself out there. ~ Mr. Bruner.
Awesome Quotes on Risk Taking
If you take a risk and it doesn't go as planned, welcome to the club. ~ Fran Hauser.
You gotta risk it all. That's what it takes to know, to feel love. ~ Jessica Mauboy.
You only do good work when you're taking risks and pushing yourself. ~ Sally Hawkins.
If you opt for a safe life, you will never know what it's like to win. ~ Richard Branson.
It's about risks. Unless you're willing to put yourself out there, you'll never know. ~ Lex.
The only way to find true happiness is to risk being completely cut open. ~ Chuck Palahniuk.
All addiction is progressive. The addict always needs to take greater risks. ~ Michael Glass.
Best Inspirational Quotes to Help You Take Risks
Only those who will risk going too far can possibly find out how far one can go. ~ T. S. Eliot.
The most critical risk of all, is not taking the risk if means be dangerous. ~ Anthony Liccione.
If you are not willing to risk the unusual, you will have to settle for the ordinary. ~ Jim Rohn.
Life rewarded courage, even when that first step was taken neck-deep in fear. ~ Tamera Alexander.
I am always doing that which I cannot do, in order that I may learn how to do it. ~ Pablo Picasso.
There is no discovery without risk and what you risk reveals what you value. ~ Jeanette Winterson.
If I stop to kick every barking dog I am not going to get where I'm going. ~ Jackie Joyner-Kersee.
If you dare nothing, then when the day is over, nothing is all you will have gained. ~ Neil Gaiman.
Quotes About Taking Risks
We must have courage to bet on our ideas, to take the calculated risk, and to act. ~ Maxwell Maltz.
Don't be afraid to take a big step. You can't cross a chasm in two small jumps. ~ David Lloyd George.
Don't be afraid to take a big step. You can't cross a chasm in two small jumps. ~ David Lloyd George.
Whatever you can do, or dream you can, begin it. Boldness has genius, power and magic in it. ~ Goethe.
Happiness is a risk. If you're not a little scared, then you're not doing it right. ~ Sarah Addison Allen.
Don't refuse to risk, if you succeed you will be pleased, if you fail you will be prudent. ~ Amit Kalantri.
I can't promise that you'll never get hurt again, but I can promise you the risk is worth it. ~ Rick Riordan.
I'm in love with love, so I'm always taking risks! I think it's part of love, taking risks. ~ Melanie Laurent.
Best Taking Risks Ideas Images
The difference between the great and the mediocre is that the great are willing to take the risk. ~ R.F. Kuang.
Freedom is always associated with risk taking, whether it leads to it or comes from it. ~ Nassim Nicholas Taleb.
The risks were calculated. The risks were justified. No one ever ascended a mountain without risk. ~ Liane Moriarty.
If you haven't had a major fail in your career, face-plant level, you aren't trying hard enough. ~ Sallie Krawcheck.
Risks may make you win, or they will make you learn. Either of the benefits is worth daring for. ~ Israelmore Ayivor.
The greatest risk to man is not that he aims too high and misses, but that he aims too low and hits. ~ Michaelangelo.
It seems to be a law of nature, inflexible and inexorable, that those who will not risk cannot win. ~ John Paul Jones.
Quotes On Taking Risks
Take a risk. Stop playing it so safe. Maybe that's what she's been trying to tell me the whole time. ~ Quentin Jacobsen.
Only those who risk win. History favors risk-takers…forgets the timid. Everything else is commentary. ~ Iveta Cherneva.
You can measure opportunity with the same yardstick that measures the risk involved. They go together. ~ Earl Nightingale.
I don't think there's any story worth dying for, but I do think there are stories worth taking risks for. ~ Anthony Shadid.
He who risks and fails can be forgiven. He who never risks and never fails is a failure in his whole being. ~ Paul Tillich.
In a world that is changing really quickly, the only strategy that is guaranteed to fail is not taking risks. ~ Mark Zuckerberg.
You have to take risks. We will only understand the miracle of life fully when we allow the unexpected to happen. ~ Paulo Coelho.
Security is mostly a superstition. It does not exist in nature, nor do the children of men as a whole experience it. ~ Helen Keller.
Living with fear stops us taking risks, and if you don't go out on the branch, you're never going to get the best fruit. ~ Sarah Parish.
Life is inherently risky. There is only one big risk you should avoid at all costs, and that is the risk of doing nothing. ~ Denis Waitley.
Risk taking is believing in yourself while trusting in God; knowing that He will open doors for you, even when you don't see any. ~ Farshad Asl.
Don't be too timid and squeamish about your actions. All life is an experiment. The more experiments you make the better. ~ Ralph Waldo Emerson.
Risks can lead to great victories or defeats. Even if you are defeated, the lesson will be valuable for the next stage of life. ~ Lailah Gifty Akita.
---
So these were the 90 Quotes about Taking Risks.
If you like these quotes, then you can also read our other posts on Small Town Quotes and Teacher Appreciation and Suffering Quotes and Understanding Quotes and Peace Quotes.
---
Sources: