A bold and fearless individual is referred to as a "Warrior."
Warriors have been honored throughout history for their bravery and attitude in the face of hardship and unflinching dedication to their cause.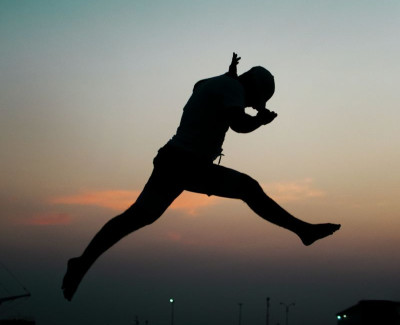 In this article, we will look at some of the most amazing, strong and powerful warrior quotes about strength and courage.
You will get quotes from ancient warriors to modern icons that will remind you of the warrior spirit we all have and inspire us to embrace our own strength and courage when things get hard.
---
Table of Contents
Top 10 Warrior Quotes
The warrior's intention should be simply to grasp his sword and to die. ~ Kiyomasa Kato.
A warrior has to believe. Otherwise, he cannot activate his intent positively. ~ Theun Mares.
Courage, above all things, is the first quality of a warrior. ~ Carl von Clausewitz.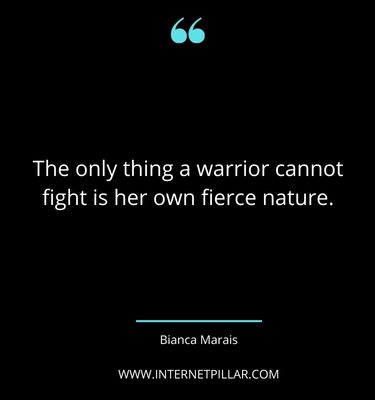 The only thing a warrior cannot fight is her own fierce nature. ~ Bianca Marais.
To be a warrior is to learn to be genuine in every moment of your life. ~ Chogyam Trungpa.
A warrior of light who trusts too much in his intelligence will end up underestimating the power of his opponent. ~ Paulo Coelho.
Warriors suffer for their dreams. Cowards pay for their fears. ~ Matshona Dhliwayo.
A warrior cannot lower his head. Otherwise, he loses sight of the horizon of his dreams. ~ Paulo Coelho.
Great warriors, like great earthquakes, are principally remembered for the mischief they have done. ~ Christian Nestell Bovee.
All men are warriors, and life for everything in our universe is nothing but war. ~ Daviad Zindell.
Also Read: 75 Fighter Quotes to Discover the Warrior Within You and 105 Strong Man Quotes to Make You Feel Invincible and Powerful
Inspiring Warrior Quotes
Ideas are the great warriors of the world, and a war that has no idea behind it is simply a brutality. ~ James A. Garfield.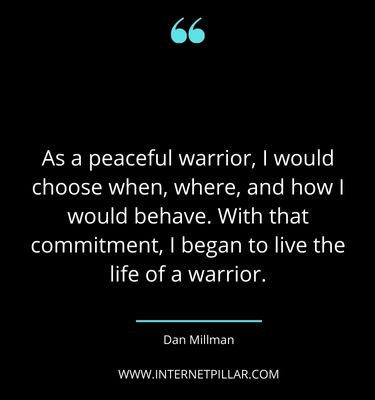 As a peaceful warrior, I would choose when, where, and how I would behave. With that commitment, I began to live the life of a warrior. ~ Dan Millman.
Cowards shrink from challenges, weaklings flee from them, but warriors wink at them. ~ Matshona Dhliwayo.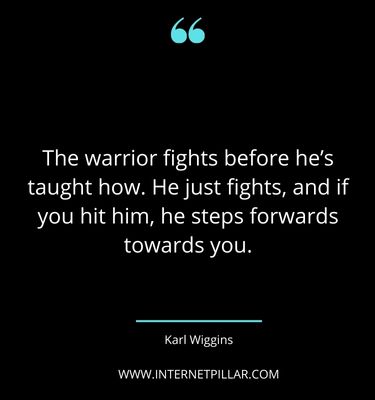 The warrior fights before he's taught how. He just fights, and if you hit him, he steps forwards towards you. ~ Karl Wiggins.
I'm a warrior for the middle class. ~ Barack Obama.
A woman is a warrior too, but she is meant to be a warrior in a uniquely feminine way. Sometime before, the sorrows of life did their best to kill it in us. Most young women wanted to be a part of something grand, something important. ~ Stasi Eldredge.
Best Warrior Quotes
Every great warrior must learn to endure and overcome the adversities of life. ~ Lailah Gifty Akita.
Every warrior wants a worthy opponent. There is no redress in fighting the pathetic. ~ Donna Lynn Hope.
The big difference between a warrior and a victim is that the victim represses and the warrior refrains. ~ Don Miguel Ruiz.
We choose whether to be warriors or to be ordinary. ~ Carlos Castaneda.
The warrior learns of the spiritual realm by dwelling on the cutting edge of the sword, standing at the edge of the fire pit, venturing right up to the edge of starvation if necessary. Vibrant and intense living is the warrior's form of worship. ~ Stephen K. Hayes.
A warrior takes everything as a challenge while an ordinary man takes everything as a blessing or a curse. ~ Carlos Castaneda.
The warrior stands, ready to defend, ready to fight for those he serves. He is a warrior of virtue. A knight of conscience. He is who we all wish to be. ~ Anthony T. Hincks.
Anger has its place, but it will not serve you here. The way of the warrior is the way of knowing. If that knowledge requires you to use anger, then you use anger, but you cannot wrest forth knowledge by losing your temper. ~ Christopher Paolini.
Warriors don't rise to the level of expectations. They fall to the level of their training. ~ Archilochus.
For a warrior, it is not enough to win a war. It is more important to organize the peace. ~ Aristotle.
The true warrior isn't immune to fear. She fights in spite of it. ~ Francesca Lia Block.
Victorious warriors win first and then go to war, while defeated warriors go to war first and then seek to win. ~ Sun Tzu.
Famous Warrior Quotes
Any great warrior is also a scholar, and a poet, and an artist. ~ Steven Seagal.
There is no greater warrior than a mother protecting her child. ~ N.K. Jemisin.
A warrior knows that the ends do not justify the means because there are no ends, there are only means. ~ Paulo Coelho.
The essence of warriorship or the essence of human bravery is refusing to give up on anyone or anything. ~ Chogyam Trungpa.
Surprise is the warrior's greatest weapon. ~ Erin Hunter.
Defeat exists, but not suffering. A true warrior knows that when he loses a battle, he is improving the skill with which he wields a sword. He will be able to fight more skillfully next time. ~ Paulo Coelho.
A warrior must believe in his strength of will, of purpose, of heart, and soul. ~ David Gemmell.
Fate whispers to the warrior, 'You can not withstand the storm.' The warrior whispers back, 'I am the storm.' ~ Jake Remington.
Warriors of light are not perfect. Their beauty lies in accepting this fact and still desiring to grow and to learn. ~ Paulo Coelho.
A warrior's greatest glory is not in never falling, but in rising every time we fall. ~ Confucius.
A warrior accepts the challenges of life in true humility. No matter what his destiny may be, it can never be a cause for discontent but a living challenge which it is his privilege to surmount. ~ Theun Mares.
Powerful Warrior Quotes
The warrior guided by the spirit serves humanity, the warrior without, serves the ego. ~ Soke Behzad Ahmadi.
A warrior takes responsibility for his acts, for the most trivial of acts. An average man acts out his thoughts, and never takes responsibility for what he does. ~ Carlos Castaneda.
A warrior who is prepared to fight must also be prepared to die. ~ Sun Tzu.
The supreme accomplishment of the warrior – to perform the commonplace under far from commonplace conditions. ~ Steven Pressfield.
A warrior with a cause is the most dangerous soldier of all. ~ Michael Scott.
You're the hunter, the warrior. You're stronger than anyone else here. That's your tragedy. ~ Anne Rice.
Warriors do not win victories by beating their heads against the walls, but by overtaking the walls. Warriors jump over walls. They don't demolish them. ~ Carlos Castaneda.
Warriors should suffer their pain silently. ~ Erin Hunter.
A warrior lives by acting, not by thinking about acting, nor by thinking about what he will think he has finished acting. ~ Carlos Castaneda.
Warriors use their intent and will to shape their lives. All of their actions are conscious, intentional, and complete. ~ Kerr Cuhulain.
Savage Warrior Quotes
Protecting yourself is self-defense. Protecting others is warriorship. ~ Bohdi Sanders.
A warrior never worries about his fear. ~ Carlos Castaneda.
The only reason a warrior is alive is to fight, and the only reason a warrior fights is to win. ~ Miyamoto Musashi.
No one's born to be a warrior, no one born an average man. We made one or the other, and we try to understand, try to understand. ~ Zac Brown Band.
A warrior speaks truth that cuts sharper than winter cold. ~ Kevin Anytime.
Though the warrior's sun has set, its light shall linger 'round us yet, bright, radiant, blest. ~ Jorge Manrique.
It's natural to feel fear. All great warriors are afraid, only the stupid and the delusional are not. ~ Rick Riordan.
Fear is an aid to the warrior. It is a small fire burning. It heats the muscles making us stronger. Panic comes when the fire is out of control, consuming all courage and pride. ~ David Gemmell.
I do what I do because it is the right thing to do. I am a warrior, and it is the way of the warrior to fight superior odds. ~ Paul Watson.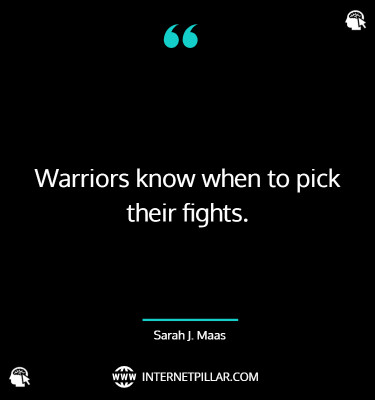 Warriors know when to pick their fights. ~ Sarah J. Maas.
The art of being a warrior is to balance the wonder and the terror of being alive. ~ Carlos Castaneda.
Fearless Warrior Quotes
The path of the warrior is lifelong, and mastery is often simply staying on the path. ~ Richard Strozzi-Heckler.
Cowards hide, but warriors lie and wait. The only difference is whether you're motivated by fear or purpose. ~ Neal Shusterman.
This is the strange way of the world, that people who simply want to love are instead forced to become warriors. ~ Lauren Oliver.
The two most powerful warriors are patience and time. ~ Leo Tolstoy.
It's easy and unextraordinary to be frightened of life. It's far more difficult to arm yourself with the good stuff despite all the bad, and step foot into tomorrow as an everyday warrior. ~ Jonathan Safran Foer.
Victory are reserved for those warriors who are willing to pay it's price. ~ Sun Tzu.
A warrior thinks of death when things become unclear. The idea of death is the only thing that tempers our spirit. ~ Carlos Castaneda.
When life is victorious, there is birth. When it is thwarted, there is death. A warrior is always engaged in a life and death struggle for peace. ~ Morihei Ueshiba.
The wise warrior avoids the battle. ~ Sun Tzu.
A warrior may change his metal, but not his heart. ~ Edgar Rice Burroughs.
The true warrior understands and seizes that moment by giving an effort so intense and so intuitive that it could only be called one from the heart. ~ Pat Riley.
Be a fearless warrior. Allow love to be your shield. ~ Lady Alexis Essuman.
Top Warrior Quotes
I know what I'm capable of. I am a soldier now, a warrior. I am someone to fear, not hunt. ~ Pittacus Lore.
Hardships will push you harder to slump in deep dejection but you, the warrior will erase its intent by your tenacity. ~ Spriha Kant.
Life has tried to break me. The wounds have not yet healed, but I am not a victim – never been and never will. My heart was born a warrior. Each day I'm fighting still. I am everything the darkness could not kill. ~ John Mark Green.
Fear doesn't go away. The warrior and the artist live by the same code of necessity which dictates that the battle must be fought anew every day. ~ Steven Pressfield.
The successful warrior is the average man with laser-like focus. ~ Bruce Lee.
If you are a warrior, decency means that you are not cheating anybody at all. You are not even about to cheat anybody. There is a sense of straightforwardness and simplicity. ~ Chogyam Trungpa.
Strategy is the craft of the warrior. ~ Miyamoto Musashi.
Victory is reserved for those warriors who are willing to pay its price. ~ Sun Tzu.
There's more to being a warrior than killing. A true warrior, the best warrior, isn't cruel or mean. He doesn't claw an enemy who can't fight back. Where's the honor in that? ~ Erin Hunter.
The more you sweat in training, the less you bleed in combat. ~ Richard Marcinko.
Some warriors look fierce but are mild. Some seem timid but are vicious. Look beyond appearances. Position yourself for the advantage. ~ Deng Ming-Dao.
Motivational Warrior Quotes
Resilience is, of course, necessary for a warrior, but a lack of empathy isn't. ~ Phil Klay.
The greatest warriors know when to retreat. ~ Maureen Joyce Connolly.
Never forget about your inner warrior. Sometimes, she's all you have. ~ Mozelle Barr Martin.
The warrior that has the most confidence in his abilities to fight is usually the most humble person you will ever meet. ~ Terry Bryan.
Weapons may be carried by creatures who are evil, dishonest, violent, or lazy. The true warrior is good, gentle, and honest. His bravery comes from within himself. He learns to conquer his own fears and misdeeds. ~ Brian Jacques.
The warrior must never get angry in war. ~ Lailah Gifty Akita.
The warrior knows the worth of the wilderness. ~ Lailah Gifty Akita.
Some may be warriors, that others may live in peace. ~ Mercedes Lackey.
A warrior seeks to act rather than talk. ~ Carlos Castaneda.
Competition doesn't scare a true warrior. It makes him better. ~ Andrew Whitworth.
A true warrior fights not because he hates what is in front of him, but because he loves what is behind him. ~ Gilbert Keith Chesterton.
A warrior does not give up what he loves. He finds the love in what he does. ~ Dan Millman.
If a warrior is to succeed at anything, the success must come gently, with a great deal of effort but with no stress or obsession. ~ Carlos Castaneda.
---
Here is a video about the warrior mindset and motivation.
---
So these were the 101 quotes about Warrior.
If you like these quotes and sayings, then you can also read my other popular blog posts on the topics of Enjoy the Moment quotes and Working Mom quotes and Broken Family quotes.
---
Sources and Inspiration: