Tolerance is a vital trait that enables harmonious coexistence with others, even in instances of differing viewpoints.
Given the inherent diversity among people, tolerance becomes instrumental in facilitating the sustainability of mixed-race communities globally.
Tolerance underpins the recognition and respect of universal human rights and basic freedoms. Embracing tolerance fosters acceptance of differences, fostering peaceful and respectful interactions.
This quality forms the bedrock of a diverse and inclusive society, fostering mutual understanding and respect among individuals.
The nurturing of tolerance, therefore, becomes a powerful means of cultivating peaceful communities and promoting the recognition of the rights and freedoms of all individuals.
The collection of tolerance quotes provides valuable insights into the significance of patience and acceptance in a diverse society, promoting the ethos of tolerance in daily life.
---
Table of Contents
Top 10 Tolerance Quotes
You will never change what you tolerate. ~ Joel Osteen.
Tolerance can lead to learning something. ~ Jakob Dylan.
Tolerance of intolerance is cowardice. ~ Ayaan Hirsi Ali.
Good-humor makes all things tolerable. ~ Henry Ward Beecher.
The highest result of education is tolerance. ~ Helen Keller.
Tolerance becomes a crime when applied to evil. ~ Thomas Mann.
Tolerance is the only real test of civilization. ~ Arthur Helps.
Don't get so tolerant that you tolerate intolerance. ~ Bill Maher.
Tolerance and apathy are the last virtues of a dying society. ~ Aristotle.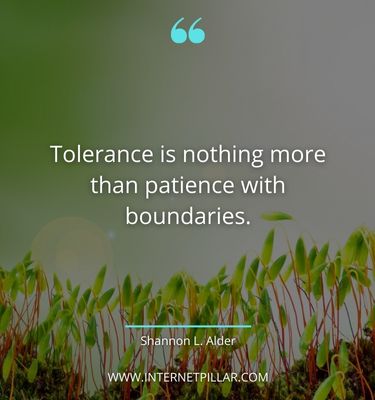 Tolerance is nothing more than patience with boundaries. ~ Shannon L. Alder.
Quotes About Tolerance for International Day of Tolerance
Tolerance is something you don't like, but put up with. ~ Dustin Lance Black.
Tolerance is the oil which takes the friction out of life. ~ Wilbert E. Scheer.
Tolerance is a virtue that depends upon peace and strength. ~ Charles Lindbergh.
Tolerance is the virtue of the man without convictions. ~ Gilbert K. Chesterton.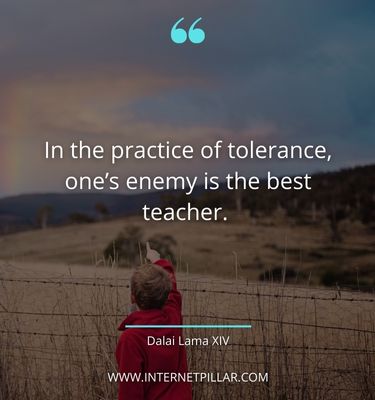 In the practice of tolerance, one's enemy is the best teacher. ~ Dalai Lama XIV.
Anger and intolerance are the enemies of correct understanding. ~ Mahatma Gandhi.
Tolerance is a virtue, but tolerance coupled with passivity is a vice. ~ Chris Hedges.
Tolerance is the price we pay for living in a free, pluralistic society. ~ Robert Casey.
Related: Negativity Quotes and Accomplishment Quotes.
Inspiring Tolerance Quotes To Help Us Love
Discord is the great ill of mankind; and tolerance is the only remedy for it. ~ Voltaire.
The responsibility of tolerance lies with those who have the wider vision. ~ George Eliot.
Acceptance and tolerance and forgiveness, those are life-altering lessons. ~ Jessica Lange.
Compassion and tolerance are not a sign of weakness, but a sign of strength. ~ Dalai Lama XIV.
Tolerance is a virtue of people who don't believe in anything anymore. ~ Gilbert K. Chesterton.
A man who cannot tolerate small misfortunes can never accomplish great things. ~ Chinese Proverb.
Tolerance Quotes
The only way to be tolerant of others is to be able to see the world through their eyes. ~ Tohon.
Broad tolerance in the matter of beliefs is necessarily a part of the new ethics. ~ Lafcadio Hearn.
Broad-mindedness is related to tolerance; open-mindedness is the sibling of peace. ~ Salman Rushdie.
All I require of a religion is that it be tolerant of those who do not agree with it. ~ Roger Ebert.
You are not angry with people when you laugh at them. Humor teaches tolerance. ~ W. Somerset Maugham.
All men are made one for another, either then teach them better or bear with them. ~ Marcus Aurelius.
Tolerance always has limits, and it cannot tolerate what is itself actively intolerant. ~ Sidney Hook.
Tolerance and celebration of individual differences is the fire that fuels lasting love. ~ Tom Hannah.
Quotes about Tolerance
It is the enemy who can truly teach us to practice the virtues of compassion and tolerance. ~ Dalai Lama.
Human diversity makes tolerance more than a virtue; it makes it a requirement for survival. ~ Rene Dubos.
Humor brings insight and tolerance. Irony brings a deeper and less friendly understanding. ~ Agnes Repplier.
No human trait deserves less tolerance in everyday life, and gets less, than intolerance. ~ Giacomo Leopardi.
Sooner or later, if man is ever to be worthy of his destiny, we must fill our hearts with tolerance. ~ Stan Lee.
Tolerance is giving to every other human being every right that you claim for yourself. ~ Robert Green Ingersoll.
Tolerance, of course, is often used in an entirely neutral sense: simply the ability to endure. ~ Lee C. Bollinger.
In order to have faith in his own path, he does not need to prove that someone else's path is wrong. ~ Paulo Coelho.
Tolerance is the mindful capacity to love, respect, accept the differences that make people unique. ~ Byron Pulsifer.
Quotes To Increase Your Tolerance
Tolerance is a tremendous virtue, but the immediate neighbors of tolerance are apathy and weakness. ~ James Goldsmith.
If a profound gulf separates my neighbor's belief from mine, there is always the golden bridge of tolerance. ~ Unknown.
In a multi-racial society, trust, understanding and tolerance are the cornerstones of peace and order. ~ Kamisese Mara.
Tolerance, openness to argument, openness to self-doubt, willingness to see other people's points of view. ~ Sam Harris.
I am a lover of truth, a worshiper of freedom, a celebrant at the altar of language and purity and tolerance. ~ Stephen Fry.
It's as though the adult world is intolerant of hopes and dreams that seem too fanciful, or too hopeful. ~ Simeon Lindstrom.
We must work harder to build mutual respect, an attitude of tolerance, with forbearance one for another. ~ Gordon B. Hinckley.
Tolerance, compromise, understanding, acceptance, patience – I want those all to be very sharp tools in my shed. ~ Cee Lo Green.
Best Tolerance Quotes Ideas
It is thus tolerance that is the source of peace, and intolerance that is the source of disorder and squabbling. ~ Pierre Bayle.
As if reading his mind, Jamal-al-Din said, 'To get what you love, you must first be patient with what you hate. ~ Leila Aboulela.
We should acknowledge differences, we should greet differences until difference makes no difference anymore. ~ Dr. Adela A. Allen.
Everyone on Earth, they'd tell us, was carrying around an unseen history, and that alone deserved some tolerance. ~ Michelle Obama.
Tolerance isn't about not having beliefs. It's about how your beliefs lead you to treat people who disagree with you. ~ Timothy Keller.
He began to realize that you cannot even fight happily with creatures that stand upon a different mental basis to yourself. ~ H.G. Wells.
Tolerance implies no lack of commitment to one's own beliefs. Rather it condemns the oppression or persecution of others. ~ John F. Kennedy.
Toleration is a distinctively modern response to disagreement and difference, and its ills are variations on modernity's own. ~ John R. Bowlin.
Toleration is the greatest gift of the mind; it requires the same effort of the brain that it takes to balance oneself on a bicycle. ~ Helen Keller.
Inspirational Quotes on Tolerance
When you are tolerant, you are allowing every individual whom you meet to follow the dictates of their own reason and conscience. ~ Marilyn J. Awtry.
He who would practice the art of tolerance must guard well against an attitude of superiority, smugness, indifference and coldness. ~ Wilfred Peterson.
Tolerance is understanding. It is open to new light. Those who are tolerant are always eager to explore viewpoints other than their own. ~ Wilferd Peterson.
Tolerance should, strictly speaking, be only a passing mood; it ought to lead to acknowledgment and appreciation. To tolerate a person is to affront him. ~ Goethe.
I have learnt silence from the talkative, toleration from the intolerant, and kindness from the unkind; yet strange, I am ungrateful to these teachers. ~ Khalil Gibran.
Tolerance is the positive and cordial effort to understand another's beliefs, practices, and habits without necessarily sharing or accepting them. ~ Joshua Loth Liebman.
If tolerance is the best we can do in this moment, then by all means let's be tolerant. But by stopping there, by merely tolerating each other, we miss so much. ~ John Wesley Shipp.
---
So these were the 65 quotes about Tolerance.
If you like these quotes, then you can also read our other posts on Change the World Quotes and Healthy Lifestyle quotes.