Since tomorrow is never promised due to the unpredictable nature of life it is very important to live in the present moment.
The "now or never" mentality encourages us to appreciate and love each and every moment.
Knowing that the future is unpredictable might help us in reducing stress and let go of the past and find happiness and tranquility in the present moment.
We frequently put off experiencing enjoyment while waiting for the "right" time.
But if we put off doing the things that make us happy all the time, we can miss out on priceless opportunities.
External things and pressures, such as job loss, family commitments, social pressures and financial instability might derail our day-to-day activities.
However, we should position ourselves for greater enjoyment by giving the present moment the respect it deserves and following our passions a high priority.
Here are some of the best tomorrow is not promised quotes to motivate you.
---
Best Tomorrow is not Promised Quotes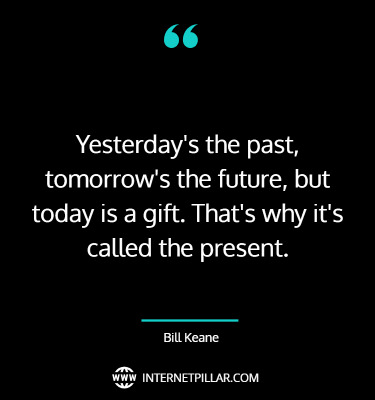 Yesterday's the past, tomorrow's the future, but today is a gift. That's why it's called the present. ~ Bill Keane.
Today, I know of the opportunity. Tomorrow, might bring a calamity. ~ Ofosu Kwarteng Davis.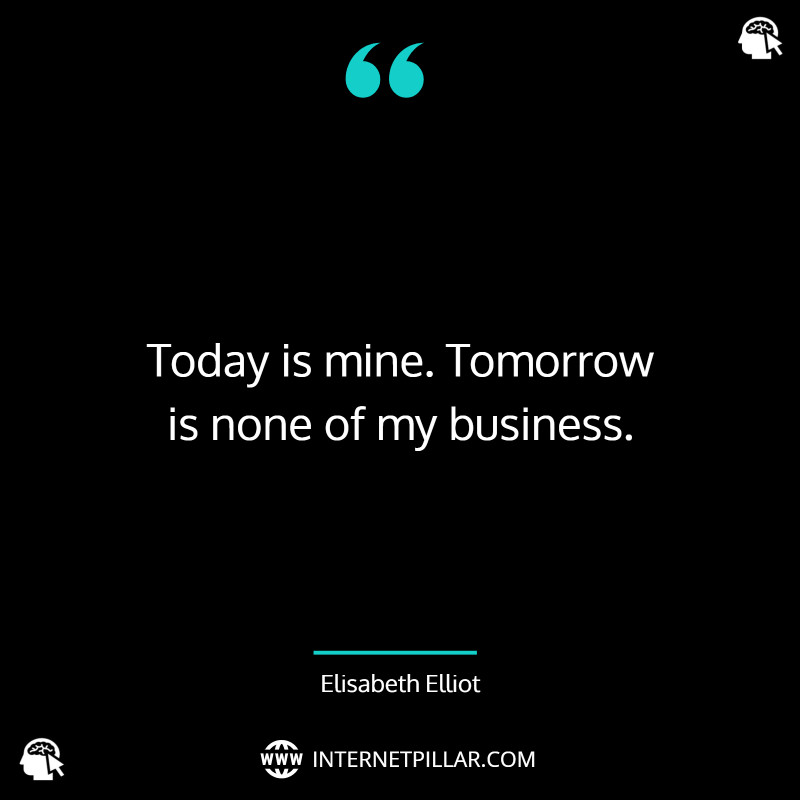 Today is mine. Tomorrow is none of my business. ~ Elisabeth Elliot.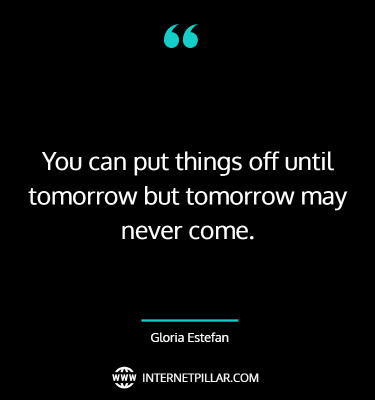 You can put things off until tomorrow but tomorrow may never come. ~ Gloria Estefan.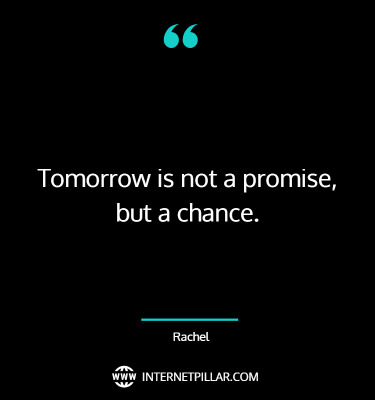 Tomorrow is not a promise, but a chance. ~ Rachel.
If today is not your day, then be happy for this day shall never return. And if today is your day, then be happy now for this day shall never return. ~ Kamand Kojouri.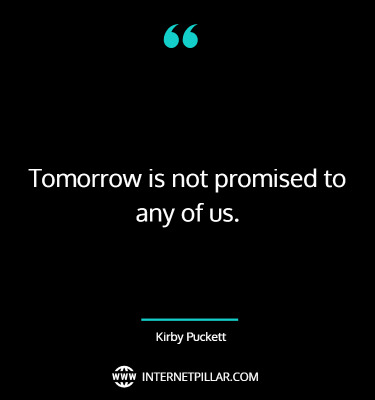 Tomorrow is not promised to any of us. ~ Kirby Puckett.
From my old neighborhood, I learned nothing was guaranteed, not even life itself. You better get it today, because tomorrow is not promised. ~ Junior Seau.
We have to know that nothing is promised, nothing is guaranteed, especially tomorrow. ~ Chuck Pagano.
Today is the tomorrow you were promised yesterday. ~ Shaun Tan.
Tomorrow is but a metaphor to a door that may never open. ~ Colette Parrino.
I made promises to yesterday. I can't start giving away my tomorrows. ~ Stylo Fantome.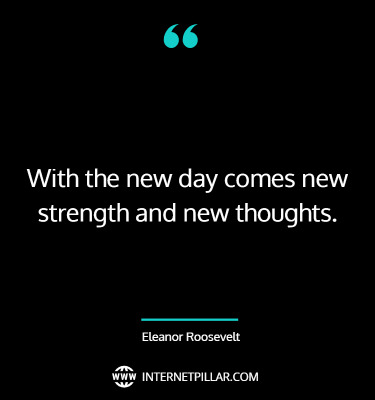 With the new day comes new strength and new thoughts. ~ Eleanor Roosevelt.
This time, like all times, is a very good one, if we but know what to do with it. ~ Ralph Waldo Emerson.
Tomorrow is never promised to anyone, so dance until your side hurts; say I love you to those you love for tomorrow may never come. ~ Unknown.
Famous Tomorrow is not Promised Quotes
There is nothing like the time we have with those we love the most. Every moment is precious because we aren't promised tomorrow. Hold on to them tight and cherish them while you're given the chance. ~ N.E. Henderson.
Nothings promised, not the rest of tonight, not all of tomorrow! ~ Eric Jerome Dickey.
Don't worry about tomorrow, for tomorrow will bring its own worries. Today's trouble is enough for today. ~ Bible.
Here today may be gone tomorrow! Never take anyone or anything for granted! Be sure to count your blessing daily because tomorrow isn't promised. ~ Surgeo Bell.
Tomorrow can be better or worse but will never be the same as today. ~ Ash Sweeney.
If tomorrow is promised to no one, why do we spend today building the foundation for tomorrow. The future may not be promised, but it may be filled with promise. ~ Nikki DiCaro.
I'll leave the past in the past, Tomorrow's not promised, An' Today's just a gift, I guess that's why it's called the present. ~ Joe Budden.
Life was short. We weren't promised tomorrow. Wasting what time we did have on hating others or hating the paths we were given was pointless. We should embrace it and make the best of it. ~ Abbi Glines.
Isn't it nice to think that tomorrow is a new day with no mistakes in it yet? ~ L.M. Montgomery.
As you keep your mind and heart focused in the right direction, approaching each day with faith and gratitude, I believe you will be empowered to live life to the fullest and enjoy the abundant life He has promised you! ~ Victoria Osteen.
Top Tomorrow is not Promised Quotes
I wonder why I don't go to bed and go to sleep. But then it would be tomorrow, so I decide that no matter how tired, no matter how incoherent I am, I can skip one hour more of sleep and live. ~ Sylvia Plath.
Stop longing. You poison today's ease, reaching always for tomorrow. ~ Robin Hobb.
Your hand can seize today, but not tomorrow, and thoughts of your tomorrow are nothing but desire. Don't waste this breath, if your heart isn't crazy, since the rest of your life won't last forever. ~ Omar Khayyám.
You're never promised your next breath. ~ Lenny Kravitz.
What does waiting do? None of us are promised a tomorrow … We don't always get a later. He kissed my temple again, then pulled back, his eyes finding mine. I'm done living like we do. ~ Jennifer L. Armentrout.
The best preparation for tomorrow is doing your best today. ~ H. Jackson Brown Jr.
The future starts today, not tomorrow. ~ Pope John Paul II.
Never give up. Today is hard, tomorrow will be worse, but the day after tomorrow will be sunshine. ~ Jack Ma.
Popular Tomorrow is not Promised Quotes
Thank God always for another day cause tomorrow isn't promised! ~ Unknown.
Yesterday is history, tomorrow is a mystery, today is God's gift, that's why we call it the present. ~ Joan Rivers.
Today is your chance because tomorrow is not promised to anyone. ~ Pauline Seaport.
I realize we're not promised tomorrow. Believe me, I realize that. But if God blesses me and lets me stay, I love my life so much, it is such a good life. I am eager to throw myself at His feet, but I don't want to get on the first busload that is going. ~ Barbara Mandrell.
If tomorrow wasn't promised, what would you give for today? ~ Ray Lewis.
I always say you've only got one life to live, and you're not promised a tomorrow. So, you might as well just have a good time with it. ~ Fantasia Barrino.
Leave nothing for tomorrow which can be done today. ~ Abraham Lincoln.
Tomorrow is never promised, so live for today. Put your ego aside, open your eyes to who and what's around you. You are loved. You are cared for. You are blessed, always remember that. ~ Junethea Crystal Centeno.
Live Today! Do not allow your spirit to be softened of your happiness to be limited by a day you cannot have back or a day that does not yet exist. ~ Steve Maraboli.
Tomorrow you promise yourself will be different, yet tomorrow is too often a repetition of today. ~ James T. Mccay.
Tomorrow is promised to no one so live your life fully every day. ~ Therese Crutcher-Marin.
Sometimes you have to go through the wilderness before you get to the Promised Land. ~ John Bytheway.
Inspirational Tomorrow is not Promised Quotes
I will ride with you tomorrow, he promised. Don't ride with anyone else. Stay by my side. ~ Elise Kova.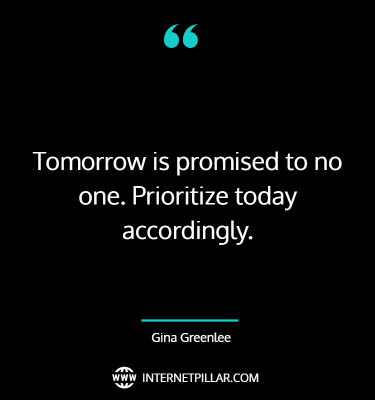 Tomorrow is promised to no one. Prioritize today accordingly. ~ Gina Greenlee.
Nothing about tomorrow was promised to them; Jamie understood that. But as long as God gave them the gift of today, she would cherish it with all her heart. ~ Karen Kingsbury.
Live as if you were to die tomorrow. Learn as if you were to live forever. ~ Mahatma Gandhi.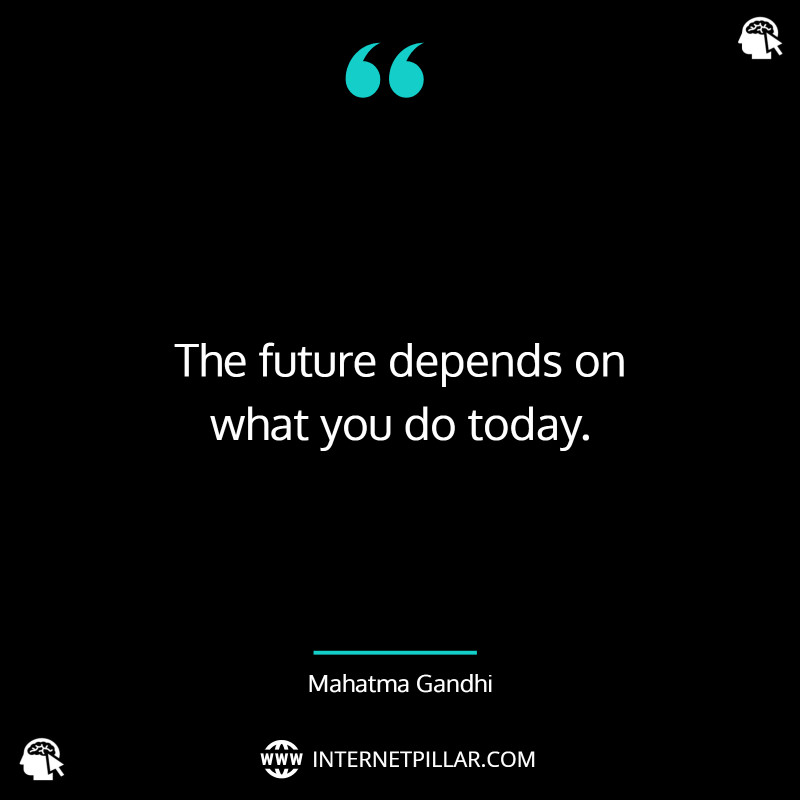 The future depends on what you do today. ~ Mahatma Gandhi.
Remember, tomorrow is promised to no one. ~ Walter Payton.
Live life like it's your last day. Make every minute count. For tomorrow is not promised. Live in the moment. ~ Alisha Broughton.
It sounds corny, but I've promised my inner child that never again will I ever abandon myself for anything or anyone else again. ~ Wynonna Judd.
Tomorrow's not promised. You may love someone; you may have a grudge because of something that they did to you, and it was unfair, but life's not fair. Life is very short, so clean up your grudges. Let's not hold them. ~ Mya.
If I were to live for tomorrow, I would have lived fullest for today. ~ Santosh Kalwar.
The timeless in you is aware of life's timelessness. And knows that yesterday is but today's memory and tomorrow is today's dream. ~ Khalil Gibran.
Live today facing forward – with your back on yesterday, your eyes on tomorrow, and your head and heart in the moment. ~ Richelle E. Goodrich.
Inspiring Tomorrow is not Promised Quotes
Tomorrow. The word hangs in the air for a moment, both a promise and a threat. Then it floats away like a paper boat, taken from her by the water licking at her ankles. ~ Thrity Umrigar.
Don't be amongst those trying to build a better tomorrow. We can have a better tomorrow only if our Today is better than our Yesterday. ~ Unknown.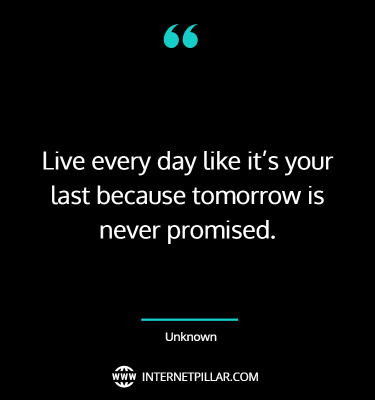 Live every day like it's your last because tomorrow is never promised. ~ Unknown.
Every tomorrow has two handles. We can take hold of it with the handle of anxiety or the handle of faith. ~ Henry Ward Beecher.
Live for today with love and kindness. Live profoundly for tomorrow is promised to no one. ~ Debasish Mridha.
Work while it is called today, for you know not how much you will be hindered tomorrow. One today is worth two tomorrow's; never leave that till tomorrow which you can do today. ~ Benjamin Franklin.
I am not afraid of tomorrow, for I have seen yesterday and I love today! ~ William Allen White.
When you go through a significant injury and have a major career change, you truly do go one year at a time, and you don't look past what's going on now, because you are not sure what's going to happen. Tomorrow is not promised. ~ Peyton Manning.
When the seasons shift, even the subtle beginning, the scent of a promised change, I feel something stir inside me. Hopefulness? Gratitude? Openness? Whatever it is, it's welcome. ~ Kristin Armstrong.
Tell your kids you love them as much as you possibly can, because you're not promised one second to the next. ~ Booker T. Washington.
Never put off till tomorrow what you can do the day after tomorrow. ~ Mark Twain.
Don't take your health for granted. Don't take your body for granted. Do something today that communicates to your body that you desire to care for it. Tomorrow is not promised. ~ Jada Pinkett Smith.
Tomorrow is not promised to us. Start dancing in the rain and look for your rainbow through the storm clouds. Once you find it, don't ever let it go. ~ Amelia Hutchins.
---
So these were the 70 quotes about Tomorrow is not Promised.
If you like these quotes and sayings, then you can also read our other posts on standing alone quotes and Ann Hood quotes.