God is always present for us, even if we might not be aware of it.
For you, I've chosen some of the most well-known quotes on trust in God.
---
Top 10 Trust in God Quotes
In times of trouble, trust in God! ~ Lailah Gifty Akita.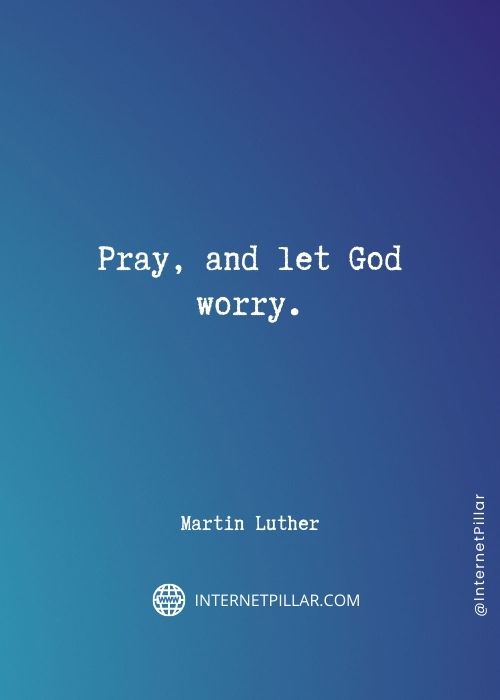 Pray, and let God worry. ~ Martin Luther.
God can restore your life. Trust in Him. ~ Gift Gugu Mona.
Leave things in the hands of God. ~ Ibn al-Husayn al-Sulami.
Feed your faith and starve your doubts. ~ Kenneth E. Hagin Sr.
Don't be troubled. Trust in God. Trust also in me. ~ John 14:1.
Faith isn't faith until it's all you're holding on to. ~ Unknown.
Through the trials, I learned to trust in God. ~ Lailah Gifty Akita.
Sometimes when we just stand still, the grace finds us. ~ Mary Davis.
Faith in God will elevate you to next level blessings. ~ Germany Kent.
Images for Trust in God Quotes
Jesus Christ is the same yesterday, today, and forever! ~ Hebrews 13:8.
Never be afraid to trust an unknown future to a known God. ~ Corrie Ten Boom.
Trust in the Lord forever, for the Lord is a rock for all ages. ~ Isaiah 26:4.
The Muslim without faith is like a body without spirit. ~ Kamaran Ihsan Salih.
We can make our plans, but the Lord determines our steps. ~ Proverbs 16:9 NLT.
God will always be there when you need Him most. Trust in Him. ~ Gift Gugu Mona.
No matter your circumstance, have the courage to trust in God. ~ Lailah Gifty Akita.
Trust God Quotes
Don't ask God to guide your steps if you're not willing to move your feet. ~ Unknown.
Faith talks in the language of God. Doubt talks in the language of man. ~ E.W. Kenyon.
Do not let your heart be troubled nor terrified but trust in God. ~ Lailah Gifty Akita.
Faith is the vision of the heart; it sees God in the dark as well as in the day. ~ Unknown.
Prayer is not overcoming God's reluctance, but laying hold of His willingness. ~ Martin Luther.
Quotes about Trust in God
I am the Lord, and I do not change; and you, children of Jacob, have not perished. ~ Malachi 3:6.
You keep him in perfect peace whose mind is stayed on you because he trusts in you. ~ Isaiah 26:3.
They won't be frightened at bad news. Their hearts are steady, trusting in the Lord. ~ Psalm 112:7.
Nothing beats a genuine faith that completely trust God's power and provision. ~ Krizha Mae G. Abia.
We need to trust the unknown, throw our cards in the air and deal with wherever they fall. ~ Unknown.
Trust In God Quotes
It is possible to do the impossible when you trust in the God of all possibilities. ~ Gift Gugu Mona.
Faith comes alive when the Word read from the page becomes the Word heard in your heart. ~ Rex Rouis.
Those who know your name trust you because you have not abandoned any who seek you, Lord. ~ Psalm 9:10.
Don't lose your self worth or faith in God no matter how many critics rise against you. ~ Shaneika Marie.
The Lord is good, a stronghold in the day of trouble; he knows those who take refuge in him. ~ Nahum 1:7.
Trust God Quotes To Inspire Your Faith
The Lord is close to everyone who calls out to him, to all who call out to him sincerely. ~ Psalm 145:18.
I have learned that faith means trusting in advance what will only make sense in reverse. ~ Philip Yancey.
And let us not grow weary of doing good, for in due season we will reap, if we do not give up. ~ Galatians 6:9.
Best Quotes about Trusting God
Trust in him at all times, O people; pour out your heart before him; God is a refuge for us. Selah. ~ Psalm 62:8.
All you people: Trust in him at all times! Pour out your hearts before him! God is our refuge! Selah. ~ Psalm 62:8.
Faith is putting all your eggs in God's basket, then counting your blessings before they hatch. ~ Ramona C. Carroll.
The beginning of anxiety is the end of faith, and the beginning of true faith is the end of anxiety. ~ George Mueller.
The thief comes only to steal and kill and destroy. I came that they may have life and have it abundantly. ~ John 10:10.
Most Inspirational Quotes about Trusting God
Put your trust and faith in God and not everyone, because God who created and is guiding you and not people. ~ Lynn Bnb.
Trust in the process means you are allowing God to handle the situation and moving yourself out of the way. ~ Germany Kent.
God says, don't worry about your future. He's the author of your life and he has already written the last chapter. ~ Max Lucado.
Faith is a reasoning trust, a trust which reckons thoughtfully and confidently upon the trustworthiness of God. ~ John R. Stott.
The Lord is my strength and my shield. My heart trusts him. I was helped, my heart rejoiced, and I thank him with my song. ~ Psalm 28:7.
Positive Trust God Quotes to Make You Feel Better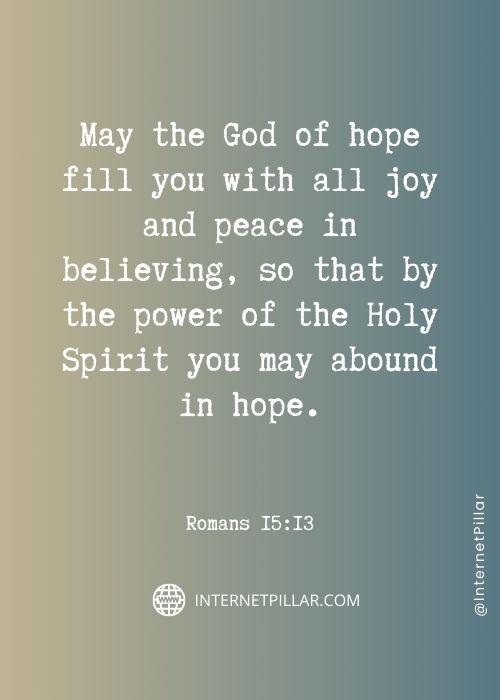 May the God of hope fill you with all joy and peace in believing, so that by the power of the Holy Spirit you may abound in hope. ~ Romans 15:13.
God is not going to stop every difficulty, every bad break but, He will give you the strength, the power, the grace to go through. ~ Joel Osteen.
This is the confidence that we have in our relationship with God: If we ask for anything in agreement with his will, he listens to us. ~ John 5:14.
God will not permit any troubles to come upon us, unless He has a specific plan by which great blessing can come out of the difficulty. ~ Peter Marshall.
I Trust in God Quotes
Whenever I'm afraid, I put my trust in you – in God, whose word I praise. I trust in God; I won't be afraid. What can mere flesh do to me? ~ Psalm 56:3-4.
Let your life reflect the faith you have in God. Fear nothing and pray about everything. Be strong, trust God's word, and trust the process. ~ Germany Kent.
Worry is blind and cannot discern the future, but Jesus sees the end from the beginning. In every difficulty He has His way prepared to bring relief. ~ Ellen White.
Trust in the Lord with all your heart; do not depend on your own understanding. Seek his will in all you do and he will show you which path to take. ~ Proverbs 3:5-6 NLT.
---
---
So these were the 53 Quotes about Trust in God.
If you like these quotes, then you can also read our other posts on Be Brave Quotes and Bright Future Quotes and Higher Self Quotes.