The easiest way to express gratitude to God is to see Him in everything.
We must remember that we are living because of HIM while we eat, drink, breathe, and go about our daily lives.
To thank Him, we must live a wonderful life that meets His standards. We should live our lives in accordance with His will.
Here is the best collection of Thank You God quotes and sayings. You can read, enjoy and share these quotes about Thank You God with your friends and family members.
---
Best Thank You God Quotes
I thank God for my handicaps for, through them, I have found myself, my work, and my God. ~ Helen Keller.
I thought that all of the sacrifices and blessings of the whole history of mankind have devolved upon me. Thank you, God. ~ Ben Stein.
Thank you, God, for the dignity and beauty of self. The precious innate self. The only thing that can't be taken from us. The only thing we really own. ~ Marjorie Holmes.
As Christians we ought to be thankful, and the Bible says that it is God's will for our lives to give thanks, in everything. ~ Wayne Harmon.
I'm thankful and amazed that God no longer remembers my sins. ~ Stephen Arterburn.
Thank God every morning when you get up that you have something to do that day, which must be done, whether you like it or not. ~ James Russell Lowell.
Thank you, dear God, for this good life and forgive us if we do not love it enough. Thank you for the rain. And for the chance to wake up in three hours and go fishing: I thank you for that now, because I won't feel so thankful then. ~ Garrison Keillor.
Thank goodness, God has a sense of humor because I think that's why He has been so patient with me. ~ Lindsey K. Rietzsch.
I have never had anyone love me the way you love me. I have never loved anyone the way I love you. Thank you God for showing us the way to each other. ~ Nishan Panwar.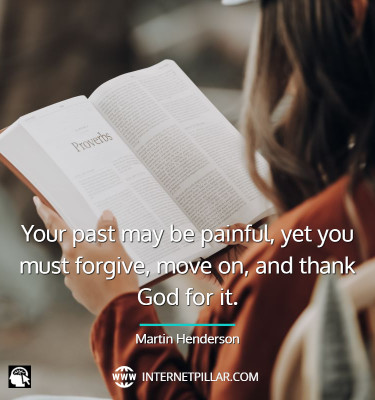 Your past may be painful, yet you must forgive, move on, and thank God for it. ~ Martin Henderson.
Gratitude is fundamental to so much we learn in the Bible. All of Scripture calls us to live in a posture of thankfulness, first to God and then to other people. ~ Adam Hamilton.
I want to thank you, Lord, for life and all that's in it. Thank you for the day and for the hour, and the minute. ~ Maya Angelou.
Inspirational Thank You God Quotes
We may thank God that we can feel pain and know sadness, for these are the human sentiments that constitute our glory as well as our grief. ~ Eugene Kennedy.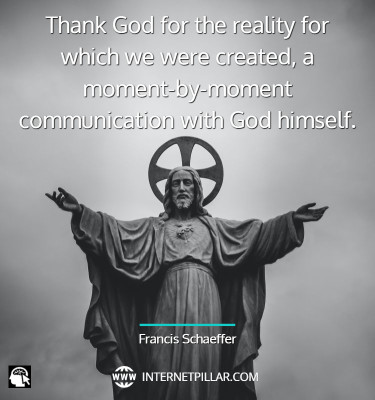 Thank God for the reality for which we were created, a moment-by-moment communication with God himself. ~ Francis Schaeffer.
Don't complain about it, pray about it! Thank GOD for what you have and let it go. Give it to GOD. ~ Joanna C Smith.
"Some may say that I am 'religious', but I prefer to describe that as having a relationship with God that causes me to be able to express thanks, love, gratitude, distress, pain, and all the other emotive things that come as part of our human experience." ~ Vernette John-Joile.
The work you do today may be difficult and tiring, but we should still thank God for it because it is His gift to us – the ability to provide for our needs. ~ Dr. David Jeremiah.
If the only prayer you ever say in your entire life is thank you, it will be enough. ~ Meister Eckhart.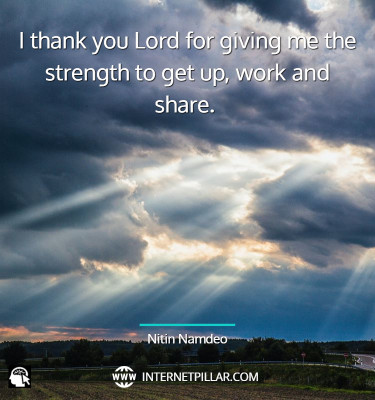 I thank you Lord for giving me the strength to get up, work and share. ~ Nitin Namdeo.
O Lord, who lends me life, lend me a heart replete with thankfulness. ~ William Shakespeare.
Thankful Quotes to God
Thank you, God, because I am lucky. Also let's face it, it turns out I'm black. And I'm having a career quite different from lots of people, so I feel doubly lucky. ~ Whoopi Goldberg.
Remember God's bounty in the year. String the pearls of His favor. Hide the dark parts, except so far as they are breaking out in light! Give this one day to thanks, to joy, to gratitude! ~ Henry Ward Beecher.
A heart that loves God does not come to God just to get things from Him, but just to love Him for His sake. ~ Benjamin Sealey.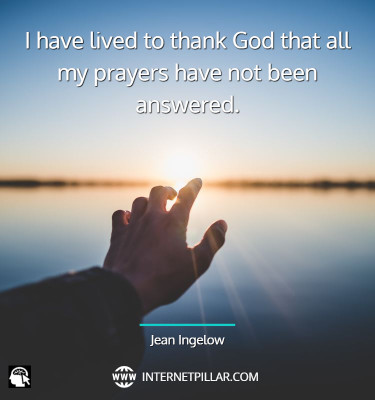 I have lived to thank God that all my prayers have not been answered. ~ Jean Ingelow.
On my bad days I seek you, on my good days I thank you, on my great days I praise you, but every day I need you, Thank you God for always being here for me. ~ Rashida Rowe.
Testimonies help others. They build your faith and also serve as witnesses to God's power to bring you out of trouble. ~ Scott Gordon.
Thank God for His grace, for without it we would have no hope! ~ Billy Graham.
Famous Thank You God Quotes
And now I speak of thanking God, I desire with all humility to acknowledge that I owe the mentioned happiness of my past life to His kind providence, which lead me to the means I used and gave them success. ~ Benjamin Franklin.
Thank God for home and parents, children and friends, for sweet companionship that never ends. ~ Thomas Durley Landels.
Thank God, He knows better than we do what is needed. I have learned one other thing, one thing I would like to share, the truth I have witnessed with my own eyes, the only truth I know… There is hope. ~ Vickie Saine.
Before you fall asleep at night, thank God for three things that happened during the day. ~ Robert Morgan.
In Everything Give Thanks For all that God in mercy sends -For health and children, home and friends. ~ Unknown.
God intervenes in people's lives all the time. But we seldom document these special, faith-building events. I think we should write them down so we will remember them and can pass them on. Steve Saint, Walking His Trail. ~ Faith.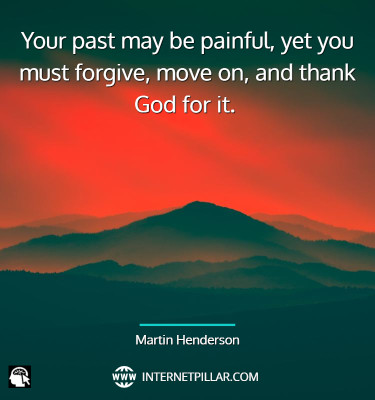 Your past may be painful, yet you must forgive, move on, and thank God for it. ~ Martin Henderson.
Lord, what a relief to focus on what you think of me instead of what other people think. May I always keep my eyes on you. ~ Karen O'Connor.
Let us thank God for having called us to His holy faith. It is a great gift, and the number of those who thank God for it is small. ~ Alphonsus Liguori.
Thank You Lord Quotes
The more I look at the times "thanks" is mentioned in God's Word – the more I notice. . . This giving of thanks has nothing to do with my circumstances and everything to do with my God. ~ Jenni Hunt.
Because we cannot see just what God is saving us from, we vent our foolish reproaches; if we could see this, we would often kneel down and thank God for certain trials as the richest of His mercies. ~ Unknown.
The Sun you created is shining brightly under your command. The birds you set into the air chirp about your splendor. The flowers dance for joy at your greatness. And I have nothing more than a grateful heart to offer to you Oh Lord my God! Thank you for creating me. ~ Norman Jagger.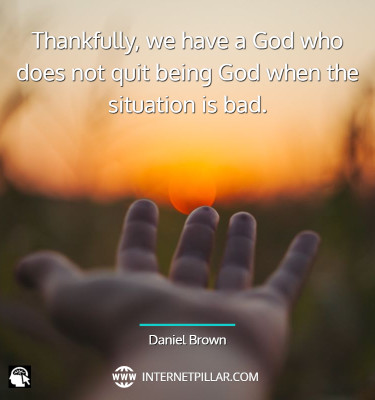 Thankfully, we have a God who does not quit being God when the situation is bad. ~ Daniel Brown.
But, thank God through the written word I can find joy, peace and comfort through life's trials. ~ Ruel Fordyce.
I will thank God for the day and the moment I have. ~ Jim Valvano.
Popular Thank You God Quotes
May God help us to be thankful for our past; thankful for our present, but most of all thankful for the permanent. Which means, thanking God for Himself. ~ Steve Pease.
Today don't beg, don't ask, just thank God in silence for all the blessings in your life. ~ Paulo Coelho.
The best way to say, 'I love you, God,' is to live your life doing your best. The best way to say, 'Thank you, God,' is by letting go of the past and living in the present moment, right here and now. ~ Miguel Angel Ruiz.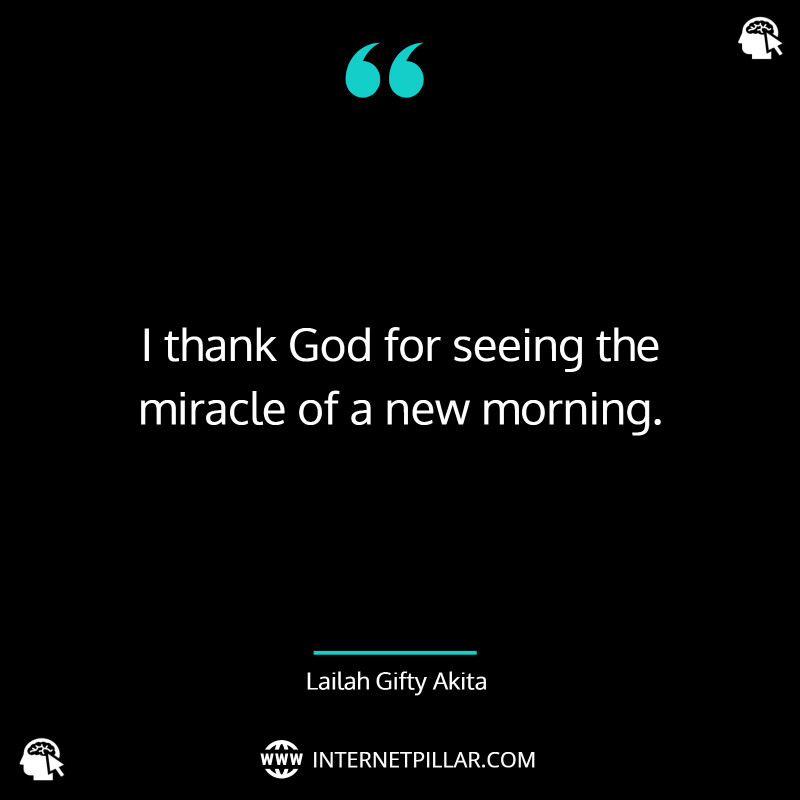 I thank God for seeing the miracle of a new morning. ~ Lailah Gifty Akita.
I thank God for blessing me with the tools that he blessed me with to be where I am. ~ Terence Crawford.
Learn to walk in the will of God, we will learn to see the blessings God has given us and be more grateful. ~ Heather Bixler.
God gave you a gift of 84,600 seconds today. Have you used one of them to say thank you? ~ William Arthur Ward.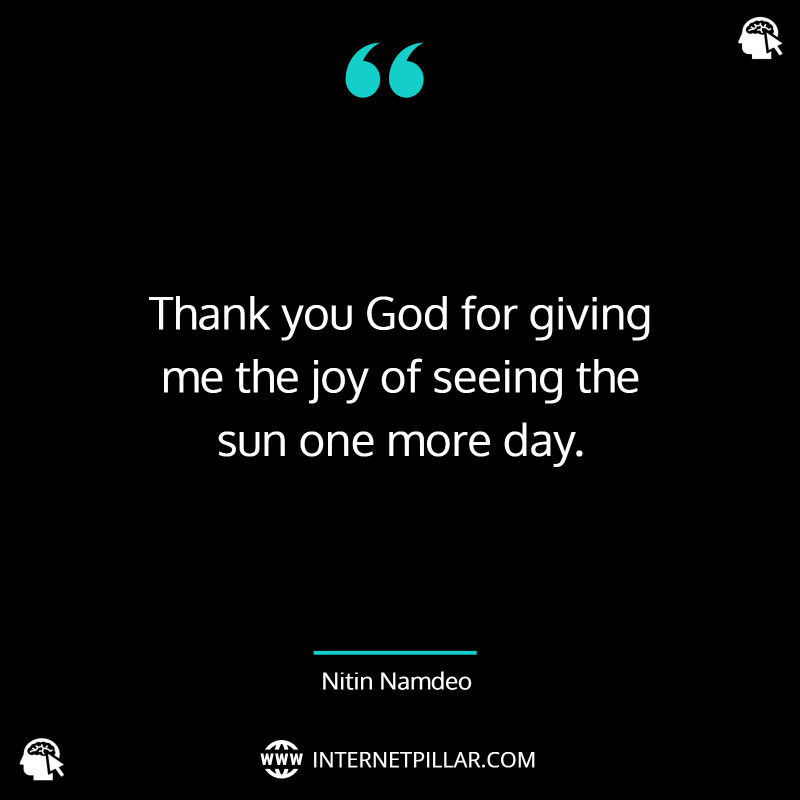 Thank you God for giving me the joy of seeing the sun one more day. ~ Nitin Namdeo.
I may not be where I want to be, but thank God I am not where I used to be. ~ Joyce Meyer.
I thank God for my failures. Maybe not at the time but after some reflection. I never feel like a failure just because something I tried has failed. ~ Dolly Parton.
Thanking God Quotes
When I was younger, my grandma would say, "Thank Lord every day." To her, it meant to be grateful for all the good in life. As I've grown older and faced more challenges, I've come to appreciate that sentiment even more. 

There are so many blessings in our lives that we take for granted – friends and family, health and happiness. Every day should be Thank Lord Day because there's always something to be thankful for.
We give thanks to God not because of how we feel but because of who He is. ~ Ann Voskamp.
Worship is a way of gladly reflecting back to God the radiance of His worth. ~ John Piper.
I give all the glory to God. It's kind of a win-win situation. The glory goes up to Him and the blessings fall down on me. ~ Gabby Douglas.
Top Thank You God Quotes
Whenever I have a chance to wake up and be alive, I always thank God for that, and for me, all the rest is a bonus. ~ Emmanuel Adebayor.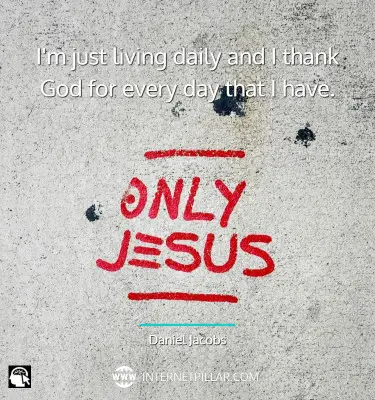 I'm just living daily and I thank God for every day that I have. ~ Daniel Jacobs.
Anybody can thank God for good things. But when you can thank God even in the bad things, your faith grows and your spiritual roots go deeper. ~ Rick Warren.
Thank God for this! That once again we are alive to greet the spring. ~ Wilhelmina Stitch.
Every morning is a gift from the almighty God. Before you think about anything else remember that life comes from the one above and thank him for all that he blesses us with. ~ Kim Bathers.
I am most thankful to Almighty Providence for mercies received, and determined still to press the case into public notice as a token of gratitude. ~ William Banting.
God has been there every step of the way. I praise God for His Strength in all things. ~ Diane Winbush.
Focusing on what God isn't doing will lead to unbelief, doubt, worry and fear. Being thankful for what He has done and is doing will lead to fulfillment, contentment, life and peace. ~ Andrew Farland.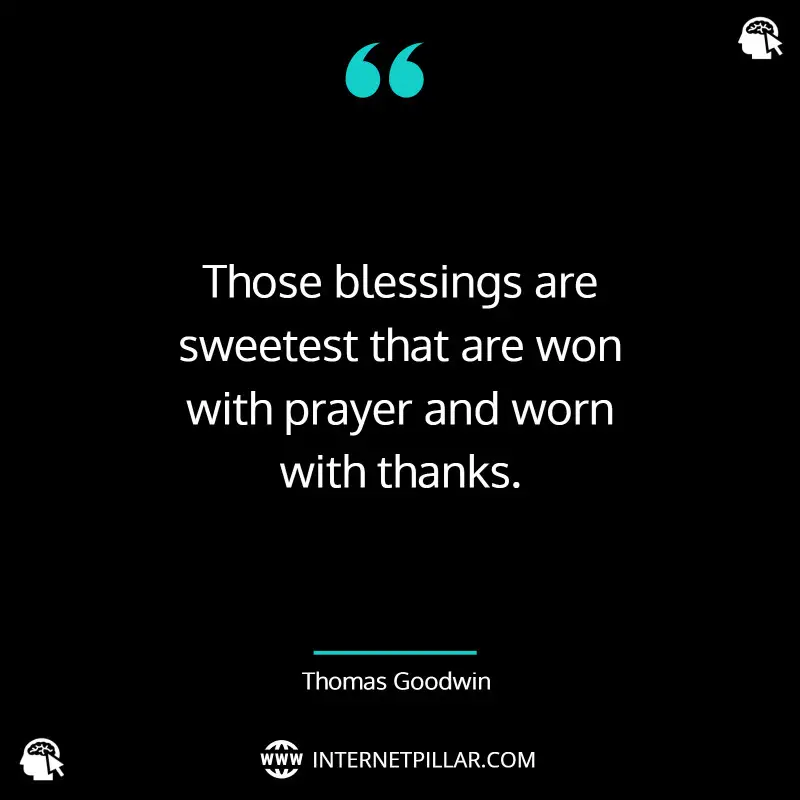 Those blessings are sweetest that are won with prayer and worn with thanks. ~ Thomas Goodwin.
I am as bad as the worst, but, thank God, I am as good as the best. ~ Walt Whitman.
Stand up straight and realize who you are, that you tower over your circumstances. You are a child of God. Stand up straight. ~ Maya Angelou.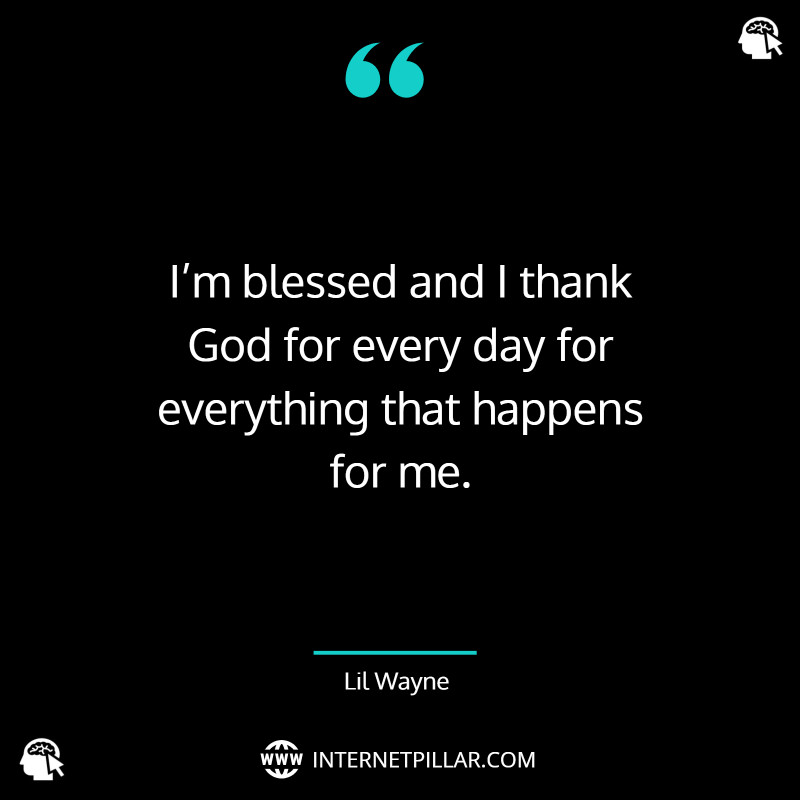 I'm blessed and I thank God for every day for everything that happens for me. ~ Lil Wayne.
Whatever happens in your life, no matter how troubling things might seem, do not enter the neighborhood of despair. Even when all doors remain closed, God will open up a new path only for you. Be thankful! ~ Elif Shafak.
I don't think you should spend your life praying for things, but I do believe you should thank God for what He's given you. ~ Joel Osteen.
Today I choose to forgive all those who have hurt me Lord. Not forgiving them is like landing in prison for their faults. I let go of all hatred and accept your love on this beautiful morning. Thank you Lord. ~ Weeny Shaw.
---
So these were the 72 Thank You God Quotes and Thank You Lord quotes to Express Gratitude and Prayer.
If these quotes and sayings connect with you, check out our other posts on God will Provide quotes and Holy Spirit quotes and backstabber quotes and be bold quotes.
You are welcome to share these inspiring and motivating quotations with your friends and family on social media platforms such as Facebook, WhatsApp, Twitter, Pinterest, and Instagram to motivate them to improve their lives and achieve success!
---
Frequently Asked Questions (FAQs) about Thanking God
How do you say thank you to God?
There are many things to be grateful for, but sometimes it's hard to find the words to say thank you.
For some, thanking God seems like the most natural thing in the world. But for others, saying thank you to God can be a challenge.
Here are a few ways to say thank you to God:
1. Thank Him for your blessings big and small.
2. Thank Him for your family and friends.
3. Thank Him for His love and forgiveness.
4. Thank Him for His protection and guidance.
5. Thank Him for the gift of life and all He has done for you.
How do you say thanks to God for everything?
In a world full of turmoil and chaos, it's easy to forget to be thankful. But no matter what life throws your way, it's important to take a step back and give thanks to the one who has always been there for you – God.
Giving thanks to God is a practice that spans across all religions and cultures. No matter how you choose to say thank you, the sentiment is always the same – gratitude for the blessings that have been bestowed upon you.
Gratitude is more than just saying thank you; it's an attitude of the heart that recognizes all the good in your life, big and small.
When you focus on the good, it opens your heart up to receive even more blessings.
So how do you say thanks to God for everything? By Prayer: "Thank you for my food, shelter, friends and family".
How do you thank God for all the blessings?
There are many ways to thank God for all of the blessings in our lives.
One way is to pray, thanking Him for all we have and all that we are. We can also thank Him by living our lives in a way that is honoring to Him.
We can share our blessings with others, and help those who are in need. We can also give thanks by simply enjoying life and all of its wonderful moments.
Whatever way we choose, it is important to remember that God deserves our thanks for everything He has done for us.
How do you say thank you Jesus?
When something good happens, or when we receive a blessing, it is common to say "thank you." But what do we say when we want to thank Jesus specifically?
There are many ways to express our gratitude to Him, and the way we choose often depends on our relationship with Him and our personal preferences.
One way to say thank you Jesus is simply to praise Him for all He has done.
We can thank Him for His love, for His mercy, for His forgiveness, and for all the blessings He has given us.
We can also give Him thanks for guiding us and protecting us, and for always being there for us.
Another way to say thank you Jesus is by worshipping Him.
We can sing songs of praise and worship, or read Scriptures that tell about all He has done.
How do you thank God for today?
Dear God, thank you for being with me every step of the way.
Thank you for your patience and kindness, and for always being there for me. I know that I don't deserve it, but I'm grateful for every moment that I spend with you.
Thank you for guiding me in the right direction, and for helping me to find my path in life.
Thank you for all the good that has happened in my life, and for all the bad too.
You have been a constant support throughout everything, and I'm grateful to have you as my Lord and Savior.
Why should we be thankful to God?
There are countless reasons to be thankful to God, but here are just a few. First, God is the one who created us and gives us life.
He also provides for our needs, both physical and spiritual. Second, through Jesus Christ, God offers us salvation and eternal life.
Third, God is always there for us, no matter what we go through in this life.
Finally, God is a loving Father who desires to have a relationship with us.